Tokina announces a new AT-X 116 PRO DX
Monday January 30 2012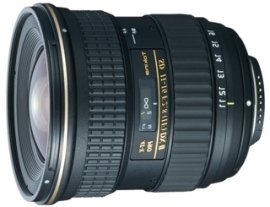 Tokina announces a new version of its wide-angle 11-16mm lens for APS-C cameras, featuring an aspherical element, an improved surface coating ,and an autofocus motor (AF-S equivalent) called SD-M (Silent Drive-Module).
Nikon D3100 and D5100 owners will be happy about this last addition because the previous version had to be be mounted on a motorized unit which isn't the case of these entry-level cameras.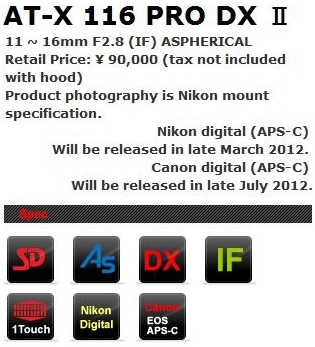 In term of optical quality, this new model seems to be a very limited evolution of the Tokina AT-X 11-16mm PRO DX, so we expect this new model to be as good as its predecessor which we tested last week.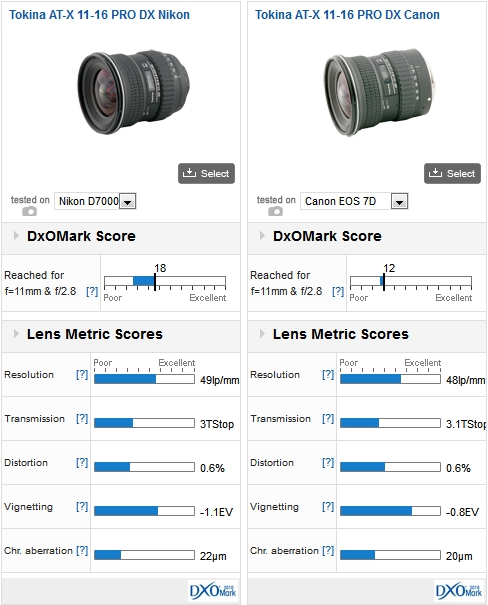 The Nikon version is announced for March 2012 for less than 900 euros, while the Canon version will follow in July.
Further readings for the Tokina announces a new AT-X 116 PRO DX
To provide photographers with a broader perspective about mobiles, lenses and cameras, here are links to articles, reviews, and analyses of photographic equipment produced by DxOMark, renown websites, magazines or blogs.
---
Lens Review
|
January 26, 2012
---
---
---
Comments
Added by

kmt31

| October 20 , 2015

tokina 11-16 on Nikon D5200

Hi i own a kit lens (18-55) on D5200. Will the Tokina 11-16mm be any useful on D5200 seeing that i have a crop sensor body and 11mm will actually be around 17mm.


Reply
---
tokina 11-16mm on d800

HI,
I have just upgraded from d7000 to d800. Since it is DX Lense, do i loose a lot other than the vingenting happens at certain mm? Having spent $ on d800, if the quality of 11-16 on d800 is poor, i wouldnt mind spending extra bugs for upgrading the lense. Waiting for your valuable comments as usual.



Reply | Read all replies for this comment
First replies for this comment
---
Added by

lilacxp

| November 28 , 2013

Re: tokina 11-16mm on d800

Hi there,

there is no need to worry too much about this awesome Tokina on full frame. I have the same combo and always use the 16mm end on D800, and it just works perfectly. You need to stop down for landscape though, but the center sharpness is still fantastic wide open! Since this is the only possibility an ultrawide that can take filter on Nikon FX and works well in low light, this is one of the lens that I bring whenever I travel, the other one is the Tokina Macro 100 2.8.

Best,

Peter




Reply
---