Best lenses for the 24-MPix Pentax K-3: Recommended primes and zooms
By Kevin Carter -
Monday January 06 2014
Lens Recommendations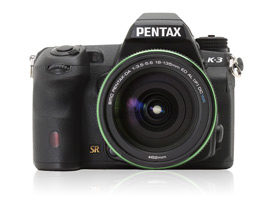 Continuing our series of evaluation of lens systems we've assessed a modest range of Pentax and third-party lenses for their optical quality on the firm's new flagship Pentax K-3 model. As the replacement for the K-5 II and K-5 IIs, the Pentax K-3 has a new higher pixel density 24-Mpix sensor without an AA filter, and is a promising platform for lens evaluation. Read on to find out which models perform best, and which, if any, that should be avoided.
As the new flagship model in the range the Pentax K-3 resembles previous iterations in terms of robust and weatherproof build, control layout and high-end features. These include a 0.95x magnification viewfinder with a 100-percent field of view and a 1/8000th sec top shutter speed (albeit with a still somewhat low 1/180th sec flash sync). The K-3 also has a 27-point AF system (comprising of 25 cross-type sensors with sensitivity to an unusually low -3 Ev, twin SD slots and a continuous burst mode of up to 8.3 fps (without an additional battery pack).
Together with a 24-Mpix APS-C CMOS sensor, the Pentax K-3 is one of the few professional-level cameras offered in this format with this high pixel count, outdoing both the Nikon D300s and the Canon EOS 7D but on a par with the Sony A77 and NEX-7.
Like the K5-IIs model before it, the new Pentax K-3 has no optical low pass filter. Instead it is the first of its kind to feature a selectable anti-aliasing mechanism. This new system adopts the camera's built-in stabilized sensor platform to apply additional microscopic vibration at sub-pixel level thereby slightly blurring the image and simulating the effect of an optical low-pass filter. The user can choose between two intensities to reduce the effects of moiré, or to switch it off completely for maximum clarity and resolution.
As with its predecessors, the K-3 boasts one the largest lens ranges specifically designed for the smaller APS-C sensor. The range consists of affordably priced DA zooms and primes, high-grade ultrasonic equipped DA* models and highly compact DA Limited primes.
The Pentax lens range also consists of full-frame digital optimized D FA models and an earlier series of FA lenses designed originally for use with old Pentax film cameras (they've yet to introduce a full-frame DSLR).
The older FA series also encompasses the FA Limited models, which, like the DA Limited models, are highly coveted for their attractive rendering, or 'drawing style', perhaps even more so.
The result is an appealing and unsurpassed range of primes and zooms designed for DSLRs using APS-C format sensors. With no AA filter and a pixel dense 24-Mpix sensor, the Pentax K-3 is the most demanding model yet and will highlight any deficiencies in lens performance.
Further readings for the Best lenses for the 24-MPix Pentax K-3: Recommended primes and zooms
To provide photographers with a broader perspective about mobiles, lenses and cameras, here are links to articles, reviews, and analyses of photographic equipment produced by DxOMark, renown websites, magazines or blogs.
---
---
---
---
---
---
---
Comments
Lens suggestions

Please consider testing the new Pentax 16-85mm F3.5-5.6 ED DC WR. There are a few samples on the K3 product page taken with it and it looks very promising.

Thanks!


Reply
---
incomplete

Not hmuc of a list without the popular Pentax 18-135mm.


Reply
---
First replies for this comment
---
First replies for this comment
---
Added by

David B

| January 13 , 2014

Pentax K-3 lens suggestions

First, many thanks for the already tested Pentax lens!

In the future, I would be interrested in priority to see reviews of the Pentax 60-250mm, Pentax 50-135mm, Sigma 70-200mm, Tamron 17-50mm, and Pentax 20-40mm vs Sigma 18-35mm.

Best regards!


Reply
---
Added by

Simen1

| January 08 , 2014

More lenses please

I hope DxO will add more lesnes, especialy Sigma, Tamron and Samyang.

Many of Pentax own lenses are not that attractive due to medicore performance and high prices compared to other brands. But their camera houses like K-5-series and K-3 are the best APS-C on the market. Therefore i think K-3 skould be tested with more Sigma, Tamron and Samyang.


Reply | Read all replies for this comment
First replies for this comment
---
First replies for this comment
---
Added by

AtitG

| January 07 , 2014

Sigma 35mm 1.4

I was wondering why the sigma 35mm 1.4 art scored significantly lower on the K-3 compared to the nikon D7100? Dxo mark score of 27 on the K-3 vs 32 on the nikon D7100. Thanks in advance.


Reply | Read all replies for this comment
First replies for this comment
---
Added by

wgb

| January 06 , 2014

Pentax K-3 lens suggestions

Very interesting. Please add the following ASAP:
Pentax DA* 60-250
Pentax HD DA 55-300
Pentax DA 17-70
Sigma 70 F/2.8 DX EG Macro
Thank you!



Reply | Read all replies for this comment
First replies for this comment
---
Lens suggestions

Thanks for the comparisons, they are very interesting.
As far as lens comparisons, I would love to see:
* DA 18-135 WR - very popular lens being a kit option and having Weather Resistance
* Sigma 18-35 (when its available) - a much discussed lens
* DA 20-40 Limited
* Sigma 17-70 (A) - a popular lens choice give focal range - but is it better than the DA 18-135?


Reply | Read all replies for this comment
First replies for this comment
---