Best lenses for the Olympus OM-D E-M1: Short telephoto and standard focal lengths
By Kevin Carter -
Friday November 29 2013
Lens Recommendations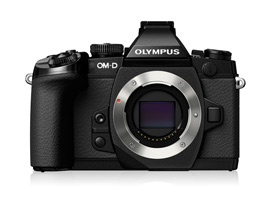 The Olympus OM-D E-M1 is the new flagship model in the range and features a newly-designed pro-grade body and a modified 16-Mpix sensor incorporating on-chip phase-detection pixels for backwards compatibility with the firm's 4:3 lenses.
While we've not analyze the performance of those earlier lenses on the E-M1, we have assessed the image quality of 33 models (more than 70% of the current range) using the native MFT mount.
Read onto find out which of those lenses perform best when paired with the camera.
Announced back in September, the second model to the OM-D range doesn't replace the original E-M5 model but sits above it as a camera intended for serious enthusiasts as well as professional use.
Olympus also decided to end the 4:3 E-system cameras, replacing the top of the range E-5 DSLR with the E-M1. Improved AF compatibility with the firm's highly respected E-series lenses was achieved by adopting a 16-Mpix L-MOS sensor with on-chip phase detection pixels, giving the E-M1 two individual AF systems. However, because of the longer register, E-series lenses aren't native to the mirrorless E-M1 and an optional mount (MMF-2/3) is required.
The E-M1 adopts a durable outer-shell with a proliferation of controls for direct access to features and a move away from the more-menu centric operation of the E-M5. It has also an upgraded viewfinder with a high-resolution 2.3-M dot display and expansive view plus a modified shutter with a top 1/8000th sec shutter speed and a maximum flash sync of 1/320th sec.
Like other cameras with hybrid sensors, the E-M1 doesn't have an anti-aliasing (AA) filter. Not only does this improve contrast slightly, aiding focus accuracy with the on-chip phase-detection elements, but it also improves sensor resolution with the benefit of increased sharpness and clarity in images.
For this round up we've not tested the earlier E-series lenses on the E-M1 but we have analyzed the optical characteristics of 33 different MFT lenses from both Olympus and Panasonic, as well as some from third-party makers. We've scrutinized a total of 18 zooms, recently adding the new high-grade ED 12-40mm f2.8 Pro from Olympus and 15 primes, including the modestly priced trio of DN Art series models from Sigma and the recent update to the highly regarded 20mm f1.7 ASPH 'pancake' type standard lens from Panasonic.
Further readings for the Best lenses for the Olympus OM-D E-M1: Short telephoto and standard focal lengths
To provide photographers with a broader perspective about mobiles, lenses and cameras, here are links to articles, reviews, and analyses of photographic equipment produced by DxOMark, renown websites, magazines or blogs.
---
---
---
---
---
---
Comments
Added by

@go

| December 03 , 2013

New kit lens??

When are you going to test the new R kit zoom lens??? I know for sure that the 14-42 R has a different optic schema from the old ED one, no ED lens but 3 aspherical lens.


Reply
---
Olympus Lenses - Price/Value Ratio

As an Olympus E-PL5 owner with the two standard (cheap) lenses 14-42 and 40-150, as well as Nikon D600 & D3200 with several Nikkor lenses, it seems a stretch to pay for the premium m4/3 lenses. Yes they are smaller, but even after paying a premium price for glass you are still short of the image quality offered for the same price when compared to the Nikon (or Canon)DSLR packages. At the lower end (prices) the m4/3 bodies and lenses are a good value. But they are hard to rationalize at the high end.


Reply
---
Added by

@go

| November 30 , 2013

Error

Page of standard zoom lenses give this error: An unexpected error has occurred. Please contact the webmaster.



Reply
---