Best lenses for the Olympus OM-D EM-10: Standard and Short telephoto primes and zooms
By Kevin Carter -
Monday June 16 2014
Lens Recommendations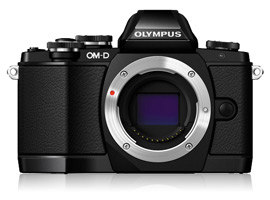 We've analyzed the image quality of 33 lens models, around 70% of the current range using the native MFT mount, on the new Olympus OM-D EM-10. Read on to find out which of those lenses perform best and which, if any, you should try and avoid when paired with the new camera.
Following the mid-range E-M5 and high-end E-M1, Olympus introduced the E-M10 as the new entry-level model of the enthusiasts OM-D line. It shares a number of features from both the E-M1 and E-M5, such as a stabilized 16-Mpix MOS type sensor, EVF and touch-sensitive tilting rear LCD and introduces a few of its own over the mid-range E-M5 such as Wi-Fi and a built-in flash. Although the metal body resembles the pricier E-M5 with its twin control dials and angular lines, it lacks that model's weatherproofing. That and the 3-axis (instead of 5-axis) stabilization are the only real concessions over the E-M5. As well as a 1/4000th sec shutter speed (with 1/200th sec sync) it can shoot a burst of 20 raw images at up to 8 fps, or 3.5 fps with continuous AF.
For this round up on the E-M10, we've analyzed the optical performance of over 30 different native Micro Four Thirds models from both Olympus and Panasonic, as well as some models from third-party makers. We've examined a total of 18 zooms, including the new high-grade M. Zuiko Digital ED 12-40mm f2.8 Pro zoom from Olympus and 17 fixed focal length models, including the modestly priced trio of DN Art series lenses from Sigma and the new $1,600 Leica Nocticron 42.5mm f1.2 ASPH lens from Panasonic.
Further readings for the Best lenses for the Olympus OM-D EM-10: Standard and Short telephoto primes and zooms
To provide photographers with a broader perspective about mobiles, lenses and cameras, here are links to articles, reviews, and analyses of photographic equipment produced by DxOMark, renown websites, magazines or blogs.
---
---
---
---
---
---
Comments
Lens Prices Out of Line

Olympus and Panasonic need to make their fast zooms and fixed focal lengths a little less pricey if they really want to attract users to the M43 format. Considering the competition coming from Nikon, Sony, Fujifilm etc., they really need to do a few things to attract buyers.
Olympus is obviously making a healthy profit on their cheap 14-42 & 40-150 zooms; they will hopefully bring the price down on their better lenses occasionally so customers see the M43 system as both a size and cost effective option to the full size DSLR systems. A good 2x converter to go with some of the longer primes would be nice too.


Reply
---
I'm sorry but I disagree with parrysights above

m43 prime lenses are some of the sharpest compact primes around. And they are only improving in quality. Sure, get the Nikon D3300 if that floats your boat, but with the lenses mentioned above you will be carrying the weight of a couple of bricks in your bag.

The whole reson d'etre for m43 mirrorless -- I can't speak of all mirrorless, given some systems have large optics -- is portability with (more than) good enough quality. You just need to traverse Flickr or YouTube videos to see the stunning image quality capable from the m43 system today. It excels particularly in video, but is no slouch in still photos, either.

Get the EM10 plus the kit lens and a brace of primes -- 14mm, 17mm, 45mm -- and the entire kit will weigh about the same or even less than as a single D3300 with the kit lens. And have you seen the cost of these Olympus primes? Not premium by any means. Does this make a difference? If you carry a camera around all the time, like you do when travelling or hiking, the answer can only be: Yes.


Reply | Read all replies for this comment
First replies for this comment
---
Re: I'm sorry but I disagree with parrysights above

And all it takes is money, lots of it if you want to achieve the type of performance available with a D3300 and basic primes option. When it comes to weight I estimate the D3300 is about 50 grams (2 ounces) more than the E-M10, and actually weighs less than the E-M1. Not really a brick. The D3300 is not appreciated for it's compact size, performance and value. Check out the comparative DxO figures.

Differences are seen in the weight of the lenses, and the corresponding performance.

I like and use Olympus equipment, it's small and it's light. When I want to invest in performance lens for images, not video, I feel the money is much better spent with Nikon. There are fewer limits on the upper end performance with Nikon equipment which matters if you are interested in more than online images.

A personal reflection - I hate changing lenses in the field. I'd rather carry a little more weight (two bodies and lenses) rather than be swapping lenses on and off. Stuff happens, lenses drop and dirt get's trapped in the lens box. The prime lens is left in the bag for when the light drops and/or the image is more demanding. Zoom lenses with the right performance and the right price are the critical pieces of equipment, and in my case the performance/cost ratio matters.

One last thought about weight - which does matter. Cyclists, mostly amateurs, are always looking for the lightest possible bike. The cynics (realists?) suggest that before you drop thousands on new equipment you lose 5 or 10 pounds. It costs nothing and you are carrying the same weight. And for photographers a good bag can make all the difference in what is, and what feels, heavy.


Reply
---
Barely acceptable price/performance ratio

As an Olympus shooter (E-PL5, E-PM2) and Nikon (D600, D3200) I am delighted with the performance of the Olympus system, but find it hard to rationalize investing in anything but the 'kit' lenses, the 14-42 and 40-150. Combined with the the two bodies these lenses provide for a more than adequate light hike and bike setup.

But the prospect of spending more for the higher performance lenses to use on the Olympus, be it the E-M5, E-M10 or E-M1, seems to be a luxury not based on performance. For less it's possible to purchase a Nikon D3300 with the 18-55 kit lens, and add in a 35mm 1.8 DX, an 85mm 1.8 FX Olympus, or even the higher priced Sigma 50-150 f2.8, and be further ahead in terms of true performance.

The Olympus cameras are really quite nice systems, but they seem to be charging a relatively high premium on lenses for their 'sophistication'. With the E-PL5 offering an excellent price/performance ratio when one considers convenience I'll stick to the Olympus kit lenses and invest in my Nikon system for true higher end performance.


Reply
---