Best lenses on a budget for the Nikon D3300: Best Zooms
By Kevin Carter -
Friday April 11 2014
Lens Recommendations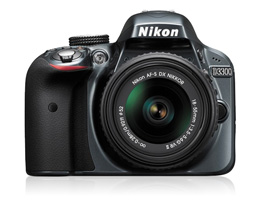 We've tested the new 24-Mpix Nikon D3300 with more than 140 Nikkor and third-party prime and zoom models to assess image quality. Read onto find out which of these lenses have the best image quality when paired with the new camera.
Like rivals Nikon's consumer grade DSLRs follow a regular annual upgrade cycle, although, contrary to years past, the models they replace are kept in the range posing something of a dilemma for potential purchasers.
Announced at the beginning of the year the D3300 is the latest re-imagined entry-level model replacing the 24-Mpix D3200. At first sight the two are remarkably similar in specification – both are built around a 24-Mpix APS-C CMOS sensor in a small lightweight and relatively low-cost body. The D3300, however, differs subtly from its familiar looking predecessor by the inclusion of a more powerful Expeed 4 level processor with a higher maximum ISO setting up from ISO 6,400 to ISO 12,800 (with a ISO 25,600 extended option) as well as a faster burst rate, up to 5 fps from 4 fps. Video features have also been upgraded with the D3300 adding full HD video at higher 60/50 fps for slow-motion footage to the D3200's 24fps and 25/30 fps options.
There are one or two other minor modifications but of course the D3300 differs in one very significant feature – the 24-Mpix sensor now lacks an AA filter - the removal of which promises to improve detail rendition. Potentially that closes any gap in resolution between the entry-level D3300 and the maker's semi-pro grade D7100, a model that retails at around $500 more body only.
Although this makes the D3300 a tempting B-camera for imaging professionals, we've tailored this roundup to appeal to the firm's intended market, yet we've included the results of all of the best-performing lenses tested (in tabulated form at least) so that readers can make their own judgments using our comparison tools.
DxOMark have carefully analyzed the optical performance of over 140 models on the Nikon D5300, from both Nikon and third-party lens makers, including popular models such as the ultra-wide DX format Sigma 8-16mm f4.5-5.6 DC HSM (12-24mm equivalent), Nikon AF-S Nikkor 10-24mm f3.5-4.5G ED (16-35mm equivalent) and the cryptically named Tokina 116 ATX Pro (11-16mm f2.8).
New models assessed include the new high-speed Sigma 18-35mm f1.8 DC HSM A and the full-frame Nikon AF-S Nikkor 80-400mm f4.5-5.6G ED VR, which is the equivalent to a 120-600mm as well as the recently revised Nikon AF-S Nikkor 18-140mm f3.5-5.6G ED VR. We've also added the data from the upgraded Sigma 30mm f1.4 DC HSM, and Samyang's high-speed but manual focus only 24mm f1.4 (35mm equivalent) and 16mm f1.4 (24mm equiv) primes.
Sharpness comparison between the Nikon D3300 and D7100
Although the Nikon D3300 has a similar 24-Mpix APS-C CMOS sensor to the Nikon D7100, Nikon consumer models have no option to output 14-bit lossless compressed Raw files only 12-bit compressed. While this and other slight modifications in the imaging chain account for the slender lead in sharpness between the two models when used with certain lenses, the differences are negligible in reality.
Further readings for the Best lenses on a budget for the Nikon D3300: Best Zooms
To provide photographers with a broader perspective about mobiles, lenses and cameras, here are links to articles, reviews, and analyses of photographic equipment produced by DxOMark, renown websites, magazines or blogs.
---
---
---
---
---
---
---
---
---
---