Canon EF 24-70mm f/4L IS USM review: The ideal standard zoom?
By David Newton -
Thursday February 07 2013
Lens Review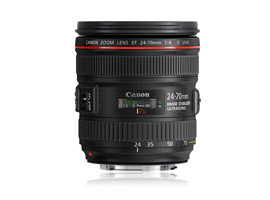 Introduced in November 2012 as the proposed 'kit' lens for the EOS 6D, the EF 24-70mm f/4L IS USM lens represents an interesting move for Canon – despite two well respected lenses in this category, the EF 24-70mm f/2.8L USM and the EF 24-105mm f/4L IS USM, the EF 24-70mm f/4L IS USM hopes to offer a compact, lightweight lens suitable for the newly created lightweight, full-frame camera segment. The red L-series band offers the promise of professional performance, but does it live up to the expectations?
A standard zoom lens is the one lens that almost all photographers will have in their bag. This makes it a very interesting area for the manufacturers, as there is a potentially huge market for the lenses. Equally, since we no longer receive 35mm or 50mm prime lenses as a kit lens with cameras, the standard focal length zoom lens is an ideal replacement. By offering an L-Series lens with the EOS 6D, Canon is clearly hoping to indoctrinate new users in the benefits of the L-series over lesser quality lenses.
Along with the red L-series band around the front of the lens, the EF 24-70mm f/4L IS USM benefits from Canon's mature Image Stabilizer technology, including a hybrid facility to works not just in normal shooting, where it offers 4-stops of IS, but also in macro shooting, where it provides up to 2.5stops of IS. There is also the inclusion of the well-respected UltraSonic Motor (USM) AF motor for fast, quiet autofocus. Whether it is more than the sum of its parts or not, though, will only be shown by the test results.
Further readings for the Canon EF 24-70mm f/4L IS USM review: The ideal standard zoom?
To provide photographers with a broader perspective about mobiles, lenses and cameras, here are links to articles, reviews, and analyses of photographic equipment produced by DxOMark, renown websites, magazines or blogs.
---
Lens Preview
|
November 06, 2012
| | |
| --- | --- |
| | The latest in the L series, the Canon EF 24-70mm f/4L IS USM is an ideal transtandard lens for reporting and can also make a good choice for portraiture. Versatile, it can also function as a macro with a reproduction ratio of 0.7x, Canon having worked hard to optimally match up the optical elements. |
---
Comments
Added by

ag08025

| February 16 , 2013

I do not believe

Most likely incorrect tests.I'll explain why DxO does not provide graphical results of the tests but only their personal considerations.So as another to drive the conclusion


Reply
---
Added by

ag08025

| February 08 , 2013

I do not believe

because your tests are so far from reality?
http://www.the-digital-picture.com/Reviews/ISO-12233-Sample-Crops.aspx?Lens=823&Camera=453&Sample=0&FLI=0&API=0&LensComp=805&CameraComp=453&SampleComp=0&FLIComp=0&APIComp=2


Reply | Read all replies for this comment
First replies for this comment
---
Added by

ageha

| February 10 , 2013

Re: I do not believe

Quote:


<div id="linkdxomark">This a comment for <a href="http://www.dxomark.com/index.php/Lenses/Camera-Lens-Database/Canon/Canon-EF-24-70mm-F4L-IS-USM">this page on the website</a></div>because your tests are so far from reality?
http://www.the-digital-picture.com/Reviews/ISO-12233-Sample-Crops.aspx?Lens=823&Camera=453&Sample=0&FLI=0&API=0&LensComp=805&CameraComp=453&SampleComp=0&FLIComp=0&APIComp=2


Maybe sample variation? ;)


Reply
---
Re: I do not believe

Interesting point but you have to remember you're not really comparing apples to apples here. The link you provided compares a Canon f/4 VS Sigma f/2.8 which isn't a true apple's to apple's comparison. More like a peach and orange.

DXO Lab tests thousands of lenses under Strict controlled environments, I highly doubt they're fluffing up the test results. PLUS "IF" they were...what are they gaining from doing so?

Something to think about.


Reply
---