Canon EF 400mm f2.8L IS II USM review: Canon's Big Gun…
By Ben Boswell -
Tuesday April 16 2013
Lens Review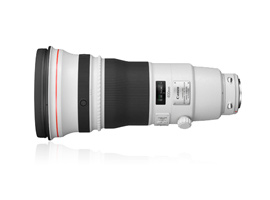 There are only a small proportion of photographers who can really justify buying a lens that costs the same as a small car, but if you really need a 400mm f2.8 lens then the chances are that you are going to get yourself one. To stick with the motoring analogy: Canon's EF 400mm f2.8L IS II USM is not at all like a small car, it is rather more like a Formula 1 Racing car.
The Canon EF 400mm f2.8L IS II USM is a completely uncompromising 'Super Telephoto' lens built to fit Canon's full frame cameras (it will also fit its APS-C cameras, on which it has an effective focal length of 640mm).
The design consists of 16 elements in 12 groups, including some fluorite glass. There is a 'Subwavelength Structure Coating' to reduce flare and a fluorine coating on the front and rear elements that makes cleaning easier. There is provision for internally mounted 52mm filters and for Gelatin filters too, this is just as well since the front of the lens is 163mm across, virtually ruling out using front mounted filters. The length is 343mm and the weight is 3850g: about the same as a new born baby!
The physical specifications of the 400mm f2.8 are complements with a wide range of operational features too: Image stabilization that allows for operation in 3 modes, 4 if you include 'off'. The variations allow you to optimize the IS for shooting still subjects or moving subjects whilst panning. There are also options in focusing: Auto, using a USM motor, or Manual plus Power Focus, a smooth powered system primarily aimed at video users. Additionally you are able to preset a focus point to which the lens will snap whenever you ask it to or you can limit the focus to narrower ranges to ensure that it works as quickly as possible.
It is evident from the high proportion of professional sports photographers using Canon cameras that Canon has made a range of 'Super Telephoto' lenses that address the needs of this rather demanding group.
Further readings for the Canon EF 400mm f2.8L IS II USM review: Canon's Big Gun…
To provide photographers with a broader perspective about mobiles, lenses and cameras, here are links to articles, reviews, and analyses of photographic equipment produced by DxOMark, renown websites, magazines or blogs.
---
Comments
Added by

allcon

| April 17 , 2014

1dx 1ds mk2 results

Dear admin,
Could you test the canon super tele prime lenses on 1dx and 1ds mk2 bodies plz? the 1ds mk2 VS nikon D4 makes a better sharpness comparison, the 1dx vs D4 (D4s) gives a up to date comparison, both makes sense.
Regards


Reply | Read all replies for this comment
First replies for this comment
---
Re: 1dx 1ds mk2 results

Hi,

This is an interesting suggestion, and even if the 1dX is a bit old now we will try to add it in our database (it might take some time though!).

Best regards.


Reply
---
"a wide 400mm lens"

That's an oxymoron.


Reply
---