DxOMark review for Sony NEX-3 and NEX-5
Thursday July 01 2010
Sensor Review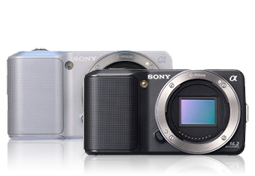 The new Sony NEX cameras feature one of Sony's latest APS-C sensors. Our DxOMark measurements show that the NEX sensor seems very similar to the one found in the Sony A450.
Test results support Sony's assertion that this new camera category (mirrorless with interchangable lenses, sometimes referred to "EVIL" for "Electronic Viewfinder with Interchangable Lens") provides "DSLR image quality in a compact camera."
Here are the scores for the NEX-3 and NEX-5 compared with the A450: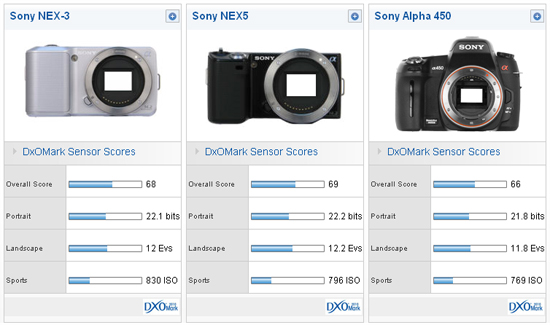 The NEX cameras show very small improvements versus the A450 — so small that they should be hardly noticeable on final images.
When compared to competitive products from Panasonic and Olympus in the same category, the NEX's larger sensor clearly makes a difference. The NEX cameras show an edge for all three DxOMark Scores, followed by the Panasonic GH1 among the different comparable products.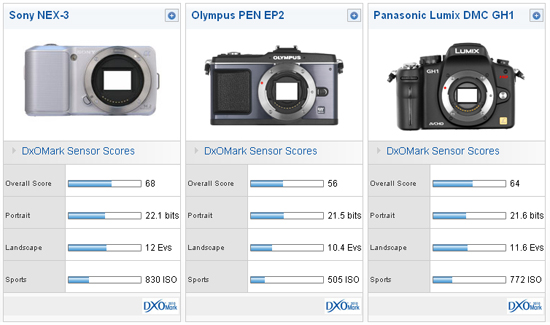 Disclaimer: This dxomark review evaluates only the selected camera's RAW sensor performance metrics (i.e., Color Depth, Dynamic Range, and Low-Light ISO), and should not be construed as a review of the camera's overall performance, as it does not address such other important criteria as image signal processing, mechanical robustness, ease of use, flexibility, optics, value for money, etc. While RAW sensor performance is critically important, it is not the only factor that should be taken into consideration when choosing a digital camera.
Further readings for the DxOMark review for Sony NEX-3 and NEX-5
To provide photographers with a broader perspective about mobiles, lenses and cameras, here are links to articles, reviews, and analyses of photographic equipment produced by DxOMark, renown websites, magazines or blogs.
---
As you may already know, this latest edition in the NEX series is a compact camera with a newly-developed APS-C 16.2-megapixel sensor, at a size normally destined for DSLRs.

What makes this camera special is that its large sensor is housed in one of the smallest bodies on the market.
---
DxOMark on the press
|
January 01, 2011
---
Measurements for NEX-3 & NEX-5 and Nikon 18-70mm zoom optical performance now available on DxOMark
---
DxOMark on the press
|
June 18, 2010
---
DxOMark on the press
|
June 05, 2010
---
DxOMark on the press
|
June 03, 2010
---
DxOMark on the press
|
May 11, 2010
---
DxOMark on the press
|
May 10, 2010
---
---