Leica M review: How does the new 24-megapixel CMOS sensor in Leica's latest rangefinder perform?
By Paul Carroll -
Thursday March 14 2013
Sensor Review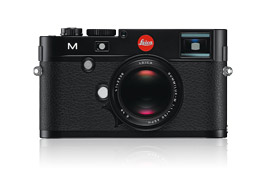 Announced at Photokina 2012 the new Leica M digital rangefinder camera is available for pre-order and expected to ship soon. Although the 4th rangefinder in the M range to feature a full frame sensor, Leica have changed from the previously used Truesense 18Mp CCD to a CMOSIS 24Mp CMOS model. With new features added too expectations are running high, so lets get under the hood and see what it has to offer.
Retiring previous M9 and M9 P versions this latest model - known simply as the Leica M, sits alongside the Leica M-E Typ 220 as the two full frame cameras in the German manufacturer's renowned M series. With a list price of $6950 (body only), streamlined functionality and rangefinder viewfinders Leica cameras are unusual in the digital era but they continue to hold reverence with some photojournalists.
Quality engineering using brass and magnesium combined with simple controls and petite proportions make the M solid as well as portable and quick for reportage photographers. The rangefinder style of composition provides a rough indication of framing using guidelines in the viewfinder that adjust as you change lens. This is done via a sensor in the body to read the lens profile and allows the image processor to apply lens-based corrections as files are saved.
Compatible with both M mount as well as Leica R lenses via the $310 R Adapter M, there's a wide choice of high quality Leica optics available for the M, but it only offers manual focus. The new 3.0in 920k LCD does feature live view for more precise framing however and makes shooting with macro or telephoto lenses a realistic possibility. Live view also offers a 10x magnification for precise manual focus.
Despite remaining true to simplicity this latest model does incorporate a few updated specs such as HD video, a 100 - 6400 ISO range, 3fps burst shooting and compatibility with the $465 EVF2 viewfinder, which plugs into the hot shoe, but there's no built-in flash. Lets find out if the new 24-megapixel CMOS sensor can catch up with the latest DSLR competition.
Further readings for the Leica M review: How does the new 24-megapixel CMOS sensor in Leica's latest rangefinder perform?
To provide photographers with a broader perspective about mobiles, lenses and cameras, here are links to articles, reviews, and analyses of photographic equipment produced by DxOMark, renown websites, magazines or blogs.
---
---
---
---
Comments
Bullshit

The dynamic range of this sensor is terrible, good luck recovering shadow detail it looks like garbage


Reply
---
i dont know what to buy need help

Sony Rx1 5d mark-iii or a Leica price range 3000 t0 3400 is all i have i love my photography but all this pixel peeping and the shame of buying a camera that's half a percent worse than the better scoring one is really taking away the purity and romance of photography im a street / art photographer /beginner/getting good results with my current 7d but can some one please give me advice on a camera for street/art photography i love the 5D mark iii ,but its not really discreet as a street camera ?what do you guys or gaLs advise .mike "trik" foto.


Reply
---
Added by

LCN

| July 21 , 2013

Is Leica cutting edge?

At this price level, no discussion, you have to expect the very best on the market. Concerning the M-cameras, DxO proofs this isn't fully the case. You buy with Leica a name, a style, an entry ticket for the golf club but all of that is having no meaning to a real photographer. Mechanics & optics are key competences Leica can manage in the most perfect way, but electronics and the according ergonomics are a different story... but unfortunately, in 2013 this makes the camera a winner or a loser. A lot of parts are purchased from and manufactured by others like CMosis, Jenoptik, Olympus... About the lenses there is a lot more to say in terms of IQ, but also here we see Zeiss, Voigtlander,... and be honest, if you compare these M-lenses with the very best you can get in the DSLR and even premium compact-world, you'd be surprised. They are not stupid in Asia, having lens-factories that produce glass at nano-level precision, also compensated designs with complex multiple aspherical lenses. Everyone has to judge for himself, but I'm no Leica-believer anymore, no longer, this M is only half a step forward where Leica had to take at least 3 steps to be on par with truly the best you can get.


Reply
---
Validity

I just wonder why all pictures that I have seen taken with a Leica look better than the ones taken from Nikon. However the marks are not very great. It seems that there factors that are not measured. I did return my D800E back. It seems that the Technology is not there yet.


Reply
---
Added by

Nerval

| March 15 , 2013

As good as it is...

The point of shooting rangefinder, and any way investing in a Leica M is not cracking burst shots at sport events, I take it...

One thing though, Leica did really make a fuss about this new sensor and all, well at least here in Europe, got some friends who were invited to a couple of events by the store in London (they're customers and Leica tends to take care (cling onto) their customers, well Leica does not sell potatoes...).

And, here is the result, you'd think given what they ask for a M, they would fit it with top notch sensor technology (I'm thinking what Canon or Nikon (I mean Sony) manage to achieve).

But the SNR curve is not that impressive and most of all the dynamic range, which is wrongfully labeled as landscape here on DxO, drops quite rapidly to below APS-C sensor average past ISO 800.

And well DR at base ISO does not tell you the whole story, it's quite the opposite. At base ISO you'll barely even use more than 12 ev, unless you fancy over-everything radioactive HDR finish.

BUT DxO measures DR from where the noise levels cripple the shadows to the highest reproducible gradations in highlights. Thing is, as you increase the amplification of the signal, the highlights are always maintained very well, the shadows however... that's a different story.

Meaning, despite the score of ISO 1800 in acceptable SNR, the shadows turn to mush quite fast, which means the camera is already under-performing above ISO 800.

Canon for instance has never done too well in the low ISO DR department, however what made their cameras perform "low light miracle" is that they manage to keep a reasonably good DR at high ISO, on par or even better than their Sony (I mean Nikon) counterparts. Sony's chip manage a tad cleaner SNR.

My point is it's better to have a better headroom than sacrificing tones for the sake of a bit cleaner file... Cause when you have 8 ev of DR in your Raw file, in general it's game over, and well, the M does it two full stops earlier than its competitors, or so it seems cause the graphs do not display the data, DxO has not updated the site as of now.

Isn't it a bit disappointing? (guess it still is an improvement over the M9).


Reply | Read all replies for this comment
First replies for this comment
---
Added by

MikjoA

| March 17 , 2013

Re: As good as it is...

Why dynamic range would be wrongfully called landscape, since having a good dynamic range is mostly important for landscape ?

The curve may be steep, but who would take landscapes at 800 ISO ? Most people shot landscapes at 100 iso or even less if the camera allows it.

Anyway, 84 is surely a good score, but I'd expect it to matches Sony's sensor...


Reply
---
First replies for this comment
---
Added by

Nerval

| March 15 , 2013

Re: The problem

Well, the dynamic range has a rather linear curve, so you could say that it follows a more ideal path of analog signal amplification than the 6D for instance... Except that it's not right, because the curve for this Leica is... well... Rather steep.


Reply
---