Nikon 1 J3 review: A new midrange offering doesn't shine
By Janice Chen -
Friday February 15 2013
Sensor Review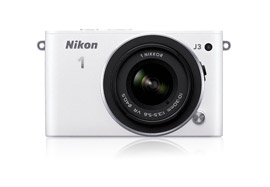 Released just a month after being announced at CES 2013 alongside a new lower-end sibling (the Nikon 1 S1), the new Nikon 1 J3 now takes its place as the midrange model in Nikon's lineup of interchangeable lens compact cameras, with a list price of $599.95 (with a 10-30mm kit lens). The J3 is an update to the Nikon 1 J2, which came out only five months prior to the announcement of the J3 and S1 and had been the camera maker's lower-end offering.
Though five months is a relatively short cycle time for updating an interchangeable lens digital camera, the J3's predecessor was not a particularly impressive performer or popular camera, so it makes sense that Nikon would want to update it relatively quickly.
Unfortunately, not that much has changed in the new model to make it any more appealing. Externally, the J3 looks virtually identical to the J2 (which is still priced at $549.95 with the 10-30mm lens), with the exception of the mode dial, which has been moved to the top of the camera. Internally, however, the J3 now sports the same 14.2-megapixel CMOS sensor as the higher-end Nikon 1 V2 (just as the J2 includes the same sensor as the V2's predecessor, the Nikon 1 V1).
Given that the V2 didn't really knock our socks off when we tested it, it's no surprise that the J3's sensor isn't really a stand-out in the category either.
Further readings for the Nikon 1 J3 review: A new midrange offering doesn't shine
To provide photographers with a broader perspective about mobiles, lenses and cameras, here are links to articles, reviews, and analyses of photographic equipment produced by DxOMark, renown websites, magazines or blogs.
---
---
---
Comments
Added by

profadp

| February 16 , 2013

Fujifilm X series cameras

I just wanted to congratulate your site for its thorough and objective analysis and assessment of the Image Quality offered by cameras and lenses of vatious manufacturers.

I look forward to seeing your report on the latest offering by the X-series of Fujifilm cameras.

Regards,
Anastasios


Reply | Read all replies for this comment
First replies for this comment
---
Re: Fujifilm X series cameras

Hello,

Thanks for your comment.

As you probably know, the Fuji X-Pro 1 does not use a Bayer matrix but a "X-Trans" matrix. We will try to test this sensor, but although we try to respond to your requests to provide tests for specific camera models, there are no plans for doing it in the short term.

Best regards,



Reply
---
Added by

Hakeem

| January 08 , 2013

another fullframe score

Where is XTrans sensor camera? why not testing them? all the major review sites has pubslished their reviews ages ago.

and you call yourself "Camera Sensor" Only Analysts/ Experts?

The first camera you should review is xpro1 last year!

Don't know what's wrong with you guys!!


Reply
---