Nikon 1 J4 sensor review: Serious entry-level contender?
By Kevin Carter -
Wednesday May 28 2014
Sensor Review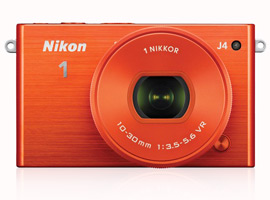 After the announcement of the flagship Nikon 1 V3 the company revealed a new less expensive model sharing many of the features, including the 18-Mpix CX format (1-inch type) sensor with an improved hybrid AF system including 105 on-chip phase-detection points covering most of the frame, and new Expeed 4 level processor. Read on to find out how well this new model performs.
Specification and Features
New features often trickle down from high-models, but it's not often you see that happen within a month. The new entry-level Nikon 1 J4 shares many of the high-end features of the flagship 1 V3 including the 18-Mpix CMOS sensor sans AA filter, Expeed A4 processer, extended ISO 160–12,800 sensitivity range and new, wide-area hybrid AF system. It boasts a total of 171 AF points, with 105 points linked to dedicated phase-detection pixels on the imaging sensor which promises fast AF and covers nearly the whole frame, Like the 1 V3 it doesn't have a built-in EVF, which is in extra on that model but sadly not an option on the 1 J4. While it lacks the necessary accessory shoe, it has a tiny built-in popup flash instead, a feature that's arguably more important to the target audience. Still, it has a similar 3.0" 1.04M dot touchscreen rear LCD (albeit not tilting), same 20 fps burst option with continuous autofocus and even shares the 1 V3s 1080/60p and slow-motion (120 fps) video capabilities of its far pricier sibling. The Nikon 1 J4 is available now in a choice black, silver, white and fetching orange color finishes at $599 including the 10-30mm f3.5-5.6 PD-zoom.
See our preview: Nikon 1 J4 Preview – Nikon overhaul their entry-level mirrorless camera
Key specifications
18-Mpix CX format CMOS sensor without AA filter
Hybrid AF system with 105 on-chip phase-detection points, covering almost 100% of frame
20 fps continuous shooting with AF
3.0" 1.04M dot touchscreen rear LCD
1/6000th top shutter speed, 1/60th flash sync
ISO 100 - 25,600
1080/60p movies with full-time autofocus
Built-in Wi-Fi connectivity
Further readings for the Nikon 1 J4 sensor review: Serious entry-level contender?
To provide photographers with a broader perspective about mobiles, lenses and cameras, here are links to articles, reviews, and analyses of photographic equipment produced by DxOMark, renown websites, magazines or blogs.
---
---
---
Comments
Added by

FL Guy

| June 21 , 2014

DXOmark comments miss the point, in my view

The Nikon 1 _system_ size and weight falls between compact cameras, and M43.

The 1 series offers much smaller size & weight than an M43 camera w/ a 300mm zoom lens, and much better IQ than a compact fixed lens camera. In reality it falls between the previous categories.

Compare the size of the Olympus M43 70-300mm lens, 600mm equivalent, to the 1 series 70-300, 810mm equivalent. The Nikon lens is much smaller and lighter. (The Olympus lens has the advantage in speed of course)

As such, in my view, the 1 series is more of an _alternative_ option, rather than a "head to head competitor" to M43 cameras.

There are pros and cons to both systems, and for some who care less about long zooms and/or ultimate portability, the M43 format and Sony NEX systems are great choices. But there are tradeoffs - including the size of longer zoom lenses, and these are not well reflected in the DXOmark comments above.

If we're going to compare the 1 system to M43 cameras, imho it would be more equivalent to include the size & weight of long zoom lenses in the comparison.

Of course, DXOmark measures and compares sensors, and I get that. The comments though attempt top compare factors far beyond sensor performance, but do not do a good job of presenting the full story, or some of the other places where the Nikon system has advantages.

Disclosure: I have no affiliation w Nikon or any associated companies


Reply
---
---
First replies for this comment
---
Re: You are wrong...

DXO Mark Sports Action Low Light. "The higher the SNR value, the better the image looks, because details aren't drowned by noise. SNR strength is given in dB, which is a logarithmic scale: an increase of 6 dB corresponds to doubling the SNR, which equates to half the noise for the same signal."

So you shoot with an older DSLR with less dynamic range at than a newer compact camera according to the scores. But the SNR ratio for the older DSLR could far exceed the SNR value of the compact camera at all ISO levels and won't take in account how the lens and sensor size could affect exposure and diffraction.

They said it themselves. For example they say this sensor performs better, Ok. But how much better the actual images look is less important for the rating system. :-\


Reply
---
Nikon 1 J4 - Olympus E-PM2 (or E-PL5)

After owning an Olympus E-PL5 for the last year I picked up a E-PM2 at a closeout price to limit the need to swap lenses when in the field. I tried, and would have preferred, to carry the Nikon 1 series because I primarily shoot with Nikon cropped and full frame cameras (D3200/D600).

But the Nikon 1 system just doesn't 'make it' in terms of:
- price
- image quality
- lens options

As a bonus, for $25 I can use the Nikon lenses on my Olympus m4/3 bodies. This gets to be quite useful for the longer focal lengths.

I seems to me that Nikon, despite having top-of-the-line sensor performance in their DX and FX camera bodies, has missed the performance mark with the Nikon 1 series, for the price they charge. It may not matter to someone moving up from a camera phone (although the price might, i.e., Nikon 1 V3), but anyone serious looking to add a smaller lighter weight option will probably ignore the Nikon in favor of a m4/3 or a Sony APS offering for performance, and probably price, reasons.


Reply
---
Scores are totally weighted wrong

The most important aspect of grading sensors for real world use comes in at the lowest priority! Signal to Noise Ratio with ISO performance should be the highest factor. So far removed to the end goal of using the end product which are photos.


Reply
---