Nikon 1 V3 sensor review: Ahead by design?
By Kevin Carter -
Thursday March 20 2014
Sensor Review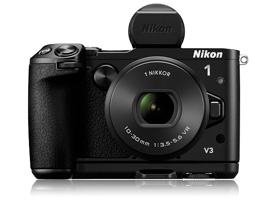 After the initial interest surrounding the original Nikon 1 V1 and the somewhat lackluster follow-up to that in the form of the Nikon 1 V2, the firm has introduced, arguably, the most exciting looking and capable model yet, the Nikon 1 V3. Read on to find out how this reimagined model performs.
After the initial success of the Nikon 1 V1 and the somewhat uninspiring sequel the Nikon 1 V2, Nikon has introduced the most capable, and, arguably, the most stylish model of the system to date in the shape of the new Nikon 1 V3.
Aimed unreservedly at enthusiasts looking to replace their high-end compacts, the Nikon 1 V3 boasts a new 18-Mpix CX format (1-inch type) CMOS with on-chip phase-detection (PD) AF pixels for improved AF operation and faster focusing than those adopting just contrast detection. This hybrid AF system boasts a total of 171 AF points, with 105 linked to the dedicated PD pixels on the sensor.
A new Expeed 4A level processor is required to handle the increase in data allowing not only a ISO12,800 maximum sensitivity but also full HD 1080p video recording at 30/60fps and continuous stills shooting at the same rate. The Nikon 1 V3 can also boast continuous bursts up to 20 fps with full-time AF. Although the body no longer has a built-in electronic viewfinder, the V3 has a new 3.0" 1,037k-dot tilting touchscreen LCD to the rear. However, if you prefer a viewfinder, the firm has announced an optional Electronic View Finder with 2,359k-dots and near 100% frame coverage.
For additional stability and security, Nikon has also introduced an optional grip. It boasts angled controls for improved handing, like the firm's DSLRs, and includes a third programmable function button and a sub-command wheel.
In the US, the Nikon 1 V3 is bundled with the grip, EVF and new stabilized 1 Nikkor VR 10-30mm f3.5-5.6 PD-Zoom kit lens at around $1,200.
Key specifications
18.4-Mpix CX format (1-inch type) CMOS sensor
EXPEED 4A Image Processor
3.0" 1,037k-dot Tilting Touchscreen LCD
1.44M dot LCD viewfinder (optional)
Wi-Fi with remote control and file transfer to smartphones
Continuous shooting at 60 fps (20 fps with full-time AF)
Full HD 1080p Video Recording at 60 fps
Hybrid AF System
ISO 12800 and Movie e-VR Stabilization
Built-in flash
For more coverage of this model, please see our preview: Nikon 1 V3 – Setting new standards for performance
Further readings for the Nikon 1 V3 sensor review: Ahead by design?
To provide photographers with a broader perspective about mobiles, lenses and cameras, here are links to articles, reviews, and analyses of photographic equipment produced by DxOMark, renown websites, magazines or blogs.
---
---
---
---
Comments
Added by

uzevla

| April 24 , 2014

ISO score 384 + f3.5 zoom lens = FAIL

a small compact camera must overcome it's low ISO capabilities with a good lens. Fixed size or compact zoom that is ~f2.0
This ISO performance and f3.5 lens for more than 200$ is ridiculous these days. Sure, there are people that need fps, than there are people that just need a good prime. A nice small niche that will shell out this money. But, there is vast majority of buyers who just need excellent fixed zoom lens, not more than 3x on such a camera.

Better luck with P8000. If you give me f2.0 - f3.0 fixed zoom with ISO score > 500, I'll give you 1000$ easily.

P.S. for Nikon: Fire some marketing people.


Reply | Read all replies for this comment
First replies for this comment
---
Re: ISO score 384 + f3.5 zoom lens = FAIL

Fast loading website as well. Add the convenience of watching them do it.


Reply
---
First replies for this comment
---
Re: You just test a Nikon V3

Hi Jean-Louis,
It is a loan sent by Nikon Europe, and a production model (one of the first available!).
Best regards.


Reply
---
Nikon V3 - Ho, hum!

As a Nikon owner and supporter the V3 is underwhelming as best. For the last year I've been using an Olympus E-PL5 as my light weight cycling, paddling and hiking camera. At half the price it's 50% better. Someone seems to have their head stuck up their butt.

On the other hand their D600, now D610, is outrageously good, in absolute and relative cost terms. So the user is left to carefully pick and choose their equipment and not rely on a single manufacturer to be first-class in all areas. That's why I continue to depend on DxOMark for information rather than the many fanboy sites!


Reply
---
Added by

josa

| March 20 , 2014

Nikon V3

So it has worse DR and Color Depth than Nikon P7800 and way behind Sony...shame on you Nikon!


Reply
---
Added by

josa

| March 16 , 2014

What for?

MAYBE for half price it would stand some chance...


Reply
---