Nikon AF-S NIKKOR 18-35mm f/3.5-4.5G ED review: high-performance update to portable ultra-wide zoom
By Kevin Carter -
Tuesday June 18 2013
Lens Review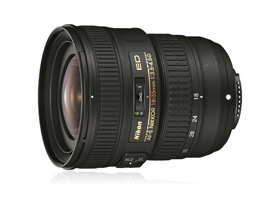 Nikon's update to the film era AF Zoom-Nikkor 18-35mm f/3.5-4.5D IF-ED boasts an enviable spec, including built-in silent wave AF motor and re-designed optical construction with two ED glass elements. Read on to see how well it performs on the 36-Mpix Nikon D800.
With a sweeping 74 to 29 degrees horizontal angle of view, this $750 full-frame ultra-wide zoom is an update to the compact yet film-era D-series model of the same focal range and focal ratio. As a G-series lens it will come as no surprise to learn the aperture ring is now controlled electronically from the camera. Internally, improvements to the optical design include two ED glass- and three aspherical-elements (up from one of each previously) bringing the total to 12 elements in eight groups. This lens also has an ultrasonic type AF motor (SWM in Nikon parlance) allowing easy switching between manual focusing and AF while also adding compatibility with recent DX-format camera bodies, such as the D5200 and D3200. As the equivalent to a 28-55mm on these cameras, this lens isn't quite as compelling but it may be a useful combination nonetheless.
Further readings for the Nikon AF-S NIKKOR 18-35mm f/3.5-4.5G ED review: high-performance update to portable ultra-wide zoom
To provide photographers with a broader perspective about mobiles, lenses and cameras, here are links to articles, reviews, and analyses of photographic equipment produced by DxOMark, renown websites, magazines or blogs.
---
---
---
---
---
Comments
Better than the 17-35?

I hope this is accurate as the old 18-35mm was easily the worst lens I have ever owned. I tried two, both from different batches and each managed to grow light blobs on highlights! Parked cars looked as though their headlights were on and resolution, even on a D200 was sepulchral. Now you are claiming the new G lens betters under all use the old 17-35mm f2.8, but the old 17-35mm f2.8 was said to better all the primes at the focal lengths it covered. Here I note the resolution you get from it, as with the 17-50mm AFS f2.8 Nikkor is dreadful - practically everywhere and all the time, especially as you go further into the longer focal lengths. Am I crazy, but maybe just possibly this is due to focus errors?? Are you using live view. Are you, IN FACT testing all these different machines as you claim, with every single lens, or merely extrapolatuing sharpness and other scores from a basic actual reading- as gas and electricity meter readers estimate performance??

What makes me suspicious is that my 17-35mm lens is rather better than you tell me it is on a D800. Interestingly I am getting in an old 24-50mm f3.3-4.5 lens to use. Notably it is ignored these days, but it was, for 18 years Nikon's ONLY 24xxx zoom. Surely despite reports, it must be OK? as that is a very long time for the best-known manufacturer to produce only one model zoom.

I have also bought and returned 2 24-70mm lenses as they were only ever sharp in the middle due to field curvature. Even at f5.6-8 on a D800 they were a joke- and your test concurs only as far as chromatic aberration is concerned. Your tests do not reflect actual use- which is a shame as I am sure a practically bad lens might be bad at usual distances, yet fine in front of a test target.


Reply | Read all replies for this comment
First replies for this comment
---
Re: Better than the 17-35?

Hello,

The following describes our procedure for shooting Through Focus MTF Targets. For each measured focal length and aperture setting:
- Distance set to 35x the focal length
- Camera is positioned in the middle of a focusing rack; autofocus is initiated to test accuracy (in live view mode if possible)
- Autofocus switched OFF
- We then perform more than 40 shots on a long focusing rack, bracketing around the focus distance to find the optimal focusing position (without using autofocus). With this step, called "through focus", we are 100% certain to locate and record the optimum or "best focus" position for each lens, when mounted on the camera.

There are many sources of vibration that could impact sharpness / resolution measurement (i.e. mechanical shutter, mirror for vibration, tripod-type used etc …)

- To avoid problems arising from vibration we use a very specific protocol:
· Lab is in perfect darkness
· Heavy (72 kg) studio stand
· Remote control is used
· Step 1: mirror lock where possible
· Step 2: Timer: 2s
· Step 3: Time exposure 1s in total dark in order to get rid of the shutter vibrations
· Flash between 1/4000s and 1/1000s depending on the aperture, synchronized on the second curtain
· Electronic shutter where possible

Best regards,

The DxOMark team


Reply
---
Nikon 18-35 G - Field Experience

I have been using this new 18-35 G Nikkor for about a month now on a D600. The sharpness and contrast have been very good. But I have seen a bigger issue with flare, more than I'm used to seeing with other lenses. It just means I need to be more careful whenever I get even close to pointing towards the sun, or any bright point source light.


Reply
---
18-35 test coming?

I've been holding off on purchasing the AF-S Nikkor 18-35mm f/3.5-4.5G ED until you guys give it a test & review. Your last post said nothing before June, and being June, I was hoping that I'd see something this month. Any updates or projected test dates?

Thanks for all that you guys do. You're a tremendous resource that helps me and others make more informed decisions with our camera equipment.


Reply | Read all replies for this comment
First replies for this comment
---
Re: 18-35 test coming?

Hello!

Thanks for your interest in DxOMark.

The review should be published very soon, so stay tuned! :)

Best regards,

The DxOMark team


Reply
---
First replies for this comment
---
Re: AF-S NIKKOR 18-35mm f/3.5-4.5G ED

Hello!

Thanks for your interest in DxO.

Yes, the review is in sight, but not before June! :)

Hope it won't be too long until then...

Best regards,

The DxOMark team



Reply
---