Nikon AF-S Nikkor 200mm f/2.0G ED VR II lens review
By Kevin Carter -
Wednesday July 24 2013
Lens Review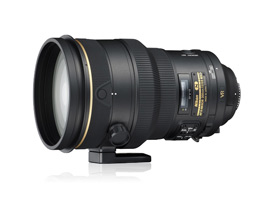 Nikon has had a 200mm f/2 in its range since 1977 and has been regularly updated over the years to maintain its position as one of the highest performing lenses in the maker's range. Read on to see if how well this highly regarded lens performs in our stringent lab tests.
With a full-aperture of f/2.0 this lens is the fastest telephoto in Nikon's current line up. As the latest in a long line of 200mm f/2.0 models that date back to the 70's this lens is rarely publicized, and even today, the autofocus 200mm f/2.0 is made in relatively small numbers. It's perhaps this rarity coupled with the lens' reputation for stellar image quality that makes this one of the most intriguing lenses in the firm's range.This version was updated in September 2010 with the new 4-stop VR II specification, and Nano Crystal Coat. In addition to the usual three ED glass-elements of Nikon's super-telephoto lenses, before the up-dated 80-400mm was introduced, this model was the only lens in the range to feature an additional Super ED glass element to reduce chromatic aberration. Weighing in at 2,930g, the lens adopts an ultrasonic type AF motor, focuses to just 1.9m (6.2 ft.) and costs a not insignificant $5,820.
Further readings for the Nikon AF-S Nikkor 200mm f/2.0G ED VR II lens review
To provide photographers with a broader perspective about mobiles, lenses and cameras, here are links to articles, reviews, and analyses of photographic equipment produced by DxOMark, renown websites, magazines or blogs.
---
---
Comments
Nikon 200mm f2 vr VS Nikon 85mm f1.4 G

Hi everyone, here is a video comparing Nikon 200mm f2vr VS 85mm f1.4 G
https://www.youtube.com/watch?v=A_kYH6RSaMQ&hd=1


Reply
---
still my favorite lens

shoot on a live concert with it and D800E ( ISO 800 )
(lightroom convertet ) http://hofstaedter-pictures.blogspot.co.at/2013/07/alpha-blondy-live-on-stage-shot-with_29.html


Reply
---
First replies for this comment
---
Justice...

... finally. The best collection of glass Nikon ever made. I have been a laughing stock among my colleagues for carrying this around with me for years and years but the reality is that 50% of my sales come from this lens. It's not just sharp. It's magic.


Reply
---
Vr1 VS VR2?

How does the VR1 200 f2 stack up against the VR2??


Reply
---
Added by

hsrurs

| July 25 , 2013

Nikon AF-S Nikkor 200mm f/2.0G ED VR II

Thanks for the most awaited review. It is an amazing lens indeed. I am a proud owner of it.
Best of the lot.

Can you tell me when you will do a review on the new Nikon 800mm f/5.6 fl ed vr lens?


Reply | Read all replies for this comment
First replies for this comment
---
First replies for this comment
---
Amazing

DxOMark score = 32 with 15 Mpixel vs 16 Mpixel D4 sensor = 93,75%
DxOMark score Canon EF 600 II with 5D mk III = 26 with 20 Mpixel vs 22 Mpixel 5D mk III sensor = 90,9%
Why?


Reply
---
Reflection

Optics dedicated to the sport.
No professional would use, however, the turtle D800 to take pictures of sports.
The comparison is more just with 1Dx vs D4.


Reply | Read all replies for this comment
First replies for this comment
---
Simply the best . . .

This is IMO, the best indoor sports lens on the planet. . .


Reply
---