Nikon AF-S Nikkor 58mm f1.4 G lens review: Premium performer?
By Kevin Carter -
Tuesday November 12 2013
Lens Review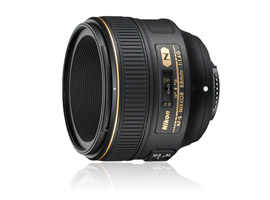 Nikon's manual focus ultrafast Noct-Nikkor was in production for 20 years and was removed from the line-up two years before the introduction of the APS-C Nikon D1 in 1999. While this high-grade model eschews the f/1.2 maximum aperture of the original, it is the spiritual successor to that lens and includes all of Nikon's latest technology. Read on to find out how well it performs.
Nikon's original manual focus Noct-Nikkor 58mm f/1.2 model was designed for photography at night and in poor light using film cameras.
Technology has moved on since then and this recently announced model is not intended as a direct replacement for the Noct-Nikkor but as an ultra-high grade option to the AF-S 50mm f/1.4, and as a short-telephoto on DX bodies, where it becomes the equivalent to a 90mm.
It features a complex optical construction with 9 elements in 6 groups with, unusually, two aspherical elements and nano-crystal coating. As with the upgrade to the AF-S Nikkor 50mm f1.4, it has an ultrasonic type AF motor for near silent focusing and a minimum focus distance of 0.58m. It's unusually light in weight at 365g (13.6 oz) but it's a large lens, measuring 70mm in length with a 72mm filter thread and a maximum diameter of 85mm. The AF-S Nikkor 58mm f1.4 G is available now at $1,700.
Further readings for the Nikon AF-S Nikkor 58mm f1.4 G lens review: Premium performer?
To provide photographers with a broader perspective about mobiles, lenses and cameras, here are links to articles, reviews, and analyses of photographic equipment produced by DxOMark, renown websites, magazines or blogs.
---
Comments
Sometimes science is not enough...

It is clear to me that, high above most things, sharpness of a lens is a high priority in DXOMark tests. However, the sharpest of lenses do not always provide the most pleasing aesthetics/ look/ warmth/ bokeh in a picture. I have rented a Nikon 58mm f/1.4G and, whilst I am not prepared to pay the price for it (maybe if it was an f/1.2 I would), I can see what Nikon has done with this lens. It is worth remembering that this lens was in R&D for quite some time, and it was specifically designed to provide excellence in terms of coma control (in spirit of the Noct), chromatic aberration performance, minimal vignetting, ultra sharp stopped down (in fact, I don't know many sharper rendering lenses than this at f/8, for instance), and gorgeous bokeh. This lens does have all that in droves, and this lens also does produce a unique look to photographs that few others do... Subjects pop out at f/1.4... You don't have razor sharp sharpness of the subject at pixel level, but, you don't always want that (some people, for instance, don't like every line on their face sticking out like a sore thumb!). But, even at f/1.4 when you get the focus right, it is sharp "enough". The bokeh is absolutely stunning in this lens, really is, and as an astro/ night photography lens, it is also brilliant for the coma control. So, whilst DXOMark tests certain benchmarks, they do not provide the whole story.. You really do have to give a lens a test run first before you decide. Is it worth the money... no, in my view, but then what do I know - maybe the optics inside are expensive to make even if the outer body isn't, and I do appreciate their keeping the lens to a reasonably light weight too


Reply
---
Sometimes what is important is the "character" of the lens ... not lab stats

In terms of lenses, while I continue to rely on DxOMark for a good general review, and I even use DxO Optics Pro for some of my works ... however, I think DxOMark scores are not everything to a lens.

Why do I say that? That's because I think some lens are loved for the way it "distorts" the image, or some called it "character". If used wisely(ok this is subjective of course, as one man's meat is another man's poison), it makes for a better "feel" of the photo. For example, I own a Nikon AF-S 35mm f/1.4G which is very expensive (for my budget) despite purchasing it from the used market. It is not like it is one of the sharpest prime on the market, suffers from CA and etc. But I really love how it renders some photos the way it does, and in fact, after I enabled lens profile correction in Lightroom, it doesn't look as good as I "feel" the photos initially. So I did not enable the lens profile correction for a number of my photos taken with it.

Wonder if this makes sense to some of you?


Reply | Read all replies for this comment
First replies for this comment
---
Added by

jdh99

| December 31 , 2013

contradictory findings

I find it interesting that dpreview.com, who share lens test data with DXOmark, conclude that the 58mm is sharper than the 50mm wide open!? See dpreview for their review posted today. They show sample images to back this up. This is a classic example of why testing a single sample of a lens with a test chart at a very short distance doesn't necessarily reflect the true performance of a lens in the field. Makes me skeptical about all of the DXOmark data as well as other website reviews for that matter. There are many lenses that have a fantastic reputation that havent tested well under DXOmark, such as the Zeiss 21mm f2.8


Reply | Read all replies for this comment
First replies for this comment
---
Added by

donut

| November 13 , 2013

DXO struggling with numbers to give this lens its right place

Interesting to see that tests are sometimes not showing the performance of a lens.
This is a beautiful case.
If you see images taken at 1,4 with this lens you see a clarity that the other lenses miss completely.
It is among others the Nano-coating. As with Zeiss lenses that are T* coated- the coating makes a huge impact on the outcome.
Also you see in pictures taken with this lens a beautiful sharp- unsharp rendering. You can isolate subjects very nice with this lens. It is a good thing Nikon at last makes a standard lens with Nanocoating- but i find it way too expensive....




Reply
---
Added by

kheric

| November 12 , 2013

60mm 2.8 D?

I know the 60mm 2.8 D is the only version of the 60mm micro tested, but I would think it would make a lot more sense in this review to test the more recent lens for comparison. It's supposed to be a much stronger performer, so if you have to stop the 58mm 1.4 G down to f/11 any way, why not compare the latest and greatest?


Reply
---
Added by

ntnyc

| November 12 , 2013

Coma

I believe that one of the primary purposes of this lens design is to minimize coma (from Nikon's press release: "top-class low-light performance is ensured with minimal sagittal coma"). Do any of the DxOMark tests measure performance in this regard? If not, are we ignoring an important aspect of this lens's intended quality? With digital photography, it is much harder (if not impossible) to correct for coma than it is for than vignetting or chromatic aberration, so giving so much weight to these latter categories seems misplaced.


Reply | Read all replies for this comment
First replies for this comment
---
Added by

rxdml

| November 12 , 2013

Weird overall score

I'm with pitchblack on this one.
How do you define the overall score? It doesn't seem to reflect the individual scores.


Reply | Read all replies for this comment
First replies for this comment
---
Must be a mistake

These numbers don't add up. Maybe you did your math wrong. The 58mm is sharper, transmits light better, controls vignetting better, and is much better at controlling chromatic aberration. It's only a tiny bit worse at distortion, but it gets a lower overall score?

Double check your math.


Reply | Read all replies for this comment
First replies for this comment
---