Nikon Coolpix A Sensor Review: Nikon's first compact packing an APS-C sensor
By Paul Carroll -
Friday March 29 2013
Sensor Review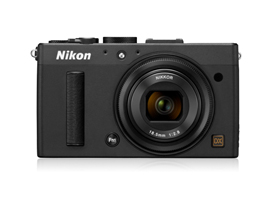 Launched in March 2013 the $1097 Coolpix A is Nikon's first compact camera with an APC-S sensor and features the same 16.2-megapixel DX sensor from Nikon's D7000 DSLR but with its optical low-pass filter removed. Utilizing a fixed NIKKOR 18.5mm f/2.8 prime lens (equivalent to 28mm in 35mm terms) the Nikon Coolpix A has the right ingredients for great image quality so let's see how it performs.
Not wanting to undermine their DSLR sales Nikon have used a smaller 1-inch sensor in their 1 Series of Hybrid cameras but it seems with the Nikon Coolpix A they're looking to gain market share in the high-end compact market, too. With less versatile fixed lenses and high price tags it's a niche segment of the overall camera market however and one that's already brimming with options like the $1299 Fujifilm X100S, $2798 Sony RX1 and $999 Sigma DP3.
Let's compare the Nikon Coolpix A's measurements against high-end compacts, top-end APS-C DSLRs and consider a mirrorless hybrid alternative to put it all into perspective.
Further readings for the Nikon Coolpix A Sensor Review: Nikon's first compact packing an APS-C sensor
To provide photographers with a broader perspective about mobiles, lenses and cameras, here are links to articles, reviews, and analyses of photographic equipment produced by DxOMark, renown websites, magazines or blogs.
---
Partner reviews
|
June 17, 2013

To website




On fixed-lens compacts like the Coolpix A, the lens is right at the heart of the imaging system, and ultimately just as important as the sensor and processor in determining the image quality. Fortunately the Nikkor 18.5mm 1:2.8 is really rather good: its only flaw is relatively strong vignetting that persists on stopping down. However the Ricoh GR's lens is just as good, while exhibiting less vignetting.

Read the article

---
Lens Review
|
May 14, 2013
| | |
| --- | --- |
| | It seems that every passing month brings a new compact camera to the market, featuring a large sensor and the promise of higher image quality than its peers. However, while the sensor is often the star of the show, the lens is just as important and can make or break the performance of the camera. The Nikon Coolpix A is one of this new breed of large sensor compact cameras, and just a few years ago it would have seemed a most unlikely proposition. However, as technology has improved, costs have come down and it is now possible to fit large sensors in small cameras at a reasonable cost, but this does mean the lenses have to improve in tandem or they risk damaging the great work done by the sensor engineers. |
---
---
---
---
Comments
Added by

DXOref

| April 24 , 2013

X100S ***Member Request***

This is a comical comparison of technologies.

Any word on this Emilie?




Reply
---
C'mon

At this point there's good support for X-Trans in Lightroom and Capture One. Zeiss considers the XF platform important enough to make lenses for. How much longer are you going to avoid allocating the resources? The X-E1 is a hit, you need to support it. The X-E1 is 14th on the Amazon best sellers, ahead of cameras like the Sony NEX-7 and the Olympus OM-D.


Reply | Read all replies for this comment
First replies for this comment
---
Re: C'mon

Hello!

Thanks for your interest in DxOMark.

Are you talking about DxO Optics Pro support for the x Trans cameras?

Best regards,

The DxOMark team


Reply
---
Added by

josa

| April 01 , 2013

Apples to apples...

Yes, compare it to X100s and DP merrill series...


Reply
---
Nikon A vs Fuji x100 and not S

Yes at this point the A is second in this class, yet you have not reviewed the any X-Trans censor camera's to date. I am hoping this will change in the near future. What is holding DXO up in this matter?

Regards


Reply | Read all replies for this comment
First replies for this comment
---
Re: Nikon A vs Fuji x100 and not S

Hello,

Thanks for your interest in DxOMark.

As you probably know, the Fuji X-Pro 1 does not use a Bayer matrix but a "X-Trans" matrix. We will try to test this sensor, but although we try to respond to your requests to provide tests for specific camera models, there are no plans for doing it in the short term.

Best regards,

The DxOMark team


Reply
---