Nokia Lumia 1520 sensor review: Pushing the boundaries?
By Kevin Carter -
Wednesday March 26 2014
Mobile Review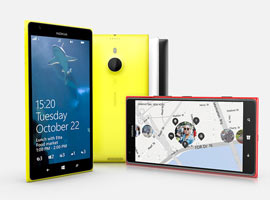 Nokia has decided to take on rivals with larger screens but, with its smaller 4.3 x 5.8mm 20-Mpix CMOS sensor, can this model resoundingly beat them in image quality? Read on to find out.
While rivals such as Apple and Samsung along with the raft of dedicated photography apps have advanced the popularity of the smartphone as an more convenient option to a digital stills compact camera it is, arguably, Nokia with its Pureview technology and specifically the 38-Mpix 808 model that has elevated the humble camera phone to the status it has today.
The 808 and the Windows Phone based Lumia 1020 have performed well in our tests, the 808 Pureview in particular.
The latest top-of-the-range model, the WP8 Lumia 1520, eschews the physically larger 1/1.5 in type (6.6 x 8.8mm) BSI CMOS of the Lumia 1020 for a smaller, more conventional (4.3 x 5.8mm) 20-Mpix BSI CMOS with a maximum sensitivity of ISO4000 and a slimmer profile, not unlike that of the Lumia 925.
Like the 1020, the 1520 offers a down-sampled 5-Mpix Jpeg for sharing, as well as a native res (18.7-Mpix) still as either a JPEG or Raw file (DNG). The lens remains a stabilized autofocus 26mm 6-element model but with a slightly slower f2.4 aperture (down from f2.2).
The 1520 also sports both Nokia's Pro Camera and Smart Camera apps in one new Camera app, making it one of the best of its type. Video enthusiasts will also be pleased to hear that the 1520 now has four mics in addition to the choice of either 1080p or 720p with the option of 24, 25 and 30fps framing rates.
The headline news, is arguably not the camera module, but the inclusion of a 6.0in IPS LCD that makes the new addition to the range clearly aimed at rival Samsung's Galaxy Note III. Microsoft's support for a Full HD (1920x1080) panel is welcome but at 162.8 x 85.4 x 8.7mm it's still a large camera-phone for photography, even if it's still a reasonably light 209g.
It also adopts Corning's Gorilla Glass 2 instead of the more scratch resistant Glass 3 variant used on the 1020 model. The Lumia 1520 is available now SIM free for around $610.
For more information on the 38-Mpix Nokia Lumia 1020, please see our review: Nokia Lumia 1020 sensor review: Are mobiles comparable to compacts and DSLRs?
Further readings for the Nokia Lumia 1520 sensor review: Pushing the boundaries?
To provide photographers with a broader perspective about mobiles, lenses and cameras, here are links to articles, reviews, and analyses of photographic equipment produced by DxOMark, renown websites, magazines or blogs.
---
---