Panasonic LUMIX DMC-FZ200: Great specs for an all-in-one shooting solution
By Paul Carroll -
Monday February 04 2013
Sensor Review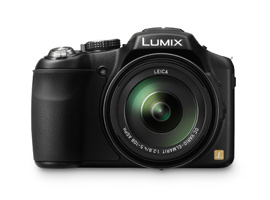 Alongside a successful line of Mirrorless Hybrid cameras Panasonic continue to refresh their lineup of fixed lens Bridge cameras. Launched in July 2012 the Panasonic LUMIX DMC-FZ200 offers a 24x super zoom, 12fps continuous shooting and 1080 60p HD video. Upgraded from its predecessor, the Lumix DMC-FZ150, this latest model also boasts a fixed maximum aperture, higher resolution EVF, greater ISO and shutter speed ranges as well as a new HDR mode.
Panasonic's flagship high-end compact the Lumix DMC-FZ200 is aimed at serious enthusiasts looking for an all-in-one shooting solution for holidays, day trips and general photography. It features a 24x optical zoom with an equivalent 25-600mm focal range and a fixed f/2.8 maximum aperture. The latter is unusual for a bridge camera and should be of interest if you're considering one for sports or wildlife photography.
Its impressive features don't stop there either and although continuing to use the 12.1 megapixel High Sensitivity MOS 1/2.3-type sensor found on its predecessor, the Lumix DMC-FZ200 offers a number of other improvements. These include a higher resolution 1.3m Dot EVF, a greater 100–6400 ISO range, an improved 60secs – 1/4000sec shutter speed range, not to mention High Speed movies, a HDR mode and improved battery-life. The Lumix DMC-FZ200 also features 1080 60p video in AVCHD or MP4 formats, a 3.0-inch, free-angle 460k-dot LCD screen, Panorama Shot mode and RAW+JPEG image capture.
So does all this extra functionality affect the good DxOMark Scores achieved by its predecessor? And with a $598 price tag how does it rank against cheaper rivals like the $450 Canon PowerShot SX50HS with its incredible 50x zoom or the $450 Nikon COOLPIX P7700? We put all four cameras in one review to see how their DxOMark Sensor Scores compare.
Further readings for the Panasonic LUMIX DMC-FZ200: Great specs for an all-in-one shooting solution
To provide photographers with a broader perspective about mobiles, lenses and cameras, here are links to articles, reviews, and analyses of photographic equipment produced by DxOMark, renown websites, magazines or blogs.
---
---
---
Comments
Added by

balanr

| February 07 , 2013

Really?

We are looking at the FZ200 for 2 reasons. 600mm at f2.8 and 720p at 120fps. Both reasons for bird watching. How does the Nikon compare to that!


Reply | Read all replies for this comment
First replies for this comment
---
Re: Really?

Well, yes if you look at the comparison through the rather narrow view of birding watching, the Panasonic has the Nikon beat. But when you are comparing sensor performance and IQ, which is what DxOMark does, the P7700 has a clear advantage. No need to get your feathers ruffled.


Reply
---
Added by

noirist

| February 05 , 2013

Your tests are absurd

It's absurd to apply the same tests for fixed lens cameras as you use for interchangable lens cameras. For fixed lens cameras, you should provide tests that measure the image quality produced by the sensor and lens together, not just the sensor alone. After all there is no way to change the lens on a fixed lens camera so who cares how well the sensor does by itself?


Reply | Read all replies for this comment
First replies for this comment
---
Re: Your tests are absurd

I agree since they need to measure the total system to make any valid judgements.

I also wonder why anyone would prefer to look through an electronic viewfinder of 201K which cripples both the Nikon and Canon bridge cameras ? Who can hold a 1,200 mm lens at arms length to compose with the external LCD ? Silly.

If you can't see it, how can you photograph it ?

Fujifilm Finepix and Panasonic Lumix both provide high resolution eye level viewfinders which are big differentiators in favor of their bridge cameras.



Reply
---
Re: Your tests are absurd

Hello!

Thanks for your interest in DxOMark.

Compacts and High end compacts are very difficult to test, we try to perform test on the most awaited but we cannot test every compact lenses.

Best regards,

The DxOMark team


Reply
---