Panasonic Lumix DMC-GH3 review
By Ben Boswell -
Thursday February 14 2013
Sensor Review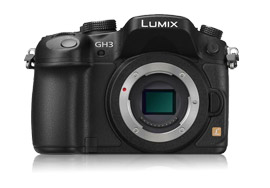 Hybrid is a word used both positively and negatively, quite appropriate for the photographic industry. The Panasonic Lumix DMC-GH3 wears this badge: "Hybrid", a mix of system and compact. It has a range of lenses spanning 7mm to 300mm (equivalent to 14mm up to 600mm in full frame 35mm) and a body that is not much bigger than a compact camera. Should it wear it with pride? Yes, it should…
The Panasonic Lumix DMC-GH3 is a small 4:3 camera, weighing in at 544g when fitted with its "default" lens, the Lumix G Vario 14/42mm f3.5-5.6 Aspherical. The 4:3 sensor gives the equivalent focal length for full frame 35mm exactly double. This particular 4:3 sensor is 16 MPix.
The GH3 has all that you would expect from a camera aimed at the serious enthusiast, plus a few unusual extras like 3D capture if you buy the interchangeable H-FT012E 12mm 3D lens. Images can be recorded as jpeg or RAW, Single capture or bursts of up to 20 frames per second (depending on the resolution set). There is no Image stabilization built into the camera but many of the lenses, including the 14/42 are equipped with IS. The monitor screen is not massively high resolution at 614K but it is fully articulated and touch sensitive, allowing for features like touch AF which lets you to choose the focus point on the screen by simply touching it.
The styling is like a small SLR camera, but the view through the viewfinder is of a 1.4Mpix equivalent monitor, so like other hybrid cameras, there is no mirror to be flipped out of the way between viewing and capture. The video capture is full HD: 1080p and with the wide range of lenses available this makes for quite a versatile camera. The lenses are Micro 4:3 mount, so there are Panasonic's own lenses and offerings from a host of other makers across a wide range of budgets.
Further readings for the Panasonic Lumix DMC-GH3 review
To provide photographers with a broader perspective about mobiles, lenses and cameras, here are links to articles, reviews, and analyses of photographic equipment produced by DxOMark, renown websites, magazines or blogs.
---
---
Comments
Added by

dfswan

| March 29 , 2013

1.7 million dot OLED viewfinder

Thanks for the great review. You mentioned that the GH3 had a 1.4 Mpix viewfinder (same as the Olympus EM-5 and other previous Lumix cameras) but it in fact has a 1.7 million dot OLED viewfinder. It must be the OLED because there is no comparison between this excellent viewfinder and the others. It is so good in fact, that I far prefer this WYSIWYG viewfinder to our Nikon 5100 optical viewfinder. Along with its smaller silent focus lenses and great video, it is truly the "Goldilocks" camera for serious photographers and videographers. There is no other camera like it!


Reply
---
Added by

peevee

| February 15 , 2013

Same sensor

"Color depth at 22.7 is excellent, Dynamic Range at 12.4 EV it best in class and ISO at 812 is only just behind the two Olympus cameras."

Actually, all of them are within a margin of error of your tests, so it is 99.9% the same sensor as the 3 2012 Olympuses (E-M5, E-PM2, E-PL5).
DR of 12.4 EV is curios as the cameras have 12 bit RAW format. :)



Reply
---
Added by

peevee

| February 15 , 2013

Mistake in the review of GH3.

There is a mistake here: "The video capture is full HD: 1080i". The video is actually 1080p, and 60p if needed.



Reply | Read all replies for this comment
First replies for this comment
---
Test should mention (at least) the video features

When comparing the GH3 with other mirrorless hybrid cameras (price/performance) the video features of the GH3 should also be included in the comparison. The video specs are far better than any other hybrid or DSLR camera except at a much higher price.


Reply | Read all replies for this comment
First replies for this comment
---
when is the review coming?

btw, i've heard that there will be shippment on the 28 to january/13

please hurry with it and compare with:
Olympus PEN E-PL5
Panasonic Lumix DMC G5
Olympus OM-D E-M5

also make sure you use the 12-35 2.8 new panasonic lens

and test those lenses with it:

Panasonic Lumix G X Vario 12-35mm f/2.8 Asph. Lens

Panasonic Leica Summilux DG 25mm F1.4

Olympus M.Zuiko Digital ED 75mm f/1.8 Lens

Panasonic Lumix G Vario 7-14mm f/4.0 ASPH. Lens

Panasonic Leica DG Macro-Elmarit 45mm f/2.8 ASPH. MEGA O.I.S. Lens

Voigtlander Nokton 25mm f/0.95 Micro Four Thirds Lens


and test the video compared to a99,5dmk3,d800e,E-PL5

thanks , please make it fast :)




Reply | Read all replies for this comment
First replies for this comment
---
First replies for this comment
---