Panasonic Lumix DMC-LX7 review - Expert Compact: Panasonic is back in competition
By Kevin Carter -
Monday February 18 2013
Sensor Review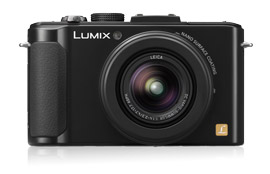 Even though smartphones have eroded the sales of digital compacts at the lower-end of the market, the high-end models using relatively large 1/1.7-inch type sensors continue to be popular. The DMC-LX7 is Panasonic's compact "expert"' model aimed at amateurs and advanced users alike, and replaces the previous iteration, the highly regarded DMC-LX5. This new iteration might represent a serious challenge to both the Canon PowerShot G15 and the Nikon Coolpix P7700.
The Panasonic Lumix DMC-LX7 was introduced in July, 2012 and includes a number of refinements over its direct predecessor, the DMC-LX5 (there was no LX6, in spite of the rumors circulating of a compact boasting a 1-inch type sensor). Like its rivals in this segment, the LX7 ditched the long-standing CCD sensor for a 10.1-Mpix 1/1.7-inch type MOS type (CMOS based) sensor allowing increased sensitivity up to ISO12800 (with boost) and full HD (1080p) video at 60/50/25fps. At 720p, output is 30/25p but there's a potentially creative 100fps high-speed option as well.
The DMC LX7 can also boast of a classy Leica branded image-stabilized 4.7-17.7mm (24-90mm equivalent in 35mm terms) Vario-Summilux zoom lens with a variable maximum aperture of f/1.4-2.3. This is instead of the slower Vario-Summicron (f/2.0-3.3) designated zoom of the LX5. Although a slightly shorter focal range than most current rivals, it's the equivalent to a 24mm at the widest setting and it's the brightest available for low-light photography. It also focuses to 1cm (0.39-inches) and features Panasonic's Nano Surface Coating for reduced flare and ghosting. Not only that but it rates as one of the most impressive lens specs we've seen in a compact. Of the 11 elements in total, two are made from ED glass (with one of those being a double sided aspheric) while a further four also make use of aspherical technology, making a total of nine aspherical surfaces in all.
Weighing just 298g (0.66 lb) and measuring 111 x 68 x 46mm (4.37 x 2.68 x 1.81") the LX7 has a decent but fixed 3.0-inch (920k dot) LCD, however this is one of just two models (the other being the Olympus XZ-2) that can use an optional articulated electronic viewfinder (EVF), greatly enhancing usability. This segment is hotly contested and at $450 (finder extra), the LX7 isn't exactly cheap (although it is one of the cheapest), so let's see how well it did in our lab and if it's worthy of your cash.
Further readings for the Panasonic Lumix DMC-LX7 review - Expert Compact: Panasonic is back in competition
To provide photographers with a broader perspective about mobiles, lenses and cameras, here are links to articles, reviews, and analyses of photographic equipment produced by DxOMark, renown websites, magazines or blogs.
---
---
---
---
Comments
Why do you always ignore the lens?

Per your final comments that the G1x and RX100 should be considered for low light performance, you fail to mention that their fixed lenses are slower, thus needing an 1~3x increase in ISO to achieve similar exposure. To match the Lx-7 @90mm F/2.2 ISO 800, the G1X needs ISO 6400! If both images were compared the LX-7's is cleaner.


Reply | Read all replies for this comment
First replies for this comment
---
Re: Why do you always ignore the lens?

Hello!

Thanks for your interest in DxOMark.

In such case we try to review only what we measured and here it is the sensor.

Best regards,

The DxOMark team


Reply
---
LX7

This is a good review, but you don't mention prices? the LX7 is now going for $300. Another point is Silkypix which is given free for Panasonic cameras. For me this was important, as I find that very good and intuitive software for RAW processing. It would be good to compare Canon and Nikon in that regard also.


Reply | Read all replies for this comment
First replies for this comment
---
Re: LX7

Hello,

Thanks for your remark and support, price given in specification are only indicative. It corresponds most of the time to the launch price.
We are working on solutions that could provide pricing information update but we can't confirm when it will be done.

Best regards,




Reply
---