Panasonic Lumix G VARIO 14-42 f3.5-5.6 II Asph. Mega OIS review - The Cheapest 'Standard Zoom' for Micro 4:3 and Surprisingly Good
By Ben Boswell -
Thursday April 04 2013
Lens Review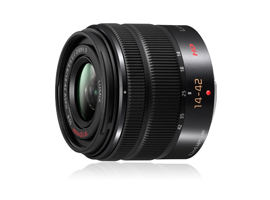 The Micro 4:3 market is full of technology, each new generation apparently having some new enhancement, with a new, more superlative name. Panasonic is no different, but this new Lumix G VARIO 14-42 f3.5-5.6 II Asph. Mega OIS carries neither the 'Power Zoom', or the 'Power O.I.S'; there are aspheric elements but no ED glass. Without all the latest refinements is it worth having at all? Yes, it is: well priced and punches above its weight.
The Panasonic Lumix G VARIO 14-42 f3.5-5.6 II Asph. Mega OIS has a very long name, for a fairly small lens. With a Micro 4:3 mount, it will fit on cameras from both Panasonic, its Lumix G range, and Olympus, its Pen range and the OM-D.
This 14-42 is the second model covering this zoom range, both also having the same aperture range. The design of this new version consists of 9 elements arranged in 8 groups, two of the elements being aspherical. At the wide end of the zoom range the lens has an aperture of f/3.5 and closes down to f/5.6 at the telephoto end. The 3x zoom ratio covers the 'Standard' range, making this an ideal general purpose lens.
Optical Stabilization is incorporated in the form of Panasonics' Mega O.I.S. Measuring 49mm long and 56mm wide and weighing in at 110g the lens is not super compact, but should be quite comfortable to hold and use. Focus is down to 0.2m giving a maximum magnification of 0.17x. The Micro 4:3 format has a focal length multiplier of 2x to get the relative full frame focal length so this lens works out to an equivalent of 28-84mm.
Further readings for the Panasonic Lumix G VARIO 14-42 f3.5-5.6 II Asph. Mega OIS review - The Cheapest 'Standard Zoom' for Micro 4:3 and Surprisingly Good
To provide photographers with a broader perspective about mobiles, lenses and cameras, here are links to articles, reviews, and analyses of photographic equipment produced by DxOMark, renown websites, magazines or blogs.
---
Comments
Added by

tommybs

| November 08 , 2013

Micro Four Thirds Lenses

In the lens review conclusion you wrote:

> Micro 4:3 is a very elegant concept: compact, making good use of the
> technology, not having to accommodate a reflex mirror and so on.
> However, the best optics available are not really outstanding.

Huh, that is a bold statement! But is it true? And compared to what?



Reply
---
Older kit zooms still on roadmap

Despite your comments, Panasonic is supplying the older 14-42mm manual zoom as the kit lens for the new G6 in the UK. It is therefore a current lens.

The cheaper GF6 is however supplied in both UK and US with the new 14-42mm manual zoom as reviewed above, as is the G6 in the US and some other areas.

If you can spare the time to compare these two 14-42m lenses it would be most interesting!


Reply
---
First replies for this comment
---
Re: (Small) mistake

Hello,

Thanks for your interest in DxOMark and for letting us know about the error. This is now corrected :)

Best regards,

The DxOMark team


Reply
---
What about the older Lumix kit zooms?

<div id="linkdxomark">This a comment for <a href="http://www.dxomark.com/index.php/Lenses/Camera-Lens-Database/Panasonic/Panasonic-LUMIX-G-VARIO-14-42mm-F35-56-II-ASPH-MEGA-OIS">this page on the website</a></div>This review is helpful but would be even better if it included a comparison with the older 14-45mm and 14-42mm manual zoom lenses previously supplied with kits.

I have both of these, my GX1 came with the manual 14-42mm but I've since bought the 14-45mm which is much sharper. dpreview reviewed both these lenses some years ago and came to the same conclusion, so it would be good to know how these older lenses compare in DxOMark tests.


Reply | Read all replies for this comment
First replies for this comment
---
Re: What about the older Lumix kit zooms?

I completely agree. The 14-42mm was a noticeable downgrade from the 14-45mm.


Reply
---
Re: What about the older Lumix kit zooms?

Hello!

Thanks for your interest in DxOMark.

The "older" lenses are not in the road map.

We indeed have too many lenses are in the scope for now.

Best regards,

The DxOMark team



Reply
---