Pentax K-3 review: Unshakeable Image Quality
By Kevin Carter -
Monday November 25 2013
Sensor Review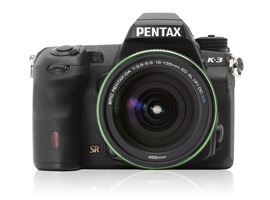 After the success of the 16-Mpix K-5II and K-5IIs without AA filter, Pentax has replaced the pair with a new flagship model, the K-3, with a 24-Mpix sensor boasting a user-selectable AA filter for control over moiré and sharpness, depending on the situation. Read on to find out how this unique sensor performs?
The Pentax K-3 is the new top-of the range model and replacement to the Pentax K5-II and K5-II S models introduced in 2012. Although this is the first Pentax DSLR to adopt a stabilized 24-Mpix APS-C CMOS sensor it's likely to be known for its unique user-selectable AA (anti-aliasing) filter feature. This combines the attributes of both the K-5II models in one, allowing the user to control the amount of moiré correction required depending on the intended use.
The K-3 achieves this not by using an optical filter as in the past, but by simulating the effect through deliberate vibration of the sensor during capture. While switching the filter off delivers maximum clarity and sharpness, two other settings offer a balance between that and moiré-reduction.
Besides the innovative moiré-reduction option, the K-3 adopts features associated with a camera intended for professional use. It has a weather sealed body, as you might expect (all Pentax DSLRs have), but the K-3 offers continuous shooting at up 8.3fps, an advanced 27-point AF system (with sensitivity in light levels as low as -3EV) and a glass pentaprism with approximately 100 % viewfinder coverage and 0.95x magnification.
Video capture is also high on the list of priorities from the firm and the K-3 includes full HD (1920x1080) video at 60i/50i/30p/25p/24p in MPEG-4 AVC/H.264 and has both headphone and mic ports. The K-3 is available now at $1,299.
Key specifications:
24Mp-x APS-C MOS sensor
In-body image stabilization (works with any lens)
Selectable, three-stage low-pass filtering
27 Point (23-cross type) AF system (EV -3 to 18)
100 % viewfinder coverage, 0.95x magnification (50mm f1.4, at infinity)
3.2-inch1037k dot LCD
1080 video at 60i/50i/30p/25p/24p in MPEG-4 AVC/H.264(MOV)format
1/8000thsecond max shutter speed, 1/180thsec maximum flash sync
8.3fps maximum continuous shooting
Weather-sealed magnesium-alloy shell
Dual SD memory slots
Further readings for the Pentax K-3 review: Unshakeable Image Quality
To provide photographers with a broader perspective about mobiles, lenses and cameras, here are links to articles, reviews, and analyses of photographic equipment produced by DxOMark, renown websites, magazines or blogs.
---
---
---
Comments
Added by

kgyd

| November 26 , 2013

Anti-aliasing filter

"Low-pass filter: No AA filter, AA filter simulation"

Knowing the basic method of operation but no details about how this is implemented, I would rather say the following:

From a signal processing point of view, the method used in K-3 is effectively an oversampling. You move the sensor a subpixel distance and also measure in between the original pixel locations. That is you measure at a shorter wave length (higher frequency) than the distance (twice the distance, actually) of neighbouring pixels. This is still not an anti-aliasing (AA) filter but the final pixel size is equivalent to integration over the surface area of the pixel, which act as a low-pass filter. (In other words, the sensor is not sensitive to spatial variation of the signal over a distance shorter that the radius of the pixel.) The problem, I is that this "integrating filter" is not efficient enough at the Nyquist-frequency. The oversampling realized in K-3 is certainly very useful in this regard. The baseline is that the method indeed implements an AA filter, not just a "simulation".

In the same time, this method certainly brings sacrifice in the parameters measured by DxO Labs. It would be most interesting to see how dynamic range, color depth, and low-ISO performance are influenced by the different AA-filter settings of K-3. What is also to be considered that the very reason for removing the OLPF is to increase resolution. Resolution is not included in the sensor performance DxO Mark. In this regard, P-Mpix values with different lenses could give a hint.

To make justice to the K-3, I would list values with AA filter off in the sensor ratings and P-Mpix values.


Reply
---
First replies for this comment
---
Re: Pentax k3

Hello,

Thanks for your comment. We will try to review it as soon as possible.

Best regards,

The DxOMark team


Reply
---
I agree too

Also:
* Low-pass filter: No AA filter, AA filter simulation
* Connectivity: USB3 / HDMI
* GPS: GPS module option
* Maximum format image video: 1920x1080
* Buffer size: 60 frames (JPG), 23 frames (RAW)



Reply
---
Added by

andrepa

| October 27 , 2013

I agree

And Pentax K3 has "Dust cleaning" also.


Reply
---
Errores en las especificaciones de la Pentax K3

Por favor, corrijan los siguientes apartdos en las especificaciones de la Pentax K3:

Type - "Entry-level DSLR" , debería decir "Semi Pro"

Tropicalización - "No" , debería decir "Yes, 92 puntos de sellado"

Soy consciente de que se trata de una primera información, en la que faltan bastantes detalles, pero estos dos detalles son detalles importantes que si se mencionan, ha de ser de forma correcta.

Muchas gracias


Reply | Read all replies for this comment
First replies for this comment
---
Re: Errores en las especificaciones de la Pentax K3

Quote:


<div id="linkdxomark">This a comment for <a href="http://www.dxomark.com/index.php/Cameras/Camera-Sensor-Database/Pentax/K-3">this page on the website</a></div>Por favor, corrijan los siguientes apartdos en las especificaciones de la Pentax K3:

Type - "Entry-level DSLR" , debería decir "Semi Pro"

Tropicalización - "No" , debería decir "Yes, 92 puntos de sellado"

Soy consciente de que se trata de una primera información, en la que faltan bastantes detalles, pero estos dos detalles son detalles importantes que si se mencionan, ha de ser de forma correcta.

Muchas gracias


Yeah, I wouldn't count on it, Lidenbrook. They like to leave this misinformation up there to level the playing field for the one brand that seems to be funding all this rubbish. If you look around the site a little, you'll see that Nikon cameras don't hold the top spots in all the lists because they earned it, but because they either misinform about rival cameras or just completely refuse to test any camera or lens that would push Nikon's down the lists. Not a single Fuji X-mount lens, 1 of every 10 Pentax lenses, 3 out of 38 Samyang lenses....K-5 IIs still doesn't have an answer here for whether or not it has an AA filter or mirror-lockup mode, among other things. The last serious Fuji camera they tested was the S5 Pro in 2006.

Which is exactly why I'm not expecting a quick review of the K-3. I mean, I've been waiting four years for a review of any of the Schneider Kreuznach medium-format lenses that would blow everything else on this site out of the water, three years for a review of the Samyang 8mm fisheye that destroys every other name-brand fisheye out there, six years for the 50-135mm and five for the 60-250 f/4 DA* lenses, but I'm done holding my breath.

Take DXOmark with a grain of salt, they obviously have ulterior motives.


Reply
---
Re: Errores en las especificaciones de la Pentax K3

Hello,

Pentax K5 IIs will be soon have its own lens recommendation.

Thanks for your suggestion.

Best regards,

The DxOMark team



Reply
---