Samsung NX1000 & NX1100 review: Sensitively priced but modest in performance
By Kevin Carter -
Thursday December 26 2013
Sensor Review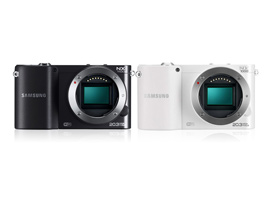 Intended as entry-level models with ease of sharing in mind the NX1100 and the NX1000 feature proprietary 20-Mpix APS-C CMOS sensors, built-in Wi-Fi and an unusual super-wide video option. Read on to find out how these two models perform.
Introduced mid 2012, the entry-level NX1000 is the firm's entry-level model featuring the firm's 20-Mpix CMOS with a wider than average ISO100-12,800 sensitivity that shoot up to 8 fps (albeit for only 8 frames).
Also unusual at this level the camera has a high-resolution 3.0-inch 921k-dot TFT LCD panel and, as part of the firm's global Smart Camera initiative, features built-in Wi-Fi connectivity with image transfer and remote viewfinder options.
Video also included some ambitious features. Apart from the expected full HD (1920 x 1080 pixels) at 30fps, the NX1000 featured an unusual super-wide (cropped) cinematic option with 1920 x 810 pixels at 24fps.
Later in the year the firm launched the NX1100, a practically identical camera. The NX1000/1100 both measure 4.6 x 2.5 x 1.5" / 114 x 63 x 37mm and weigh 0.5lb / 232 g with battery and memory card. Although the NX1100 is discontinued in some markets (particularly the US), the NX1000 is still available at $349 with 20-50mm kit lens.
Key specifications:
20.3-Mpix APS-C (23.5 x 15.7mm) CMOS Sensor
ISO 100-12,800
3.0-inch 921k-dot TFT LCD panel
Full HD 1920 x 1080 MPEG-4 / H.264 video at 30 fps, plus super-wide 1920 x 810 pixels at 24fps
8 fps burst (up to 8 shots)
Built-in Wi-Fi
Further readings for the Samsung NX1000 & NX1100 review: Sensitively priced but modest in performance
To provide photographers with a broader perspective about mobiles, lenses and cameras, here are links to articles, reviews, and analyses of photographic equipment produced by DxOMark, renown websites, magazines or blogs.
---
---
---
Comments
What the point reviewing them now?

I hope DxoMark staff realizes that these cameras are already discontinued. Specially the NX1000 is about 2 years old. Would have been much more useful to review the NX2000, which is the current model. I hope the NX2000 gets reviewed before it gets replaced by the NX3000!


Reply | Read all replies for this comment
First replies for this comment
---
Re: What the point reviewing them now?

Hello,

On Samsung cameras we were late and we will try to get results on time for this new year. The fisrt test will be for the Samsung NX30!

Best regards,

The DxOMark team


Reply
---
Added by

darrask

| December 28 , 2013

Missed the point

You compare the Samsung NX1000 to the Sony A3000. Saying that the Samsung is overshadowed by the Sony partly because it offers a viewfinder and a bigger range zoom is not really relevant.
The people who buy the Samsung see the compact rangefinder form factor and the slim zoom lens as advantages.


Reply | Read all replies for this comment
First replies for this comment
---
Re: Missed the point

Hello,

Thanks for your remark, this should help readers to make their own point of view.

Best regards,

The DxOMark team


Reply
---