Samsung NX300 and NX210 camera reviews: compact and well connected
By Kevin Carter -
Tuesday July 09 2013
Sensor Review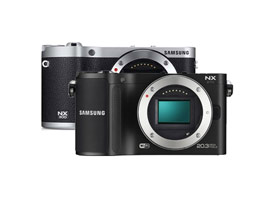 Samsung is one of the few makers with the capability to supply sensors for its own mirrorless cameras. The Wi-FI enabled finder-less NX300 and NX210 are just two of such cameras from the consumer electronics giant featuring an APS-C size 20.3Mpix CMOS image sensor. Read on to find out just how well these cameras performed in our lab.
With six models in the range currently, Samsung offers largest choice of cameras of any of the mirrorless makers. Each model features WiFi connectivity built in, accounting for the firm's choice of 'Smart' moniker but each model also shares a propriety APS-C size 20.3Mpix CMOS sensor. According to the firm this imaging sensor is notable for its large pixel structure resulting in more efficient light-gathering and higher sensor sensitivity, however detail is scant on sensor architecture. We've analyzed the performance of the mid-range $599 NX210 as well as the top-of-the-range $799 NX300. Among other features, this model adopts a slightly revised version of the sensor complete with an on-chip phase-detection AF pixel array, which promises faster autofocus even in low light levels.
Further readings for the Samsung NX300 and NX210 camera reviews: compact and well connected
To provide photographers with a broader perspective about mobiles, lenses and cameras, here are links to articles, reviews, and analyses of photographic equipment produced by DxOMark, renown websites, magazines or blogs.
---
---
---
Comments
Added by

peevee

| July 13 , 2013

largest choice of any mirrorless system?

"We've analyzed the performance of the mid-range $599 NX210 as well as the top-of-the-range $799 NX300."

NX210 is not mid-range, it is last-generation of the same NXxxx line. Their current gen lineup is 3 cameras - NX1100, NX300, Galaxy NX. And the largest mirrorless system by far is m43, with only current generation including Olympus E-PM1, E-PL5, (E-PL6 in Japan), E-P5, E-M5 and Panasonic GX1, GF6, G6, GH3, BlackMagic Cinema Camera and Pocket Cinema Camera, and if you insist on including previous generations still for sale new, there are plenty more.



Reply
---
Added by

XCLN

| July 11 , 2013

Yes - but consider also the Fuji X-M1

Will be better than all these in IQ and low light capabilities, you can guesstimate based on the X100 sensor -the only one tested here last year.

Nowadays too the "old" Fuji X100 beats all these cams easily ("used" are really practically same as new )



Reply
---
Added by

josa

| July 10 , 2013

NX 300

Aa a NX user, I am happy what I just read.


Reply
---
nx300: a great great camera

I've been using it for about 75 days and it's so much better than any other camera I used before. Low light performance is improved from the older nx200, but what is most evident is the processing speed and fast operations. Everything reacts in a millisecond and the hybrid af is gorgeous. Touch to focus and touch to shoot are also great features, along with focus peaking. Imo, this is the best mirrorless camera at the moment. If only it had tan evf in the same rangefinder like shape...


Reply
---