Sigma 120-300mm f2.8 EX DG OS HSM S Canon and Nikon mount lens review: Prime image quality in a zoom?
By Kevin Carter -
Friday October 25 2013
Lens Review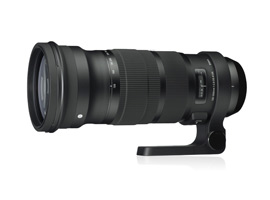 Sigma's has recently revamped the 120-300mm f2.8 DG OS HSM as new high-grade Sports series model. It's a promising combination offering far more flexibility that a 300mm f2.8 prime yet at $3,599, it's close to half the price of a prime. Read on to see how well this unique lens performs.
A large aperture 300mm is an essential lens for sports and action photography, but the f2.8 versions are expensive. What's more, they're not particularly versatile, making the cost of ownership all the more difficult to justify.
Before the introduction of large aperture 80-200mm models in the 80s, fixed focal length primes such as the 180mm and 200mm f2.8 models were hugely popular but that's no longer the case. Telephoto zooms may have replaced those models, especially now that modern designs are close to matching the optical quality of the primes, but the 300mm f2.8 has endured for decades.
At first blush, the full-frame Sigma 120-300mm f2.8 (Nikon mount, Canon mount) looks like a promising option. And, at around $3,600, it's just 50-60% of the price of a 300mm f2.8 from Canon or Nikon. Not only that, but it could also replace the 70-200mm f2.8 for certain applications.
This new model is a revamp of the 2010 iteration, which added stabilization and weather-sealing to the ultrasonic motor of the original, and boasts Sigma's new high-grade exterior finish, as well as a new focus limiter option. Internally, it adopts the same complex construction of 23 elements in 18 groups, focuses to an unusually close 0.15-0.25m and weighs in at a not unreasonable 3.39Kg (119.6oz).
Further readings for the Sigma 120-300mm f2.8 EX DG OS HSM S Canon and Nikon mount lens review: Prime image quality in a zoom?
To provide photographers with a broader perspective about mobiles, lenses and cameras, here are links to articles, reviews, and analyses of photographic equipment produced by DxOMark, renown websites, magazines or blogs.
---
---
---
Comments
Sports Model vs. OS non sports

I'm wondering what the major differences are between the OS and OS Sport versions of this lens. Is the Sport really worth the extra $?

I have the older non-OS version with the aperture ring, and while I do love it, the focus speed just doesn't cut it for me. Focusing on something close, then going to something far away, it takes a long time. I'm wanting to upgrade to the OS version and wondering if I should continue saving for the Sport version.



Reply
---
A fly in the ointment.

I have this, the OS but not S version, which is optically identical. It's very sharp and the AF is accurate but I've found that the AF is not fast enough for runners coming at me, at least not fast enough for a high number of keepers, though it's fine for soccer etc. I also have the Sigma 300 EX F2.8 which is lighter and has much better autofocus and in practical tests is as sharp. So my advice to people is to not get this lens for running.. It's a good nature lens and for sports where people aren't running at you at speed...


Reply | Read all replies for this comment
First replies for this comment
---
Re: A fly in the ointment.

Good to hear. Really like this site. It makes me feel good to have people to share and to listen


Reply
---
vs last model.

Can anyone confirm this or not... I heard the optics are the exact same as the older model that the "sport" just replaced. That the only real change was cosmetics and the USB dock. Is this true?



Reply | Read all replies for this comment
First replies for this comment
---
Re: vs last model.

I have owned and used both of these lenses extensively for wildlife shooting. While the OS version was great, the Sports model quality really blows it out of the water when used with teleconverters. The OS model handled the 1.4 very well but with the 2.0 you really need to fill the frame for great results. With the Sports model, the 2.0 only comes off the camera in very low light situations.
All of my friends and family noticed the difference in my images immediately when I started shooting the Sport model.
The 2.0 on the OS version was not fast enough for BIF, but I even shoot the those subjects now with the Sport model and the 2.0 combination.
No comparion in my mind, the Sport model is a far superior lens.

Turbo


Reply
---
Easy Choice

I sold my Canon 300mm F2.8 IS II and got this lens. It gives me soo much flexibility. No more lens swaps and half as many swaps to my 2nd camera during action. Just add a 2x TC and you have from 240-600. Without changing teleconverters on the fly (at the first guy). If you want something that allows different perspectives without changing lenses this is the lens for you.


Reply
---
Tough Choice

Very impressive performance by the Sigma, particularly with the T-Stop. I recently weighed this lens vs. the Canon 300mm f/2.8L IS II and ended up buying the Canon. I already had the Canon 70-200 f/2.8 IS II and both teleconverters. I found the flexibility to go from 300 to 420 and 600mm while retaining most of the image quality a better fit for my needs than the ability to zoom from 120-300mm. Others have different needs, but I thought I would share my tie breaker.


Reply
---
Added by

josa

| October 25 , 2013

Sigma 120-300mm, f2.8

Another excellent lens from Sigma!


Reply
---