Sigma 18-250mm F3.5-6.3 DC MACRO OS HSM review: Update to popular image-stabilized super-zoom
By Kevin Carter -
Thursday December 20 2012
Lens Review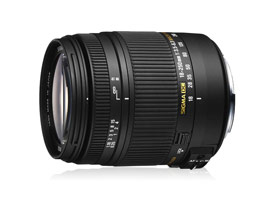 Sigma's 18-250mm f3.5-6.3 DC OS HSM zoom won praise for its balance of performance and convenience, but it looked bulky after rival Tamron introduced the diminutive 18-270mm F/3.5-6.3 Di II VC PZD. Reducing the size, and weight while updating the optical construction to allow a new minimum focus distance of 35cm, the 18-250mm F3.5-6.3 DC MACRO OS HSM is Sigma's response. But has the redesign compromised the optical performance, or is it a valuable addition to the range? Read on to discover our verdict.
Announced earlier in the year (June 2012), the recently updated Sigma 18-250mm f/3.5-6.3 DC Macro OS HSM for Nikon and Canon APS-C format DSLRs (for the purposes of this review but also Sigma, Pentax and Sony cameras) is a compact and lightweight "walkabout" zoom designed to replace several fixed focal lengths in one convenient lens.
Because of the slight difference in sensor size between Nikon and Canon bodies the lens behaves slightly differently in performance terms and also with regard to the equivalent focal length when comparing it a full frame 35mm (24x36mm) sensor. On a Nikon body, such as the D7000, the lens has a similar angle of view to that of a 27mm-to-375mm, while on the marginally smaller Canon sensor it can be compared with or to a 28.8mm-to-400mm lens.
Further readings for the Sigma 18-250mm F3.5-6.3 DC MACRO OS HSM review: Update to popular image-stabilized super-zoom
To provide photographers with a broader perspective about mobiles, lenses and cameras, here are links to articles, reviews, and analyses of photographic equipment produced by DxOMark, renown websites, magazines or blogs.
---
---
---
Comments
Sigma 18-250mm F3.5-6.3 DC MACRO OS HSM

Just get the lens last month for my trip to Bangkok and find
very impressive result against the price & quality. Don't
look around if u hv small budget & get it and try out.


Reply
---