Sigma 19mm F2.8 DN A MFT mount review: Modest price, modest performance?
By Kevin Carter -
Tuesday November 26 2013
Lens Review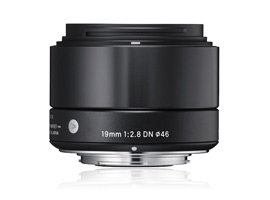 Sigma has refreshed its earlier made for mirrorless EX DN models assigning them with the firm's 'Art' moniker. But just how well does this 19mm MFT model perform with its modest $199 sticker price and f2.8 maximum aperture? Click through to find out.
With an APS-C image circle, Sigma's DN series is specifically designed for mirrorless models from Sony and the smaller MFT format adopted by both Panasonic and Olympus. Originally launched as EX types with f2.8 apertures, the firm has refreshed the original two focal lengths (a wide and standard) designating them as their prestigious Art series and added a third, a 60mm short telephoto (reviewed previously).
As the wide-angle of the three, this 19mm A series lens is an upgrade of the earlier EX model of the same focal length and, with an MFT mount, is the equivalent to a 38mm f2.8. Although this model features a new cosmetic appearance with a thin metal skin and minimalist exterior, internally this lens features 8 elements (with no less than three aspheres) in 6 groups, like its predecessor.
Paradoxically, this 19mm model is larger than the 30mm model and measures 45.7mm in length (as opposed to 40.5mm of the 30mm focal length), focuses down to 20cm and weighs 160g. Although it lacks stabilization, the 19mm f2.8 DN A remains sensitively priced at $199.
Further readings for the Sigma 19mm F2.8 DN A MFT mount review: Modest price, modest performance?
To provide photographers with a broader perspective about mobiles, lenses and cameras, here are links to articles, reviews, and analyses of photographic equipment produced by DxOMark, renown websites, magazines or blogs.
---
---
---