Sony A7II sensor review: Mighty mirrorless
Thursday January 08 2015
Sensor Review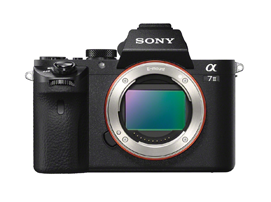 Sony has updated its original A7 full frame mirrorless hybridcamerain the form of the cunningly named Sony A7II. Despite a number of feature and build quality enhancements, this latest incarnation continues to utilise the same 24.2Mp resolution sensor as its predecessor. With the test results just in from the lab, let's see how the new Sony A7II ranks in the DxOMark Sensor Scores database.
Enhanced build and image stabilisation
Over a year on from unveiling the World's first mirrorless hybrid camera to feature a full frame sensor, Sony remain the only manufacturer to have such an option on the market. In fact, whilst they wait for the competition to catch up, Sony has got around to launching a 2nd generation version of their original A7 model.
It's fair to say the new Sony A7II is only a minor upgrade over its predecessor, but there are a few enhancements that make it more attractive to the professional photographer. These including improving the build quality by removing the plastic front panel to make the Sony A7II chassis all metal, reinforcing the lens mount to protect it from the strain of using heavy telephoto lenses and fitting weather sealing around the main controls to help keep out the elements. Handling has been improved too, thanks to a slightly larger handgrip and repositioning the shutter release button to a more ergonomically friendly location, all of which will be appreciated by photographers shooting over sustained periods.   
The most notable boost to the A7II's feature set however is a new 5-axis image stabilisation system, which Sony claim offers up to 4.5 stops of image stabilisation. That's more than currently available on full frame DSLRs with Nikon's or Canon's lens based VR and IS systems, and has been made possible by Sony adopting a sensor shift mechanism. In a move away from their traditional lens based Optical Stabilisation System (OSS), the new stabilisation system on the A7II moves the sensor across 5 different axes to correct camera shake. This enables image stabilisation even using non-OSS lenses, but if you have a bunch of OSS FE mount glass however don't panic, the two Sony stabilisation systems will work in tandem on the A7II.
Key Specifications
24.2Mp 23.9x35.8mm full frame CMOS sensor
Sony FE lens mount
4.5 stops sensor shift image stabilisation
Hybrid autofocus system with 117 phase detection points
 BIONZ X image processing engine
XGA resolution 2.4m-dot EVF
3.0in tilting White Magic LCD screen
Further readings for the Sony A7II sensor review: Mighty mirrorless
To provide photographers with a broader perspective about mobiles, lenses and cameras, here are links to articles, reviews, and analyses of photographic equipment produced by DxOMark, renown websites, magazines or blogs.
---
Comments
Added by

Hunt

| July 22 , 2015

A7ii

Sony a7II user manual is 14-bit per pixel !?
Here is 12-bit per pixel ...
Who to believe ?


Reply
---
DXO tests Sony sensor before or after the LOSSY compression

Does DXO testing of Sony A7II reflect the impact of lossy raw compression that is mandatory on the camera? (there is no "lossless" option, unlike with Nikon, for example, where lossless is default).

Or is DXO testing done on the sensor prior to the effects of lossy raw compression?


Reply
---
For those who want a field test!

http://ilovehatephoto.com/2015/06/15/sony-a7ii-field-test-part-2/


Reply
---
A7II first impressions

Here's a first review that might interest you.
http://ilovehatephoto.com/2015/05/25/sony-a7mii-first-impressions-part-1/


Reply
---
First replies for this comment
---
Mirrorless? Yes!

Here an interesting article about the advantages of the mirrorless system and especially the A7 series:
http://ilovehatephoto.com/2015/01/12/10-reasons-to-switch-from-a-dslr-to-a-mirrorless-system-with-examples-nikon-to-sony/


Reply
---
When will the A7-II taken in charge by DXO Optics Pro

The question is not : "when the A7II will be DXO Mark'ed?" but more pratically "when DXO Optics Pro (and DXO ViewPoint) will take care of this new Sony camera?"


Reply | Read all replies for this comment
First replies for this comment
---
First replies for this comment
---
Reasons why A7 users should or shouldn't upgrade to the A7mII

Check out this article!
http://ilovehatephoto.com/2014/12/01/reasons-why-a7-users-should-and-shouldnt-upgrade-to-the-a7ii/


Reply
---