Sony Cyber-shot DSC-RX100 II review: new back-illuminated sensor promises superior low-light performance
By Kevin Carter -
Friday July 05 2013
Sensor Review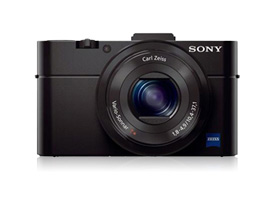 Sony's update to the Cyber-shot DSC-RX100 includes provision for a optional EVF and a useful pull-out rear LCD, but the head line news is the inclusion of a newly developed back-illuminated Exmor R BSI-CMOS sensor with superior low-light performance. Read on to see how well the new sensor performs in our labs.
When Sony launched the Cyber-shot DSC-RX100 in June 2012 it was well received for the compact dimensions and handy 28-100mm (equivalent) zoom range, but the main attraction was the imaging performance from its much larger than usual 1-inch type sensor. As the name suggests the RX100 II is this year's update, adding a number of useful refinements, including a hotshoe (importantly, with provision for a EVF), Wi-Fi with NFC capabilities and a pull-out rear LCD. It retains the 20-MPix pixel count of its predecessor but perhaps the most significant revision to this model is the new back-illuminated (BSI) sensor architecture, allowing a 40-percent increase in low-light sensitivity say Sony.
Further readings for the Sony Cyber-shot DSC-RX100 II review: new back-illuminated sensor promises superior low-light performance
To provide photographers with a broader perspective about mobiles, lenses and cameras, here are links to articles, reviews, and analyses of photographic equipment produced by DxOMark, renown websites, magazines or blogs.
---
Lens Review
|
July 18, 2013
| | |
| --- | --- |
| | After analyzing the sensor performance of the new Sony RX100 II we've now had the opportunity to assess its Carl Zeiss Vario-Sonnar T* 28-100mm (equivalent), f/1.8-4.9 zoom. Read on to see how well the lens performs. |
---
---
Comments
I pre-ordered mine

Everything I've read and heard from others has been brilliant. An upbeat review: http://www.squidoo.com/sony-rx100m-ii-and-sony-rx1r-price-and-review summarized the main points of BOTH the RX Series cameras being released, and you can find the web-cast from Sony about these cameras there too. I've pre-ordered mine... I'll post again when I have it in my hot little hand!


Reply
---
Added by

peevee

| July 12 , 2013

Guys, you can't count

"As for color depth, the Sony has a comfortable lead of +1.67 stops over the G15"

22.5-19.9=2.6, not 1.6. Every bit doubles the number of different values, i.e. a stop.



Reply | Read all replies for this comment
First replies for this comment
---
Re: Guys, you can't count

Hello!

Thanks for your interest in DxOMark.

2.6 bit for color depth means only 1.67 stop. For color depth a difference of 1.5 bits equals 1 stop of difference.
For further information please check the color sensitivity computation which is describe here:

www.dxomark.com/index.php/About/In-depth-measurements/Measurements/Color-sensitivity

Best regards,

The DxOMark team




Reply
---
Added by

josa

| July 06 , 2013

RX100 ll

The best got better and little fatter...


Reply
---