Sony Cyber-shot RX1 / Carl Zeiss Sonnar T* 2/35 review: Is this the ultimate moderate wide-angle lens?
By Kevin Carter -
Friday February 22 2013
Lens Review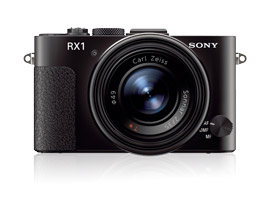 The high-end Sony RX1 was one of the most eagerly awaited cameras in our labs and while we assessed the camera's full-frame sensor early in January, we've decided to publish the results of the Zeiss-branded Sonnar 2/35 T* lens. Readers will already be aware that it's fixed, and can't be purchased separately, but we can test it just as we would any other, albeit on one camera body only. Is this "fast", moderately wide-angle lens an outstanding performer worthy of the Carl Zeiss name? Read on to find out.
When Sony announced the pro-level Cybershot RX1 at Photokina in September, the combination of full-frame 24-MPix CMOS sensor and high-quality Carl Zeiss Sonnar 35mm f/2.0 in a metal-bodied compact with manual controls sounded promising. Yet, while unique, with a hefty $2,800 price tag it's not going to appeal to everyone.
There are for instance other rival offerings. The $1999 Leica X1/X2 and the $1299 Fuji X100 / X100s, both have fixed high-quality lenses offering the same field of view. The Fuji even offers the same f/2.0 maximum aperture (the Leica Elmarit lens used by the X1/X2 is f/2.8), although both cameras sport smaller APS-C sized sensors.
Besides those cameras, there are a number of new full-frame 35mm lens designs optimized for DSLRs. Nikon introduced their first AF 35mm f1.4G type lens 18-months ago while Canon has recently updated the EF 35mm f/2.0 to include IS. Third-party makers have also responded to the increased popularity of the 35mm lens. The ultra-fast and relatively accessibly priced $899 Sigma AF 35mm f/1.4 is an outstanding performer and even Carl Zeiss has two modern manual focus designs, both Distagon T* types, one at f/2.0 the other at f/1.4.
With a short back focus, the Sonnar design of wide-angle lenses like this one is particularly suited to mirrorless cameras, and was in the past reserved for rangefinders. This Sony made Zeiss designed prime is a complex design consisting of 8 elements in 7 groups. Information is sparse but it has three elements with aspherical surfaces, one being an "Advanced Aspherical" (AA) type, although what that means precisely isn't clear. Unusual for this kind of lens is a dedicated macro mode, which allows focusing down to just 14cm. Also of note is the circular iris consisting of 9 aperture blades to help produce smooth gradients to out-of-focus areas.
Further readings for the Sony Cyber-shot RX1 / Carl Zeiss Sonnar T* 2/35 review: Is this the ultimate moderate wide-angle lens?
To provide photographers with a broader perspective about mobiles, lenses and cameras, here are links to articles, reviews, and analyses of photographic equipment produced by DxOMark, renown websites, magazines or blogs.
---
---
---
Comments
Added by

maxb

| June 05 , 2013

RX1 Sonnar lens mid zone dip

Hi there,

I was wondering if you noticed a mild mid zone dip with the RX1 lens? I just got the cam and the lens seems to dip slightly about 1/3 out from the centre. I also find that the corners are sharper than this area....?

Cheers,


Reply | Read all replies for this comment
First replies for this comment
---
Sharpness at f2.0 vs f3.2

Hello,
I like the RX1 a lot, but center sharpness gets A LOT better when stopping down from f2.0 to f2.8 or f3.2. At 100% view, this is fully field relevant: Details and sharpness at 2.0 are okay, from 3.2 they are brilliant. I must admit to be somewhat disappointed by that. Does this practical view fit to Your lab results (which are somewhat abstract to me), i.e. is that "perfectly normal" or did I get a bad copy ?

Yours sincerely

Martin


Reply | Read all replies for this comment
First replies for this comment
---
nice review

Thank you for the review. Looks to be a remarkable camera!

Though not really cross comparable, the Pentax K5 apsc dslr's measure an equally very healthy 14.3 EVS... until one can afford the sony the K5 is still pretty remarkable, especially for those like me on a budget.
We live in a remarkable age to have so many great cameras and reviews at such an easy reach.

Thanks again!


Reply | Read all replies for this comment
First replies for this comment
---
DXO: What is selected for RX1's Transmission to decide it's SNR Score?

Hi!

I would like to know what is selected for RX1's Transmission Score to decide it's SNR.
T = 2.1 or 2.0?

And if the above selection is not correct, RX1's SNR Score may be changed?
(E.g. If the selected value is 2.0 and the real value is 2.1, the total amount of the light, which reaches to Sensor in real value, is about 10% lower than the selected value)


Reply | Read all replies for this comment
First replies for this comment
---
First replies for this comment
---
Added by

msatlas

| January 09 , 2013

High ISO way better than Sony A99

What's up with the RX1 doing so much better than the A99 on the high ISO score? I thought they're supposed to have similar sensors but the RX1 seems to perform significantly better. Is that all chalked up to the A99's pellicle mirror?


Reply
---
Another mistake?

First it's saying that Sony uses BSI type image sensors in their dSLRs, (they don't, those are Exmor "R") and now the RX100 has an APS-C sensor? It doesn't. The RX100 uses a 1 inch sensor, like the Nikon 1 series.


Reply | Read all replies for this comment
First replies for this comment
---
Added by

Hakeem

| January 08 , 2013

another fullframe camera review

Where is XTrans sensor camera? why not testing them? all the major review sites has pubslished their reviews ages ago.

and you call yourself "Camera Sensor" Only Analysts/ Experts?

The first camera you should review is xpro1 last year!

Don't know what's wrong with you guys!!


Reply | Read all replies for this comment
First replies for this comment
---