Sony NEX 5-R: A new Sony NEX-5N?
Thursday November 08 2012
Sensor Review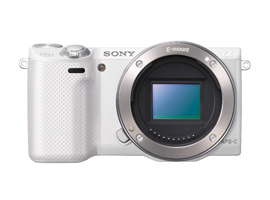 Announced at IFA 2012, Sony's NEX-5R is the third version of its very popular NEX-5 camera. This new model features a 16-megapixel APS-C EXMOR sensor composed of photosites that provide autofocusing by phase detection. Has Sony improved the image quality of its latest mid-range compact hybrid? Our tests reveal the answer.
Two years after the release of the first generation of NEX-5 hybrid cameras, Sony continues the saga of its interchangeable-lens compact consumer cameras. For this new opus, the manufacturer uses a compact camera design inherited directly from the NEX-5N.
This said, we see several ergonomical improvements, notably a new settings wheel that provides direct access to an array of customizable settings, and a high-quality, 921,000-point articulated screen that has more freedom of movement than its predecessor's. The main new feature of the NEX-5R, however, is its WiFi module that allows users to instantly share photos and videos on social networks or to send files to smartphones, tablettes, and PCs. Users can also download applications from the Sony online store. On the other hand, the camera still does not come equipped with an integrated flash.
On a technical level, the NEX-5R's 16Mpix CMOS sensor has evolved by integrating phase detectors that allow the camera's autofocus to function like that of a DSLR, thus improving subject tracking. This feature will be especially popular with videographers.
Sony has thus opted to capitalize on the success of its 16Mpix EXMOR sensor by embedding it into a new "connected" consumer camera. This sensor, already used in other Sony cameras (e.g., the D5100 and D7000) and in the Pentax K-5, should produce good results.
Further readings for the Sony NEX 5-R: A new Sony NEX-5N?
To provide photographers with a broader perspective about mobiles, lenses and cameras, here are links to articles, reviews, and analyses of photographic equipment produced by DxOMark, renown websites, magazines or blogs.
---
Sensor
|
November 08, 2012
| | |
| --- | --- |
| | Announced at IFA 2012, Sony's NEX-5R (2938) is the third version of its very popular NEX-5 (1358) camera. This new model features a 16-megapixel APS-C EXMOR sensor composed of photosites that provide autofocusing by phase detection. Has Sony improved the image quality of its latest mid-range compact hybrid? Our tests reveal the answer. |
---
---
Comments
Re: Tests and reviews for the camera Sony NEX-5R

I think there is a mistake on this page. Although the first half is about the NEX-5R, the remainder of the page is dedicated to discussions about different cameras.


Reply | Read all replies for this comment
First replies for this comment
---
Re: Tests and reviews for the camera Sony NEX-5R

Hello,

Thanks for your interest in DxOMark.

You mean the section with other cameras? It is made for you to read the review of close cameras.

Best regards,

The DxOMark team


Reply
---
Added by

pakmenu

| December 28 , 2012

1/3Ev difference with NEX-5N?

Also in the review of the NEX-6
(http://www.dxomark.com/index.php/Publications/DxOMark-Reviews/Sony-NEX-6-The-logical-CSC-choice/Comparisons)
it is stated that the difference with 5N is 1/3Ev! that difference is only between 1018 and 1079 ISO score!

so maybe the 6 and 5N only differ 1/8th or so?


Reply
---