Sony NEX-6 review – The logical CSC choice?
By David Newton -
Wednesday November 28 2012
Sensor Review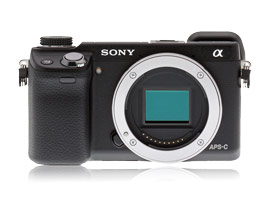 Announced in September 2012, the Sony NEX-6 creates a new range in the Sony line-up. It sits between the flagship Sony NEX-7 and the mid-range Sony NEX-5R offering features and performance benefits to beginner and advanced photographers alike. Providing a simplified user-interface than the NEX-7, the NEX-6 is none-the-less fully featured with a high-resolution OLED viewfinder, Full HD video recording and a tilt-adjustable screen for ease of use.
The aim of the NEX-6 is to offer customers the performance of a DSLR in a compact system camera body. Compared to the NEX-5R below it, the NEX-6 provides an OLED electronic viewfinder (EVF) with 2.359k dots and a useful built-in flash with a Guide Number of 6, to help when you need a little extra light. The viewfinder is the same as the one found on the NEX-7 model and it saves you having to rely on the LCD screen when taking pictures or reviewing what you've captured. While the camera is provided with an external flash as well, having a built-in flash means you can leave the external flash at home when you think you won't need it, helping to keep the kit bag that bit smaller.
Since the camera aims to be all things to all photographers, there is a plethora of options available to keep every type of photographer happy. With the same 16megapixel Exmor APS-C CMOS sensor as found in the NEX-5N and the Sony SLT-A57, image quality is expected to be high and the ISO range from 100 to 25,600 points to the potential for good performance in low-light situations as well.
Providing a range of shooting functions is important for a camera at this level and the NEX-6 does not disappoint. Alongside the advanced exposure modes of Program, Aperture Priority, Shutter Priority and Manual, there is also the familiar Superior Auto Mode. This offers settings for HDR, backlighting, hand-held night photos and sunsets among others. In addition though, there is a platform called "PlayMemories Camera Apps". With the growth of photo apps on smartphones, this is a clever move by Sony as it allows you to install apps on your camera to offer additional features.
Some of the apps are concerned with processing your images on the camera to add effects like miniatures, toy camera and pastel, but others add features useful at the point of taking pictures. Bracket Pro, a $5 purchase, adds bracketing functions where the shutter speed, aperture and flash power can be adjusted to bracket exposure. Equally, there is a focus bracket option to make getting the correct focus, or creating focus stacked images easier. Other apps add features like photo retouching on the camera, provide timelapse functions or open up the option for smartphone control of your NEX-6.
This last function is enabled by another useful feature on the NEX-6 – the inclusion of built-in WiFi functionality. With the growth of photo sharing sites, the built-in WiFi function makes it quick and simple to share your images directly with a smartphone, tablet or computer and so upload them to the internet, all without having to download the images from your memory card first.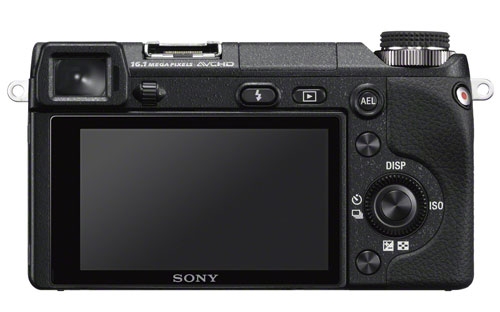 For those photographers looking to shoot moving subjects as well as those that are static, the NEX-6 also provides a maximum frame rate of up to 10 frames per second. This is on par with the best DSLR cameras currently available and with up to 99 AF points available depending on the focus mode chosen, there is little reason to miss the shot. As with the Sony NEX-5R, the sensor itself features integrated phase detection AF sensors to provide improved AF tracking when shooting movies. This is a big step forwards and will help videographers improve the quality of their films.
In use, the top PASM dial makes mode selections easier and while the screen is not a touchscreen, the menus are typically Sony and therefore easy to move around with a little practice. There are only a few buttons on the body as well keeping it simple for beginners while providing quick access to the advanced functions required by more advanced shooters.
In fact, looking at the specifications of the NEX-6, there is only really one potentially negative point and that's the rear LCD screen. While it tilts to make waist-level photography easier, it doesn't fully articulate so is no use if you choose to shoot vertically. Whether this is an issue for you or not, depends on how you like to shoot, but it's not going to affect the quality of the images. That is down to the sensor, so let's take a look at the measurements.
Further readings for the Sony NEX-6 review – The logical CSC choice?
To provide photographers with a broader perspective about mobiles, lenses and cameras, here are links to articles, reviews, and analyses of photographic equipment produced by DxOMark, renown websites, magazines or blogs.
---
Sensor
|
November 28, 2012
| | |
| --- | --- |
| | Announced in September 2012, the Sony NEX-6 creates a new range in the Sony line-up. It sits between the flagship Sony NEX-7 and the mid-range Sony NEX-5R offering features and performance benefits to beginner and advanced photographers alike. Providing a simplified user-interface than the NEX-7, the NEX-6 is none-the-less fully featured with a high-resolution OLED viewfinder, Full HD video recording and a tilt-adjustable screen for ease of use. |
---
Sensor Preview
|
October 30, 2012
| | |
| --- | --- |
| | The Sony NEX-6 is a well-thought-out compact hybrid that, like the NEX-7, takes into account the needs of the expert amateur, but also considers the needs of beginning photographers as well. |
---
---
---
---
---