Sony NEX-7 comparisons and review
Wednesday November 30 2011
Sensor Review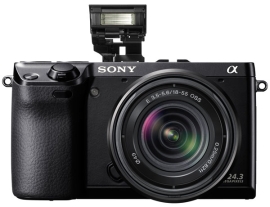 Ever since we tested the Sony SLT A77, we've been very curious to see how the soon-to-be released Sony NEX 7 would compare. And today we have the answer: as we expected, the absence of a mirror gives the NEX7 some advantages. Below is a detailed look.
The Sony NEX-7 has the same sensor as the Sony A77 and Sony A65, but it's not a single-lens translucent (SLT) camera — that is, it doesn't have a partially-translucent mirror — and that makes all the difference, because it doesn't have to contend with mirror-related light loss. Let's take a look at how the NEX-7 fares against different kinds of cameras, starting with its Sony SLT relatives.
Overall DxOMark scores show a difference of 3 points in favor of the NEX-7 (81) over the SLT A77 (78), even though the latter has a lower ISO sensitivity (ISO 50) than the NEX-7 (ISO 100).
In principle, lower ISO sensitivity means that the A77 should achieve better scores in low ISO categories such as color depth and landscape (as we explained when we compared the Sony A65 and A77).
So it is not surprising to see the A65 come in lower (at 74 points) than these other two cameras, given that it has no ISO 50 (advantage: A77) and a translucent mirror (advantage: NEX-7).
It's a tie game among the best of the current APS-C sensors, whose DxOMark scores are all within a hair's breadth of one another: 81 for the NEX-7, 82 for the K5, and 80 for the D7000.
We applaud the Sony for succeeding in matching its competitors' image quality scores. This was not a foregone conclusion despite having a significantly higher resolution than either the Pentax and the Nikon, because of its smaller pixel pitch on a sensor of nearly identical surface size.
What's more, the NEX-7's minimum ISO of only 100 put it at a disadvantage compared to the K5's ISO 80, and indeed the NEX-7's low-light results are noticeably lower than its competitors' (1016 points vs 1162 and 1165, respectively).
No surprises here: the NEX-7 is by far and away the leader with a DxOMark score of 81 points — 30 points ahead of the Olympus and 27 points ahead of the Nikon. All these cameras are ergonomically similar, compact and lightweight, but the NEX-7's larger sensor gives it a clear advantage over its rivals.
Conclusion
In conclusion, the NEX-7 is a success in terms of sensor image quality. In light of its current  results, it's hard to resist thinking about the kinds of scores a future "NEX-X" could achieve were it to add ISO 50 to its mirror-free advantage.... and about the kind of score a full-frame DSLR would achieve with the same sensor technology as the Sony NEX 7 or Sony A77.
Further readings for the Sony NEX-7 comparisons and review
To provide photographers with a broader perspective about mobiles, lenses and cameras, here are links to articles, reviews, and analyses of photographic equipment produced by DxOMark, renown websites, magazines or blogs.
---
Sensor Review
|
April 20, 2012
| | |
| --- | --- |
| | We are already acquainted with the D3200: apart from a few ergonomic details, it's the same camera as the compact and lightweight D3100 SLR, though missing the secondary display on its bridge for even greater compactness. The D3200 weighs only 454 grams (without battery or card). Unlike the D3100, the D3200's lens is off-center for better balance and the highly practical LiveView/video mode activation tab of the D3100 and the D5100 has disappeared in favor of a more ergonomically mundane video recording button. The D3200 comes with a second (dorsal) infrared sensor to complement its front sensor for more practical infrared remote control. The motor selection tab (single-frame, burst, timer, remote control) is gone as well, again replaced by a direct-access button. |
---
| | |
| --- | --- |
| | At CES 2012, Canon just announced what could be their answer to the emergence of compact cameras with interchangeable lenses: the Canon PowerShot G1 X. |
---
Sensor Review
|
September 23, 2011
When the Sony A77 was announced a couple of weeks ago as a replacement for the Sony Alpha 700, Sony's semi-professional APS-C camera, we were all very impressed by its specifications. So we were really excited to see how it would perform in our tests.

Here are our results.
---
---
---
---
---
Comments
View Finder

This camera has a an EVF, but the post said that it have not. So please add it
https://m.dpreview.com/reviews/sonynex7/28


Reply
---
Added by

Sigfod

| December 23 , 2013

Missing Lens

I have not yet seen a review for the SEL16F28 lens. I consider this lens one of my favorite lenses. I see you have the 20mm Pancake, but not the 16mm Pancake which was released much earlier.


Reply | Read all replies for this comment
First replies for this comment
---
major miss

Ok.
1) In order for one to claim the best lenses for a camera system then order them based on their performances, he must test all native lenses first.
How come you guys miss 18-55mm zoom lens that almost all of us owned it before PZ lens was out?
We all know 18-55mm zoom gives a better performance than 18-200mm in many ways. Some of us say it is better than PZ 16-50 too. So it would place within the first 3 but yet its not even in the list.
2) I would put Rokinon 8mm f2.8 in this list in somewhere on high levels too. It is an e-mount lens.

Hope you will correct your list with the 1) addition. then enrich it with rokinon and dslr magic lenses.


Reply | Read all replies for this comment
First replies for this comment
---
Comparison

I'm surprised that the Sony 50mm outperform the Zeiss 24mm. I'm not convinced this is the case in real world shooting of these two lenses. Although mechanically its probably easier to make a good 50 than a good 24. I was shooting with someone who had the Sony while I was using the Zeiss and I had better light transmission...I don't believe he was using a filter and I was. Regardless, thank you for the above review.

Please add the SLR Magic Hyperprime 50mm f0.95 to the review list.


Reply | Read all replies for this comment
First replies for this comment
---
Sony 50mm f1.8 is not as good as Zeiss 24mm f1.8

I've tried two samples of the Sony 50mm f1.8 against the Zeiss / Sony 24mm f1.8 and neither of the Sony's performed as well. My observation is that the Sony at f8 about equals the Zeiss at f4, with the Zeiss having at least a 1.5-stop advantage at wider apertures. From f1.8 to f4, the Zeiss is sharper, with better contrast and lower chromatic aberration. What I see looks a lot closer to what slrgear.com found in their testing of both lenses.




Reply
---
Zeiss touit 12 mm

I must continue to misunderstand !
The 20 mm is poor in sharpness as it is a pancake !!
I have the sel24f1.8 and i find the 12 mm to be as sharp as the 24.
All review i read, and especially the ones coming from "le monde de la photo" and "chasseur d'image" which are famous specialized photography magazines in France, explains the Touit 12 mm to be sharper than the Touit 32 mm Touit. But you give huge different scores between the 32 and the 12 !!
So, may be you had a bad sample or it must be a mistake...


Reply
---
Dxo mark score is a joke

Zeiss touit 12mm and Sel 20mm same score of 17 ... but completly differents conclusions :

Sel 20mm : "Optically it's far from perfect" ... "A sharpness score of 10 P-Mpix is disappointingly low for lens tested on 24-megapixel sensor like the Sony NEX-7 and slight barrel distortion is noticeable"

Zeiss Touit 12mm : "The two new Touits from ZEISS live up to our expectations. While we're unable to test these lenses on Fujifilm X-Series cameras currently, the results are likely to be very similar. On the Sony NEX-7, both lenses are very good indeed, excellent even, ..."

And from my point of view has i have both, there is nothing to compare in quality terms between this 2 lenses.

My conclusion : DXO MARK SCORE IS A JOKE !!


Reply | Read all replies for this comment
First replies for this comment
---
Zeiss touit 12 mm score

Is is possible that the Zeiss Touit 12 mm is as poor as the 20mm from sony ??

It has a such bad score and i read so much good reviews concerning this lens ? haow could it be possible ???


Reply
---
Why not test legacy lenses on the NEX7

Most people are using adapters and old C/Y, Minolta, Canon and Nikon lenses on their NEXs.

I have been using the new Zeiss 135mm APO and it is the first lens that really pulls everything out of the NEX sensor.

Your resolution results for the cheap Sigma twins must be off - they score way better than what your score indicates. Do you manually focus them?


Reply | Read all replies for this comment
First replies for this comment
---
First replies for this comment
---