Tokina AT-X 116 PRO DX II Canon and Nikon mount lens reviews: popular high-speed zoom revised
By Kevin Carter -
Friday July 12 2013
Lens Review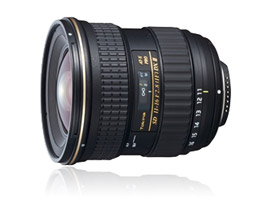 With a fixed f/2.8 aperture and no direct equivalent from Canon or Nikon its predecessor, the Tokina AT-X 116 PRO DX, was hugely popular with press photographers and HD filmmakers alike. Read on to see how well this new iteration performs in our tests.
Independent lens maker Tokina name their lenses somewhat cryptically. The $680 AT-X Pro 116 DX II is a APS-C format lens with a focal length of 11-16mm and f/2.8 maximum aperture and is a revision of the similarly named AT-X Pro 116 DX. On a Canon APS-C camera, with its slightly smaller than standard size sensor, it's the equivalent in 35mm format to a 18-26mm, on a Nikon DX format DSLR, it's a 17-24mm. Although the optical construction remains unchanged (it includes two elements with aspherical surfaces and two low dispersion glass elements), the lens adopts a new multi-coating process that delivers smoother gradation of the shadows, the firm claims. Besides that, the only other revision pertains to the Nikon mount version, which now includes the same high speed and quiet DC motor found on the Canon mount model.
Further readings for the Tokina AT-X 116 PRO DX II Canon and Nikon mount lens reviews: popular high-speed zoom revised
To provide photographers with a broader perspective about mobiles, lenses and cameras, here are links to articles, reviews, and analyses of photographic equipment produced by DxOMark, renown websites, magazines or blogs.
---
---
---
---
Comments
Added by

Toshik

| July 15 , 2013

link doesn't work

http://www.dxomark.com/index.php/Lenses/Camera-Lens-Database/Sigma/Sigma-10-20mm-F4-56-EX-DC-HSM-Nikon/(camera)/680 mentioned in the article link doesn't work.


Reply | Read all replies for this comment
First replies for this comment
---
Re: link doesn't work

Hello,

Thanks for letting us know, this is now corrected.

Best regards,

The DxOMark team


Reply
---
congratulations, but...

I really applaud you for the great work you've being doing in the past few years: among other good things it is reintroducing meritocracy in a field where the main player (Canon), thought it could just rest on its own good reputation. Since I'm a Canon owner who would like to switch to Nikon, I'm interested in latest sensors: when are you going to test the Nikon D7100?
While the Nikon sensors perform better than the Canon ones by a large margin, the crop cameras from Canon seem to have a sensible edge in terms of sharpness (as this review clearly shows), so it would be quite interesting to see if Nikon with the D7100 has caught up with Canon or is not quite there, yet.


Reply | Read all replies for this comment
First replies for this comment
---
Re: congratulations, but...

Hello!

Thanks for your comment and your kind support :)

The D7100 has been already tested: http://www.dxomark.com/index.php/Cameras/Camera-Sensor-Database/Nikon/D7100

Best regards,

The DxOMark team


Reply
---
Re: congratulations, but...

Dear Emilie,

Thanks for your reply. :)

I know that the D7100 sensor has been already tested (that's why I wrote that Nikon sensors perform better than the Canon ones by a large margin), but it has not been tested with any lens!

It would be nice to see if the same lens produces sharper images on the D7100 than e.g., the D7000.

Best regards,
Stefano


Reply
---