A mere 13 months after the Echo's third edition was unveiled, Amazon launched the fourth generation. Last October, the pioneering smart speaker got a complete makeover, with a brand-new spherical design made with recycled materials. It now shelters the once-exclusive Echo Plus features: greater sound power and a built-in smart home Zigbee hub. In other words, the fourth-generation Echo isn't here only to surpass all previous Echo smart speakers, but also replace Amazon's Echo Plus devices.
The new Echo's well-rounded design is meant to improve the speaker's acoustic properties, allowing more flexible placement of the two 20-mm (0.8″) tweeters, and stronger bass thanks to a fuller cavity behind the 76.2-mm (3.0″) neodymium woofer. Amazon's latest smart speaker promises "clear highs, dynamic mids, and deep bass for rich, detailed sound that automatically adapts to any room." The sound is powered by no other than Dolby, which leaves us to expect interesting spatial attributes.
We put the Amazon Echo through our rigorous DXOMARK Wireless Speaker test suite. In this review, we will break down how it fared at audio playback in a variety of tests and several common use cases.
Key specifications include:
Two 20-mm tweeters, one 70-mm woofer
Dolby Audio
Bluetooth and 3.5 mm jack input
144 mm x 133 mm x 144 mm (width x height x depth)
970 g (34.2 oz)
Available in black, dusky blue or white
Test conditions:
Tested with Motorola G8 for music / Xiaomi Mi TV Box S for movies
Communication protocol used: Bluetooth for music / 3.5 mm jack input for movies
Firmware version: 4463516804
About DXOMARK Wireless Speaker tests: For scoring and analysis in our wireless speaker reviews, DXOMARK engineers perform a variety of objective tests and undertake more than 20 hours of perceptual evaluation under controlled lab conditions. This article highlights the most important results of our testing. Note that we evaluate playback using only the device's built-in hardware. (For more details about our Speaker protocol, click here.) The Amazon Echo (4th Gen) falls into the Essential category of devices in the DXOMARK Speaker rankings.
Test summary
Amazon Echo (4th Gen)
109
speaker
From a global performance standpoint, the Amazon Echo and its Speaker score of 109 land between its two principal competitors in our Essential Speakers category: the Google Nest Audio (112) and the Apple HomePod Mini (98).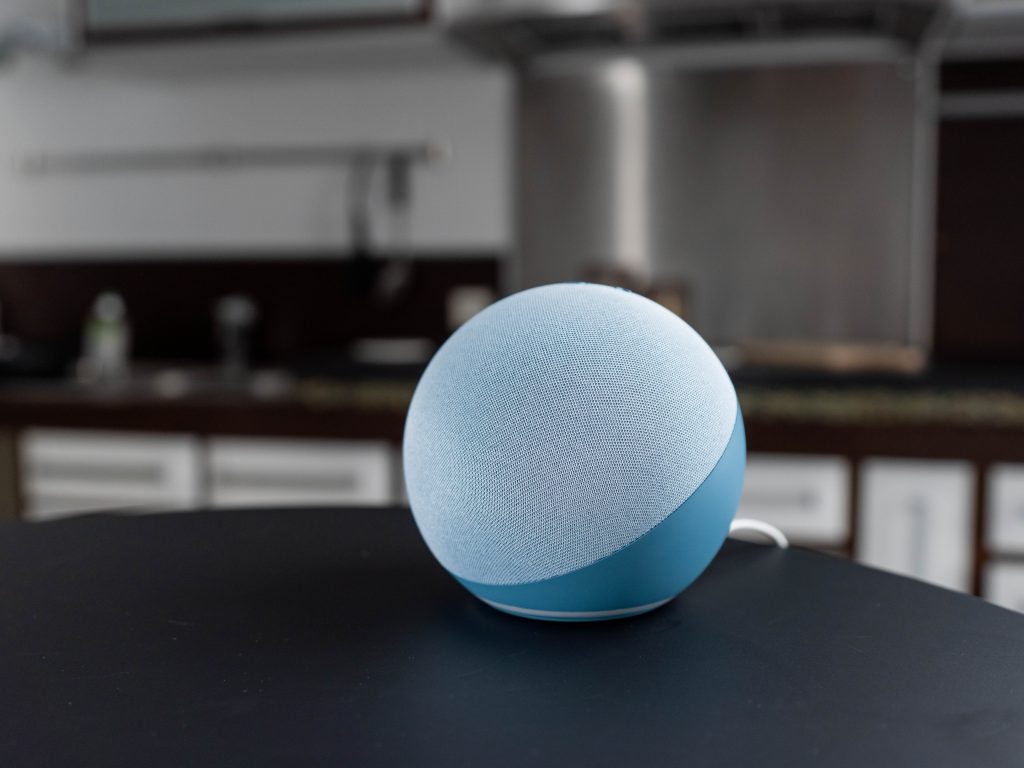 The front-firing Amazon Echo delivers a particularly wide and balanced sound field.
The Amazon Echo delivers a decent audio performance overall, with fairly good bass presence and great wideness, considering the speaker's size. While the prominence of low midrange frequencies (mids) allows realistic distance rendering in most use cases as well as powerful punch, it also affects bass precision, resulting in a slightly muddy sound that impairs high-pitched instrument attack and distance at soft volumes. The lack of high- and low-end extension is noticeable, and high-mids can be aggressive.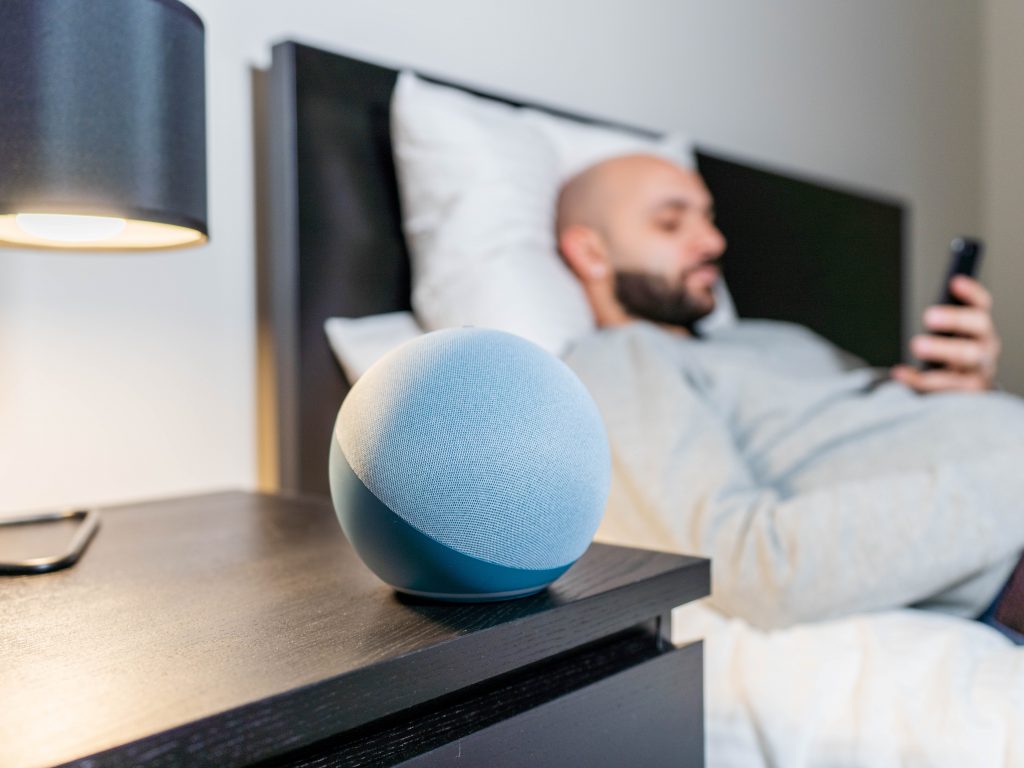 Distance is unrealistic and noise can be heard when listening to music or podcasts before going to sleep.
At soft volumes, while dynamic content remains clearly intelligible, noise becomes perceivable. Finally, the process which on the one hand generates such an extensive wideness, on the other makes the localization of sound sources considerably less precise.
Sub-scores explained
The DXOMARK Speaker overall score of 109 for the Amazon Echo is derived from a range of sub-scores. In this section, we will take a closer look at these audio quality sub-scores and explain what they mean for the user, and we will show some comparison data from two of the Echo's principal competitors, the Apple HomePod Mini and the Google Nest Audio.
Playback attribute comparisons
Timbre
114
Bowers & Wilkins Formation Wedge
DXOMARK timbre tests measure how well a speaker reproduces sound across the audible tonal range and takes into account bass, midrange, treble, tonal balance, and volume dependency.
Playback timbre comparison
In terms of timbre performance, the latest Echo is tied with the Google Nest, both ahead of the HomePod Mini by a couple of points. Amazon's smart speaker provides a clearer sound reproduction than the previous generation, thanks to a better presence in the upper half of the spectrum (treble and high mids).
Music playback frequency response
Tonal balance is decent overall, with an honest bass response considering the device's size. That said, it is slightly muffled due to limited high-end extension. Low-end extension is also lacking, and high mids can be perceived as aggressive. Further, low mids are quite prominent, which can create a muddy sound.
Dynamics
92
Bowers & Wilkins Formation Wedge
Our dynamics tests measure how well a device reproduces the energy level of a sound source, taking into account attack, bass precision, and punch.
Playback dynamics comparison
Amazon's latest smart speaker delivers fairly good dynamics overall. The strong presence of low mids help generate impactful punch; however, they also impair bass precision. Additionally, attack — especially for high-pitched instruments — is affected by the lack of high-end extension.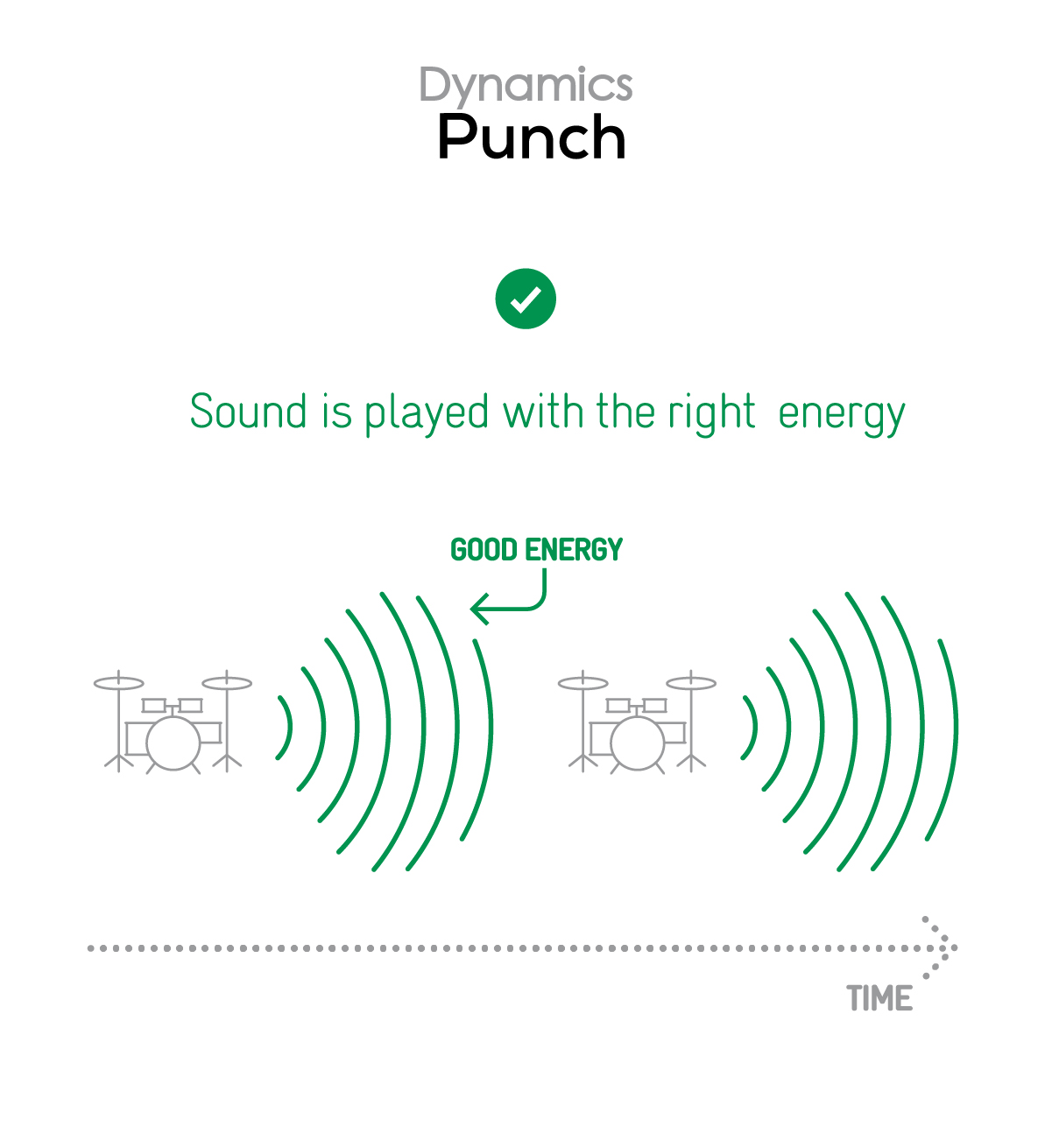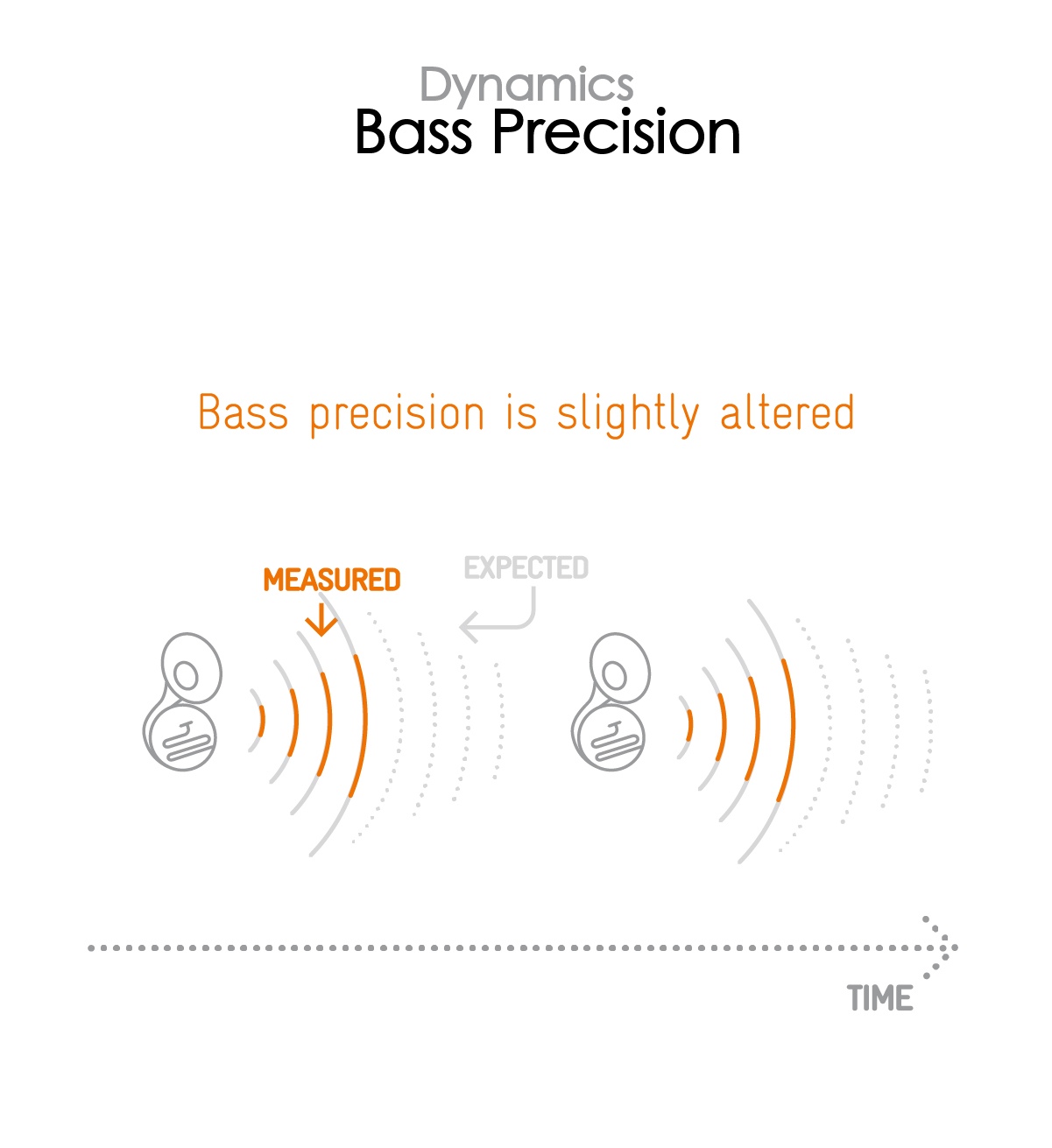 Spatial
83
Bowers & Wilkins Formation Wedge
Our spatial tests measure a speaker's ability to reproduce stereo sound in all directions, taking into account localizability, balance, wideness distance and directivity. Please note that wideness is 0 on mono speakers and on speakers that cannot deliver a significant stereo effect.
Playback spatial comparison
Undoubtedly thanks to Dolby's involvement, the fourth generation fares pretty well in the spatial area. Wideness in particular is very good considering the speaker's size — even better than several stereo devices that our audio team has tested — and balance between the channels is well centered. Distance rendering is very realistic overall thanks to the presence of low mids, except at soft volumes (as in our bedtime use case), where their prominence results in a feeling of excessive proximity.
The sound field's extensive wideness also has a downside: the audio process generating such an appreciable wideness simultaneously blurs the localizability of the sound sources. Despite its spherical design, note that the Amazon Echo is a front-firing speaker, which means that sound isn't evenly distributed at 360° around the speaker, particularly when it comes to treble.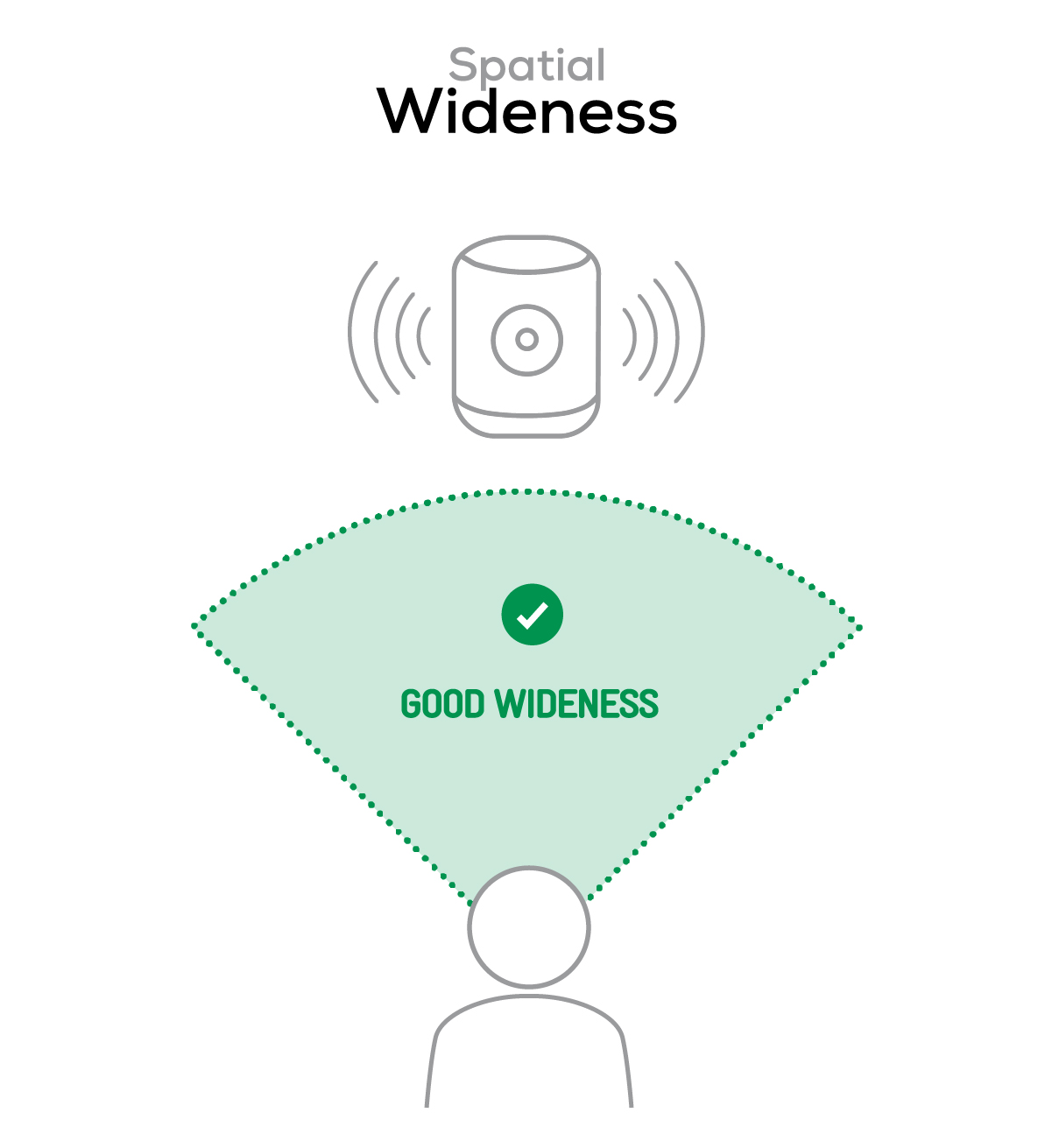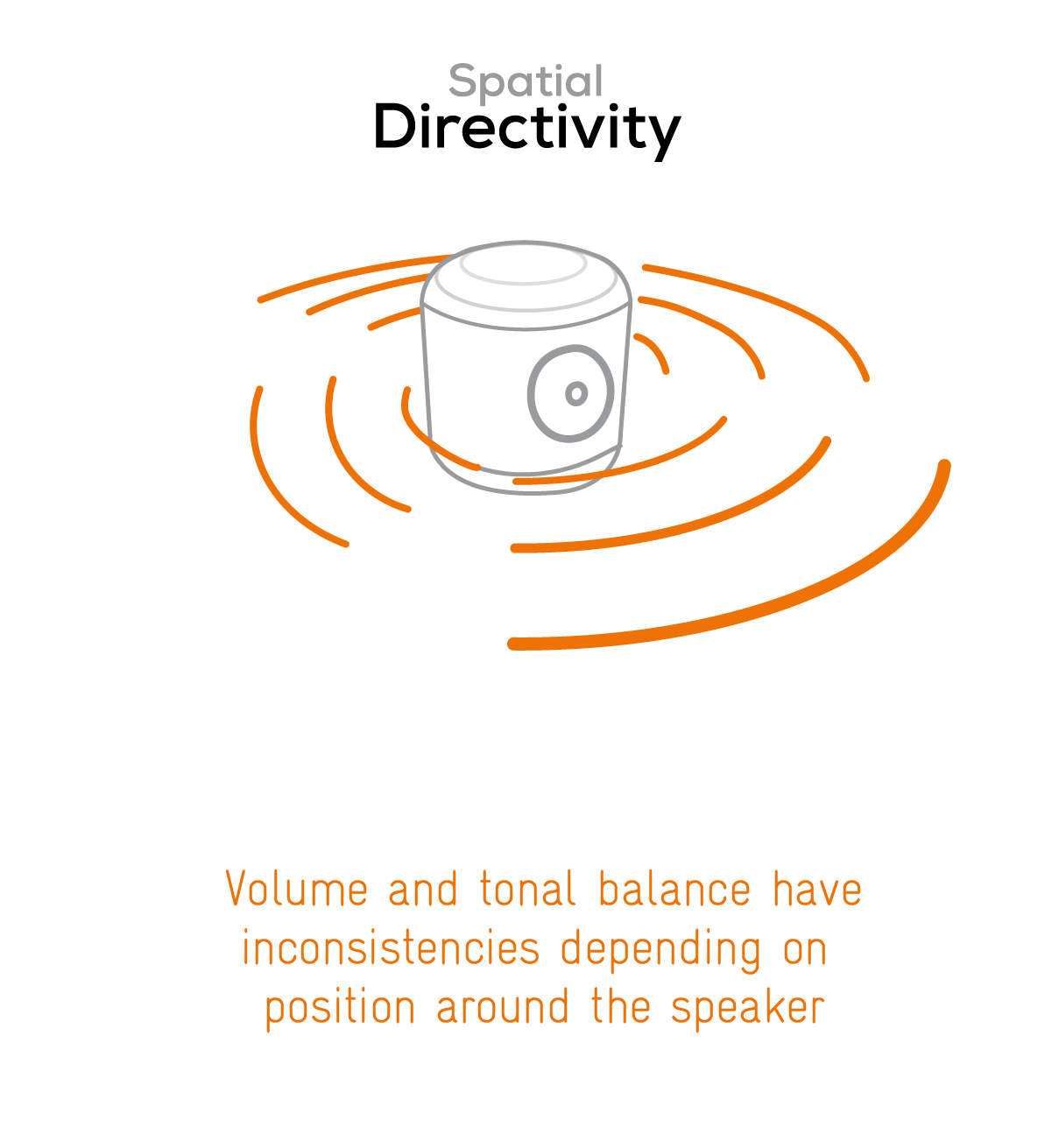 Volume
111
Bluesound Pulse Mini 2i
Our volume tests measure both the maximum loudness a speaker is able to produce and how smoothly volume increases and decreases based on user input.
Playback volume comparison
Playback volume consistency comparison
As shown in the graph above, volume steps increase very regularly from softest to loudest. At low volumes, the rendering is well tuned, allowing dynamic content (such as classical music or movies) to remain fully intelligible. Maximum volume on the other hand, while satisfactory, could be a little louder.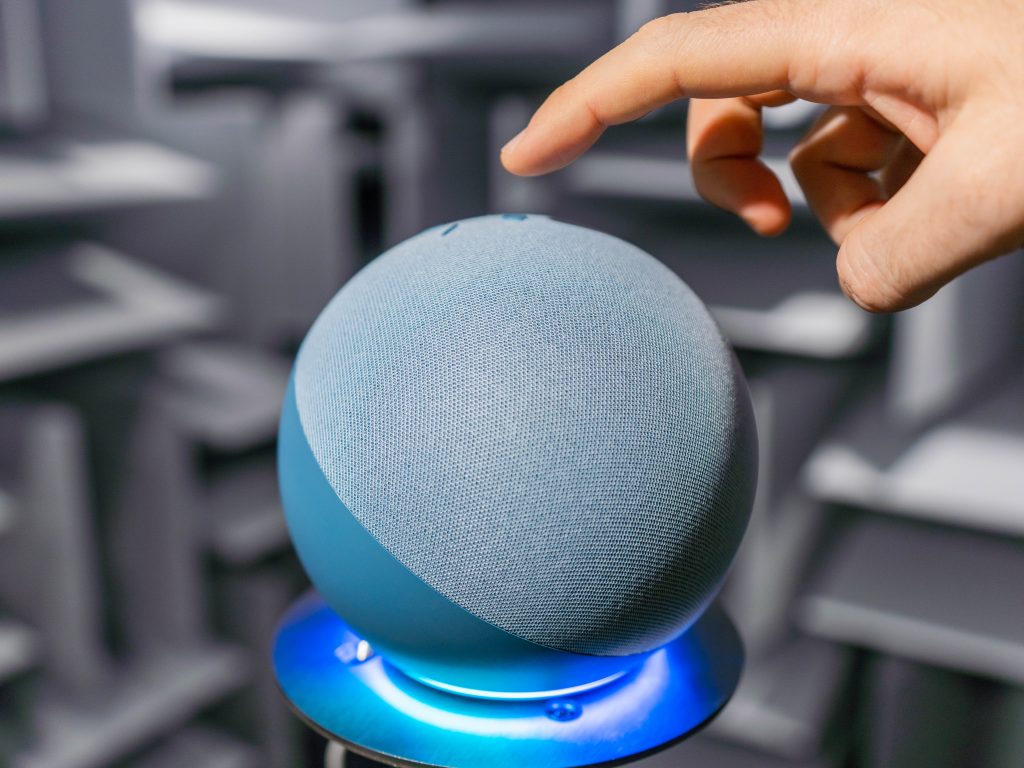 While satisfactory, maximum volume could use a few more decibels.
Here are a few sound pressure levels (SPL) measured when playing our sample recordings of hip-hop and classical music at maximum volume:
| | | | | | | |
| --- | --- | --- | --- | --- | --- | --- |
| | Correlated Pink Noise | Uncorrelated Pink Noise | Hip-Hop | Classical | Latin | Asian Pop |
| Amazon Echo (4th Gen) | 81 dBA | 81.2 dBA | 78.2 dBA | 72.5 dBA | 81.4 dBA | 72.7 dBA |
| Google Nest Audio | 81.3 dBA | 78.4 dBA | 79.3 dBA | 71 dBA | 81.2 dBA | 72.2 dBA |
| Apple HomePod mini | 70.2 dBA | 67.7 dBA | 69 dBA | 63.5 dBA | 70.5 dBA | 62.8 dBA |
Artifacts
Our artifacts tests measure how much source audio is distorted when played back, along with such other sound artifacts as noise, pumping effects, and clipping. Distortion and other artifacts can occur both because of sound processing and because of the quality of the speakers.
Playback artifacts comparison
Besides noticeable noise at soft volumes, audio played back through the newest Echo exhibits very few sonic artifacts overall. Consequently, apart from our bedtime use case, the speaker performs well above average in all scenarios, thus outshining its two main competitors in the artifacts sub-category.
Playback total harmonic distortion
Since the Bluetooth connection induces a noticeable time delay, we strongly recommend using the 3.5 mm jack input for watching videos.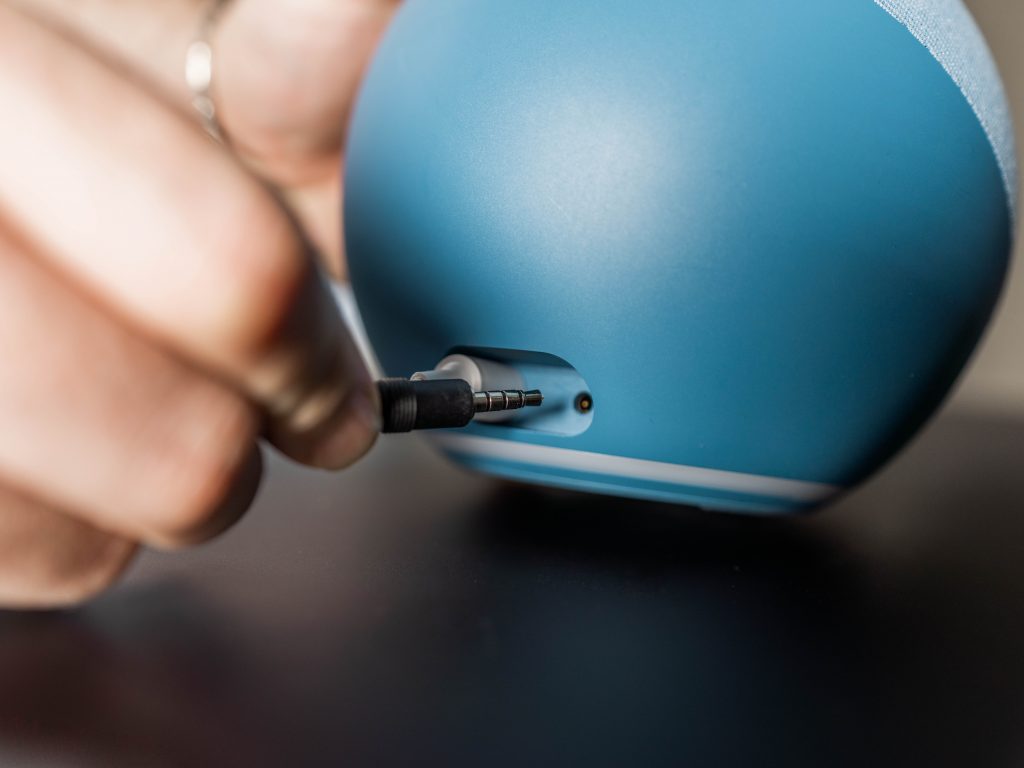 Due to Bluetooth-induced latency, it is better to use the 3.5 mm jack input for watching movies.
Conclusion
Amazon's fourth generation Echo delivers a fairly good audio performance considering its size, with decent bass response and very good wideness — even wider than some stereo devices we've heard. Tonal balance is fairly harmonious, volume steps are consistent, punch is powerful, and almost all spatial attributes are well above average. On the other hand, low mids are too prominent, high mids can be perceived as aggressive, noise is perceivable at soft volumes, and maximum volume could use a few more decibels. This all adds up to a speaker that's satisfactory for relaxing at home and watching movies, but doesn't truly excel in any of our use cases — at least in terms of pure audio performance.
Pros
Good tonal balance overall, with decent bass rendering for its size
Great wideness considering its size
Realistic distance rendering at most volumes that creates a feeling of too-close proximity.
Perfect balance between the left and right channels
Powerful punch thanks to strong presence of low mids
Cons
Noticeable lack of high- and low-end extension
Aggressive high mids
Prominent low mids result in a muddy sound.
Attack is impaired by slightly muffled tonal balance, especially for high-pitched instruments.
Sound sources localization is blurry.
Enhancement of noise is perceivable at soft volumes.