The Amazon Echo Studio is the top-end model in the retail and tech giant's line of Echo smart speakers. It comes with a total of five speakers and automatically analyzes the acoustics of your room to fine-tune and optimize sound quality for the given conditions. It also feature Amazon's AI assistant Alexa for voice control and for answering questions. A built-in smart home hub automatically detects, connects to, and manages smart home devices, and the Amazon Echo Studio is also compatible with 3D audio, using its top-firing speaker to add height to the audio output with a compatible service such as Amazon Music HD.
We put the Amazon Echo Studio through our rigorous DXOMARK Speaker test suite to measure its performance at playing audio back through its built-in speaker. In this review, we will break down how it fared in a variety of tests and several common use cases.
Key specifications include:
5 speakers
Dolby Atmos
Multi-room: Yes
Connectors: 3.5mm/Toslink
Wireless connection: Bluetooth, Wi-Fi, Zigbee
Wireless protocols: Bluetooth, Amazon Alexa
Dimensions: 20.57 cm (8.1 in) height, 17.5 cm (6.9 inches) diameter
Compatible OS: Android, iOS
Test conditions:
Tested with Motorola G8
Bluetooth connection
About DXOMARK Wireless Speaker tests: For scoring and analysis in our wireless speaker reviews, DXOMARK engineers perform a variety of objective tests and undertake more than 20 hours of perceptual evaluation under controlled lab conditions. This article highlights the most important results of our testing. Note that we evaluate playback using only the device's built-in hardware. (For more details about our Speaker protocol, click here.) The Amazon Echo Studio falls into the Essential category of devices in the DXOMARK Speaker rankings.
Test summary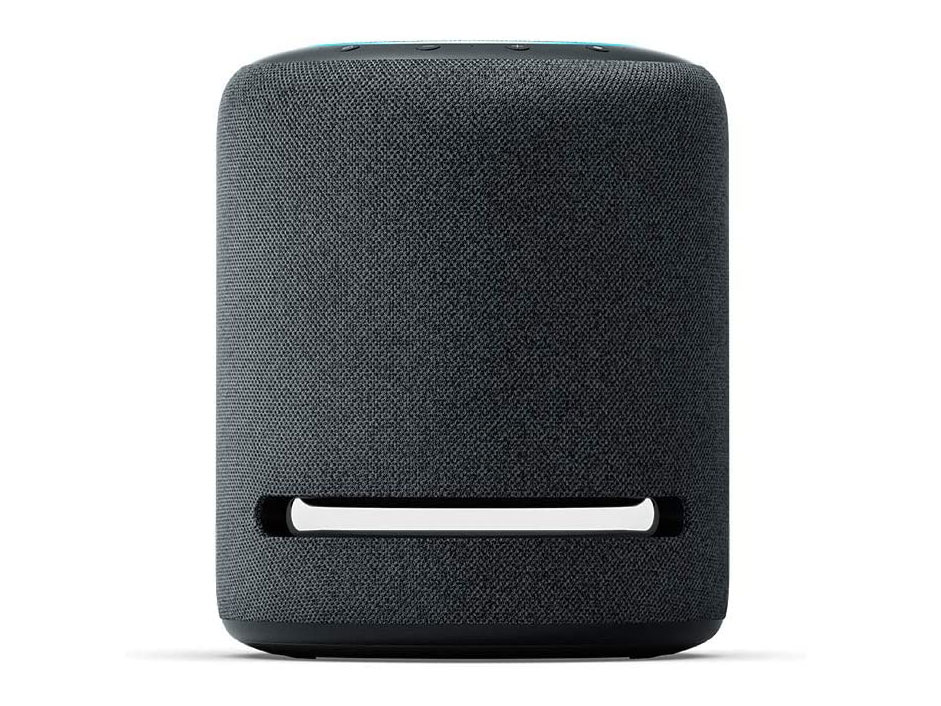 Amazon Echo Studio
124
speaker
The Amazon Echo Studio cannot quite keep up with the very best in our brand-new Speaker ranking, but secures a solid mid-pack position, thanks for an overall great performance for an entry-level speaker. It offers good tonal balance with good bass depth, especially when considering the fairly compact dimensions. Wideness is also impressive when compared to models with similar specifications. Add a loud maximum volume, linear volume consistency and very good punch at loud volume to the mix, and you get yourself a speaker that does very well in party or outdoor use, or when gathering with friends and family.
Areas for improvement include a slight lack of high-end extension and an unclear midrange. Directivity is limited, too, and localizability and distance are reduced by the speaker's Stereo Spatial Enhancement setting, which is on by default. You could switch it off, of course, but that would result in a noticeable reduction in treble clarity. While good at loud volume, attack and punch are below average at medium and low volume settings. Our testers also noticed a significant latency when the device is connected via Bluetooth or in optical mode, which isn't great for movie or video watching.
Sub-scores explained
The DXOMARK Speaker overall score of 124 for the Amazon Echo Studio is derived from a range of sub-scores. In this section, we will take a closer look at these audio quality sub-scores and explain what they mean for the user, and we will show some comparison data from two of the Echo Studio's competitors, the Sonos One and the Xiaomi XiaoAI Speaker HD.
Playback attribute comparisons
Timbre
123
Bowers & Wilkins Formation Wedge
DXOMARK timbre tests measure how well a speaker reproduces sound across the audible tonal range and takes into account bass, midrange, treble, tonal balance, and volume dependency.
Playback timbre comparison
Amazon says the Echo Studio's five speakers "produce powerful bass, dynamic midrange, and crisp highs." We found this to be largely true. The Amazon Echo Studio delivers a fairly good performance for timbre, thanks to a quite homogeneous tonal balance.
Music playback frequency response
There is a slight lack of high-end extension and the midrange is a little unclear. However, on the upside, bass performance is mostly good, which makes the Echo Studio a good choice for party or outdoor use. We noticed a significant lack of bass at low volume, though, which means the Amazon speaker did not do very well in our bedtime use case in terms of timbre.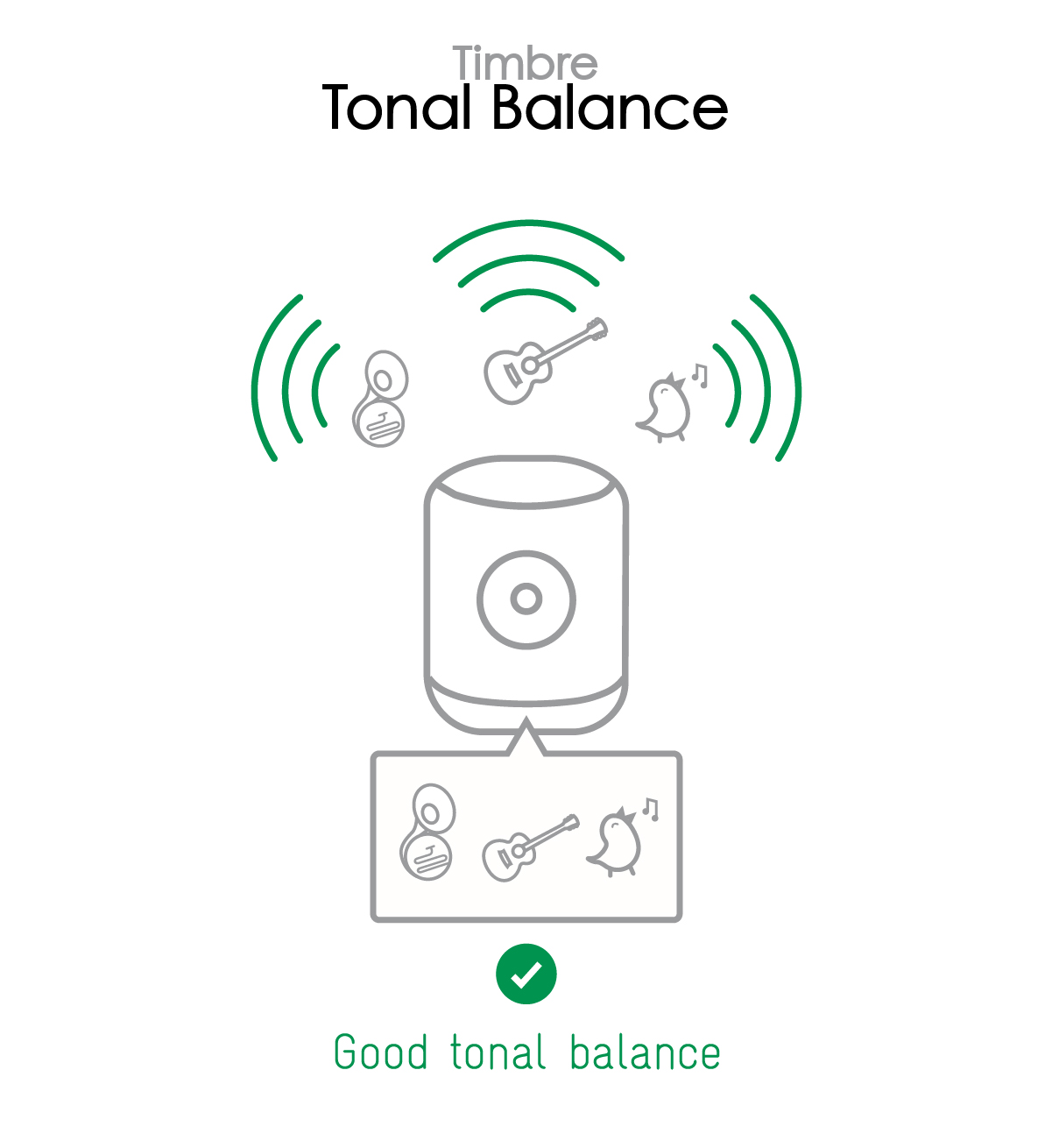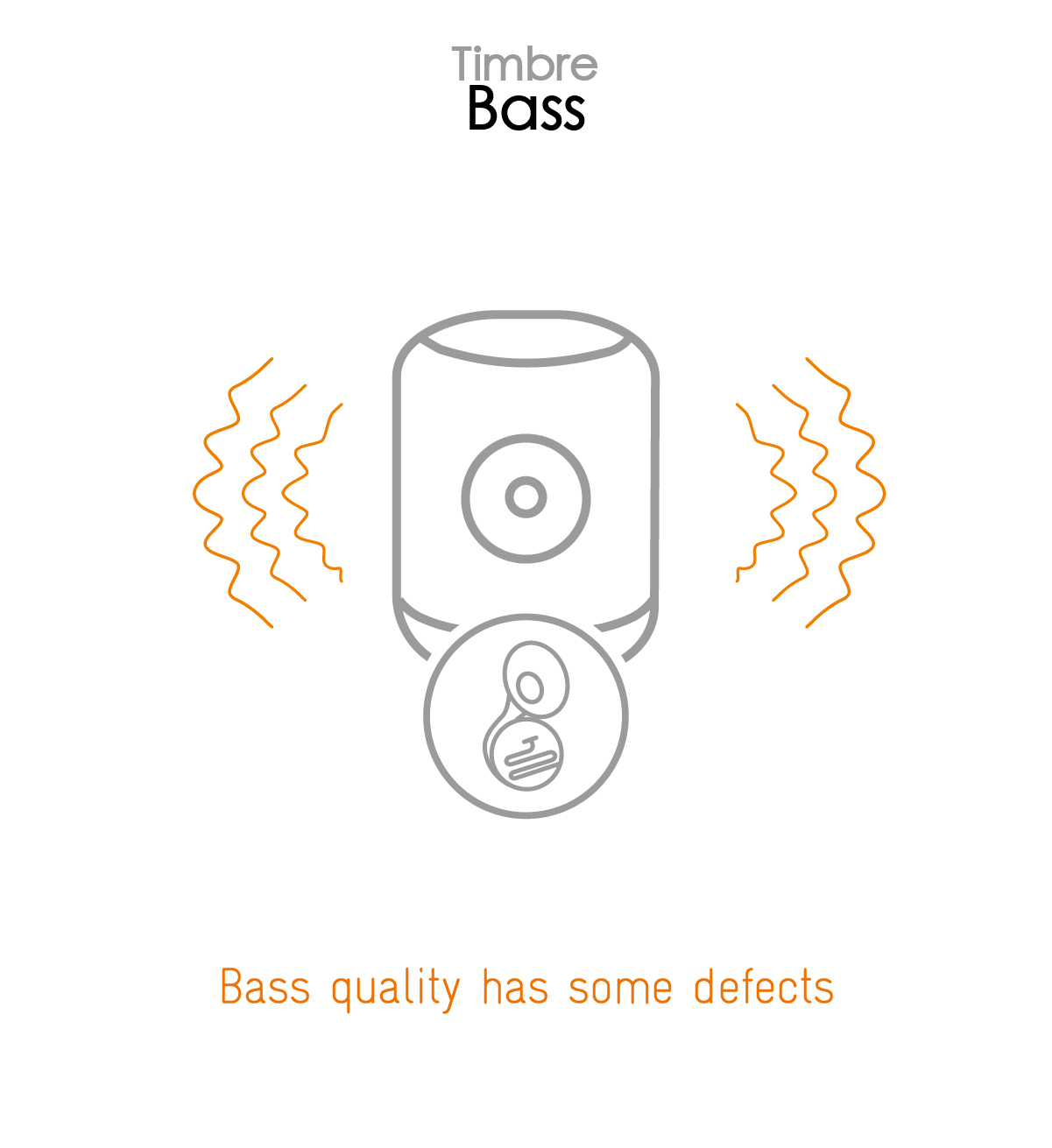 Dynamics
109
Bowers & Wilkins Formation Wedge
Our dynamics tests measure how well a speaker reproduces the energy level of a sound source, taking into account attack, bass precision, and punch.
Playback dynamics comparison
The Echo Studio delivers very good punch at loud volume, which again means it's well suited for party and outdoor use. Punch performance decreases to below average at medium and very low volume levels, though. A lack of high-end extension means attack is slightly imprecise, but bass precision is good, again until you lower the volume to really quiet levels.
Spatial
86
Bowers & Wilkins Formation Wedge
Our spatial tests measure a speaker's ability to reproduce stereo sound in all directions, taking into account localizability, balance, wideness, distance, and directivity. Please note that wideness is 0 for mono speakers and for speakers that cannot deliver a significant stereo effect.
Playback spatial comparison
In its marketing material Amazon promises "a multidimensional audio experience, adding space, clarity and depth." This is only partly true, as the Echo Studio achieves a generally average result for spatial attributes. It offers impressive wideness when compared to models with similar specifications, but this comes at a price, however. The good wideness is at least partly due to the Stereo Spatial Enhancement setting which is activated on the Echo Studio by default.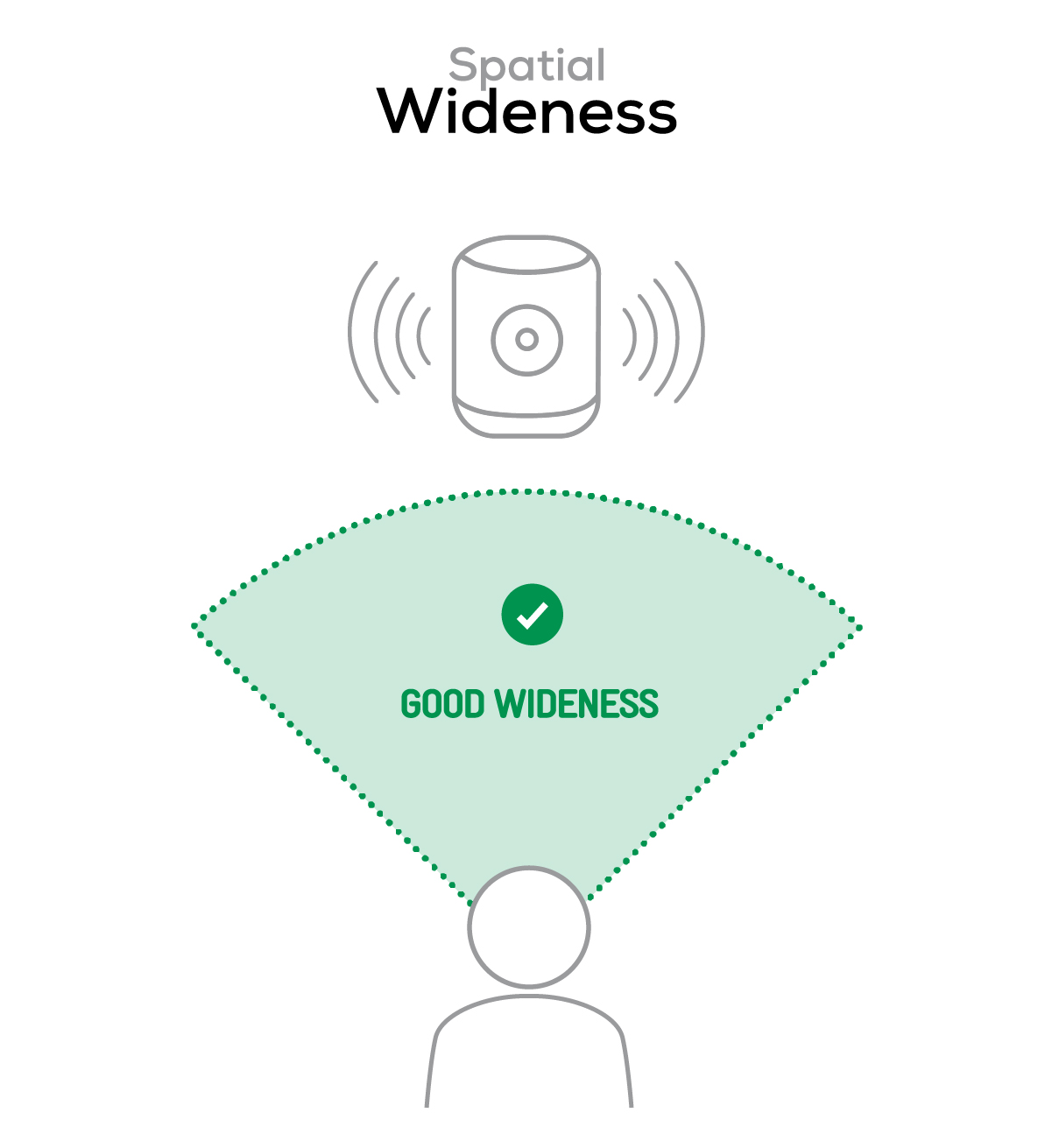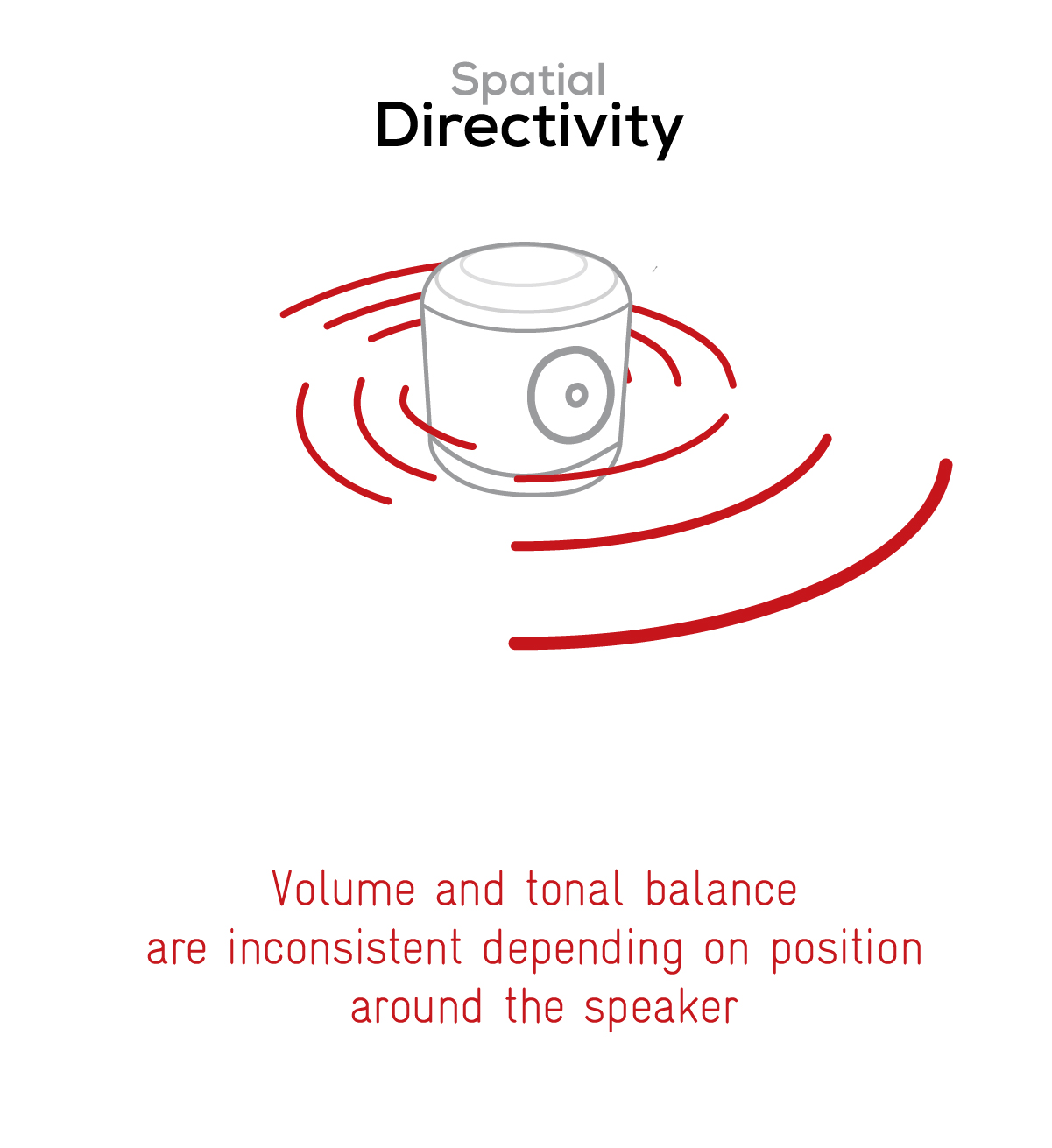 Unfortunately, this also has a negative impact on precision and adds a blurry aspect to the stereo soundscape, impairing both localizability and distance. As a result it's not always as easy as it should be to locate a specific instrument or sound effect in the soundscape. Directivity is limited, too, with treble mainly noticeable in front of the device and midrange more focused on the sides.
Still, the good wideness contributes to an overall good performance when listening in front of the speaker to spatialized audio, such as in our relaxing and TV use cases. You'll therefore get the most out of this speaker by placing it close to a wall and not in the center of a room.
Volume
119
Bluesound Pulse Mini 2i
Our volume tests measure both the maximum loudness a speaker is able to produce and how smoothly volume increases and decreases based on user input.
Playback volume comparison
The Amazon Echo Studio does fairly well in this test category. When cranked up to the max, it achieves loud volume, which is useful for parties, but it also offers a linear volume consistency, allowing for suitably low volumes when listening to music or podcasts before falling asleep.
The Echo Studio's volume consistency is very good. Overall loudness performance is good. You can see in this chart that it maintains a more consistent volume response than the competitive speakers we compared it with:
Playback volume consistency comparison
The speaker's maximum volume is also impressive. Here are sound pressure levels we measured when playing our sample recordings of hip-hop and classical music at maximum volume:
| | | | | | | |
| --- | --- | --- | --- | --- | --- | --- |
| | Correlated Pink Noise | Uncorrelated Pink Noise | Hip-Hop | Classical | Latin | Asian Pop |
| Amazon Echo Studio | 84.8 dBA | 79.6 dBA | 81.1 dBA | 72.2 dBA | 80.7 dBA | 75.6 dBA |
| Sonos One | 85.6 dBA | 83.7 dBA | 79.5 dBA | 75.5 dBA | 81.8 dBA | 74.4 dBA |
| Xiaomi Mi Smart Speaker HD | 75.5 dBA | 72.6 dBA | 74.1 dBA | 65.6 dBA | 75.3 dBA | 68.9 dBA |
Artifacts
Our artifacts tests measure how much source audio is distorted when played back, along with such other sound artifacts as noise, pumping effects, and clipping. Distortion and other artifacts can occur both because of sound processing and because of the quality of the speakers.
Playback artifacts comparison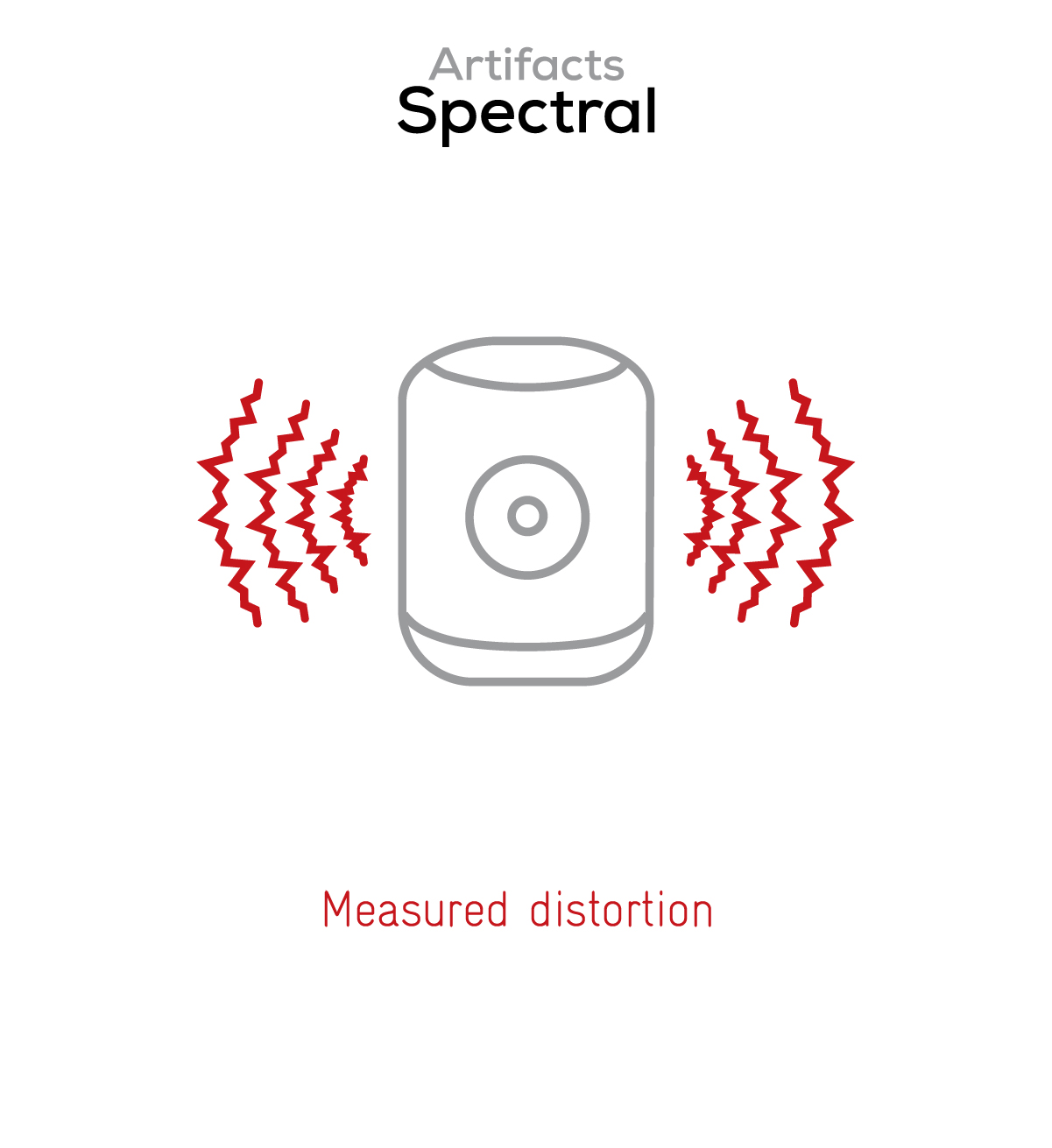 Compared to the other devices we have tested so far, the Amazon Echo Studio does very well for artifacts. Our testers detected only some distortion at higher volume levels.
However, there is a noticeable audio delay when the Echo Studio is paired with a TV or smartphone via Bluetooth, making it less than ideal for watching videos. This said, many modern TVs allow for manual compensation of this kind of latency, so you can likely still pair the speaker with your TV for improved sound over the TV's built-in speakers.
Playback total harmonic distortion
Conclusion
The Amazon Echo Studio is a great speaker for the money and offers an overall quite impressive sound quality considering its relatively small dimensions. Loud maximum volume, impressive wideness, and good bass precision make it a good choice for playing music at parties or while hanging out outdoors. However, better options are available for low-volume applications, such as listening to music or podcasts before falling asleep.
Pros
Great overall performance for an entry-level speaker
Decent tonal balance with good bass depth, considering the device's size
Impressive sound stage wideness compared to similar speakers
Loud maximum volume and linear volume steps
Punch is particularly powerful at high volumes.
Cons
Slight lack of high-end extension, unclear midrange
The overall sound (especially treble) is unevenly distributed around the speaker.
Localizability and distance of sound sources are both impaired by default settings.