The Korean firm Astell&Kern presents the ACRO BE100 with some fanfare: "It has a custom made woofer and tweeter, as well as a compact Class-D AMP that controls each frequency range independently, meaning it provides a superior level of sound quality compared to other common Bluetooth speakers." The device is a tidy rectangular box with the front grill reflecting the brand's customary "light and shadow" angular style. The ACRO BE100 is designed for home use — there's no battery, and it has a jack for audiophiles who want to connect their turntable or other devices to the speaker. Bass and treble can be adjusted. Wi-fi connectivity is not offered, although you can buy a version of the device with FM radio.
We put the Astell&Kern ACRO BE100 through our rigorous DXOMARK Audio test suite to measure its performance at playing back audio. In this review, we will break down how it fared in a variety of tests and several common use cases.

Key specifications include:
Wireless protocols: Bluetooth
Wired connectivity: Jack
Height: 16.4 cm (6.4 in). Width: 26.1 cm (10.2 in). Depth: 17.1 cm (6.7 in).
Weight: 3.2 kilos (7 pounds)
Speakers: One 4-inch (about 10 cm) woofer and two 1.5-inch (about 3.8 cm) tweeters

Test conditions:
Tested with Android smartphone
Communication protocol used: Bluetooth

About DXOMARK Wireless Speaker tests: For scoring and analysis in our wireless speaker reviews, DXOMARK engineers perform a variety of objective tests and undertake more than 20 hours of perceptual evaluation under controlled lab conditions. This article highlights the most important results of our testing. Note that we evaluate playback using only the device's built-in hardware. (For more details about our Speaker protocol, click here.) The Astell&Kern ACRO BE100 falls into the Advanced category of devices in the DXOMARK Speaker rankings.



Pros
Round, natural timbre despite lack of treble
Snappy attack
Very good volume performance
Cons
Muffled tonal balance with overly prominent low midrange
Questionable spatial processing
Volume steps could be closer together
Unbalanced compression, inducing pumping and overshoots
Test summary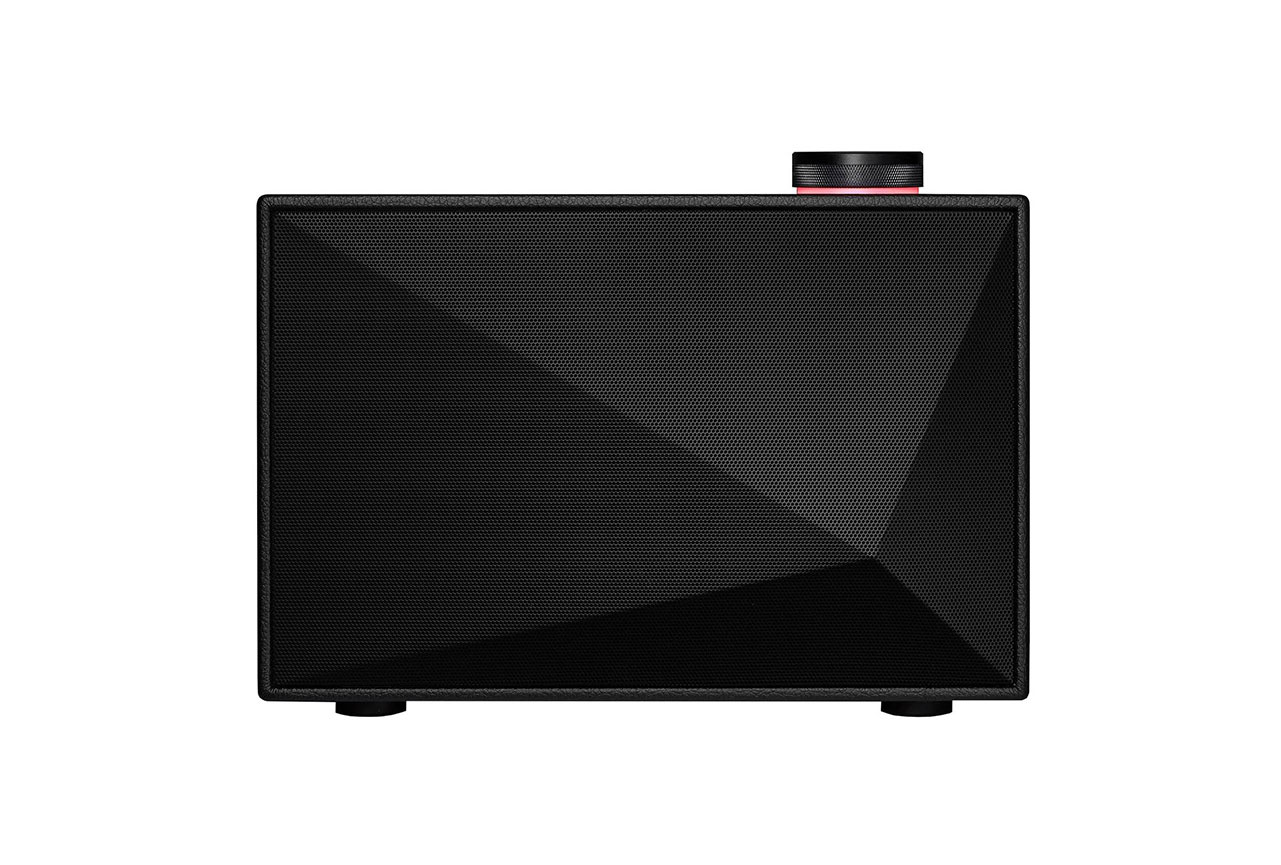 Astell&Kern ACRO BE100
115
speaker
The Astell&Kern ACRO BE100 earned a global score of 115, which puts it well outside the top 10 in our Advanced segment of home speakers, in the $200 to $599 price range. Its score places it between the Apple HomePod at 113 and the Harman Kardon AURA STUDIO 3 at 120. Among all the speakers we've tested, the Astell&Kern device is toward the bottom of the top 30.
The Astell&Kern speaker has some unusual flaws, especially in the spatial and artifacts attributes, that really affected its overall score. Some of these are linked to subpar processing. In both spatial and artifacts, an unusual "rotating" effect was observed, affecting localizability and just being a distraction. The speaker did not score well in the movie-use case in particular, in part because of this problem. It was also noted when listening to podcasts.
The device earned one of the highest scores in our database in the volume attribute — it's quite loud and its distribution of volume steps is very consistent (though too widely spaced apart). In scored fairly well in the gathering use case as well.
Harman Kardon Aura Studio 3
Sub-scores explained
The DXOMARK Speaker overall score of 115 for the Astell&Kern ACRO BE100 is derived from a range of sub-scores. In this section, we will take a closer look at these audio quality sub-scores and explain what they mean for the user, and we will show some comparison data from two of the device's competitors, the Harman Kardon Aura Studio 3 and the Dali Katch.

Timbre
115
Bowers & Wilkins Formation Wedge
DXOMARK timbre tests measure how well a speaker reproduces sound across the audible tonal range and take into account bass, midrange, treble, tonal balance, and volume dependency.

Playback timbre comparison
Overall, the ACRO BE100 delivers a decent timbre performance. Characterized by an overall neutral sonority, no flaw stands out at first listen. Tonal balance benefits from a pleasant roundness but in time reveals it to be lacking in clarity and brightness, among other shortcomings. Despite its boominess, the ACRO BE100 performs fairly well in reverberant acoustics. Its timbre, round and natural, never sounds harsh or excessive even at maximum volume, but the speaker produces a tonal balance that is too muffled and muddy for most common usages: movies can sound confusing, podcasts are not very intelligible because of the lack of clarity, and music sounds somewhat incomplete.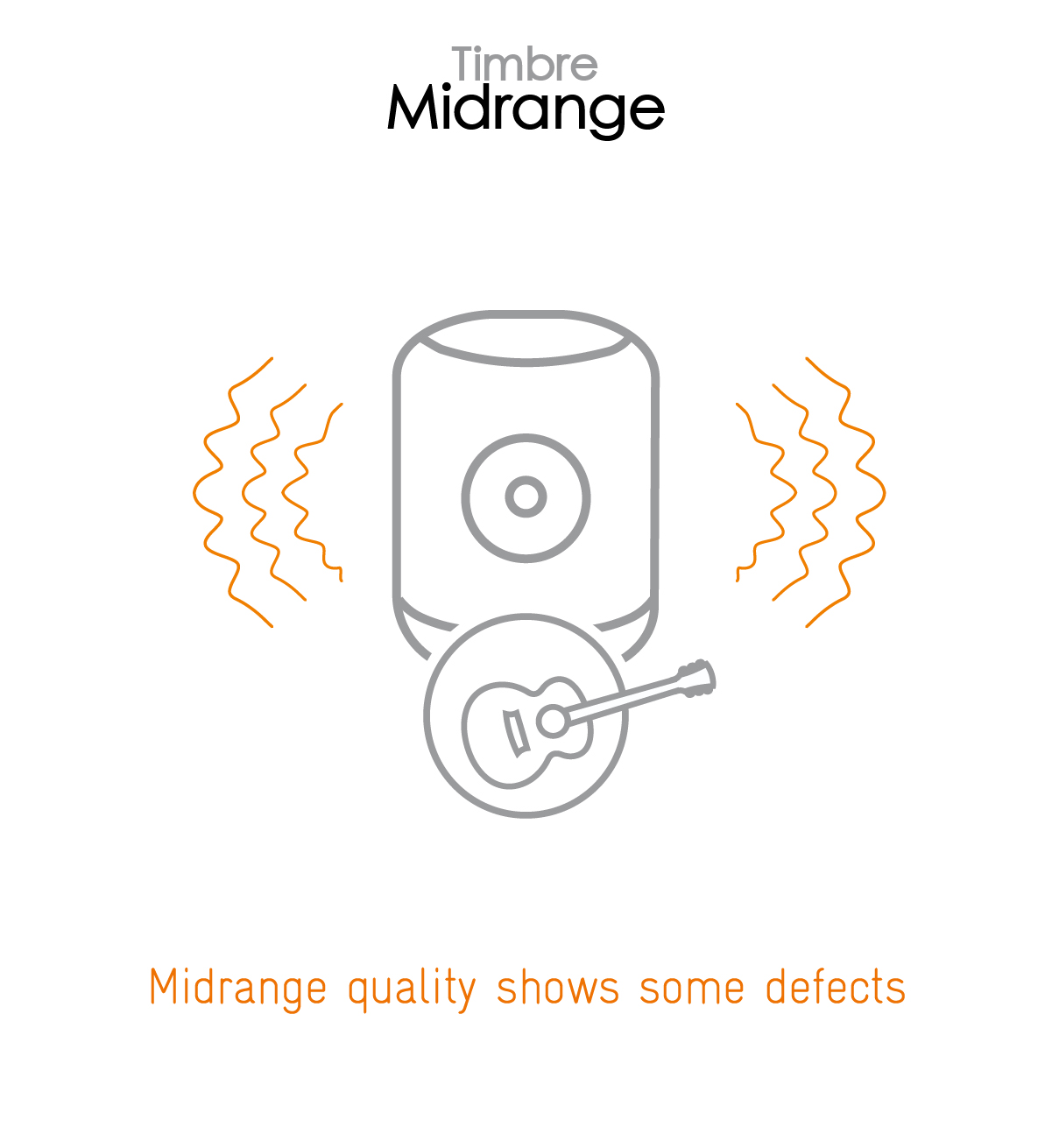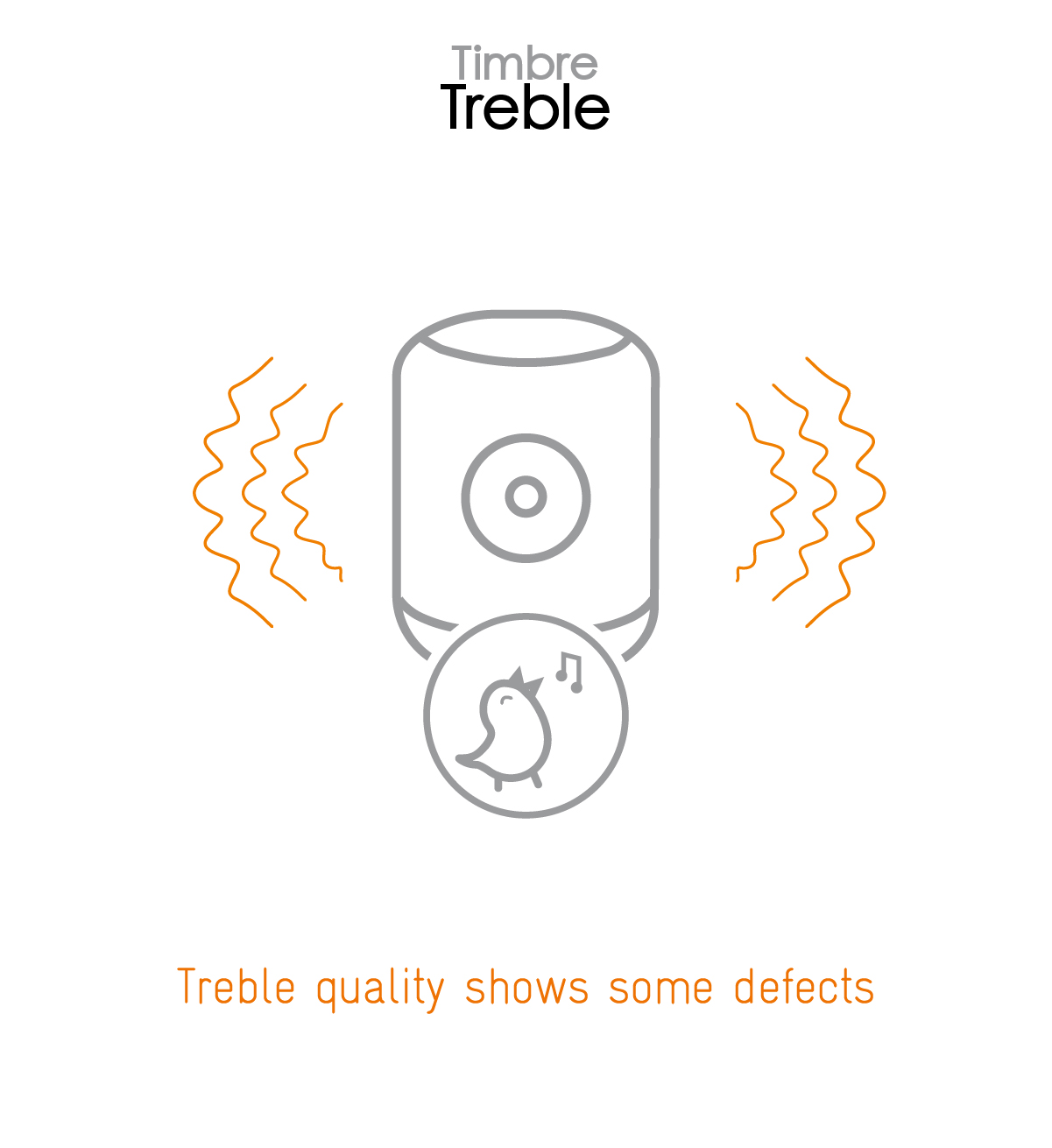 Treble is quite lackluster overall, with receded high-end extension and a lack of strength, muffling timbre. Treble is natural in most use cases and benefits from adjustment of treble tuning. Midrange is pretty inconsistent. Negatively impacted by the lack of clarity, it sounds muddy or sometimes nasal, with a prominent low midrange. Midrange tends to become more nasal and inconsistent as volume is increased. Bass may sound boomy or boxy, but its low-end extension is unsatisfying. Despite these flaws, bass rendition is still realistic, and low-end remains clean at low and nominal volume. Low-end recedes even more at higher volumes, despite adjusting the bass tuning. (Our recommendations for tuning: Increase treble by 2 notches, and bass by 1).
Music playback frequency response
Dynamics
104
Bowers & Wilkins Formation Wedge
Our dynamics tests measure how well a device reproduces the energy level of a sound source, taking into account attack, bass precision, and punch.

Playback dynamics comparison
In the dynamics attribute, the ACRO BE100 is a mixed bag. Overall, dynamics are quite compressed, and some pumping is noticeable even at nominal volume. On the other hand, attack is extremely snappy in all use cases, although at higher volumes it can be exaggerated and clipped.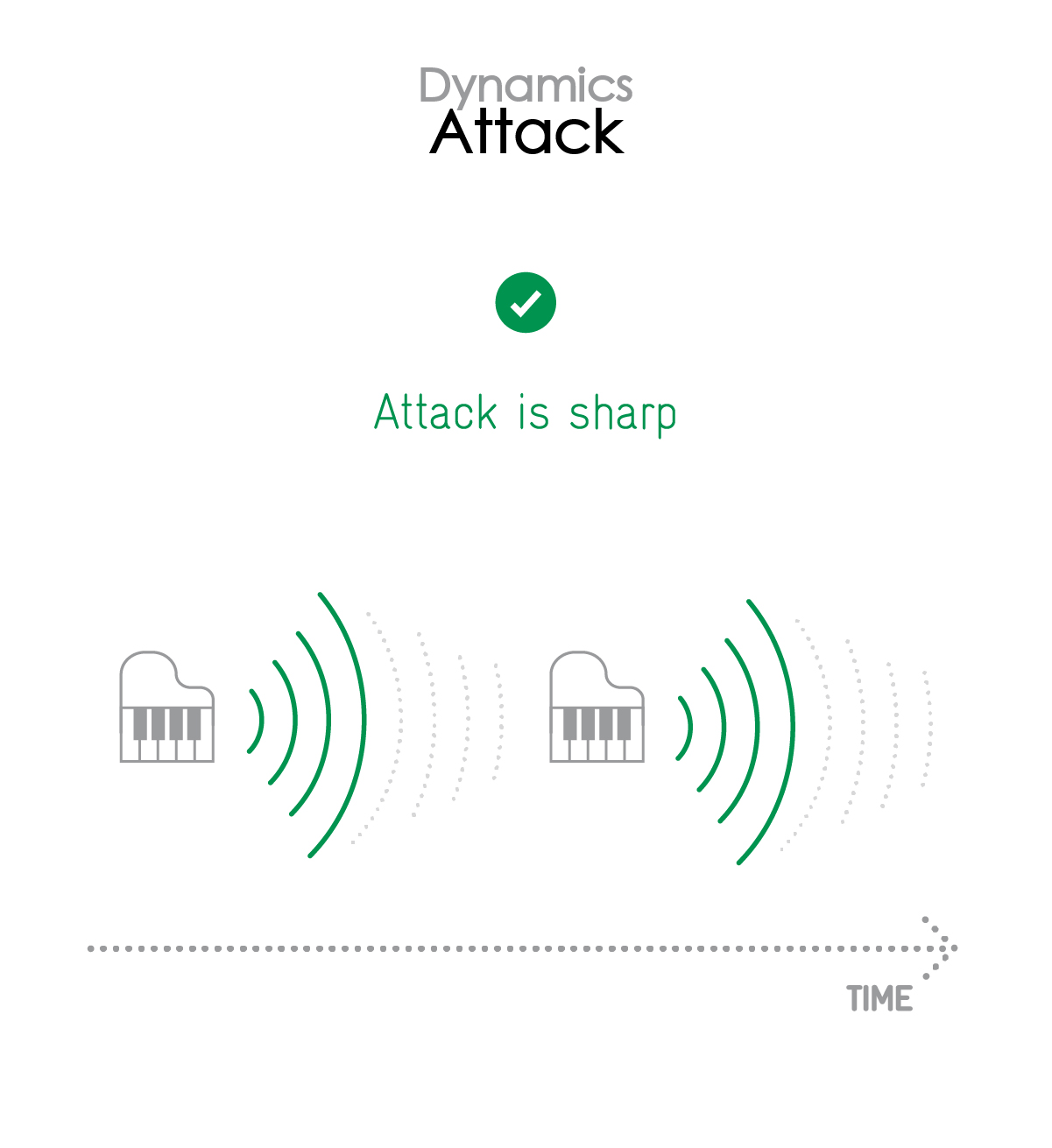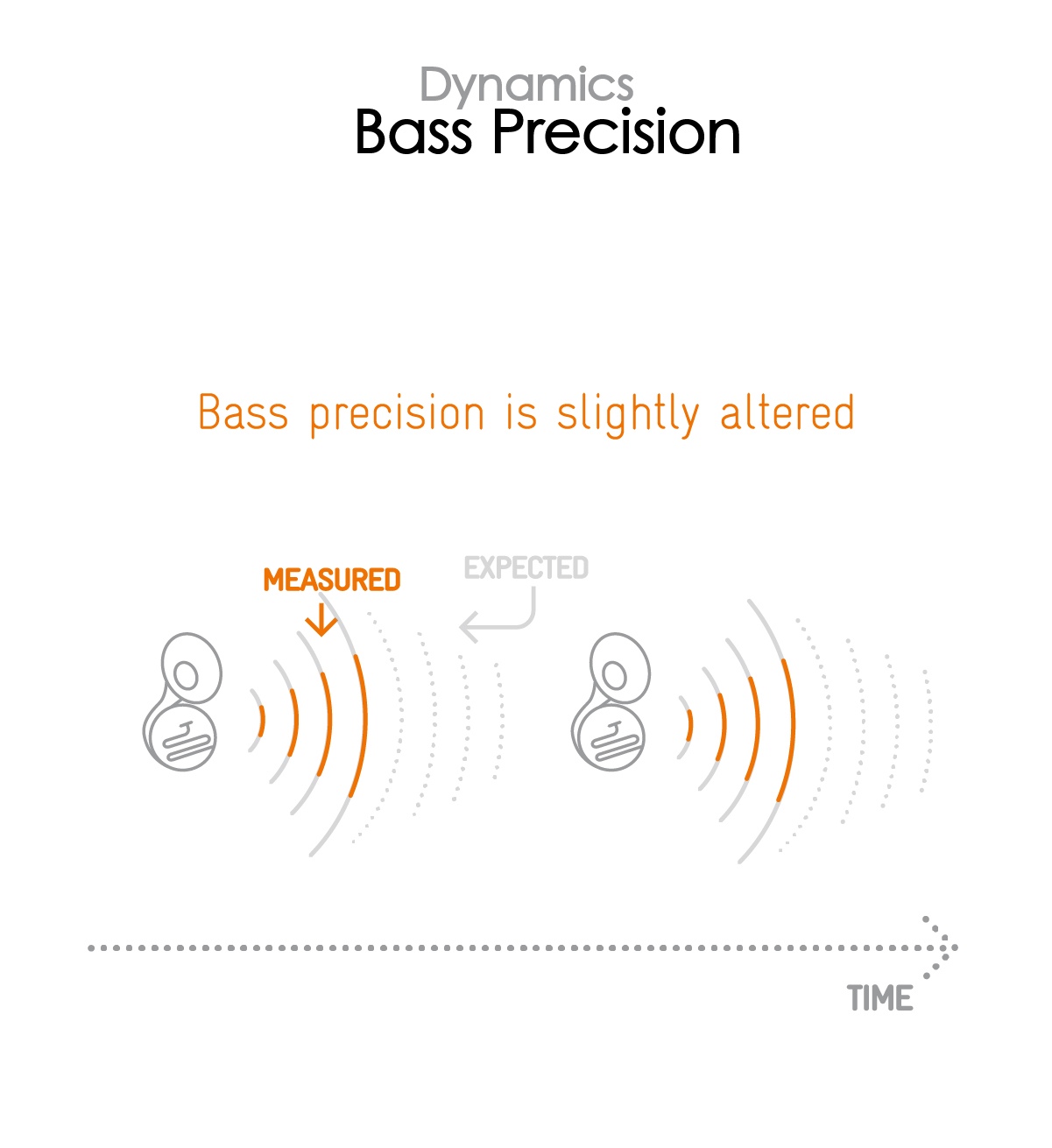 Bass precision is not satisfying overall because of global compression and pumping and a lack of low-end extension impairing sustain. All in all, bass attack is overpowering compared with the poor sustain. That strong and snappy attack contributes to some powerful energy for drums, helping improve a punch performance that is otherwise pretty poor because of compression and a muddy low midrange.
Spatial
71
Bowers & Wilkins Formation Wedge
Our spatial tests measure a speaker's ability to reproduce stereo sound in all directions, taking into account localizability, balance, wideness, distance, and directivity. Please note that wideness is 0 on mono speakers and on speakers that cannot deliver a significant stereo effect.

Playback spatial comparison
With some unusual flaws, the Astell&Kern device performed poorly in the spatial attribute. The device seems to include some sort of spatial processing, which produces the odd impression that the sound is rotating. Because of this, localizability of various sound sources is very imprecise. The stereo scene is still quite narrow, however. As for distance, muffled sonority makes voices sound too far away compared with reference.
Volume
130
Bluesound Pulse Mini 2i
Our volume tests measure both the maximum loudness a speaker is able to produce and how smoothly volume increases and decreases based on user input.

Playback volume comparison
Playback volume consistency comparison
Here the Astell&Kern ACRO BE100 produces one of the highest scores we've seen in this attribute. The maximum volume is quite loud, and the distribution of volume steps is very consistent, although it could have been closer together.
Here are a few sound pressure levels (SPL) we measured when playing our sample recordings of hip-hop and classical music at maximum volume:

| | | | | | | |
| --- | --- | --- | --- | --- | --- | --- |
| | Correlated Pink Noise | Uncorrelated Pink Noise | Hip-Hop | Classical | Latin | Asian Pop |
| Astell&Kern ACRO BE100 | 86.3 dBA | 83.4 dBA | 83.8 dBA | 75.6 dBA | 85.7 dBA | 77.3 dBA |
| Harman Kardon Aura Studio 3 | 84.6 dBA | 81.7 dBA | 82.1 dBA | 78.1 dBA | 81.1 dBA | 77.5 dBA |
| Dali Katch | 89.4 dBA | 89.8 dBA | 82.4 dBA | 80.5 dBA | 84.2 dBA | 74.8 dBA |
Artifacts
Our artifacts tests measure how much source audio is distorted when played back, along with such other sound artifacts as noise, pumping effects, and clipping. Distortion and other artifacts can occur both because of sound processing and because of the quality of the speakers.

Playback artifacts comparison
The ACRO BE100 received a below-average mark in this attribute. It produces pretty clean sound overall, but certain artifacts might impair the experience for sensitive users. A quiet but noticeable static noise is present. Seemingly due to internal processing, some unwanted tinkling, shimmery noises may appear on some tracks.
And then there's the rotational effect (mentioned in the spatial attribute) that manifests on some elements such as voices. Compression appears already at nominal volume, with pumping linked to the low-end. At higher volumes, pumping becomes quite extreme, and compression contributes to a very confusing sound overall. Compression seems to be overshooting since attack is often clipping at high volume. Despite a clean spectrum overall, bass may be subject to distortion in some cases.
Playback total harmonic distortion
Conclusion
While the performance of the Astell&Kern ACRO BE100 was a little disappointing at this price point, it does not show the usual defects that are seen on the first models, which is encouraging for the next ones the brand produces.
The score for timbre is in average territory. Attack is a positive in the dynamics attribute, but in other regards, it struggles. It's loud, but it is not sufficiently refined to deliver satisfying performance across a number of different use cases. It does have some interesting pluses — the ability to adjust bass and treble for one, and the option to buy a model with FM radio is another.