With some of the biggest studios releasing their AAA titles on smartphones, hardcore gamers are scoffing less and less at mobile gaming. Asus is providing the appropriate mobile hardware, and following the second iteration released last fall, the Asus ROG Phone 3 is now equipped with a Snapdragon 865 Plus 5G chipset, which besides being Qualcomm's top-end offering, will bring 5G connectivity to the device's users. On the audio side of things, the Asus ROG Phone 3 is equipped with stereo front-facing speakers that promise to deliver immersive sound with the help of Dirac Research Technology. Further, it has no fewer than four microphones for "3D recording," frequency response correction, and virtual bass technology for playback. All that creates a lot of expectations on our end!
We put the Asus ROG Phone 3 through our rigorous DXOMARK Audio test suite to measure its performance both at recording sound using its built-in microphones, and at playing audio back through its built-in speakers. In this review, we will break down how it fared in a variety of tests and several common use cases.
Key audio specifications include:
Stereo front-facing speakers with Dirac Research immersive audio technology
4 microphones for 3D recording
No headphone jack, no adapter included
Impulse response and frequency response correction, cross-talk cancellation, and virtual bass technology in playback
About DXOMARK Audio tests: For scoring and analysis in our smartphone audio reviews, DXOMARK engineers perform a variety of objective tests and undertake more than 20 hours of perceptual evaluation under controlled lab conditions. This article highlights the most important results of our testing. Note that we evaluate both Playback and Recording using only the device's built-in hardware and default apps. (For more details about our Playback protocol, click here; for more details about our Recording protocol, click here.)
Test summary
75
audio
With an overall score of 75, the Asus ROG Phone 3 demonstrates substantial improvements compared to its predecessor, and ranks second-best of all the phones we have tested so far. In playback testing, the stronger bass presence benefits the frequency balance as well as the dynamics, in which the ROG Phone 3 ties with the excellent Mi 10 Pro. The phone delivers a fine overall tonal balance, a very satisfying spatial reproduction, good volume results (especially at soft volumes), and an excellent artifacts performance. And good to know — it is almost impossible to occlude the speakers when listening to music, watching movies, or playing games.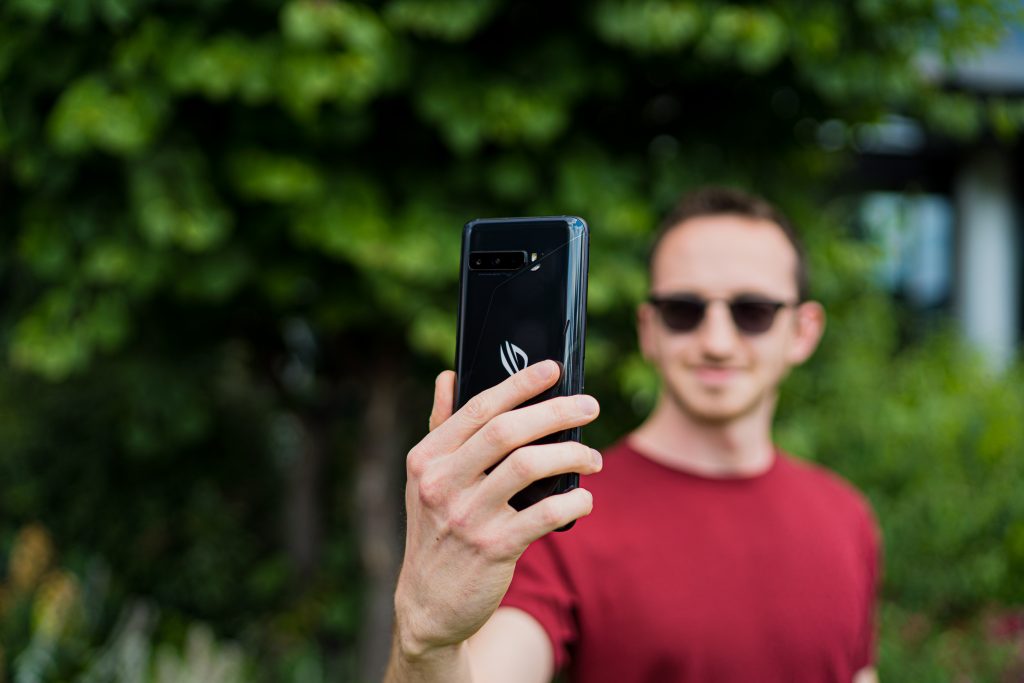 Filming a selfie video with the Asus ROG Phone 3
Thanks to a stellar spatial capture and a first-rate timbre performance, the Asus ROG Phone 3 is one of the best phones we have tested for recording to date, sharing the top spot with Honor's V30 Pro and Huawei's P40 Pro. Volume is highly consistent across all use cases, temporal artifacts are well controlled, and distortion remains rather discreet. That all said, upper frequencies are slightly too prominent, and so is the background. Midrange frequencies (mids) and treble can suffer from audible distortion when recording in loud environments, and phasing can occur on specific vocal frequencies.
Sub-scores explained
The DXOMARK Audio overall score of 75 for the Asus ROG Phone 3 is derived from the Playback and Recording scores and their respective sub-scores. In this section, we'll take a closer look at these audio quality sub-scores and explain what they mean for the user.
Playback
Timbre
DXOMARK Timbre tests measure how well a phone reproduces sound across the audible tonal range and takes into account bass, midrange, treble, tonal balance, and volume dependency.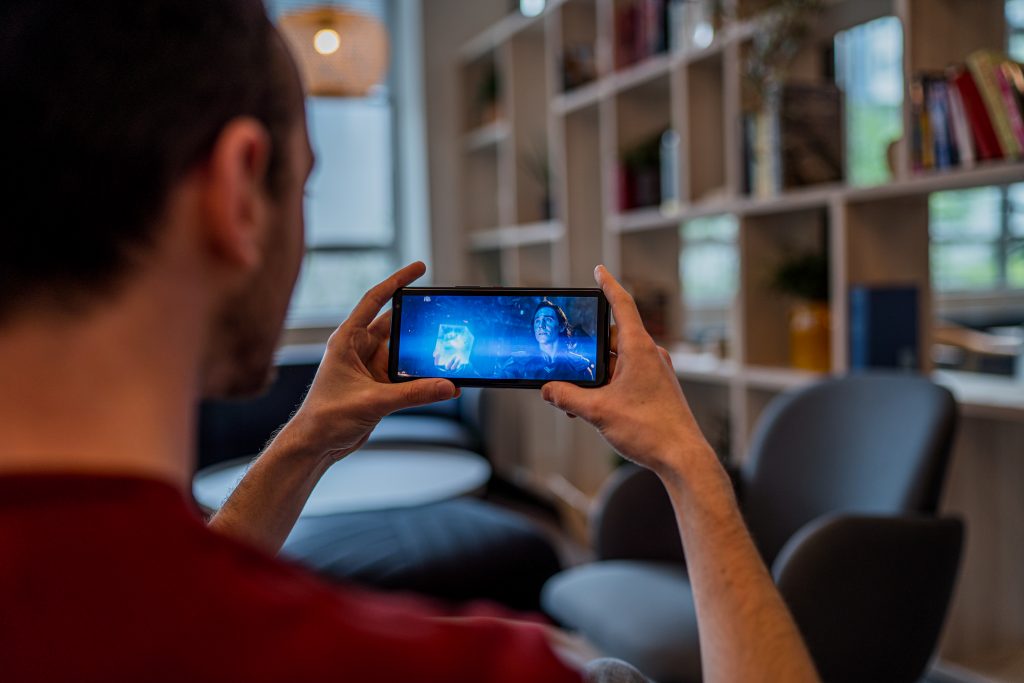 ROG Phone 3's timbre performance peaks when watching movies
The Asus ROG Phone 3 delivers a very good timbre performance, thanks to accurate midrange frequencies, clear treble, and a fine overall tonal balance. As is often the case, movies benefit from the best overall score, with good bass and mids reproduction.
Music playback frequency response
Despite substantial improvements to the low end of the spectrum compared to the Rog Phone 2, bass resonances can occur at nominal and maximum volumes.
Dynamics
Our Dynamics tests measure how well a device reproduces the energy level of a sound source. Regarding dynamics performance, the ROG Phone 3 matches the excellent Mi 10 Pro, and is only a few points behind the top score held by the Mate 20 X. Treble clarity benefits attack, and bass precision is better than its predecessor's, thanks to stronger bass presence.
Punch, also improved compared to the ROG Phone 2, is slightly more impactful when listening to music, but surprisingly a bit weaker when playing games, especially at soft volumes.
Spatial
Spatial reproduction of sound sources through the Asus ROG Phone 3's speakers is very satisfying. While the ROG Phone 2 was especially strong in this category, its successor manages to surpass it, in part due to a wider sound stage, notably when playing games. The enhanced high-end extension offers better accuracy for positioning sound sources, thus helping localizability.
Finally, distance and balance are both pleasing, as voices are perceived close to the screen and sound sources in general are well centered.
Volume
Our volume tests measure both the overall loudness a device is able to produce and how smoothly volume increases and decreases based on user input. The ROG Phone 3 performs especially well at minimum volume, allowing classical music and general dynamic content (such as movies) to remain intelligible. Volume steps are more linear and frequent than with the previous model, which means the listening volume can be set more accurately.
| | |
| --- | --- |
| Hip-Hop | Classical |
| 74.5 dBA | 69.6 dBA |
Artifacts
Samsung Galaxy Note20 Ultra 5G
Our artifacts tests measure how much source audio is distorted when played back through a device's speaker. Distortion can occur both because of sound processing in the device and because of the quality of the speakers.
The Republic Of Gamers' latest phone delivers an excellent artifacts performance. At nominal volume, no noise or temporal artifacts (compression) are audible. At maximum volume, while bass distortions, clipping, pumping and resonances are perceivable, their incidence is kept fairly under control. Finally, the clever positioning of the speakers makes it almost impossible for the user to occlude them while playing games or watching movies.
Recording
Timbre
The ROG Phone 3's microphones deliver a first-rate timbre performance, with bass, midrange, treble, and balance all performing notably better. The balance between midrange and treble frequencies is especially good, thus offering excellent vocal balance in every app. That said, the overall tonal balance is impaired by the prominence of upper register frequencies.
Life video frequency response
Dynamics
The timbre improvements also benefit attack and bass precision in loud environments, as well as the preservation of the sound envelope. That said, the SNR (ratio between the level of the recorded sound compared to the background noise) suffers from the loudness of the background rendering.
Spatial
When it comes to capturing the spatialization of sounds, the Asus ROG Phone 3 is not only the best to date, it is by far the best, beating the previous title holder, the Mi 10 Pro, by no fewer than 6 points. Wideness and localizability performances are great, with particularly remarkable wideness when filming selfie videos, compared to the majority of smartphones.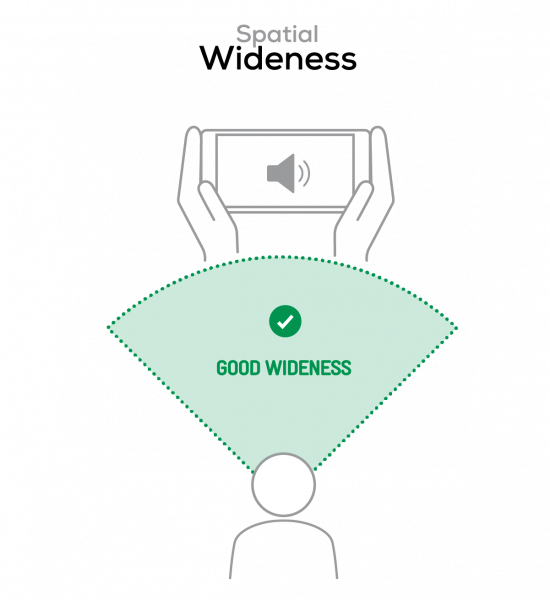 Great performance in spatial wideness…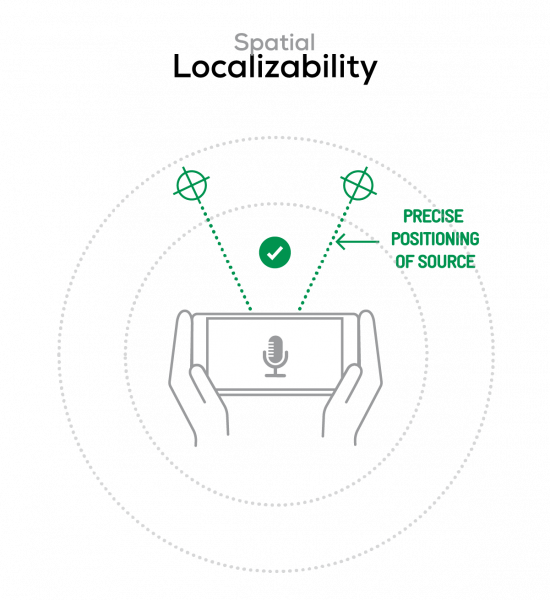 The capture of sounds distance is excellent, thanks to the quality of midrange frequencies. That all said, our simulated scenarios show that microphone directivity could still be improved.
Volume
This flagship gaming phone offers a highly consistent volume performance in every use case. Despite noticeable distortions in loud environments (per our electronic concert use case), it bears a high maximum recording level, and delivers very satisfying loudness for all types of recorded content. Here are our test results, measured in LUFS (Loudness Unit Full Scale); as a reference, we expect loudness levels to be above -24 LUFS for recorded content:
| | | | |
| --- | --- | --- | --- |
| Meeting | Life Video | Selfie Video | Memo |
| -23.2 LUFS | -20.2 LUFS | -18.7 LUFS | -19.7 LUFS |
Artifacts
When recording in loud environments, midrange and treble suffer from noticeable distortions. In addition, phasing between both channels on very specific vocal frequencies is audible. On the other hand, temporal artifacts (compression) are very well controlled, even in loud environments.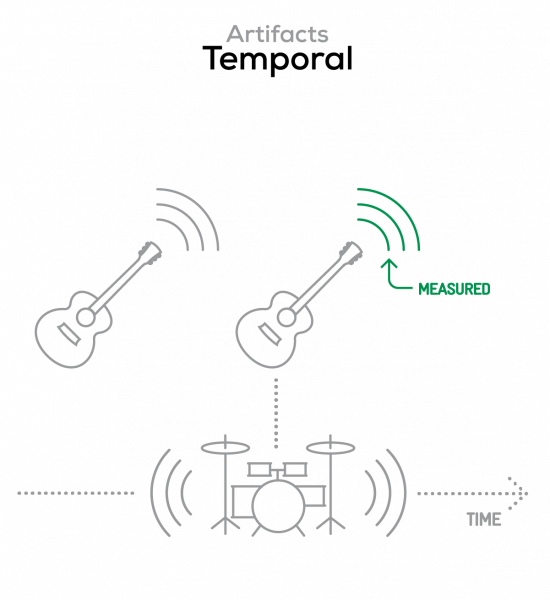 While temporal artifacts are well controlled, …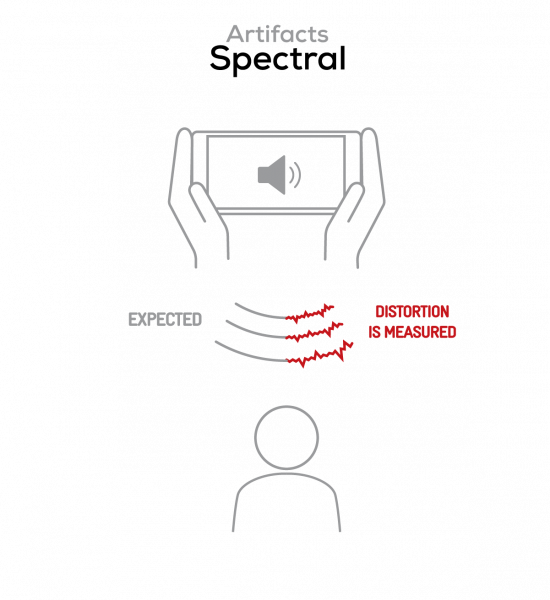 … distortions are noticeable when recording in loud environments
In the audio excerpt below, the recording is free from both temporal and spectral artifacts.
Background
With a sub-score of 50, ROG's latest phone is only average when it comes to recording background. While the tonal balance is very good, the phasing issue impacts sound source positions, particularly when recording selfie videos. Finally, high- and low-end resonances can impair the overall reproduction.
Conclusion
Not only does the Asus ROG Phone 3 surpass its predecessor — sometimes by far — in almost every category and rank second-to-best overall, it also shares first place for recording, thanks to a consistent overall performance across all use cases, and outstanding spatial results when filming videos. Despite noticeable bass resonances, audio played back through its speakers demonstrates good overall tonal balance, good dynamics, and good intelligibility even at minimum volumes. All in all, ROG Phone's third generation seriously upped its audio game, achieving true flagship level.
Playback
Pros
Good overall tonal balance
Good dynamics performance (bass precision, attack)
Dynamic content highly intelligible at minimum volume
Cons
Noticeable bass resonances at soft and nominal volume
Recording
Pros
Consistent overall performance across all use cases
Outstanding spatial performance
Great timbre and envelope performances
Good tonal balance for background
Cons
Distortion becomes audible when recording in loud environments
Poor SNR performance due to the loudness of the background
In the Press