Introduced this fall as Asus's next-generation phone for gamers, the Asus ROG Phone II packs some impressive specs. Powered by a high-end Snapdragon 855 Plus SoC and featuring a 6.59-inch 2340 x 1080 display that touts 108% coverage of DCI-P3 and HDR10, the phone has plenty of punch for performance gaming. It has a dual-module rear camera with a 48MP standard module and a 13MP ultra-wide module. Impressively, the phone can record 4K video at speeds up to 60fps.
For audio, the Asus ROG Phone II supports DTS:X output from its stereo speakers, each of which is powered by its own amplifier. As is becoming common for high-end phones, it also has a dedicated microphone for noise cancellation.
We put the Asus ROG Phone II through our rigorous DXOMARK Audio test suite to measure its performance both at playing audio back through its built-in speakers and at recording sound using its built-in microphones. In this review, we'll break down how it fared in a variety of tests and in several common use cases.
Audio specifications include:
Dual stereo speakers with DTS:X
Separate amplifiers for each speaker
Dedicated microphone for noise cancellation
About DXOMARK Audio tests: For scoring and analysis in our smartphone audio reviews, DXOMARK engineers perform a variety of objective tests and undertake more than 20 hours of perceptual evaluation under controlled lab conditions. This article highlights the most important results of our testing. Note that we evaluate both Playback and Recording using only the device's built-in hardware and default apps. (For more details about our Playback protocol, click here; for more details about our Recording protocol, click here.)
Test summary
69
audio
The Asus ROG Phone II scored well overall compared to the other Android phones we have tested so far, achieving an excellent DXOMARK Audio score of 69—one the highest of any Android phone we have tested to date, although noticeably behind the 75 achieved by the Huawei Mate 20 X. It is also slightly behind the top iPhone models. Breaking down the Asus ROG Phone II's Audio score, it is somewhat stronger Playback (70) than Recording (64). Those sub-scores can't be directly compared with each other, but when comparing with other tested phones, the Recording score is weaker than Playback.
Playback performance is good overall, and features especially strong sound stage reproduction. Not surprisingly for a phone intended for gamers, maximum volume is one of the loudest we've tested. Similarly, its strongest use case is for gaming audio, demonstrating a good fit with its intended market. Treble is accurately reproduced and mid-range tones sound very natural. On the downside, there can be some high-frequency resonance artifacts at high playback volumes. Somewhat surprisingly, the ROG Phone II suffers from a lack of bass compared to our other top-scoring phones. Its minimum volume is also too low.
The twin-amped, front-facing stereo speakers help give the ROG Phone II an impressive sound stage and balance between channels. That goes along with a particularly loud maximum volume, which befits a gaming-focused phone. Sound dynamics are also very good, especially when gaming. Bass could be punchier, though.
When recording audio, the ROG Phone II suffers from very few artifacts, even at high volume. It also has reasonably good tonal reproduction that is hampered somewhat by a lack of bass. It is also quite capable of recording loud audio sources. Unfortunately, recorded volume is somewhat lower than it should be. Compression is too aggressive at high sound levels, resulting in a smaller sound envelope than is desirable. When recording meetings and memos, it doesn't suppress background well, and sounds can be metallic. The ROG Phone II also does only an average job of reproducing the sound stage of recording audio, making it particularly hard to ascertain the direction of sound sources when recording video with either the front or the rear camera. Memo and meeting recordings also suffer from too much background noise, while concert recordings have reduced dynamics because their overall sound envelope is diminished by aggressive compression.
Sub-scores explained
The DXOMARK Audio overall score of 65 for the Asus ROG Phone II is derived from its Playback and Recording scores and their respective sub-scores. In this section, we'll take a closer look at these audio quality sub-scores and explain what they mean for the user.
Playback
Timbre
Black Shark 5 Pro
Best: Black Shark 5 Pro (89)
Our Timbre tests measure how well a phone reproduces sound across the audible tonal range, including bass, midrange, and treble. Overall, the ROG Phone II does a good job of accurately reproducing tones, including clear treble response and a natural midrange, giving it a Timbre sub-score of 63. There are some high-frequency resonances at maximum volume that detract from its score, and as you can see from the frequency response chart below, bass response is weak overall compared to similar devices.
Music playback frequency response
Dynamics
Black Shark 5 Pro
Best: Black Shark 5 Pro (81)
Our Dynamics tests measure how well a device reproduces the energy level of a sound source, and how precisely it reproduces bass frequencies. With a Dynamics sub-score of 69, the ROG Phone II achieves one of the highest scores we've seen for this category. Sound dynamics are best for gaming audio, although strong across the board. In line with the phone's shortcomings for bass volume, it also suffers a bit from a lack of precision and punch in its bass reproduction.
Spatial
Black Shark 5 Pro
Best: Black Shark 5 Pro (88)
Our Spatial tests measure how well a device accurately portrays the original location of instruments or other sound sources used in a recording. The ROG Phone II is especially strong here, with excellent sound stage reproduction giving it a Spatial sub-score of 70. The dual front-facing speakers help the user localize sound sources, and balance the sound nicely between channels. However, there are issues when the phone is held in portrait mode: sometimes voices seem to come from the bottom of the phone instead of the center.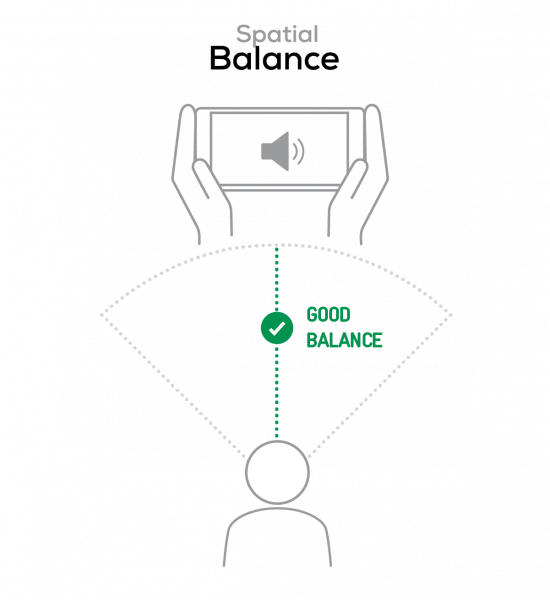 Good balance between channels in most scenarios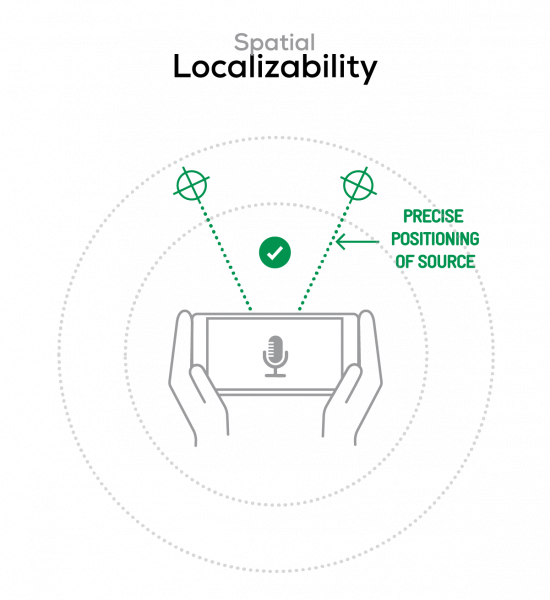 Excellent ability for allowing the listener to identify the location of audio sources
Volume
Nubia RedMagic 7 Pro
Best: Nubia RedMagic 7 Pro (91)
Our Volume tests measure both the overall loudness a device is able to reproduce and how smoothly volume increases and decreases based on user input. As you'd expect for a phone aimed at gamers, the ROG Phone II is capable of playing audio at impressive volumes, thanks in part to individual amplifiers for each of its stereo speakers. In contrast, the minimum volume setting is too low to hear some types of audio, such as quiet portions of classical music.
You can see the effect of the range of volume settings in this chart showing the actual loudness (acoustic power) generated for each of the device's volume steps.
We carried out objective measurements in our laboratories using recordings of both hip-hop and classical music played at the maximum user volume step:
| | |
| --- | --- |
| Hip-Hop | Classical |
| 76.5 dBA | 73.7 dBA |
Artifacts
Xiaomi Redmi K50 Gaming
Best: Xiaomi Redmi K50 Gaming (113)
Our Artifacts tests measure how much source audio is distorted when played back through a device's speakers. Distortion can occur both because of sound processing in the device and because of the quality of the speakers. The ROG Phone II does a reasonably good job of keeping artifacts under control, but its performance in this area isn't up to par compared to its other audio capabilities. Having dual front-facing speakers helps it avoid occlusion artifacts, but at maximum volume, there is audible volume pumping and sometimes disturbing high-frequency distortion.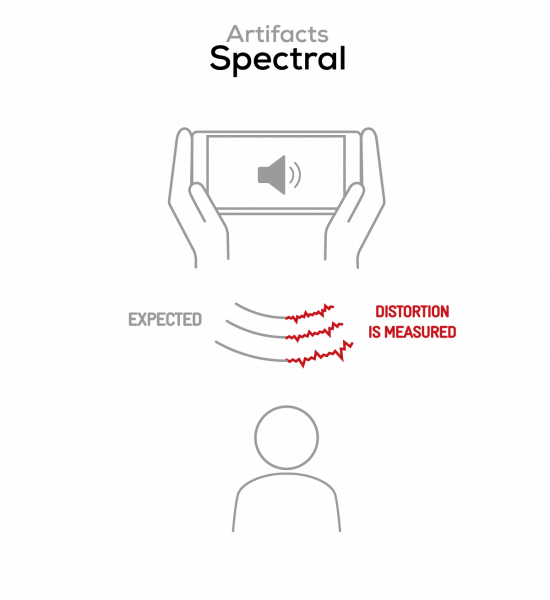 Distortion is well controlled on audio playback.
Recording
Timbre
Honor Magic3 Pro+
Best: Honor Magic3 Pro+ (91)
The ROG Phone II does a good job of tonal reproduction when recording audio, but it is not as strong in this area as other comparable phones we've tested. In particular, recordings suffer from a lack of bass. Also, in our memo and meeting recording use cases, the midrange sounded unnatural. In the comparison graph below, you can see the phone's weak bass recording compared to the competitive Samsung Galaxy S10+ and Apple iPhone XS Max flagships:
Life video frequency response
Dynamics
Black Shark 5 Pro
Best: Black Shark 5 Pro (81)
The ROG Phone II does a good job of suppressing noise and accurately recording desired audio for both front and rear camera video recordings. One weak point in video recording is a lack of dynamics in our electronic concert use case, as the overall sound envelope of the recording is too compressed.
Spatial
Black Shark 4S Pro
Best: Black Shark 4S Pro (78)
Our Spatial sub-score measures how well a device creates a recording that allows a listener to accurately place sound sources within the real-world soundscape. The ROG Phone II does an average job of preserving sound stages and directionality when recording, but there is a lot of room for improvement. In particular, it was difficult to locate sounds in our meeting recording use case, and it wasn't possible to detect the direction of audio sources in our front and rear camera video recording tests.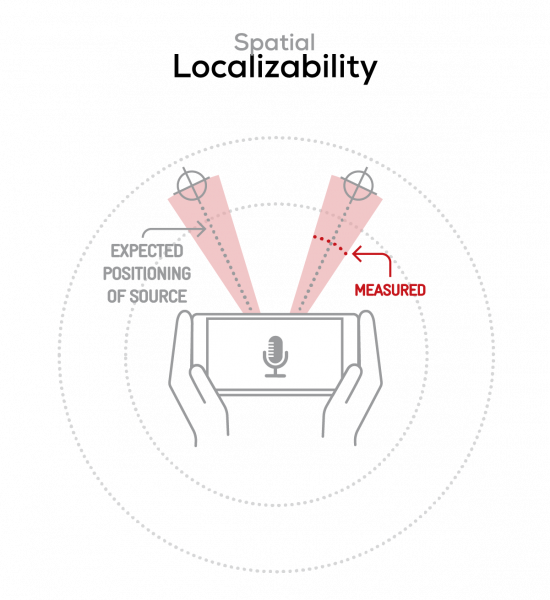 Poor spatial localizability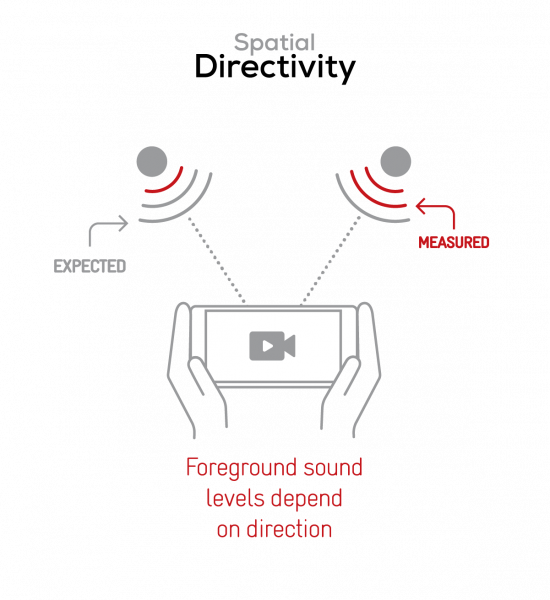 Volume
Black Shark 5 Pro
Best: Black Shark 5 Pro (99)
Unlike with playback, recording volume isn't a strength for the ROG Phone II. While the maximum possible recording level is good, recording levels are lower in general than they should be. That's clearly illustrated in our test results, measured in LUFS (Loudness Unit Full Scale):
| | | | |
| --- | --- | --- | --- |
| Meeting | Life Video | Selfie Video | Memo |
| -26.9 LUFS | -22.8 LUFS | -20 LUFS | -25.2 LUFS |
Artifacts
Black Shark 5 Pro
Best: Black Shark 5 Pro (97)
Audio recorded with the ROG Phone II is relatively artifact-free, and the phone earned a very good 82 Recording Artifacts sub-score. There is some slight volume pumping at high volume, but it isn't too disturbing. Moving a finger across the microphone does cause voices being recorded to lose some clarity.
You can hear some of the artifacts for yourself in this sample recording:
Background
Black Shark 5 Pro
Best: Black Shark 5 Pro (60)
Sound recording professionals often use highly-directional microphones to isolate sound sources and keep out background noise. Smartphones, however, rely on the same small microphones for everything, so suppressing background noise also relies heavily on the device's audio processing. The ROG Phone II does a decent job in this area, but suffers from poor background sound directivity. Background tonal balance is impaired by the phone's lack of bass when recording, and there can also be audible volume pumping of background noises when recording memos or meetings.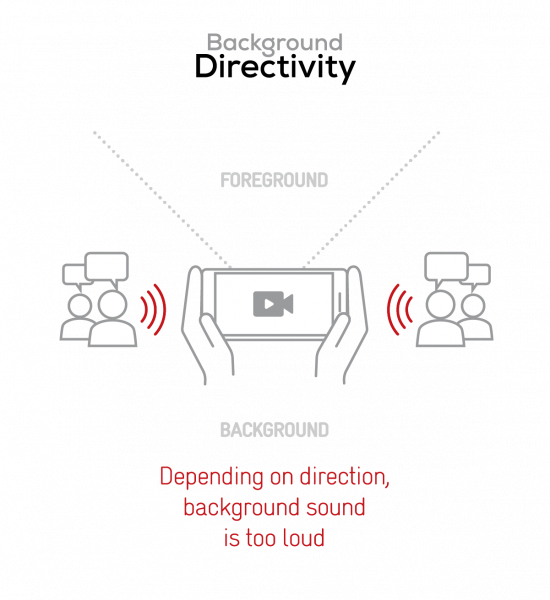 Background directivity is poor.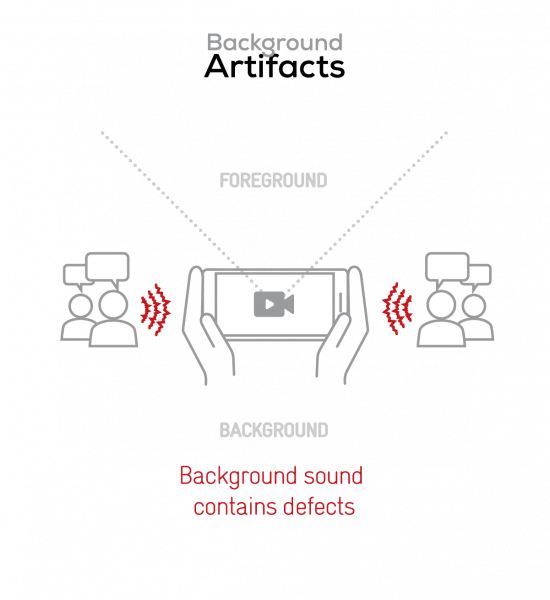 Background sounds are distorted.
Conclusion
The Asus ROG Phone II in large measure delivers on being an excellent audio performer for gamers, with plenty of volume and well-placed dual front-facing speakers that help give it a wide and accurate sound stage. So as you'd expect, gaming audio is its strong suit. The lack of bass may prove a bit frustrating for those who want booming bass to go along with its high overall volume. The downside to the high volume capability is some artifacts, including distortion at maximum volume.
Recording isn't a particular strength of the ROG Phone II, although it does a credible job, with few audible artifacts even at high volume. At default settings, it creates recordings with too-low volume, and which can suffer from excessive background noise.
Playback
Pros
Good overall playback performance
Impressive maximum volume
Excellent sound stage reproduction
Great performance in gaming audio scenarios
Cons
At high volume, frequency artifacts can be disturbing
Lack of bass compared to the best phones we've tested
Minimum volume is too low
Recording
Pros
Very few artifacts, even at high volumes
Decent tone reproduction
Good maximum recording level
Cons
Recording volume is too low
Recorded audio lacks some bass
Overall sound envelope is too compressed at high volume
Meeting and memo recordings sound artificial, with too much background noise