The Black Shark 2 Pro, aimed at the serious budget-minded mobile gamer, was released in October 2019, just months after the debut of the Black Shark 2. The Pro version doesn't differ too much from the non-Pro version, but the gaming experience is expected to benefit from a few improvements, such as use of Qualcomm's premium-tier Snapdragon 855+ processor, which promises high-end CPU and GPU performance, and an innovative liquid cooling 3.0+ technology. The device also features a 6.39-inch AMOLED screen with 1080 x 2340 resolution.
Audio specs include two front-facing stereo speakers, one located at the top-center front and the second one at the bottom-center front, and microphones with noise cancellation. The phone lacks a traditional 3.5mm jack for headsets or earphones, which some gamers might find annoying; instead, the device has a USB-C connector.
Audio specifications include:
Two front-facing stereo speakers
Microphones with noise cancellation
About DXOMARK Audio tests: For scoring and analysis in our smartphone audio reviews, DXOMARK engineers perform a variety of objective tests and undertake more than 20 hours of perceptual evaluation under controlled lab conditions. This article highlights the most important results of our testing. Note that we evaluate both Playback and Recording using only the device's built-in hardware and default apps. (For more details about our Playback protocol, click here; for more details about our Recording protocol, click here.)
Test summary
51
audio
With an overall score of 51, our DXOMARK Audio playback and recording audio tests placed the Black Shark 2 Pro nearly at the bottom of all the phones we have reviewed so far, just above the Sony Xperia's score of 45, and way behind Huawei's Mate 20 X score of 75, the top-scoring phone in our audio-testing database.
In a breakdown of the overall score, the Black Shark 2 Pro performed better in playback than in recording, with a score of 55 for the former, and 39 for the latter.
In Playback testing, the Black Shark 2 Pro's timbre and dynamics performances were decent, but the lack of bass was noticeable and resulted in a thin sound. Not surprisingly, the phone's audio performed best in gaming mode, but less well in music and movie modes. The speakers' asymmetrical performance also affected the device's spatial performance, dramatically limiting the user's immersive experience.
In Recording tests, the Black Shark 2 Pro scored poorest in the sub-attributes of artifacts and background. The Black Shark 2 Pro's audio was tested in five controlled typical use environments: an electronic concert, life video, selfie video, meeting room, and memo taking.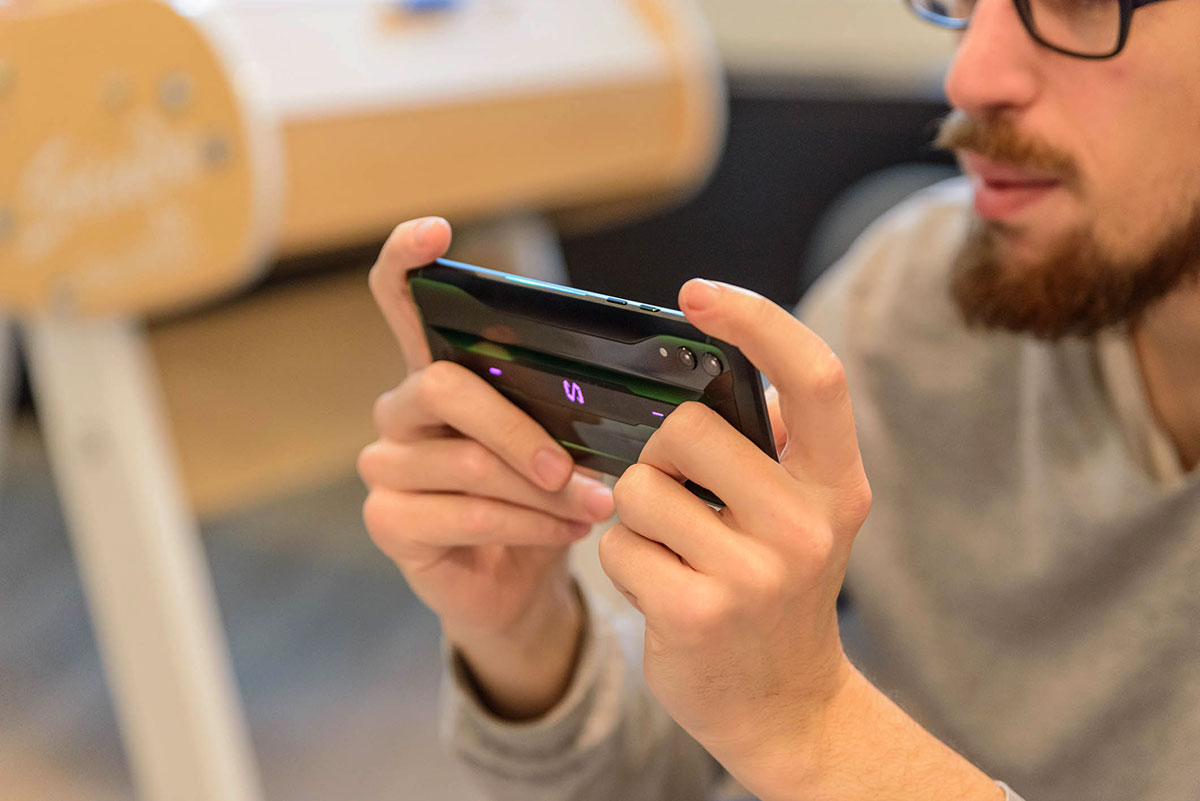 The Black Shark 2 Pro's timbre results in landscape mode were only marginally better than in portrait mode.
The Black Shark Pro 2 did remarkably well in a meeting room setting (62), compared with its weakest recording score in an electronic concert use case (37). The phone had very good audio file loudness, and unlike in playback mode, spatialization rendering was decent and extended. However, the quality of the recordings suffered from a considerable number of temporal and spectral artifacts. There was a huge lack of bass, the midrange was canny, and the treble sounded tinny—all creating an unnatural envelope.
Sub-scores explained
The DXOMARK Audio overall score of 51 for the Black Shark 2 Pro is derived from its Playback and Recording scores and their respective sub-scores. In this section, we'll take a closer look at these audio quality sub-scores and explain what they mean for the user.
Playback
Timbre
Black Shark 5 Pro
Best: Black Shark 5 Pro (89)
Timbre tests measure how well a phone reproduces sound across the audible tonal range and takes into account bass, midrange, treble, tonal balance, and volume dependency.
In measuring theses sub-attributes of timbre, the Black Shark 2 Pro's weak-to-average performances were evident in bass and tonal balance, but its volume dependency was very good. The phone performed better in landscape mode than in portrait mode, but bass performance was low in both modes.
In perceptual tests, the Black Shark 2 Pro had a decent, if thin, overall performance, which was slightly better in game mode. Classical music playback was better than playback of other genres such as electronic and hip-hop. In movie mode, the bass showed disturbing resonances (boominess) even though the low-end extension was lacking.
The device's midrange and treble performances were fairly good, as seen in the graph below, when compared with its main gaming competitors, the ASUS ROG Phone II and the OnePlus 7 Pro. As the graph shows, bass was lacking, especially at maximum volume:
Music playback frequency response
Dynamics
Black Shark 5 Pro
Best: Black Shark 5 Pro (81)
DXOMark's dynamics tests measure how well a device reproduces the energy level of a sound source, and how precisely it reproduces bass frequencies.
Sound dynamics are best for gaming audio, and here the Black Shark 2 Pro displayed a decent performance. But lack of bass and compression limited the device's bass precision and punch performance. A noticeably weaker left speaker resulted in inconsistent attack and bass precision between tracks.
Spatial
Black Shark 5 Pro
Best: Black Shark 5 Pro (88)
The sub-attributes for the perceptual spatial tests include localizability, balance, distance and wideness. In general, the Black Shark 2 Pro's spatial performance was below average because of noticeably uneven speaker performance. The sound was unbalanced and gave the impression of shifting to the right speaker, indicative of a smaller left speaker.
The phone's overall perceptual spatial score in portrait mode was low at 23 when compared with landscape mode's overall performance at 42. But even in landscape mode, wideness was limited, and stereo sound failed to adjust to the screen's rotation.
The Black Shark 2 Pro's overall weakness in spatial testing was in wideness, particularly when watching a movie. Balance was fine, even in portrait mode. In gaming mode, however, the phone's wideness score dramatically improved over the music or movie mode.
The phone's ability to place the original location of instruments or other sound sources has room for improvement. Overall, localizability of sounds seemed too far, especially in game and movie mode.
Volume
Nubia RedMagic 7 Pro
Best: Nubia RedMagic 7 Pro (91)
Volume tests measure both the overall loudness a device is able to reproduce and how smoothly volume increases and decreases based on user input.
Another weak spot for the Black Shark 2 Pro was in volume performance, which was low to average at best. But when compared with the other phones we have tested for audio, it set a new low at 46, in contrast to the Apple iPhone 11 Pro Max's score of 77 in this category.
While the Black Shark 2 Pro's volume was weak, it performed extremely well in volume consistency, as seen in the following graph, with a nearly perfect linear progression:
But as the graph shows, the Black Shark was the weakest of the three phones in volume, with the first volume step nearly inaudible and the maximum volume level not loud enough.
| | |
| --- | --- |
| Hip-Hop | Classical |
| 66.2 dBA | 62 dBA |
Artifacts
Xiaomi Redmi K50 Gaming
Best: Xiaomi Redmi K50 Gaming (113)
Artifacts tests measure how much source audio is distorted when played back through a device's speakers. Distortion can occur both because of sound processing in the device and because of the quality of the speakers.
Keeping playback artifacts to a minimum is the one area in which the Black Shark 2 Pro excelled, matching the top performance of the Honor 20 Pro, with both phones achieved the highest score so far (88).
In sub-attributes such as noise and temporal, which measures volume fluctuation and pumping, the Black Shark 2 Pro performed very well. The phone did less well at controlling spectral artifacts, or the unwanted frequencies that usually occur at higher volumes. The device had few artifacts overall when we tested it with our electronic, hip hop, and pop files. Some tracks added noise, and pumping and clipping occurred occasionally. Sometimes we heard slight distortions, but it was nearly perfect in the gaming use case.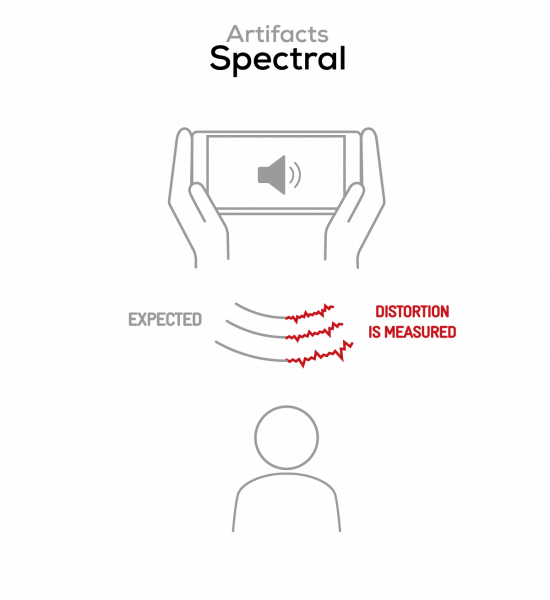 Distortion can occur in audio playback.
Recording
Timbre
Honor Magic3 Pro+
Best: Honor Magic3 Pro+ (91)
The Black Shark's timbre in recording was below average at 43, which was 20 points lower than the Honor 20 Pro's score of 63. Recordings registered almost no bass, especially when tested in an electronic concert use case, while midrange and treble delivered average results, even though midrange produced canny sounds and unnatural voices. Despite good high-end extension, treble still sounded tinny and produced a lot of hissing.
Tonal balance results, whether objective or perceptual, were affected mostly by the lack of bass in all use cases: life video, selfie video, and memo.
The following graph shows how the Black Shark 2 Pro's microphone frequency response compares with that of the ASUS ROG Phone 2 and the OnePlus 7 Pro.
Life video frequency response
Dynamics
Black Shark 5 Pro
Best: Black Shark 5 Pro (81)
While the overall sound-to-noise ratio was fine, recording dynamics were affected by a too-aggressive noise-cancellation algorithm, which introduced many artifacts. These artifacts affected the sound envelope, especially with unnatural plosives (p, b, and t sounds).
Spatial
Black Shark 4S Pro
Best: Black Shark 4S Pro (78)
The Black Shark 2 Pro performed decently in how it used its microphones and sensors to accurately reflect the sense of space in terms of wideness and distance. Sub-attributes of localizability and distance were quite good, but hindered by spectral artifacts like hissing or distortion. The microphone's directivity needs to be implemented in life video and selfie video use cases.
Volume
Black Shark 5 Pro
Best: Black Shark 5 Pro (99)
The Black Shark 2 Pro's nominal volume recording scored high in the life video use as well as in meeting room and memo uses, but fell short at maximum loudness.
Audio file loudness was very good in both objective and perceptual tests, particularly in a meeting room use case. The phone's volume score was impaired by the number of artifacts measured at the maximum recording level. The maximum recording level result was so low that we retested the phone, but the Black Shark 2 Pro still performed poorly, making it probably not the best choice for recording loud events like a rock or electronic concert.
You can this in our test results, measured in LUFS (Loudness Unit Full Scale):
| | | | |
| --- | --- | --- | --- |
| Meeting | Life Video | Selfie Video | Memo |
| -14 LUFS | -14.5 LUFS | -12.6 LUFS | -12.4 LUFS |
Artifacts
Black Shark 5 Pro
Best: Black Shark 5 Pro (97)
Unlike in playback, the Black Shark 2 Pro had a poor artifact score of 25 in recording, brought down by temporal and spectral artifacts. The Black Shark's score was 12 points lower than the OnePlus 7 Pro's 47, and both phones were far from the Huawei Mate 20X's score of 70 for handling artifacts.
Temporal artifacts like pumping and gating occurred even at an average level, while spectral artifacts like hissing, resonances, and distortion were evident in nearly every use case.
You can hear some of the artifacts for yourself in this sample recording:
Background
Black Shark 5 Pro
Best: Black Shark 5 Pro (60)
Smartphones often rely on their small microphones for everything, and suppressing background noise relies on the device's audio processing.
Pumping effects and gating as well as spectral issues like distortion, disturbing resonances, and aggressive hissing pushed the Black Shark 2 Pro's background score to a mere 11, compared with the previously lowest score of 27 from the OnePlus 7 Pro.
Tonal balance was below average, but that was likely because of the considerable number of artifacts.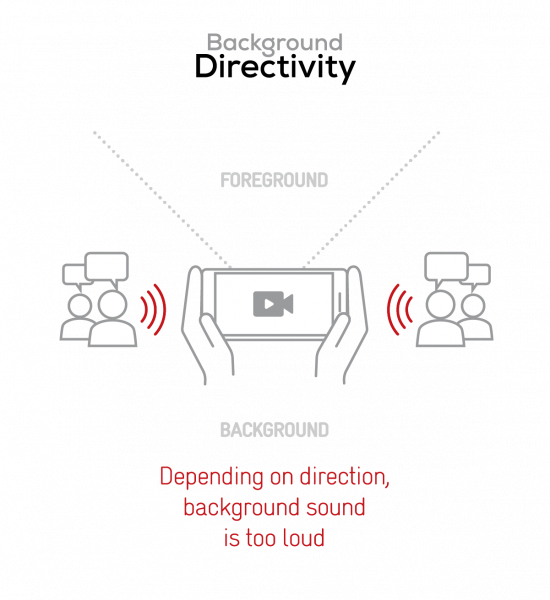 Background directivity is poor.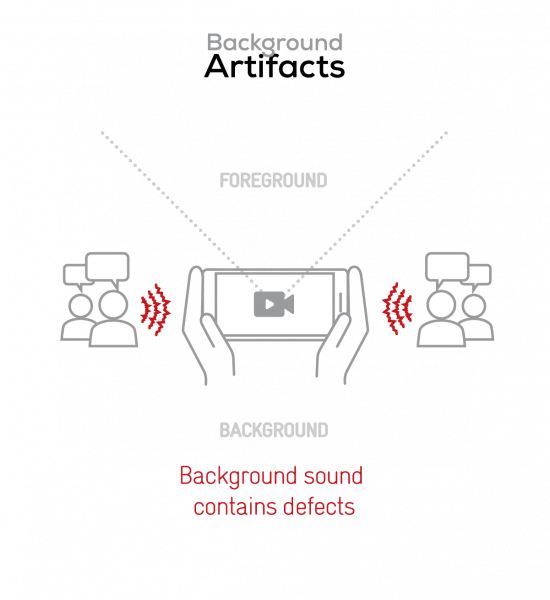 Background sounds are distorted.
Conclusion
While the Black Shark 2 Pro is technically equipped with the latest hardware for a high-end mobile gaming experience, our testing showed that audio was not one of the Black Shark's strongest features. In terms of recording, the lack of bass, imbalance, distortion, and hissing were noticeable. While there are many areas for improvement, especially in bass, the audio playback should satisfy most hard-core gamers, who are more likely to be seduced by the Black Shark 2 Pro's sleek futuristic look and visual performance capabilities anyway. But for users who are more inclined to use their phones to listen to music or to watch movies, there are better-performing smartphone options available at similar prices.
Playback
Pros
Decent dynamics performance
Few artifacts in playback
Cons
Thin sound because of lack of bass
Limited spatialization because of speakers' asymmetrical performance
Overall low volume level
Recording
Pros
Very good audio file loudness
Decent spatialization rendering and high-end extension
Cons
Considerable number of temporal and spectral artifacts
Huge lack of bass, canny midrange, and tinny treble
Unnatural envelope
Poor overall recording in loud environments because of numerous artifacts