The Bluesound Pulse Mini 2i is an updated version of the speaker that aims to be especially versatile. It can be operated by Siri, Alexa, Google Assistant or an optional remote control. It handles AirPlay 2, Spotify Connect, Tidal Connect and Roon Ready, and can be paired with other speakers for home-wide sound.
The brand puts it this way: "The Pulse Mini 2i powered speaker takes decades of hifi audio legacy and squeezes it into a single box. Delivering rich and detailed sound, the Pulse Mini 2i can easily fit into small living spaces, all the while providing an outstanding high-res music streaming experience."
We put the Bluesound Pulse Mini 2i through our rigorous DXOMARK Audio test suite to measure its performance at playing back audio. In this review, we will break down how it fared in a variety of tests and several common use cases.

Key specifications include:
Wireless protocols : AirPlay2, others
Wired connectivity : Jack
Height: 17.2 cm. Width: 33.5 cm. Depth: 15.5 cm (6.8 in x 13.2 in. x 6.1 in)
Weight : 3.6 kg (7.9 pounds)
Speakers: Two 4 in. (102mm) woofers; two 3/4 in. (19mm) tweeters

Test conditions:
Tested with iPhone SE (2020)
Communication protocol used: AirPlay

About DXOMARK Wireless Speaker tests: For scoring and analysis in our wireless speaker reviews, DXOMARK engineers perform a variety of objective tests and undertake more than 20 hours of perceptual evaluation under controlled lab conditions. This article highlights the most important results of our testing. Note that we evaluate playback using only the device's built-in hardware. (For more details about our Speaker protocol,
click here.)
The Bluesound PULSE MINI 2i falls into the Advanced category of devices in the DXOMARK Speaker rankings.



Pros
Neutral and consistent tonal balance among all different volumes
Very snappy attack
Good wideness
Excellent Volume performance
Mostly artifacts free
Cons
Tonal balance suffers from a lack of bass and high-midrange
Not very punchy
On Android, with Bluetooth, pressing Play/Pause induces loud clicks
Test summary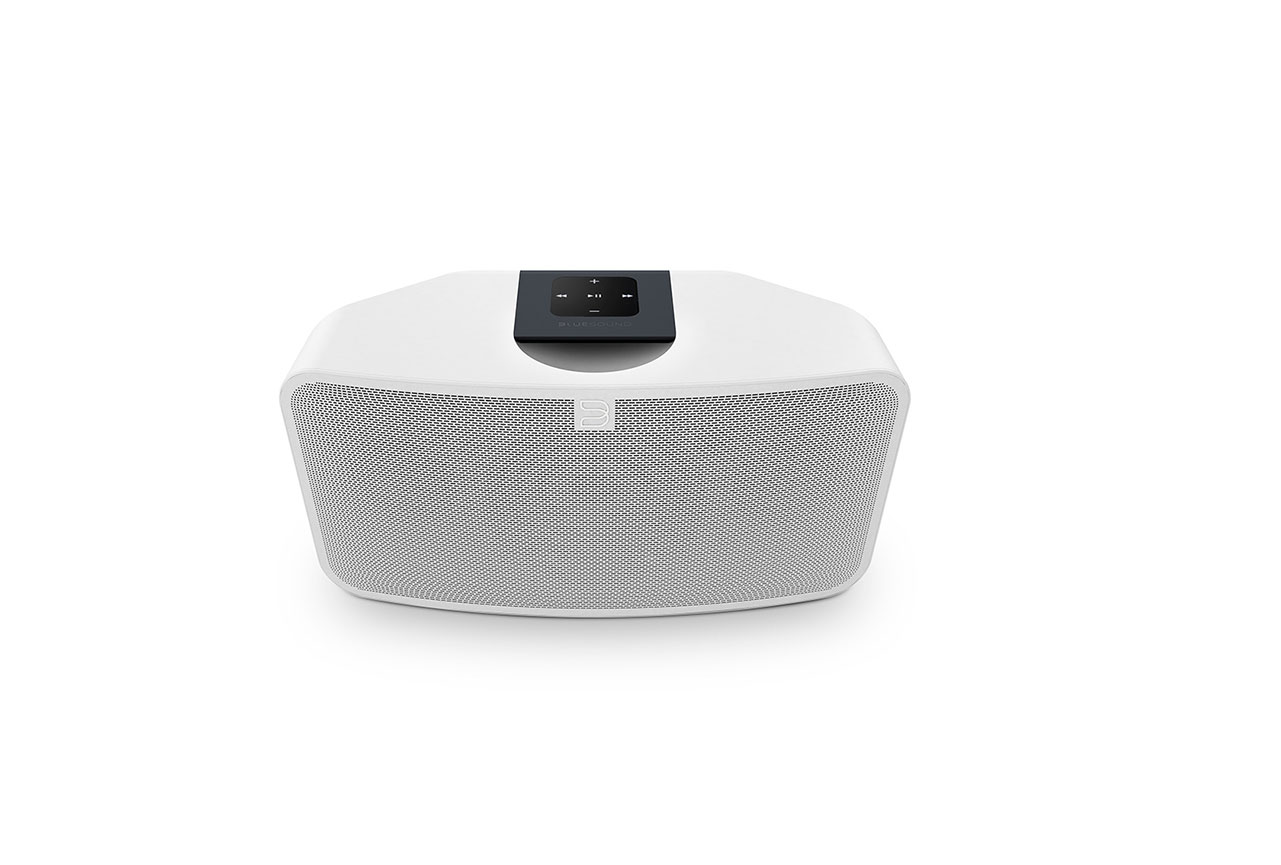 Bluesound Pulse Mini 2i
124
speaker
With an overall score of 124, the Bluesound Pulse Mini 2i lands a few spots outside the top 10 in our Advanced category of home speakers, just between the Huawei Sound X at 126 and the Sony SRS-XB43 at 122.
The Bluesound device's main shortcoming is a lack of bass compared with other similarly priced speakers. That lack of bass impacts the MINI 2i's rendition of punch in the dynamics attribute. On the plus side, the MINI 2i offers very large wideness and excellent performance in the volume attribute.
Sub-scores explained
The DXOMARK Speaker overall score of 124 for the Bluesound Pulse Mini 2i is derived from a range of sub-scores. In this section, we will take a closer look at these audio quality sub-scores and explain what they mean for the user, and we will show some comparison data from two of the device's competitors, the Denon Home 250 and the Huawei Sound X.

Timbre
124
Bowers & Wilkins Formation Wedge
DXOMARK timbre tests measure how well a speaker reproduces sound across the audible tonal range and takes into account bass, midrange, treble, tonal balance, and volume dependency.
Playback timbre comparison
The Bluesound Pulse Mini 2i delivers a neutral overall sound. Characterized by good midrange as well as precise and rich treble, the tonal balance is also marked by the lack of bass and low-end extension. This results in a coldness that doesn't improve at high volume, when the speaker sounds boxy and struggles to keep bass consistent.
Midrange is pleasant but somewhat dark, due to a shortfall of high-midrange that reduces clarity. It sounds fairly natural at loud and nominal volume, but at soft volume the tonal balance could really benefit from more high-midrange, especially for voice-based content like podcasts.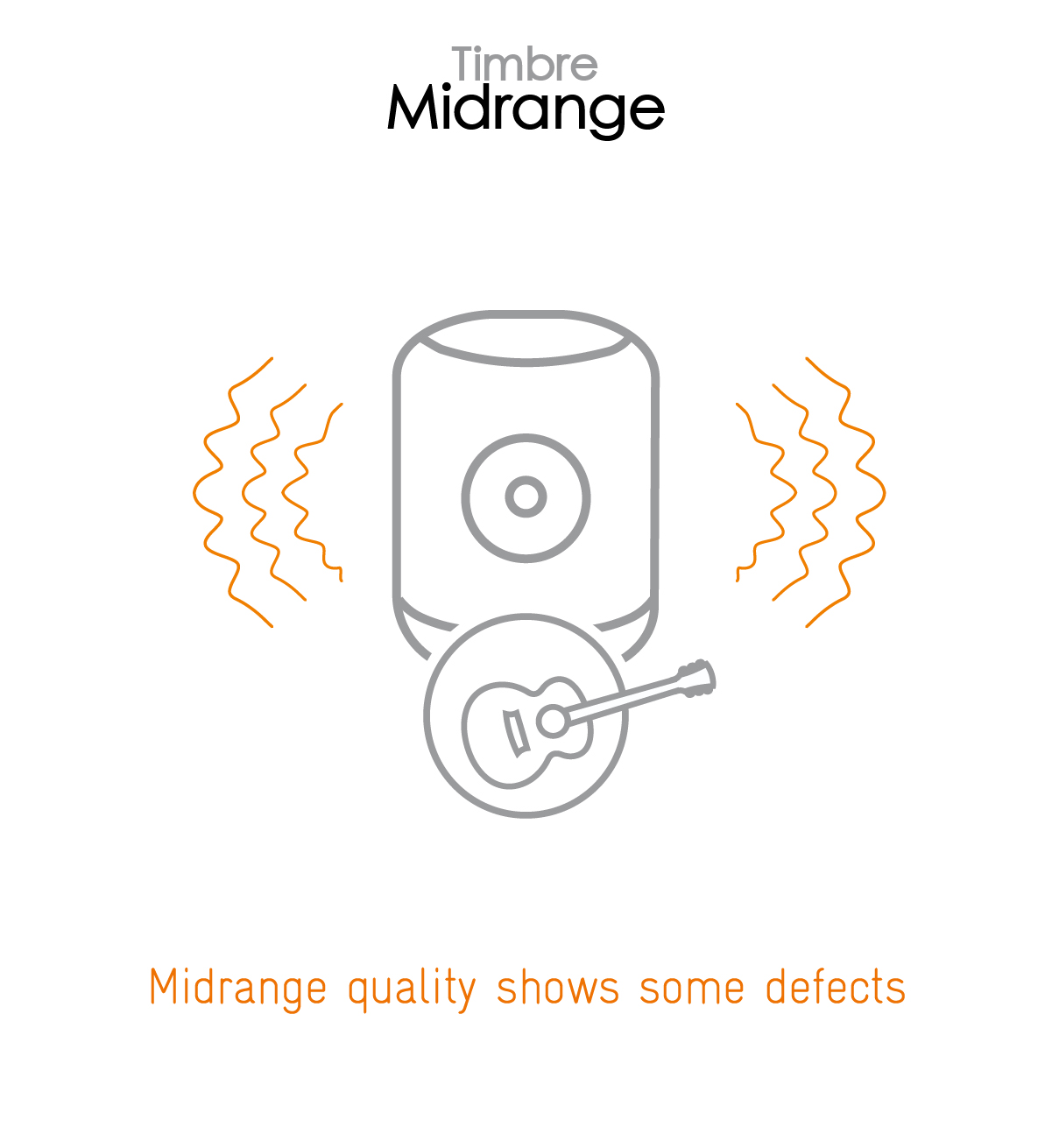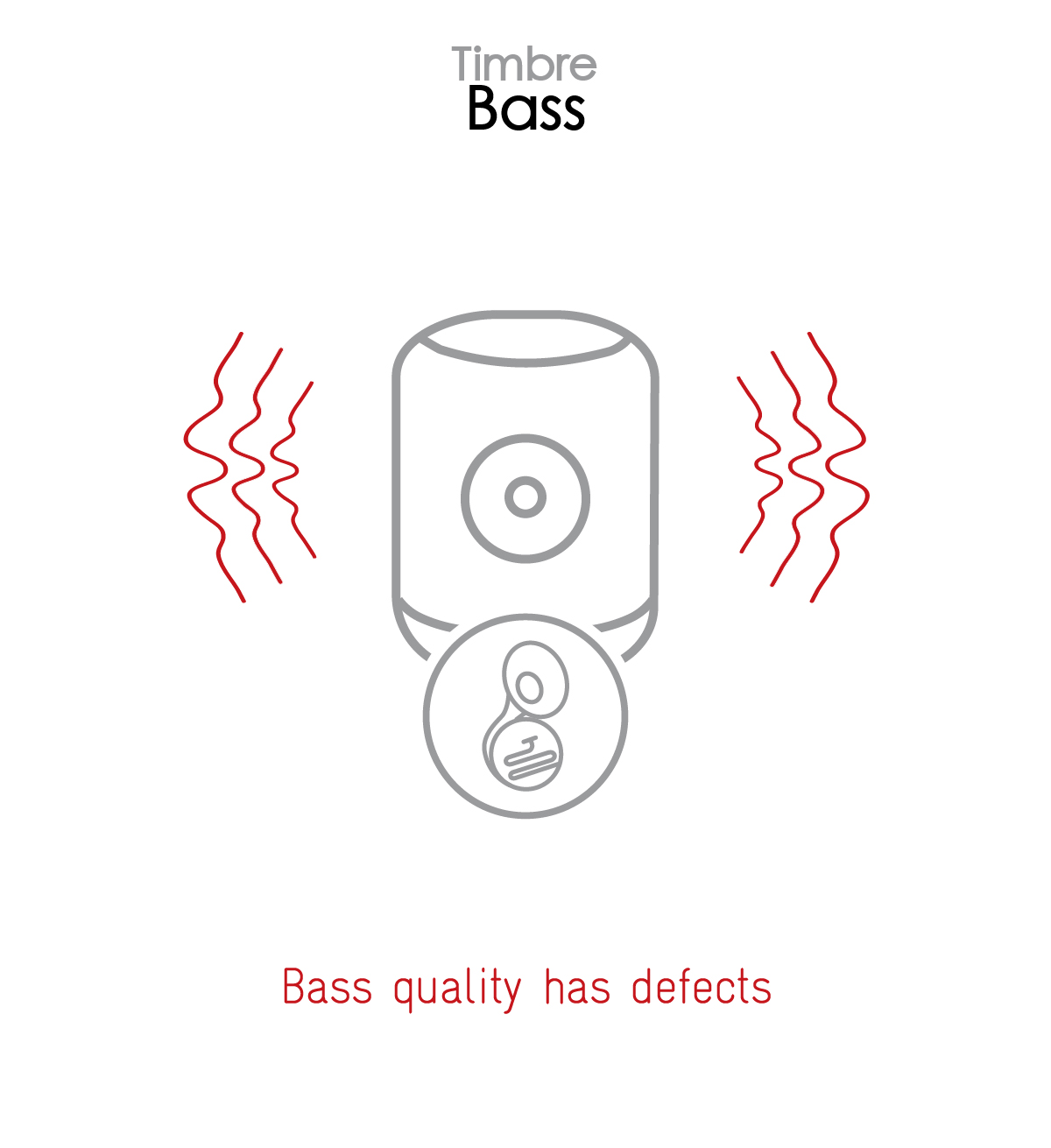 Treble sounds rich and precise across use cases, but becomes somewhat dark at loud volumes, where the device is overly midrange focused.
Worth noting here: We conduct all our tests with the device in its factory settings. We recommend setting the 2i's wide mode to "wider" and the "Deep Bass" feature to "on" with Bass at -1 for optimal performance.
Music playback frequency response
Dynamics
108
Bowers & Wilkins Formation Wedge
Our dynamics tests measure how well a device reproduces the energy level of a sound source, taking into account attack, bass precision, and punch.

Playback dynamics comparison
The Bluesound Pulse Mini 2i delivers an average dynamics performance. Across all use cases, attack is sharp, even at maximum volume despite some compression.
Lackluster sustain, resulting from the receded low-end, hinders bass precision. Because of compressed dynamics as well as a lack of low-midrange energy, the Pulse Mini 2i doesn't have a lot of punch, especially at high volume.
Spatial
91
Bowers & Wilkins Formation Wedge
Our spatial tests measure a speaker's ability to reproduce stereo sound in all directions, taking into account localizability, balance, wideness, distance, and directivity. Please note that wideness is 0 on mono speakers and on speakers that cannot deliver a significant stereo effect.

Playback spatial comparison
Spatial performance is a bright spot for the Bluesound speaker. Despite its small size, the device produces good wideness (with what appears to be a successful application of phase processing).
Despite that wideness, localizability and distance were the weak points in this attribute. While still decent, the scores were lower because of imprecise localizability around the center of the stereo scene, and blurry source positioning in both localizability and distance perception.
Volume
141
Our volume tests measure both the maximum loudness a speaker is able to produce and how smoothly volume increases and decreases based on user input.

Playback volume comparison
Playback volume consistency comparison
Here the Bluesound Pulse Mini 2i excels. This is among the loudest speakers at maximum volume that we've tested, and the volume consistency was superb.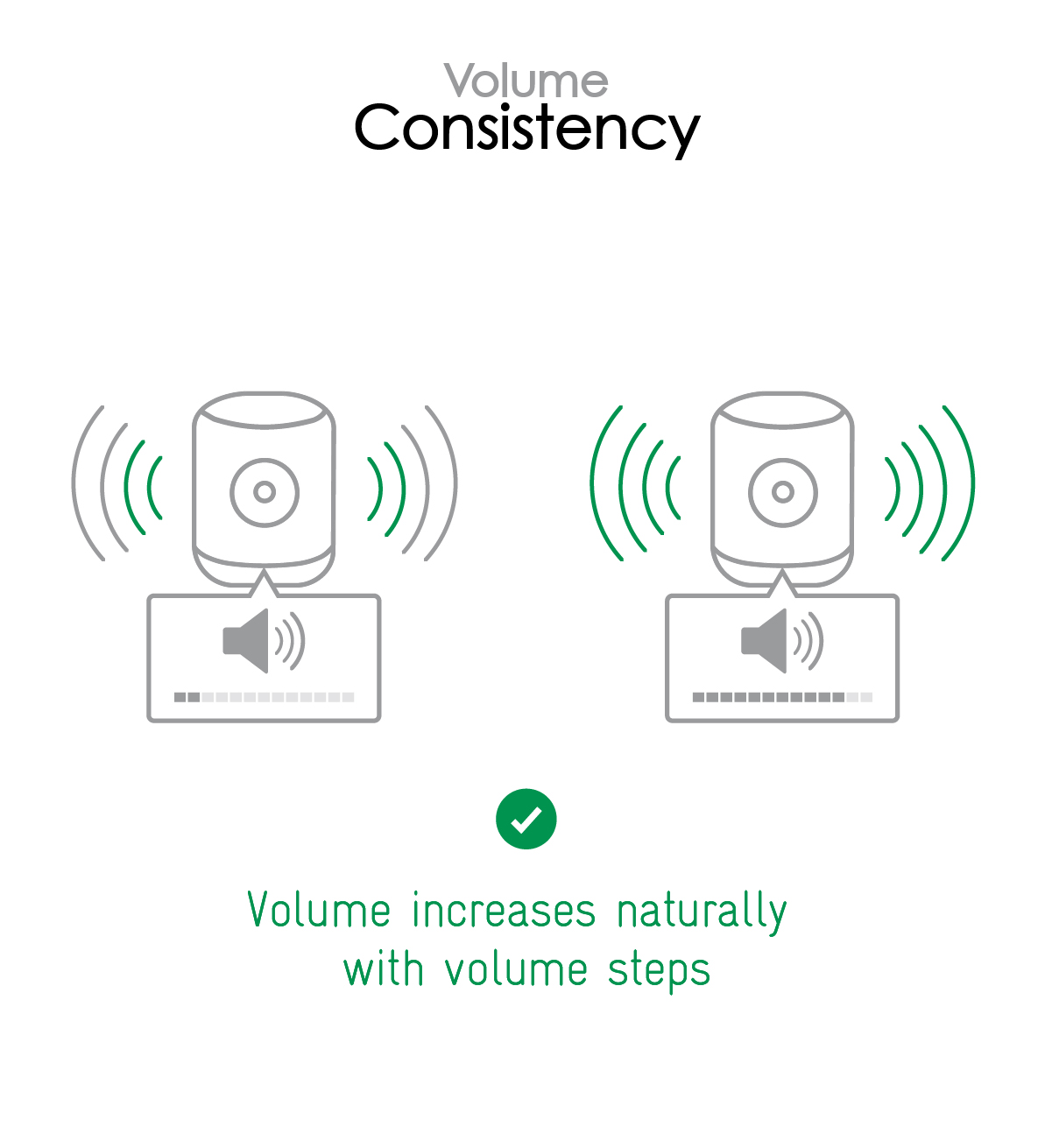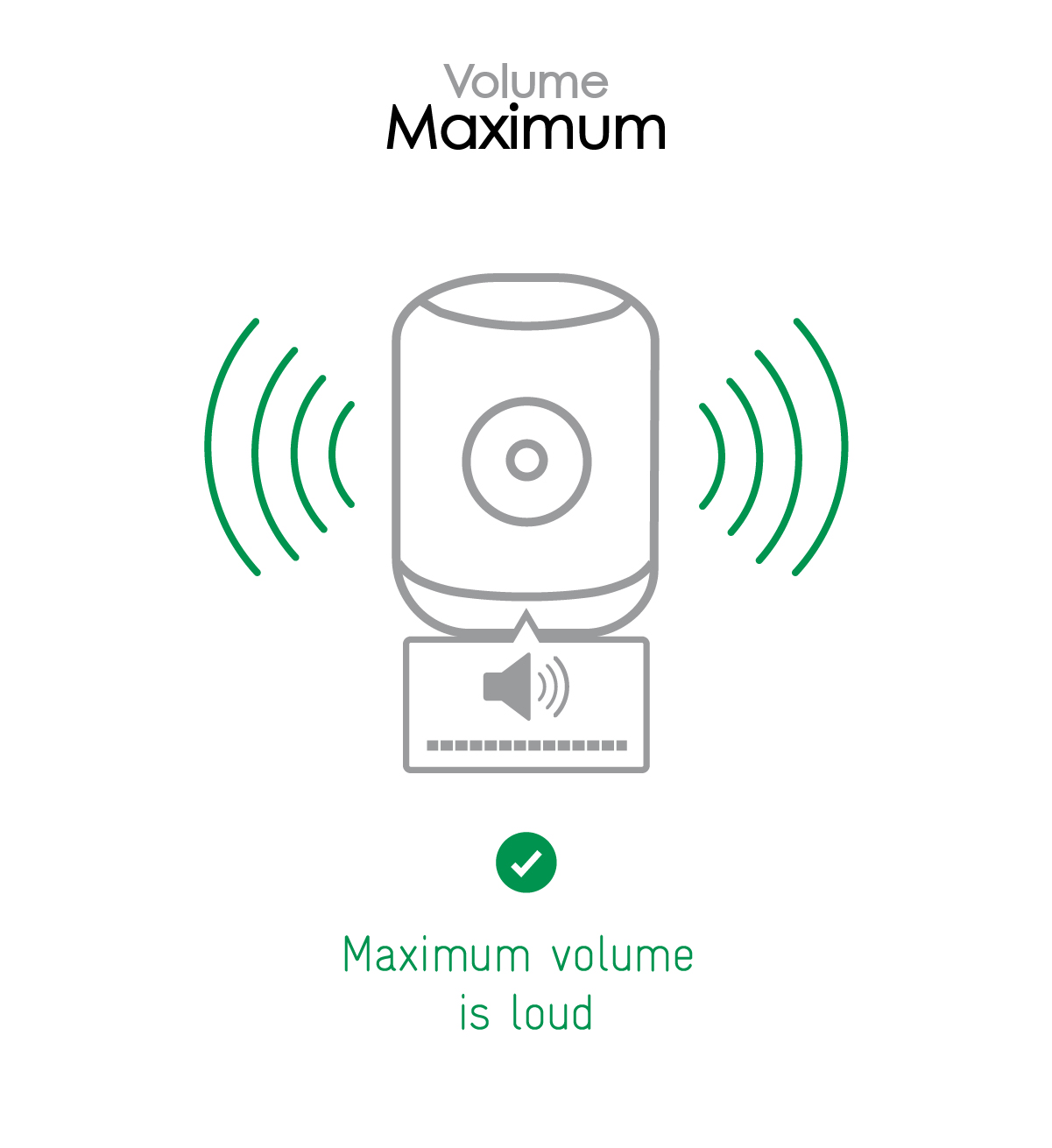 The consistency was also very good from soft to loud volumes. Playback performance is overall very consistent as well across all the volume steps.
Here are a few sound pressure levels (SPL) we measured when playing our sample recordings of hip-hop and classical music at maximum volume:

| | | | | | | |
| --- | --- | --- | --- | --- | --- | --- |
| | Correlated Pink Noise | Uncorrelated Pink Noise | Hip-Hop | Classical | Latin | Asian Pop |
| Bluesound Pulse Mini 2i | 92 dBA | 95 dBA | 88.7 dBA | 82 dBA | 91.5 dBA | 83.9 dBA |
| Denon Home 250 | 89.2 dBA | 84.8 dBA | 86.1 dBA | 81.6 dBA | 85 dBA | 81.1 dBA |
| Huawei Sound X | 83.7 dBA | 82.1 dBA | 81.6 dBA | 76.4 dBA | 82.8 dBA | 75.6 dBA |
Artifacts
Our artifacts tests measure how much source audio is distorted when played back, along with such other sound artifacts as noise, pumping effects, and clipping. Distortion and other artifacts can occur both because of sound processing and because of the quality of the speakers.
Playback artifacts comparison
The Pulse Mini 2i performed well in the artifacts attribute. It was artifact-free for the most part across our use cases. The only noticeable artifacts appear at higher volumes, when loud, percussive instruments, such as bass drums, induce clipping. When pushed to maximum volume, performance suffers from pumping and bass distortion.
Playback total harmonic distortion
Conclusion
The Bluesound Pulse Mini 2i is a decent performer all-around, but at this price point, it should be stronger, especially in the timbre attribute. The lack of bass and low-end affected its timbre and dynamics. That said, the device is a strong performer in volume, artifacts, and spatial attributes. It will be interesting to see how this family of devices evolves and builds on the promise of this speaker.