Although the Bose Home Speaker 500 is Bose's very first smart speaker, it is definitely not its first speaker. Unlike Apple, Google, or Amazon speakers, the Home Speaker 500 benefits from the U.S-based company's decades of experience in producing high-quality speakers, whether they be wired or wireless.
The compact anodized aluminum body, available in "Triple Black" or "Luxe Silver," carries a microphone array for the built-in Amazon and Google Assistants, as well as two custom-made drivers firing in opposite directions. The result? "A soundstage wider than any other smart speaker, powerful enough to fill any room with an astonishing stereo performance," says the manufacturer. Very well, then, let's check on that!
We put the Bose Home Speaker 500 through our rigorous DXOMARK Homespeaker test suite to measure its performance at playing back audio. In this review, we will break down how it fared in a variety of tests across several common use cases.
Key specifications:
2 custom drivers pointing in opposite directions
AirPlay 2, Google Cast, Bluetooth 4.2, and 3.5mm jack Aux input
Voice services: Amazon Alexa and Google Assistant
Full-color LED screen
No IP rating
No battery
Test conditions:
Tested with iPhone SE iOS 13.5
Communication protocol used: AirPlay 2
Firmware version: 8.0.14-8927+0aa351d
About DXOMARK Wireless Speaker tests: For scoring and analysis in our wireless speaker reviews, DXOMARK engineers perform a variety of objective tests and undertake more than 20 hours of perceptual evaluation under controlled lab conditions. This article highlights the most important results of our testing. Note that we evaluate playback using only the device's built-in hardware. (For more details about our Speaker protocol, click here.) The Bose Home Speaker 500 falls into the Advanced category of devices in the DXOMARK Speaker rankings.
Test summary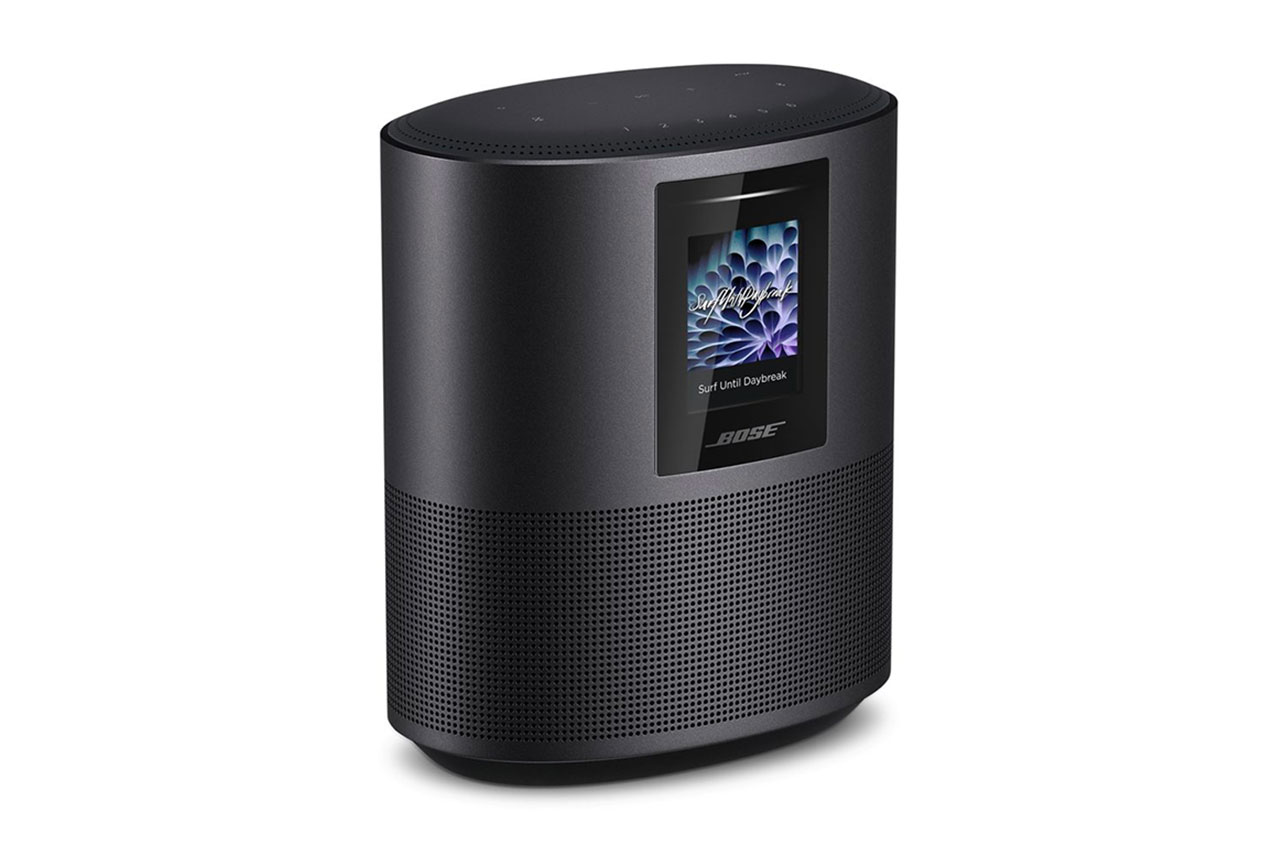 Bose Home Speaker 500
130
speaker
Its global score of 130 certainly puts Bose's first smart speaker among the top-ranking devices when it comes to sound quality. The Home Speaker 500 does indeed deliver natural midrange frequencies, clear treble, great dynamics, a decent spatial performance, and good loudness at maximum volume. It is thus particularly suited for listening to music while relaxing at home, during a friendly gathering, or outdoors. It also performs nicely in a kitchen or a bathroom.
On the other hand, the Home Speaker 500 does not handle bass well — which may come as a surprise to some of you, since the company is known for its ability to pack strong bass in compact frames. The low end of of the spectrum is impaired by numerous resonances and distortions at loud and maximum volumes, which makes the speaker unsuitable for parties. Its soundstage is also particularly narrow, despite the manufacturer's promise.
Sub-scores explained
The DXOMARK Speaker overall score of 130 for the Bose Home Speaker 500 is derived from a range of sub-scores. In this section, we will take a closer look at these audio quality sub-scores and explain what they mean for the user, and we will show some comparison data from two of the Bose's principal competitors in the Advanced category, the Harman Kardon Citation 200 and the Sonos One.
Playback attribute comparisons
Timbre
130
Bowers & Wilkins Formation Wedge
DXOMARK timbre tests measure how well a speaker reproduces sound across the audible tonal range and takes into account bass, midrange, treble, tonal balance, and volume dependency.
Playback timbre comparison
The Bose Home Speaker 500 offers a fairly good timbre performance, thanks to a natural rendition of the midrange frequencies at soft and nominal volume, and clear treble. As a result, voices and typical midrange instruments (violin, viola, guitar, flute, trumpet, harp, piano…) are faithfully reproduced.
Music playback frequency response
Unfortunately, that same midrange becomes inconsistent at loud volumes. Furthermore, the tonal balance is impaired by an excess of low-mid (250 to 500 Hz) resonances and a lack of high- and low-end extension, as shown in the graph (above 10,000 Hz and below 60 Hz).
While its shortcomings at loud volume and at the ends of the spectrum prevent it from being a reliable party companion, its good performance in the midrange at soft and nominal volume makes it a good speaker for relaxing at home or during a small gathering of friends.
Dynamics
116
Bowers & Wilkins Formation Wedge
Our dynamics tests measure how well a device reproduces the energy level of a sound source, taking into account attack, bass precision and punch.
Playback dynamics comparison
With a score of 116, Bose's smart device delivers an above-average dynamics performance. While punch is excellent at soft and nominal volumes, attack and bass precision are both good — except at respectively quiet and maximum volumes. The dynamic sub-attributes evaluation confirms that the speaker is particularly good for listening to music while relaxing at home or during a friendly gathering, but less so when it comes to partying.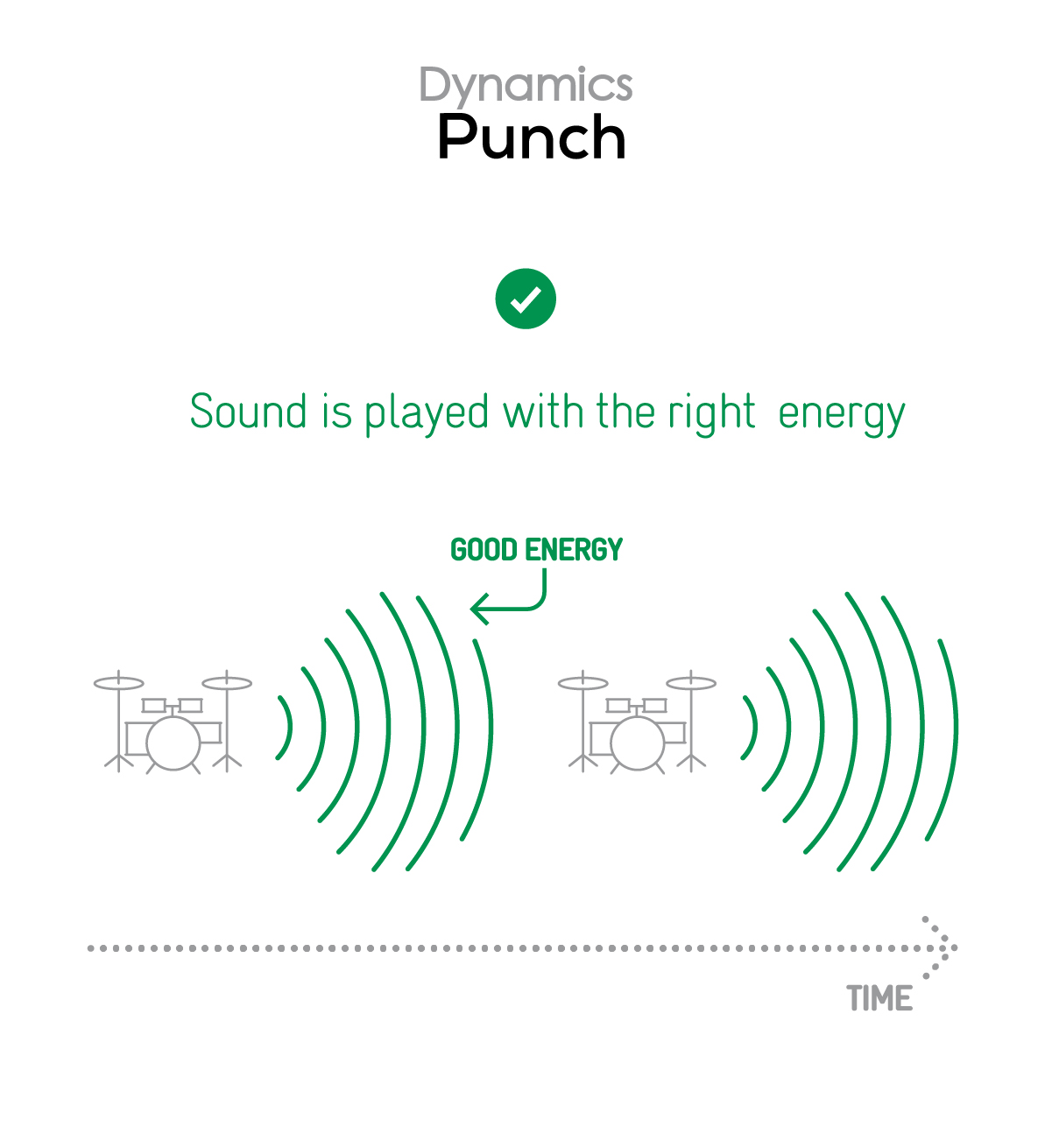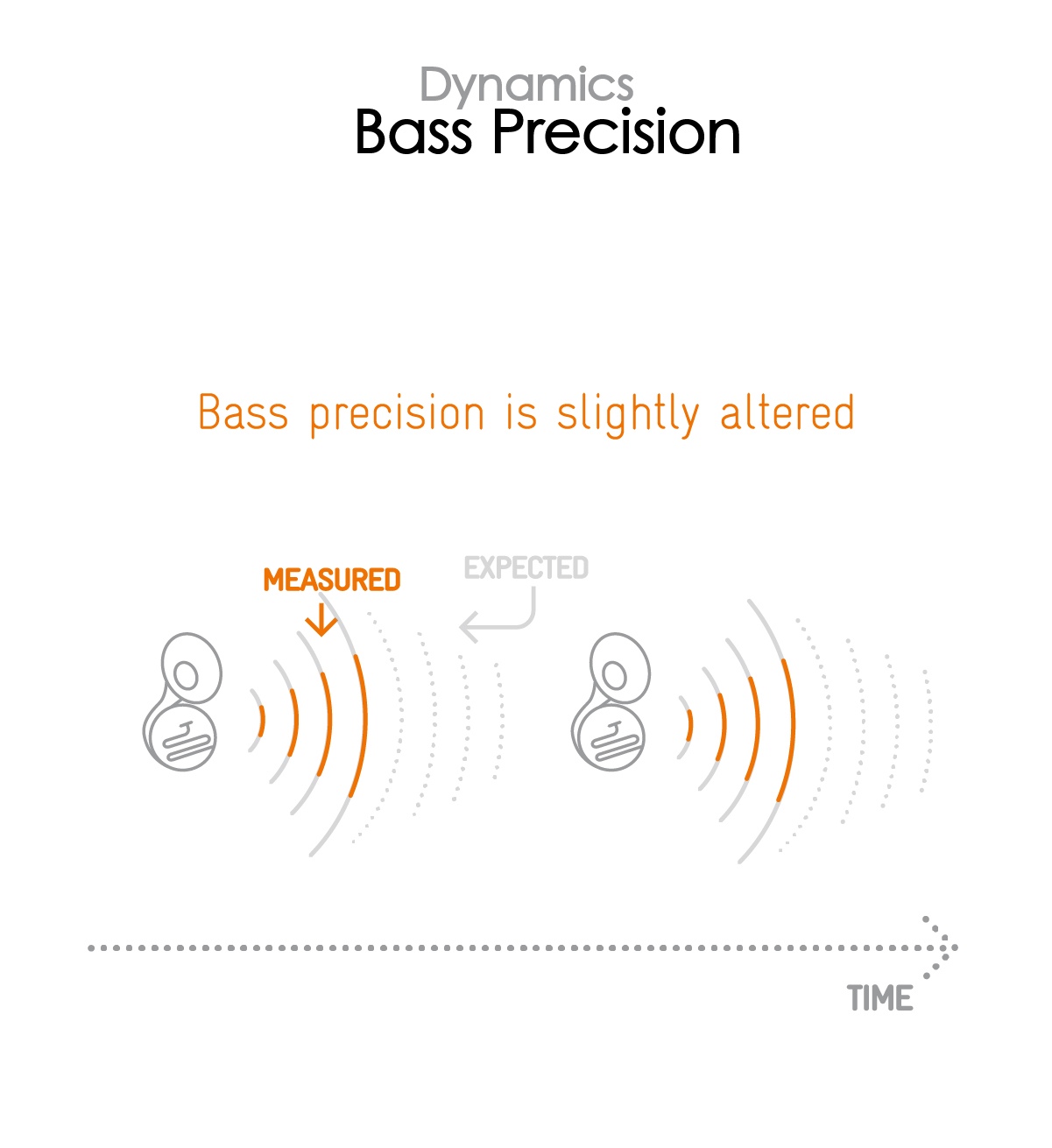 Spatial
99
Bowers & Wilkins Formation Wedge
Our spatial tests measure a speaker's ability to reproduce stereo sound in all directions, taking into account localizability, balance, wideness, distance, and directivity. Please note that wideness is 0 on mono speakers and speakers that cannot deliver a significant stereo effect.
Playback spatial comparison
There is little wonder why the Home Speaker 500 is not omnidirectional. The treble (blue) curve in the graph below clearly shows two directivity lobes — one toward the left side of the speaker, another one toward the right — which correspond to each of the two drivers. But surprisingly, and unlike Bose's claim, the speaker doesn't truly deliver stereo sound, which means the sound will only very slightly differ from left to right, regardless of the mix.
The soundstage, which is supposed to be "wider than any other smart speaker," is actually very narrow: both the Amazon Echo Studio and the Google Home Max rendered wider stereo sound fields in our tests.  That said, the balance between left and right is excellent, with content such as voices perfectly centered. Thanks to the faithful rendition of mids, the perceived distance is accurate.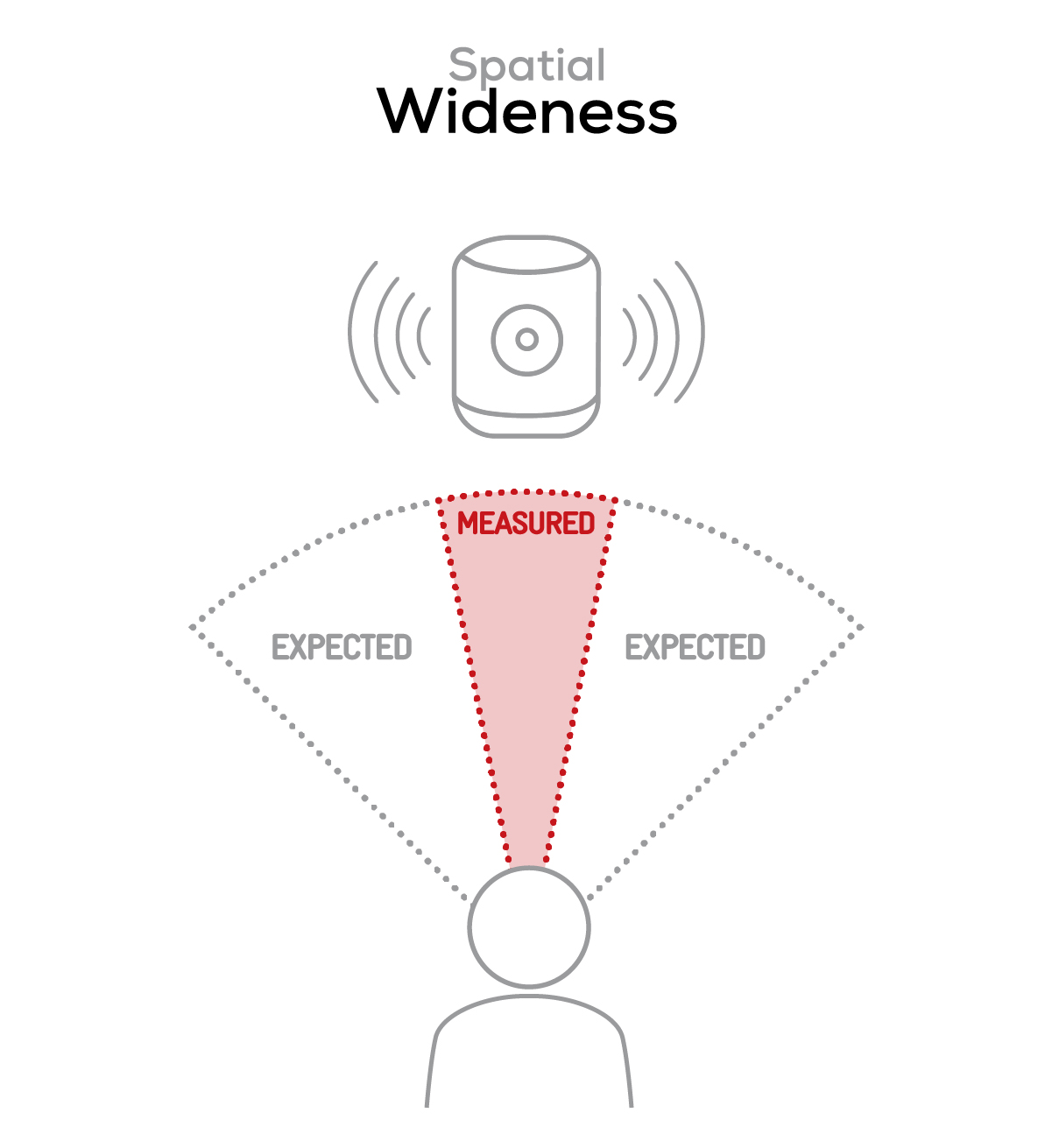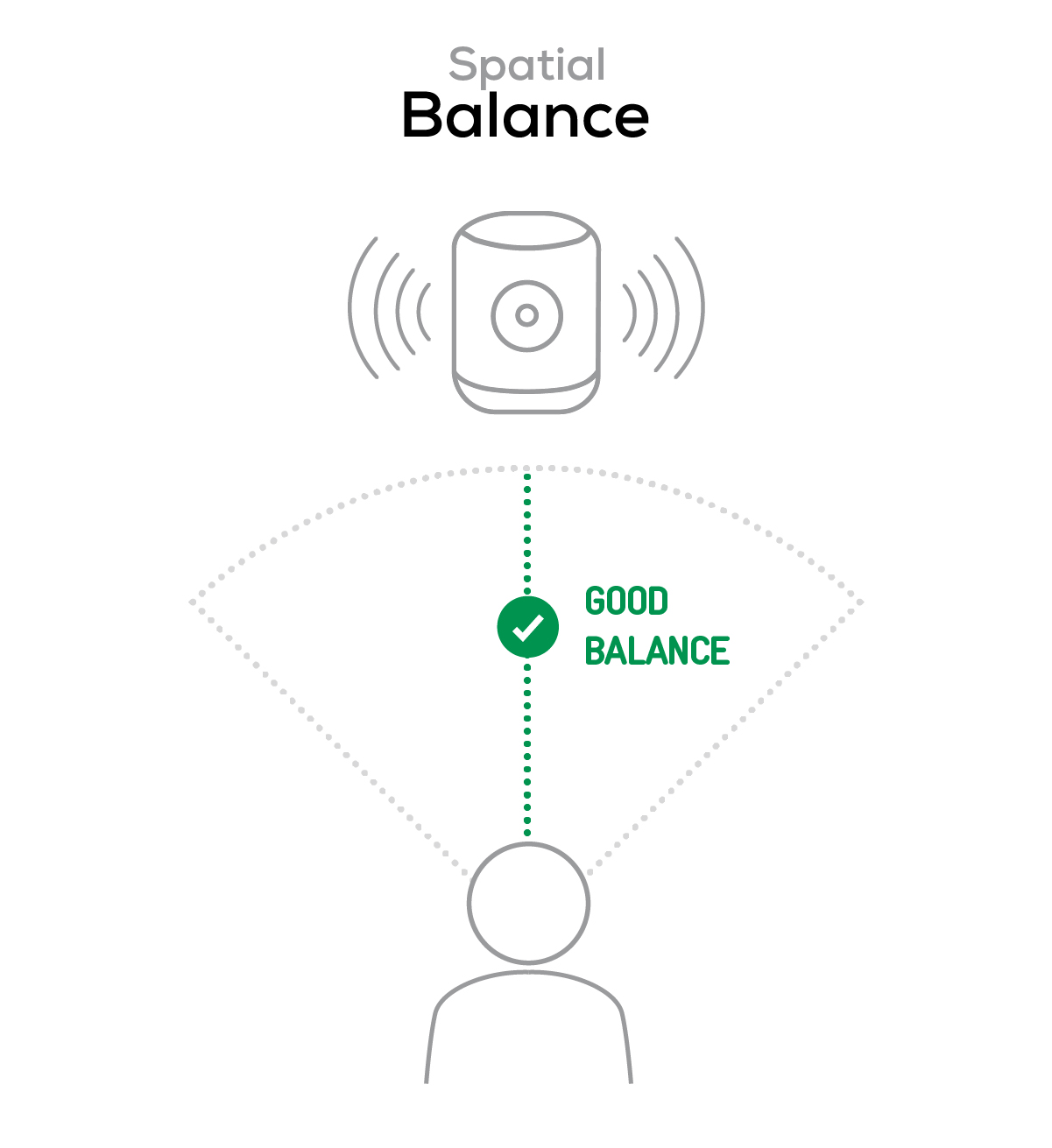 Volume
82
Bluesound Pulse Mini 2i
Our volume tests measure both the maximum loudness a speaker is able to produce and how smoothly volume increases and decreases based on user input.
Playback volume comparison
The speaker delivers a good loudness performance at maximum volume; however, the consistency sub-score is impaired by the last four volume steps, which are practically the same, and by a lack of linearity in the middle of the curve.
Playback volume consistency comparison
Here are a few sound pressure levels (SPL) we measured when playing our sample recordings of hip-hop and classical music at maximum volume:
| | | | | | | |
| --- | --- | --- | --- | --- | --- | --- |
| | Correlated Pink Noise | Uncorrelated Pink Noise | Hip-Hop | Classical | Latin | Asian Pop |
| Bose Home Speaker 500 | 84 dBA | 81.9 dBA | 82.3 dBA | 78.2 dBA | 83.2 dBA | 75.4 dBA |
| Harman Kardon Citation 200 | 86 dBA | 85.5 dBA | 83.1 dBA | 80.2 dBA | 84.1 dBA | 77.9 dBA |
| Sonos One | 85.6 dBA | 83.7 dBA | 79.5 dBA | 75.5 dBA | 81.8 dBA | 74.4 dBA |
Artifacts
Our artifacts tests measure how much source audio is distorted when played back, along with such other sound artifacts as noise, pumping effects, and clipping. Distortion and other artifacts can occur both because of sound processing and because of the quality of the speakers.
Playback artifacts comparison
In the artifacts area, the Home Speaker 500's only issue is the massive bass distortion occurring at loud and maximum volumes. However, at other listening levels (nominal, soft, quiet, faint), there is no noticeable distortion. Furthermore, no temporal artifacts (compression) are perceivable, regardless of the volume.
Playback total harmonic distortion
While audio latency is contained via Airplay and through the audio jack input, the induced delay is quite elevated in Bluetooth (226 milliseconds on average). We therefore recommend avoiding the Bluetooth connection for synchronized content such as videos, unless you can calibrate the Audio/Video offset.
Conclusion
The Bose Home Speaker 500 falls short of delivering on wideness, and its soundstage has some very noticeable bass distortions at loud and maximum volumes. But its natural midrange rendition, its excellent punch performance, and its good spatial attributes — apart from wideness! — ensure the Bose Speaker 500 a prominent spot among the wireless speakers we have tested so far.
Pros
Midrange frequencies sound natural, and treble is clear.
Punch is overall powerful, especially at nominal volume.
The speaker's maximum volume offers good loudness.
Distance rendering of the sound sources is realistic.
The sound is consistent between front/back and left/right side of the device, which makes it suitable for a friendly gathering or an outdoor use.
Cons
Bass suffers from massive distortions at loud and maximum volumes.
Both high- and low-end extensions are lacking.
The sound field produced is particularly narrow.