The venerable Hi-Fi brand Bowers & Wilkins was a latecomer to the wireless speaker market: its first line of multi-room devices, called Formation, was unveiled only in April 2019. Among the five speakers in the Formation line, the standalone wireless Wedge, launched at $899, was officially introduced as the successor to Bowers & Wilkins' iconic Zeppelin Wireless. The honeycomb-like speaker houses a three-way driver configuration with two 25 mm double-dome, decoupled aluminum tweeters; two 90 mm FST midrange drivers; and one 150 mm 80W subwoofer. The Wedge features the manufacturer's specially-developed audio technology, "Formation Wireless," and is compatible with Apple's AirPlay 2 protocol, Spotify Connect, aptX HD Bluetooth, and Roon — no, not the fictional Star Wars planet, but the high-res music service. The speaker, which supports 24-bits/96 kHz audio, promises "high resolution sound," "powerful bass," and "true room-filling stereo sound."
We put the Formation Wedge through our rigorous DXOMARK Speaker test suite. In this review, we will break down how it fared at audio playback in a variety of tests and several common use cases.
Key specifications include:
Two 25 mm tweeters, two 90 mm midrange drivers, and one 150 mm subwoofer
Bluetooth 4.1, no analog (RCA or 3.5mm jack) input
Multi-room capable
24 W (2 x 40W + 2 x 40W + 80W)
23.2 cm x 44.0 cm x 24.3 cm
6.5 kg
Test conditions:
Tested with Apple iPhone SE for music and Apple TV for movies
Communication protocol used: AirPlay 2 for both music and movies
Firmware version: Formation 1.7
About DXOMARK Wireless Speaker tests: For scoring and analysis in our wireless speaker reviews, DXOMARK engineers perform a variety of objective tests and undertake more than 20 hours of perceptual evaluation under controlled lab conditions. This article highlights the most important results of our testing. Note that we evaluate playback using only the device's built-in hardware. (For more details about our Speaker protocol, click here.) The Bowers & Wilkins Formation Wedge falls into the Premium category of devices in the DXOMARK Speaker rankings.
Test summary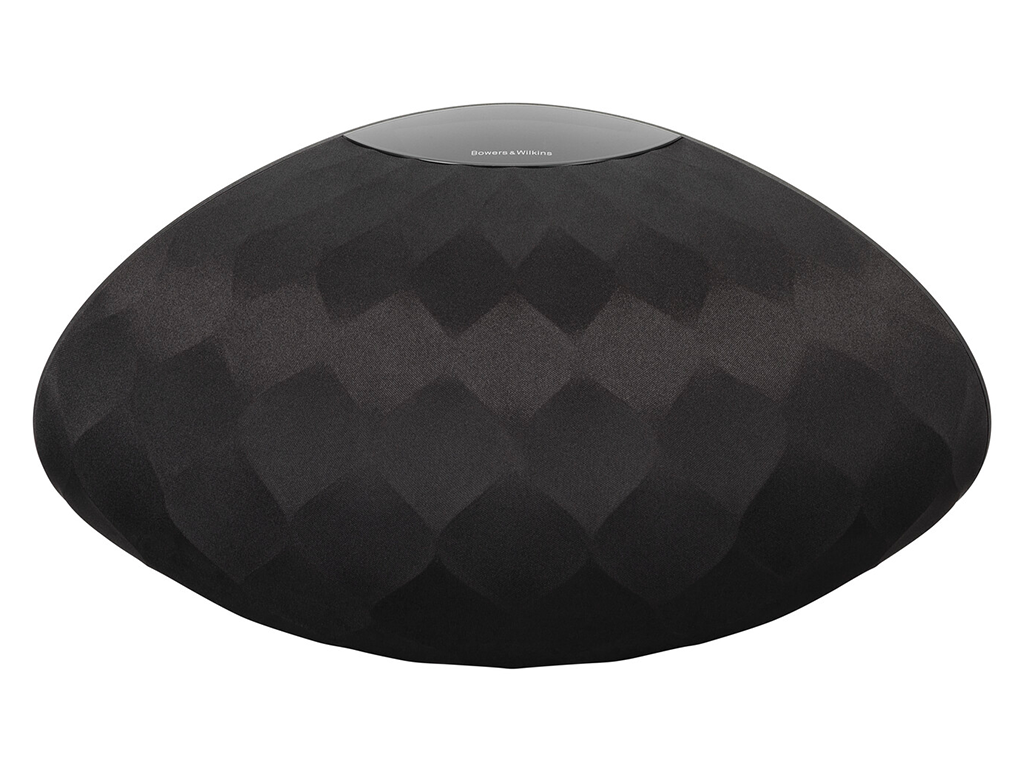 Bowers & Wilkins Formation Wedge
160
speaker
Pros
Great timbre performance
Pleasant tuning, both bright and with deep low-end
Great dynamics performance
Very sharp attack and precise bass
Excellent artifacts performance
Lowest total harmonic distortion and noise measured to date
Good spatial performance when listening to music and when watching movies
Cons
Non-neutral tonal balance, which also strongly depends on volume.
The device is mainly front- and side-firing, impairing scores in gathering, party, and outdoor scenarios.
Midrange is impaired by slight hissing that can occasionally become somewhat aggressive.
Achieving a DXOMARK Speaker score of 160, the Bowers & Wilkins Formation Wedge is the current top score holder — both in the premium category and across our Wireless Speaker protocol database.
The speaker delivers sharp attack, great sound field wideness, precise localizability of sound sources, good loudness at elevated volumes, and excellent management of sonic artifacts — all attributes that make it particularly suited for hosting parties, watching movies, relaxing at home, and listening to music or podcasts in the bathroom or in the kitchen. Its signature tonal balance — bright and precise, with deep low-end extension and slightly recessed bass and low-mids — is anything but neutral; its appreciation is purely a matter of personal taste.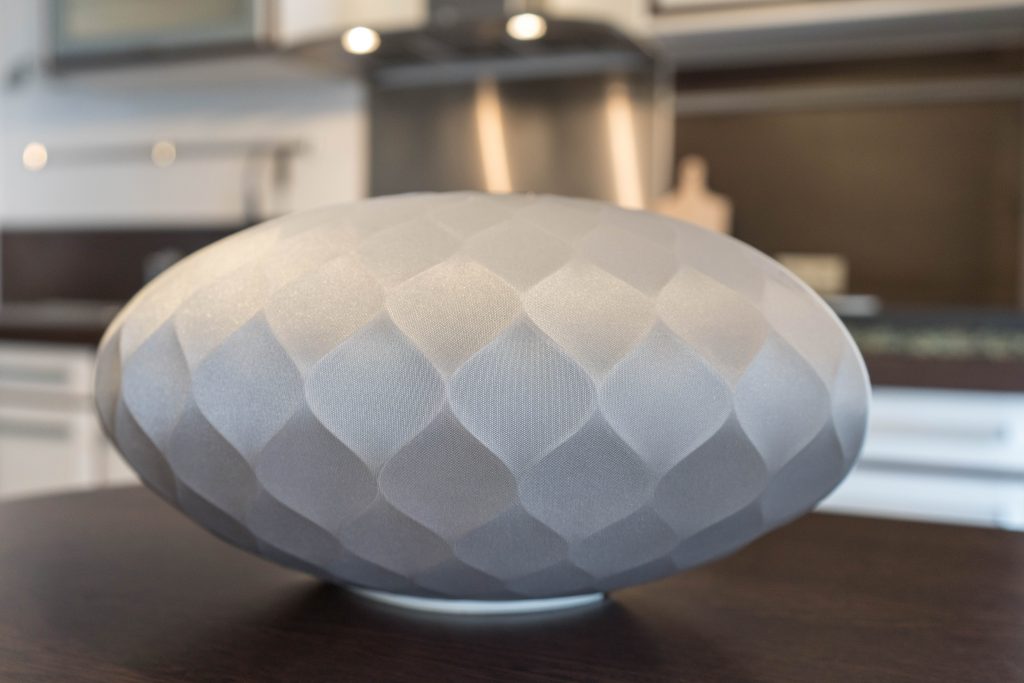 The Bowers & Wilkins Formation Wedge makes an excellent choice for nearly any use case.
Since nobody's perfect, the Formation Wedge still has (a little) room for improvement. To begin with, the speaker's timbre performance highly depends on the listening volume: indeed, from minimum to maximum volume, the tonal balance shifts. Further, a slight hissing in the midrange frequencies can occasionally occur. Additionally, as it is a front- and side-firing speaker, the Formation Wedge's sound isn't evenly distributed at 360°. This means the overall sound reproduction depends on the listener's position around the speaker, which impairs the device's performance in situations like a friendly gathering or a party. Finally, although the speaker receives a fairly good score in our outdoor scenario, beware not to expose it to water or dust, because  it isn't IP certified.
Sub-scores explained
The DXOMARK Speaker overall score of 160 for the Bowers & Wilkins Formation Wedge is derived from a range of sub-scores. In this section, we will take a closer look at these audio quality sub-scores and explain what they mean for the user, and we will show some comparison data from two of the Formation Wedge's principal competitors, the Cabasse The Pearl Akoya and the Bang & Olufsen Beosound Balance.
Playback attribute comparisons
Timbre
152
Bowers & Wilkins Formation Wedge
DXOMARK timbre tests measure how well a speaker reproduces sound across the audible tonal range and takes into account bass, midrange, treble, tonal balance, and volume dependency.
Playback timbre comparison
The Formation Wedge's Speaker review is off to a strong start with an excellent timbre performance. While the tuning is not neutral (bass and low-mids are slightly recessed), the overall result remains very pleasant, with a bright tonal balance and good low-end extension. High-end extension is also very good, with precise upper mids and treble.
Music playback frequency response
The only characteristic that lowers the Formation Wedge's Timbre sub-score is its volume dependency. At maximum volume, while treble remains consistent, midrange frequencies become aggressive, and the lack of bass is accentuated. Further, slight hissing occasionally occurs. On the other hand, at low volumes, treble is particularly recessed, and midrange becomes imprecise.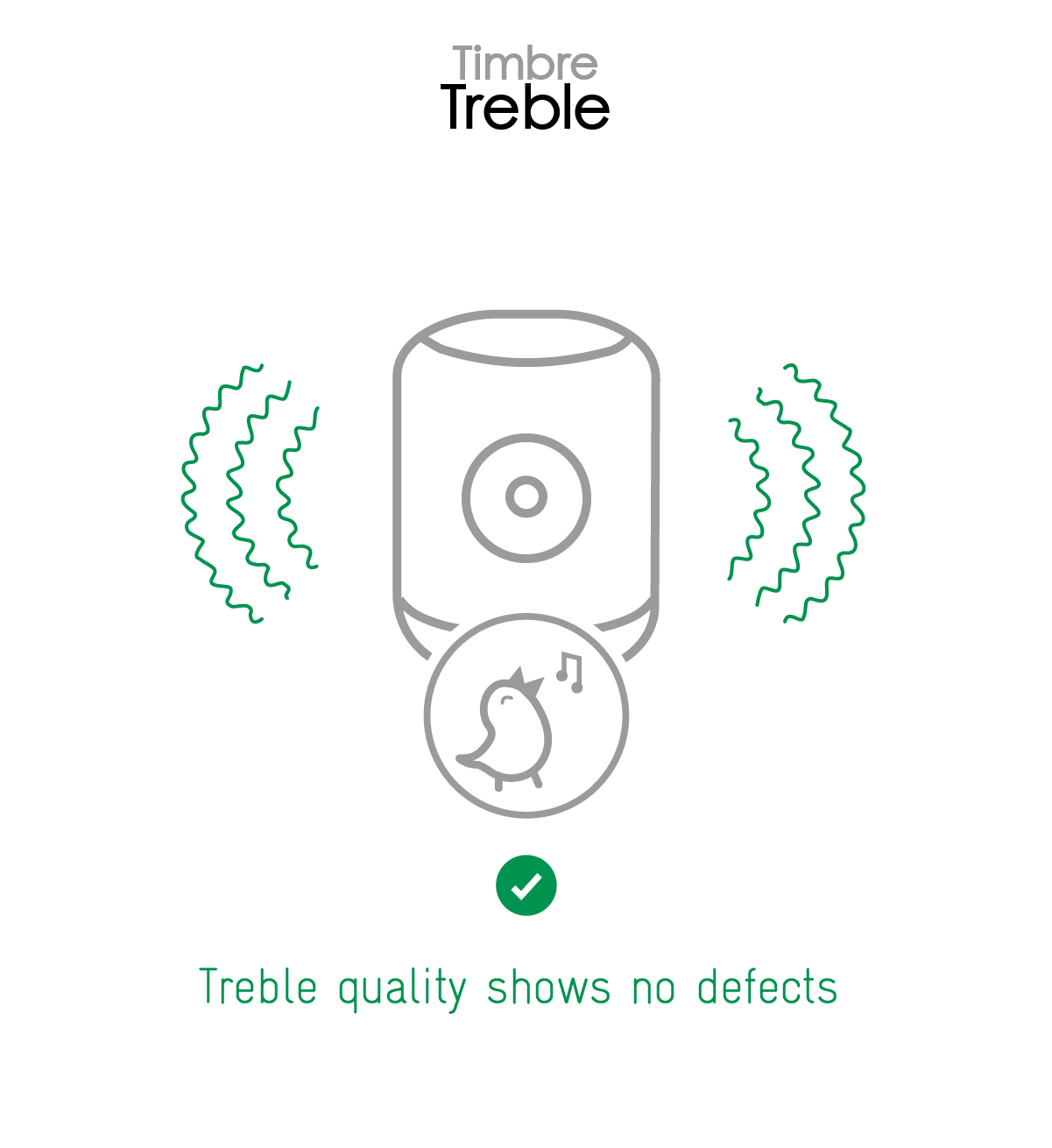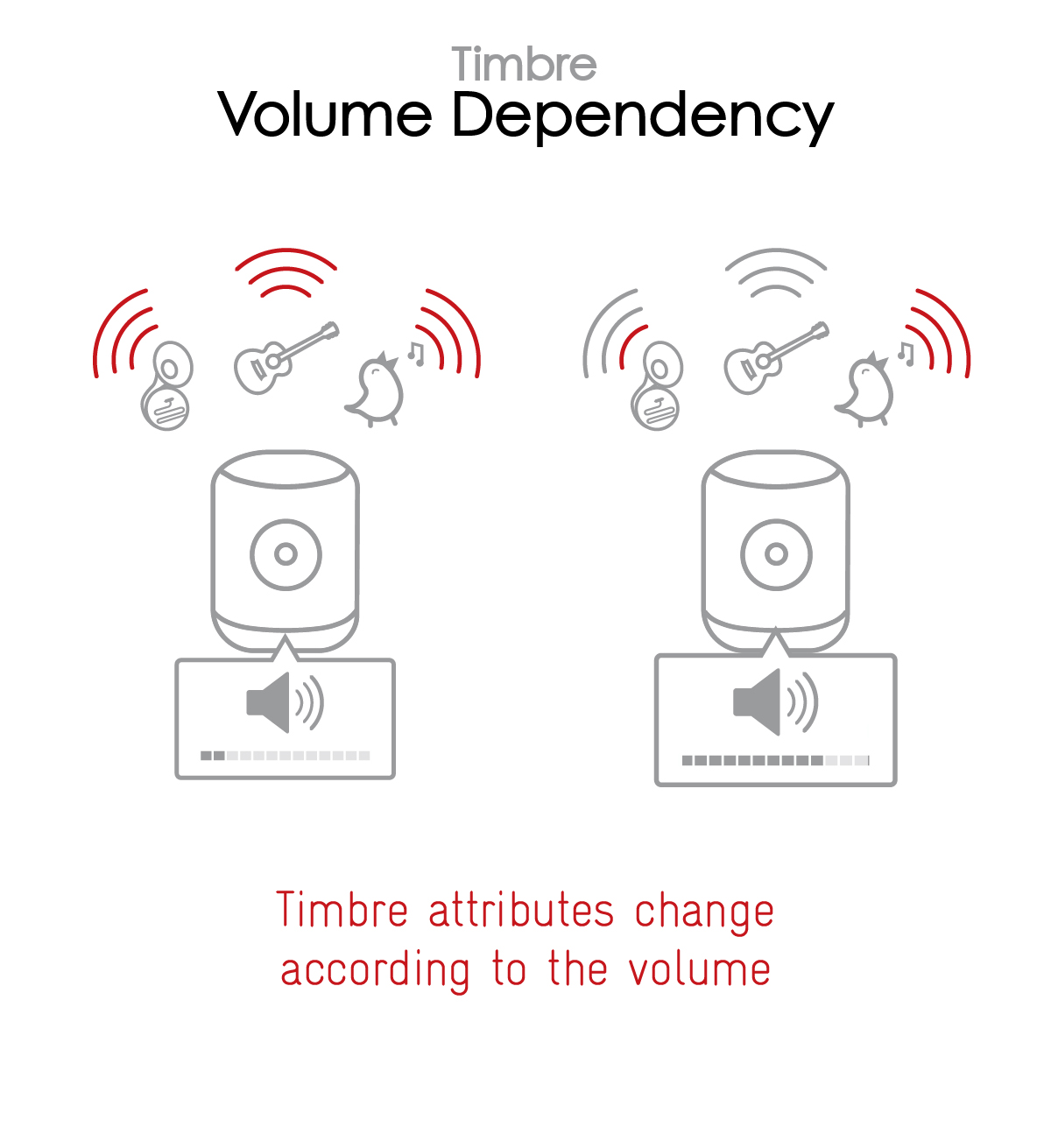 While the Formation Wedge's frequency response isn't suited for listening to content at low volumes, it is adapted to nearly every other use case — especially for a friendly gathering, watching movies, relaxing, and listening to music or podcasts in noisy environments.
Dynamics
137
Bowers & Wilkins Formation Wedge
Our dynamics tests measure how well a device reproduces the energy level of a sound source, taking into account attack, bass precision, and punch.
Playback dynamics comparison
Audio played back through the Formation Wedge's drivers exhibits great dynamics attributes, with very sharp attack. As a result, high-pitched instruments such as hi-hats are accurately reproduced. Punch in the midrange frequencies is good, but could be more impactful for lower frequencies. While bass precision is very good when listening to music, it is somewhat impaired when watching movies, due to the slight lack of low-end, and at loud volumes, due to incidental distortion. All in all, in terms of dynamics, the speakers shines across all use cases, from listening to podcasts before going to sleep all the way up to blasting tunes during a party.
Spatial
111
Bowers & Wilkins Formation Wedge
Our spatial tests measure a speaker's ability to reproduce stereo sound in all directions, taking into account localizability, balance, wideness, distance, and directivity. Please note that wideness is 0 for mono speakers and for speakers that cannot deliver a significant stereo effect.
Playback spatial comparison
The Formation Wedge delivers a solid spatial performance. As promised, the stereo sound field is particularly wide, considering the device's size, and thanks to treble clarity, localizability is very precise.
Directivity (the device's ability to evenly distribute sound at 360°) is only average, due to its front- and side-firing architecture. In other words, the sound reproduction varies depending on the listener's position around the speaker. Luckily, the Wedge's design makes it fit to be placed in a corner.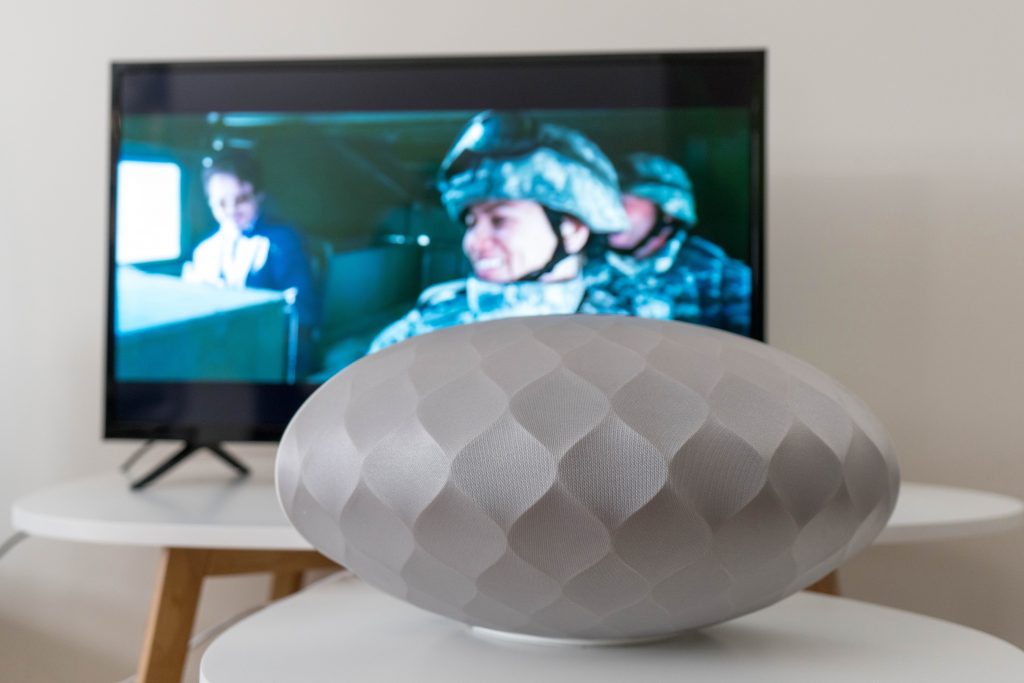 The Formation Wedge produces great sound field wideness and precise localizability.
Further, the slight lack of low-mids impairs the distance rendering: sources can occasionally be perceived as farther away than they are. Finally, the left/right balance tends to be somewhat shifted to the left when watching movies.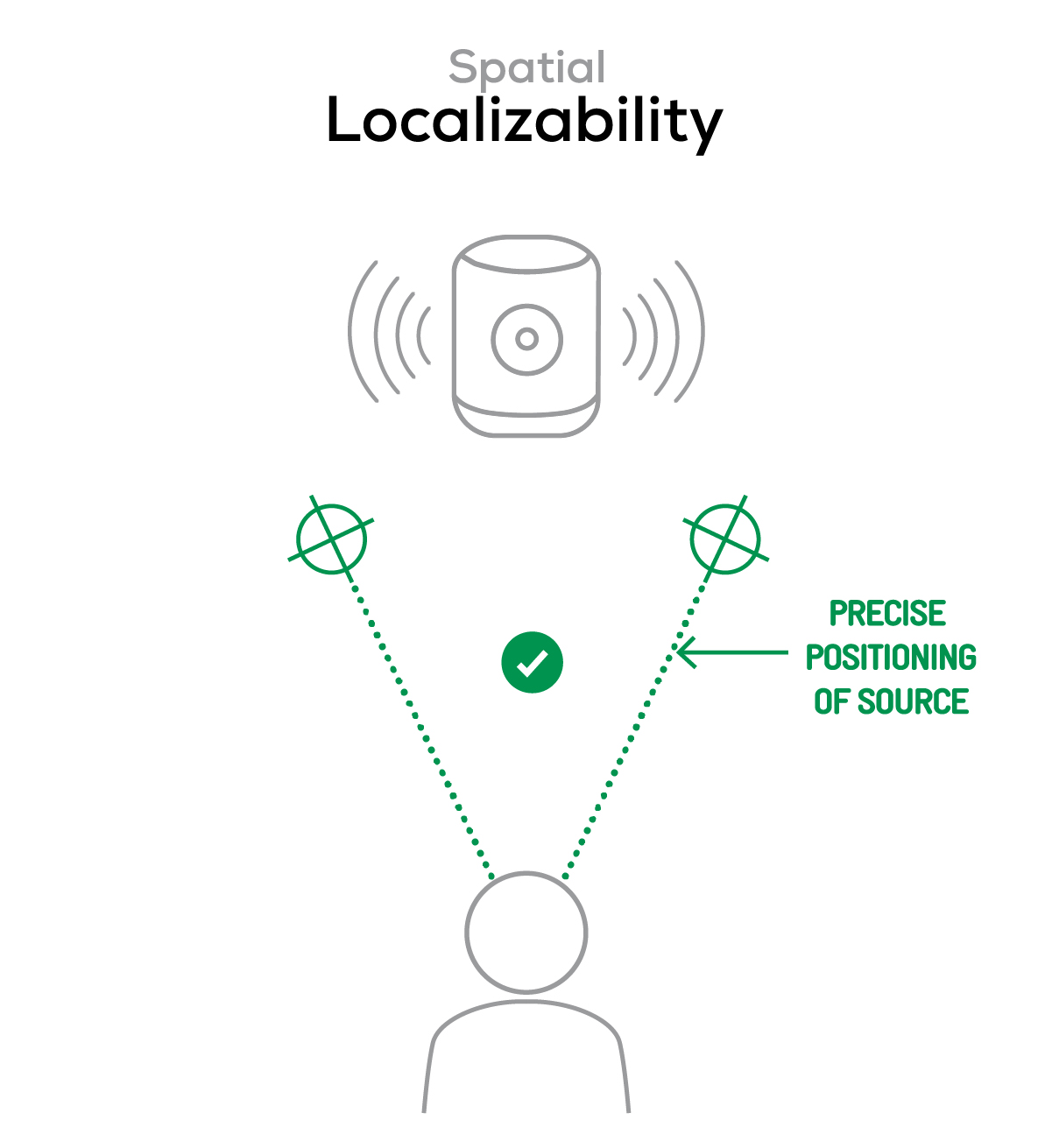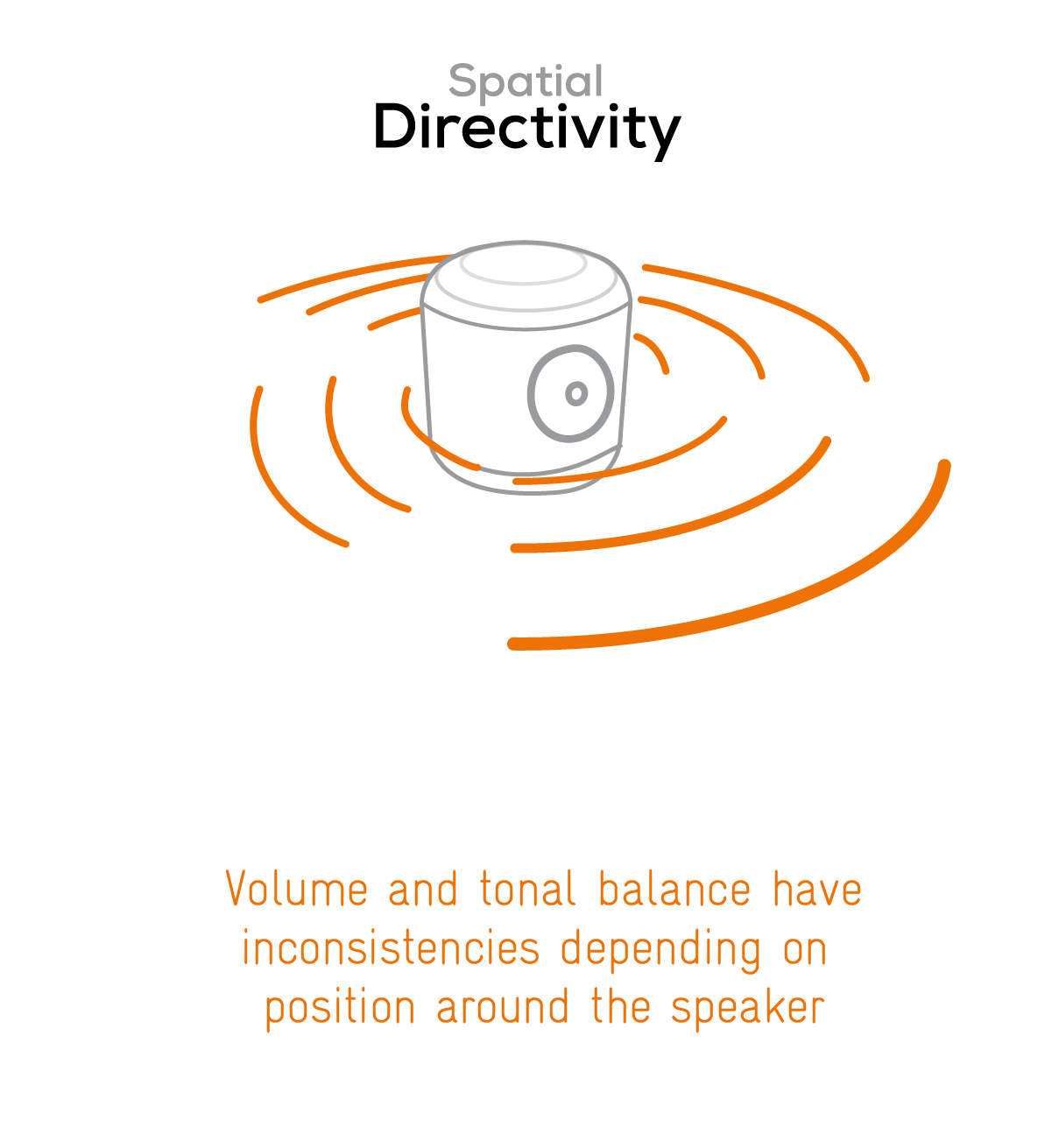 Volume
134
Bowers & Wilkins Formation Wedge
141
Bluesound Pulse Mini 2i
Our volume tests measure both the maximum loudness a speaker is able to produce and how smoothly volume increases and decreases based on user input.
Playback volume comparison
Playback volume consistency comparison
The Formation Wedge is one of the loudest speakers we've tested to date, thus able to deliver very satisfactory volumes even for a party or for outdoor use. However, as mentioned in the timbre paragraph, the frequency response isn't as extended at maximum volume as it can be at other listening levels. Minimum volume isn't appropriately tuned either: intelligibility is impaired by imprecise midrange and recessed treble, and volume steps aren't as regularly distributed as they are at other volumes.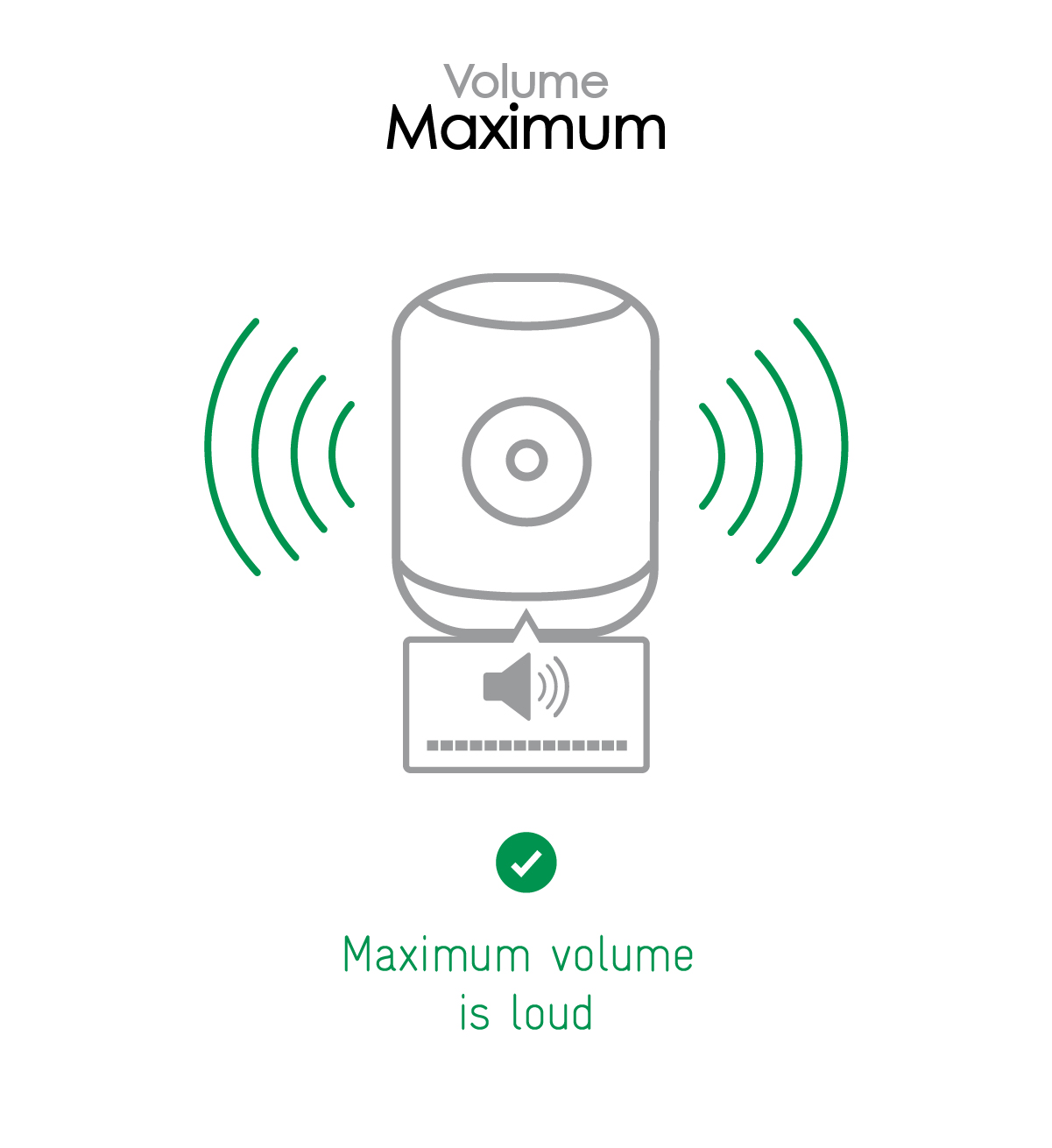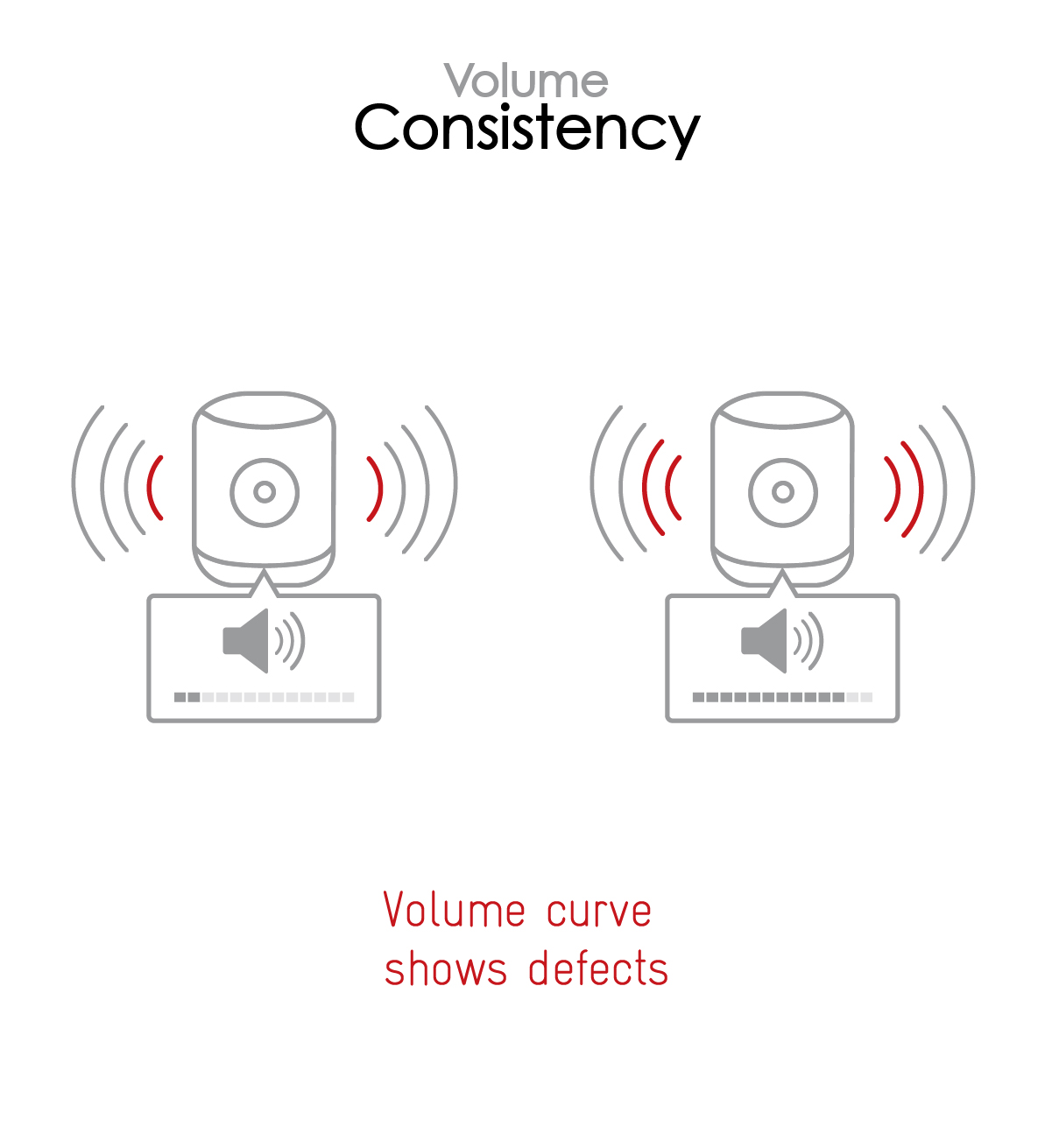 Here are a few sound pressure levels (SPL) measured when playing our sample recordings of hip-hop and classical music at maximum volume:
| | | | | | | |
| --- | --- | --- | --- | --- | --- | --- |
| | Correlated Pink Noise | Uncorrelated Pink Noise | Hip-Hop | Classical | Latin | Asian Pop |
| Bowers & Wilkins Formation Wedge | 90.4 dBA | 87.4 dBA | 89.1 dBA | 81 dBA | 90.2 dBA | 83 dBA |
| Bang & Olufsen Beosound Balance | 93.4 dBA | 91.8 dBA | 90.8 dBA | 93.5 dBA | 91.1 dBA | 85.6 dBA |
| Cabasse The Pearl Akoya | 86.9 dBA | 84.2 dBA | 85 dBA | 76.2 dBA | 86.9 dBA | 77.9 dBA |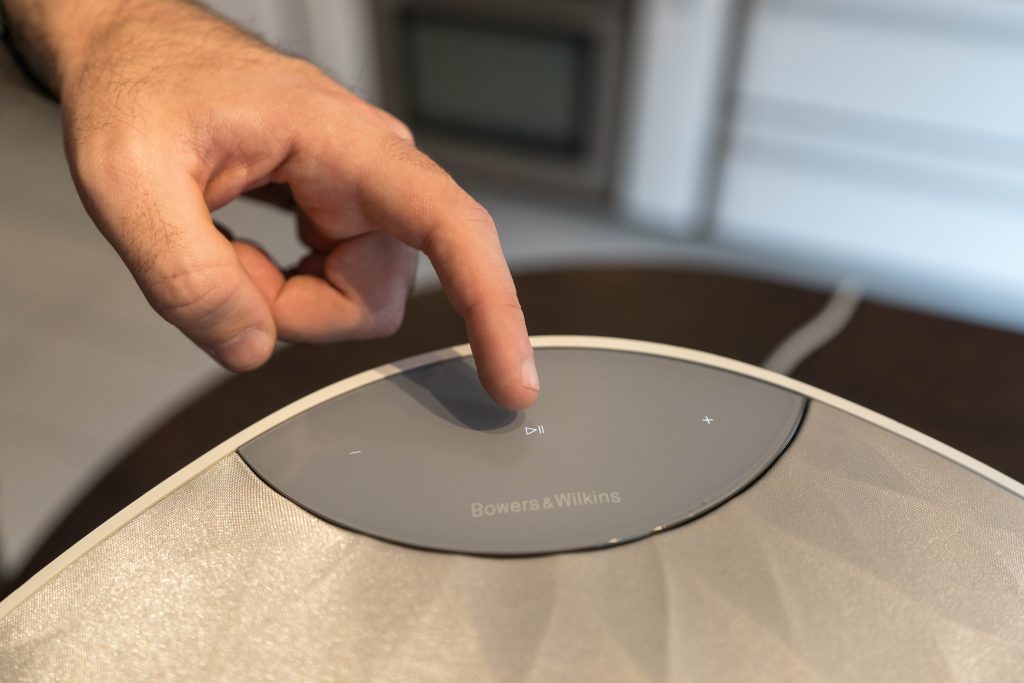 The Formation Wedge delivers excellent maximum volume.
Artifacts
130
Bowers & Wilkins Formation Wedge
133
Sonos Five
Our artifacts tests measure how much source audio is distorted when played back, along with such other sound artifacts as noise, pumping effects, and clipping. Distortion and other artifacts can occur both because of sound processing and because of the quality of the speakers.
Playback artifacts comparison
The Formation Wedge excels at controlling sonic artifacts, whether spectral (distortion) or temporal (compression). There are almost no perceivable artifacts, except for occasional hissing on upper midrange, and slight bass distortion, both occurring at loud listening volumes.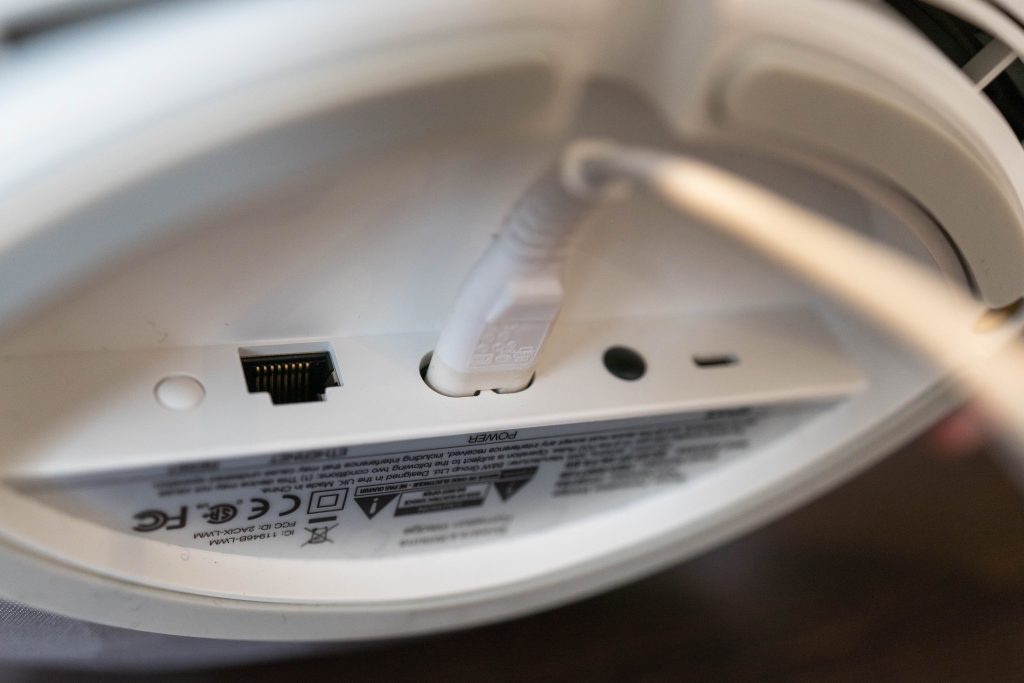 The Formation Wedge doesn't have analog inputs, but the audio/video synchronization over AirPlay 2 is good.
Otherwise, the speaker delivers an objectively flawless spectral artifacts performance, with the best THD+N (Total Harmonic Distortion plus Noise) we've measured so far. Additionally, it ensures good wireless audio/video synchronization over the AirPlay 2 protocol.
Playback total harmonic distortion
Conclusion
The Formation Wedge is a fierce competitor in the premium wireless speaker market, thanks to its great timbre and dynamics performance, its sharp attack, precise bass, good loudness, and excellent localizability and wideness, along with its impressive ability to keep sonic artifacts to a minimum. In fewer words, it achieves what it sets out to do, providing powerful, immersive sound.
One notable area in which the Formation Wedge still has room for improvement is the tonal balance's propensity to vary according to the listening volume. Otherwise, the successor to the iconic Zeppelin Wireless is well suited for all kinds of scenarios, from relaxing at home, listening to music, or watching movies, all the way up to partying. In that last case, since the speaker isn't omnidirectional, placing it in a corner is the best option. With deep low-end extension and clear high-ends, it delivers a distinctive signature sound; whether you'll like it or not is a matter of taste.