Introduction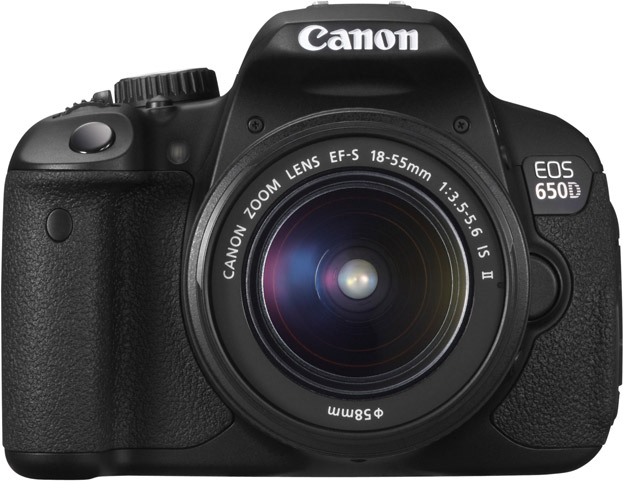 Fingertip control
Like the EOS 600D, the Canon EOS 650D provides a large 3:2 articulated ClearView II screen endowed with a comfortable 1,040,000-point resolution. But unlike its predecessor, it has a capacitated touch-sensitive layer that allows touchscreen control of the camera. One can use the same gestures with this camera as one finds on smartphones and tablets, such as sweep-scrolling to go from one photo to another, or pinching open to zoom in on an image to verify sharp focus. The touchscreen also allows users to directly control the autofocus — selecting the target to follow and triggering the shot.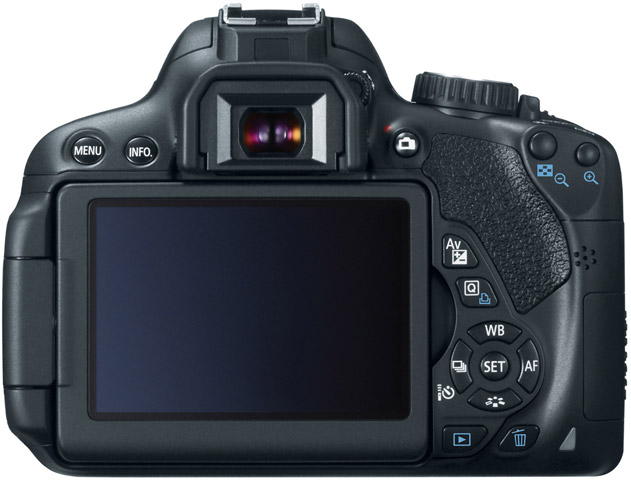 Autofocus: speed and versatility
The Canon EOS 650D's autofocus system combines two innovations to gain speed and versatility.
Though it has "only" nine collimators, the EOS 650D's module is similar to the EOS 60D's with 100% of its collimators in cross array. Plus, — and this is a first — the 650D's 18Mpix CMOS sensor is hybridized and has focus-dedicated photodiodes. This means that the autofocus functions in phase detection mode in the optical viewfinder, as is the case for SLRs generally, but with the ability to switch to a contrast detection system in LiveView mode and when recording video. Consequently, the net result is that EOS 650D has permanent-autofocus video recording and contrast detection. Overall, it is quieter, especially when coupled with Canon's new lenses equipped with Stepping Motor Technology (STM).
Canon is very confident about the EOS 650D's autofocus capabilities — not just for its ability to track its subject, but also for its quiet performance in video mode (the Achilles heel of HDSLR cameras). This is currently the only Canon Full-HD reflex camera to offer Full-Time autofocus.
Next-generation processor
The EOS 650D is the first non-professional EOS reflex to benefit from the next-generation Digic V processor.
5 images/s burst shooting
Driven by its powerful DIGIC V processor, the EOS 650D offers a burst shooting frame rate of 5 i/s — a leap forward with respect to the EOS 600D, which plateaued at 3.7 i/s! Allied with the new STM autofocus of the upcoming Canon lenses, the 650D shows great potential for shooting amateur action photos, thus encroaching a bit on the territory of its big brother, the EOS 60D (5.3 i/s).
New ways of shooting
Canon augments its offerings of creative effects with new oil painting and watercolor modes and filters. But particularly notable is the arrival of HDR and "Handheld night shot" modes — modes that have been featured on Sony cameras for some time now. The former compiles three photos: one at normal exposure, one overexposed, and one underexposed. The latter compiles four photos taken in burst mode and merges them to achieve a sharp image. Basic+ mode provides greater flexibility with the possibility of applying preset rendering, an intelligent compromise between safe-shot automation and creative freedom.
Ergonomics
The mode selection dial provides direct access to backlight / HDR and Handheld night shot modes. The video icon has disappeared since one can access video from any mode, thus facilitating its use in manual exposure modes via PSAM.
In the footsteps of the EOS 600D
For the rest, the EOS 650D incorporates the same winning formula of the EOS 600D: a compact and lightweight camera with an articulated screen —a device that, counting the EOS 60D, is now found in three of Canon's amateur SLR models.
As for the sensor, no big surprises here: the 650D keeps the 18Mpix APS-C CMOS sensor used in this line since 2008, but this time hybridized to allow an autofocus with contrast detection in video modes. Our DxOMark tests will allow us to measure any progress in terms of sensitivity and dynamic range.
Full-HD 50i video is also on the EOS 650D's menu, enhanced with permanent autofocus. The EOS 650D is equipped with an integrated flash and a Speedlite module transmitter that makes it possible to wirelessly control flash groups, a feature first found on the EOS 600D.
While the EOS 650D is most certainly an entry-level camera, it is still rather advanced.
Price and availability
The Canon EOS 650D will be available the end of June 2012 at a price of 849 euros (tax included), for just the body, or in other words, just 50 euros more than the EOS 600D when it was introduced on the market. It will also be available in a kit with the 18-55mm VR II zoom lens at a price of 949 euros, and in a double kit at a price as yet unknown. A kit with the new trans-standard EF-S 18-135mm IS STM (announced along with the 40mm STM pancake), is planned. It will arrive later, sometime in August, at a price of 1,199 euros (tax included).
Principal characteristics of the Canon EOS 650D
Sensor

CMOS
Approx. 18.0 megapixels
Aspect Ratio 3:2

Image processor
Lens

Lens Mount : EF/EF-S
Focal Length : equivalent to 1.6x the focal length of the lens

AF System/ Points

9 cross-type AF points (f/2.8 at centre)

ISO Sensitivity : AUTO(100-6400), 100-12800 in 1-stop increments. ISO can be expandable to H: 25600)
Speed : 30-1/4000 sec (1/2 or 1/3 stop increments), Bulb (Total shutter speed range. Available range varies by shooting mode)
Viewfinder coverage : Approx. 95%
Magnification : Approx. 0.85x
LCD monitor : Touch screen vari angle 7.7cm (3.0″) 3:2 Clear View II TFT, approx. 1040K dots
Shooting Modes : Scene Intelligent Auto, No Flash, Creative Auto, Portrait, Landscape, Close-up, Sports, Night Portrait, Handheld Night Scene, HDR Backlight Control, Program AE , Shutter priority AE, Aperture priority AE, Manual
Drive Modes : Single, Continuous, Self timer (2s, 10s+remote, 10s + continuous shots 2-10)
File type :

Still Image Type : JPEG: Fine, Normal (Exif 2.30 compliant) / Design rule for Camera File system (2.0), RAW: RAW (14bit, Canon original RAW 2nd edition), Digital Print Order Format [DPOF] Version 1.1 compliant
RAW+JPEG Simultaneous Recording
Movie Type : MOV (Video: H.264, Sound: Linear PCM, recording level can be manually adjusted by user)

Storage : UHS-1, SD, SDHC or SDXC card
Power source : 1 x Rechargeable Li-ion Battery LP-E8
Dimensions (WxHxD) : 133.1 x 99.8 x 78.8 mm
Weight (Body Only) : Approx. 575g (CIPA testing standard, including battery and memory card)