The Denon Home 250 is the middle of three in the Home series of wireless speakers made by the Japanese brand (the others are the 150 and the 350). It's an elegantly minimalistic and monochrome rectangular device with an array of four speakers and a passive radiator. Of it, Denon says, "Tuned for balanced, stereo sound by the Denon Sound Master, the Denon Home 250 has the power to clearly reproduce your favorite songs at virtually any volume."
The "HEOS built-in" system means you can easily pair the Home 250 with other Denon devices to create tailored soundscapes throughout your living space. It is compatible with Siri, Alexa, and Google Assistant and costs between 400 and 500 euros.
Our engineers put the Denon Home 250 through our rigorous DXOMARK Wireless Speaker test suite. In this review, we will break down how it fared at audio playback in a variety of tests and several common use cases.
Key specifications include:
Bluetooth, Airplay 2, 3.5 mm jack, HEOS built-in, USB port
Width: 295 mm (11.6 in), height: 216 mm (8.5 in), depth: 120 mm (4.7 in)
3.7 kg (8.15 lbs)
Speakers: Two 19 mm (0.75 in) tweeters, two 100 mm (4 in) woofers and one 133 mm (5.25 in) passive radiator
Test conditions:
Tested with iPhone SE
Communication protocol used: AirPlay
About DXOMARK Wireless Speaker tests: For scoring and analysis in our wireless speaker reviews, DXOMARK engineers perform a variety of objective tests and undertake more than 20 hours of perceptual evaluation under controlled lab conditions. This article highlights the most important results of our testing. Note that we evaluate playback using only the device's built-in hardware. (For more details about our Speaker protocol, click here.) The Denon Home 250 falls into the Advanced category of devices in the DXOMARK Speaker rankings.
Test summary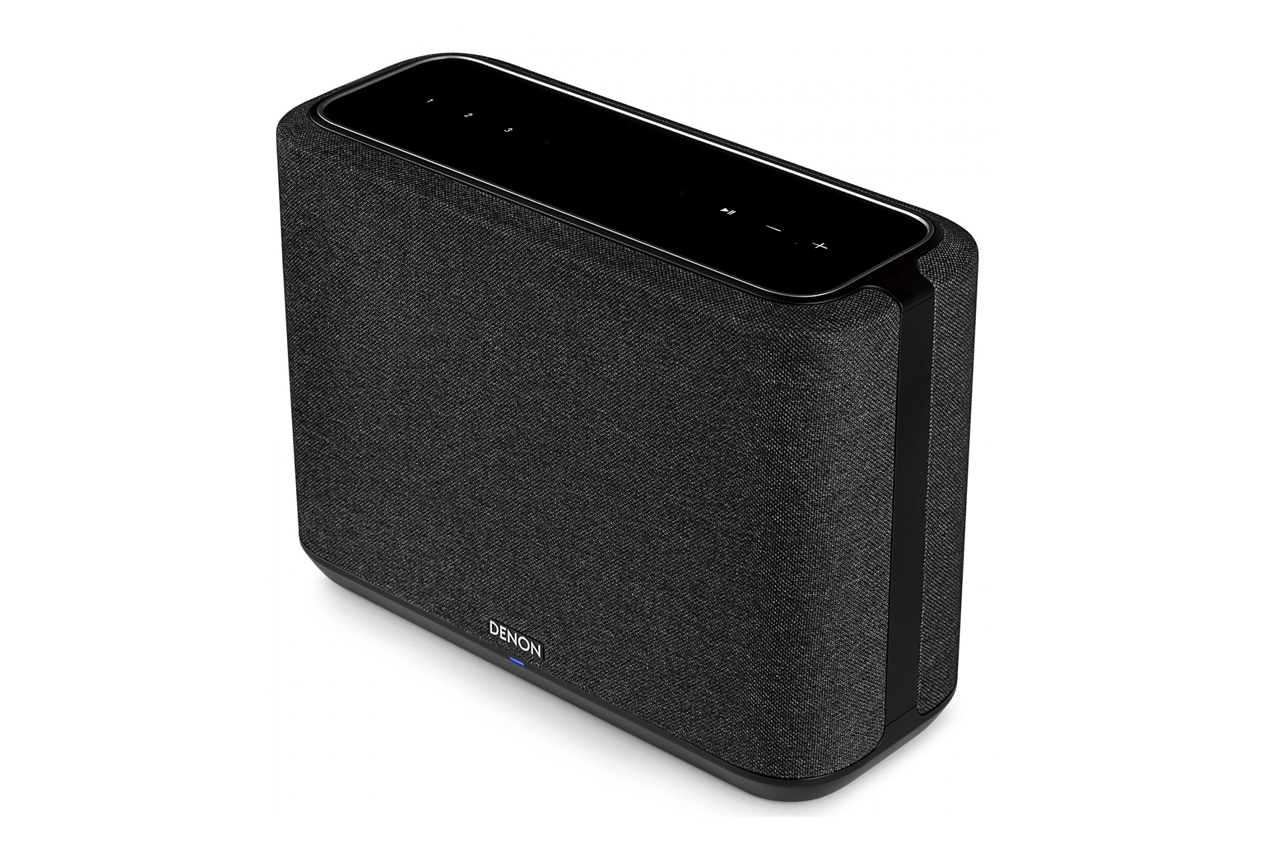 Denon Home 250
128
speaker
With a global score of 128, the Denon Home 250 has a score that puts it in the vicinity of devices such as the Huawei Sound X, which earned a 126, and the Sony SRS-XB43 Speaker, which scored a 122.
In our practical use-case testing, the Denon Home 250 achieved good scores in the party use case and as an audio partner for television viewing. It works well at louder volumes and provides plenty of bass, which our engineers noted underpinned a good dynamics performance when watching action movies because the explosions felt real and larger than life. Dynamics performance was, in general, better at louder volumes, and the tonal balance was good at those levels as well because it it is perceived as more homogenous than at lower volumes, where some of the shortfalls of the device start to emerge.
The bass-heavy nature of the Home 250 is not well balanced by high-end extension, which is lacking, making the device sound tonally dark in almost all use cases. The dynamics are impaired by internal processing that is triggered by bass, and with a bass heavy speaker, compression is always active. This affects dynamic performance in all use cases. The Denon Home 250 is configured with artificial wideness in an effort to create real stereo sound, but it feels unnatural and phasing is evident.
The dynamics for the rear of the speaker are poor because of the rear-firing passive radiator; its marks were better when it was placed near a wall.
Sub-scores explained
The DXOMARK Speaker overall score of 128 for the Denon Home 250 is derived from a range of sub-scores. In this section, we will take a closer look at these audio quality sub-scores and explain what they mean for the user, and we will show some comparison data from two of the device's competitors, the Google Home Max and the JBL Xtreme 3.
Playback attribute comparisons
Timbre
129
Bowers & Wilkins Formation Wedge
DXOMARK timbre tests measure how well a speaker reproduces sound across the audible tonal range and takes into account bass, midrange, treble, tonal balance, and volume dependency.
Playback timbre comparison
The Denon Home 250 is very bass- and low mid-focused; this leads to a boomy tonal quality and an indistinct treble and high midrange, which detracts from the otherwise pleasant high range of the speaker (although it does lack some high-end extension).
Interestingly, the device has a much better tonal balance at high volumes. The bass is still heavy, but overall the tonal balance is more homogenous. At maximum volume, the Denon shines, although it still lacks some high-end extension and has a slight high-mid resonance at 4 kHz.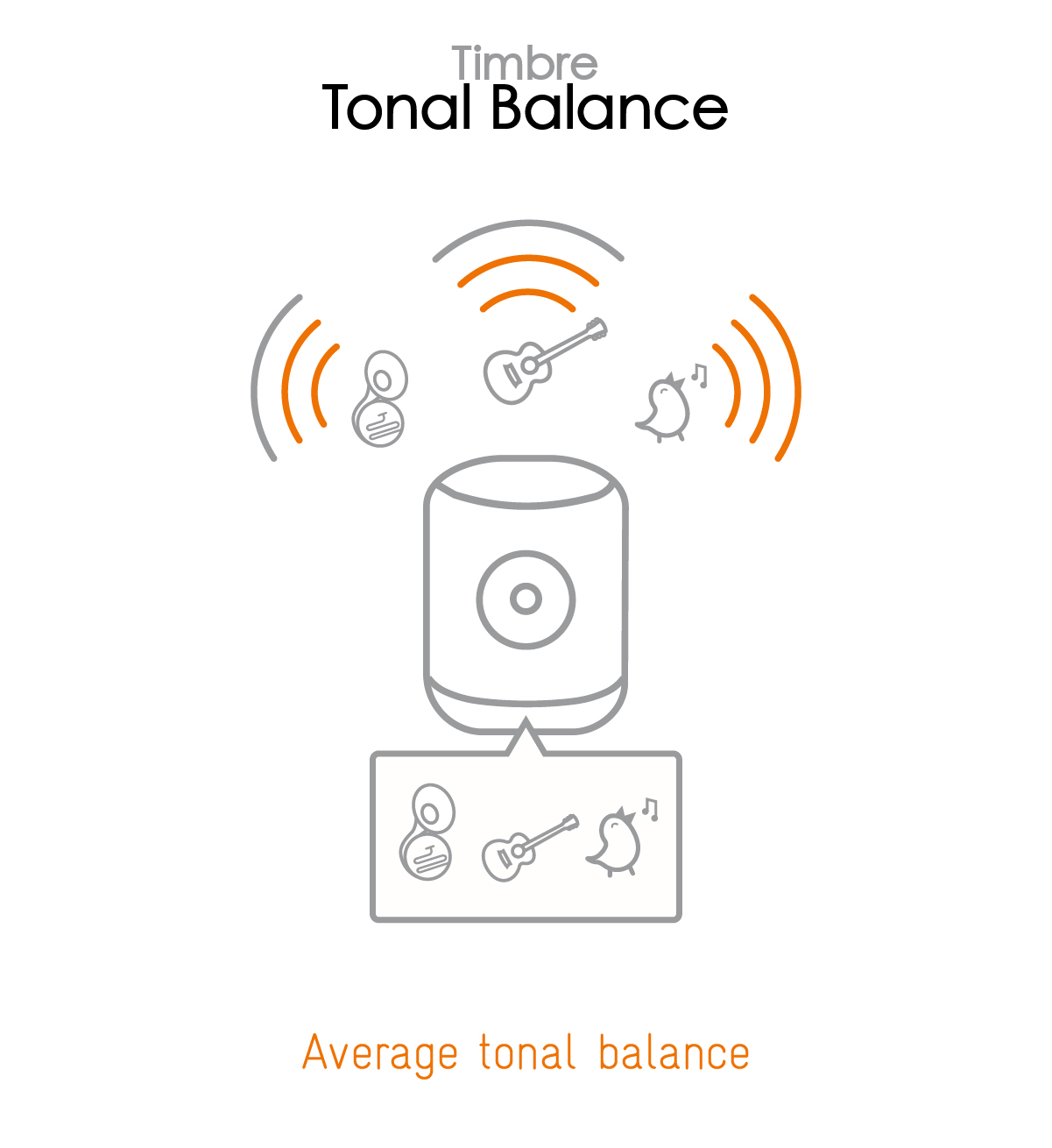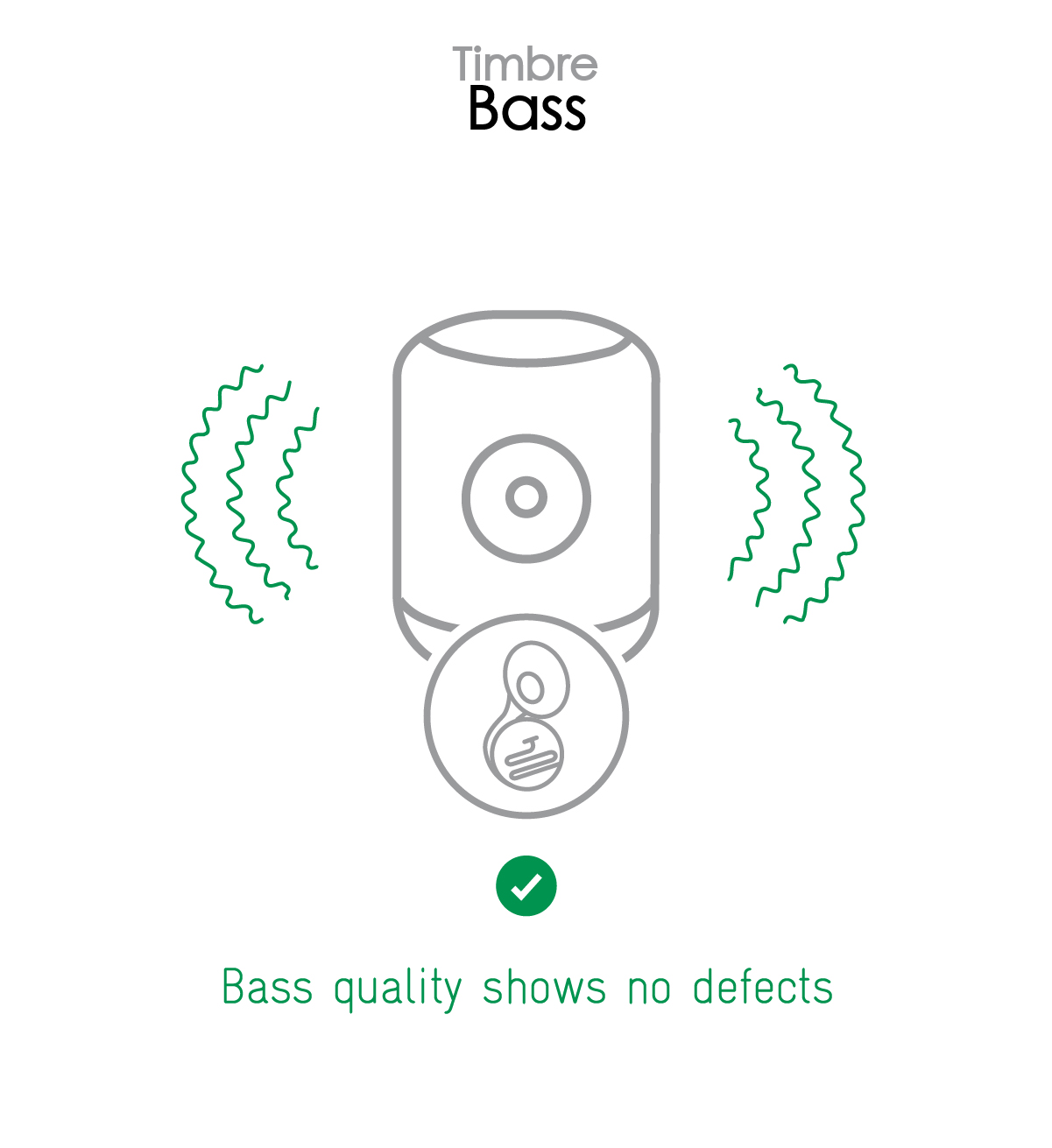 The Denon Home 250 works well in carrying the audio for watching television and videos. The overabundance of bass makes explosions and other sound effects more vivid, but a lack of high content does affect intelligibility.
Music playback frequency response
Dynamics
113
Bowers & Wilkins Formation Wedge
Our dynamics tests measure how well a device reproduces the energy level of a sound source, taking into account attack, bass precision, and punch.
Playback dynamics comparison
Denon Home 250 had an overall decent performance in dynamics, although the internal processing of the device impairs punch, bass precision, and attack. That internal processing is easily triggered by bass. Bass precision and overall dynamics are better at louder volumes, but they still weren't great. That said, the device handled the television use case particularly well because sound effects were reproduced closely in comparison with the reference it was measured against.
Spatial
68
Bowers & Wilkins Formation Wedge
Our spatial tests measure a speaker's ability to reproduce stereo sound in all directions, taking into account localizability, balance, wideness, distance, and directivity. Please note that wideness is 0 on mono speakers and on speakers that cannot deliver a significant stereo effect.
Playback spatial comparison
The Denon Home 250 has a very unusual profile in the spatial attribute, and it did not score well in our testing for this attribute. The device has artificially enhanced wideness that is meant to produce something like true stereo sound, but it doesn't work very well, and produces some odd artifacts as a result. This also impacts localizability because content can appear to come from multiple locations or to sound blurry.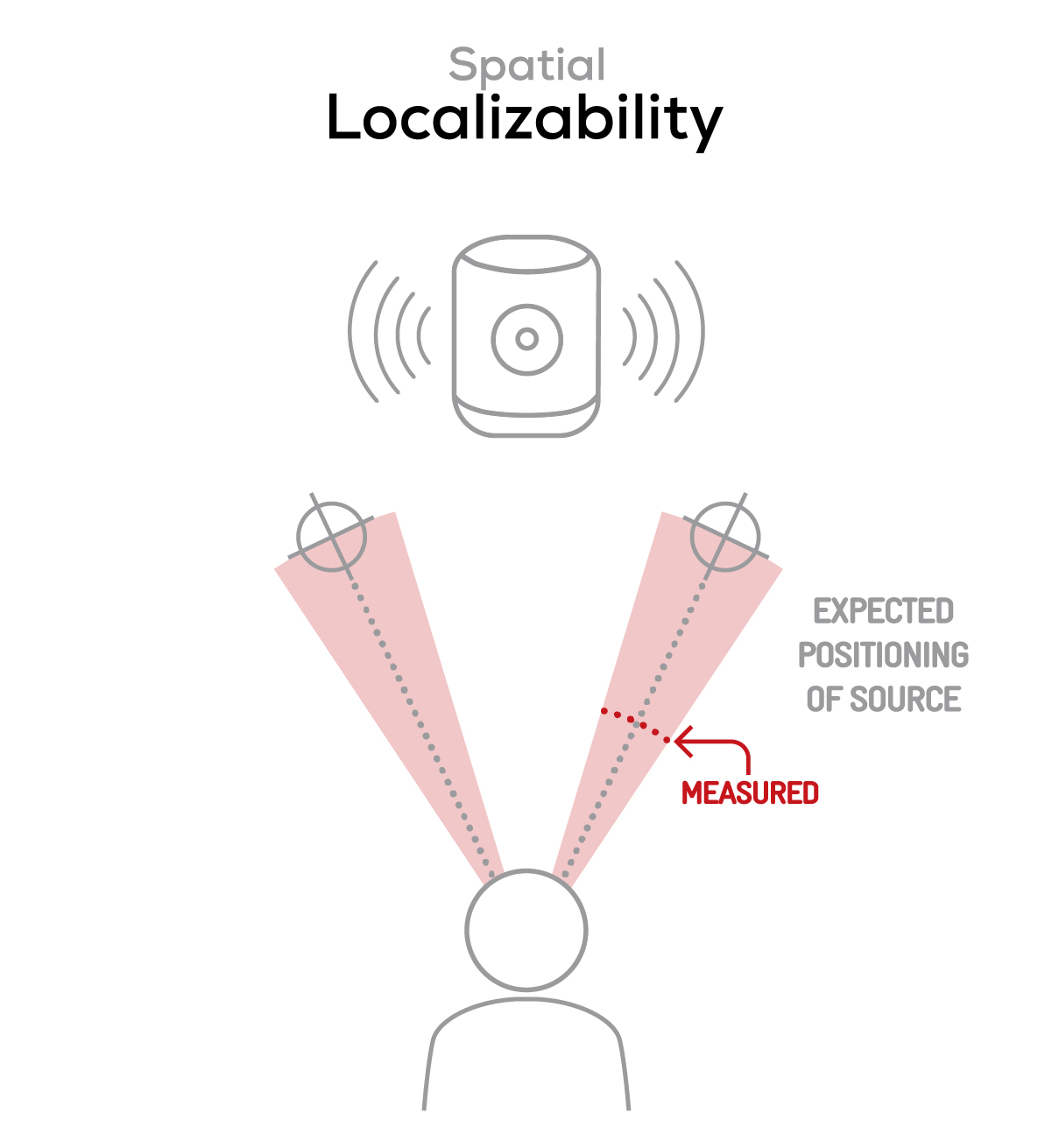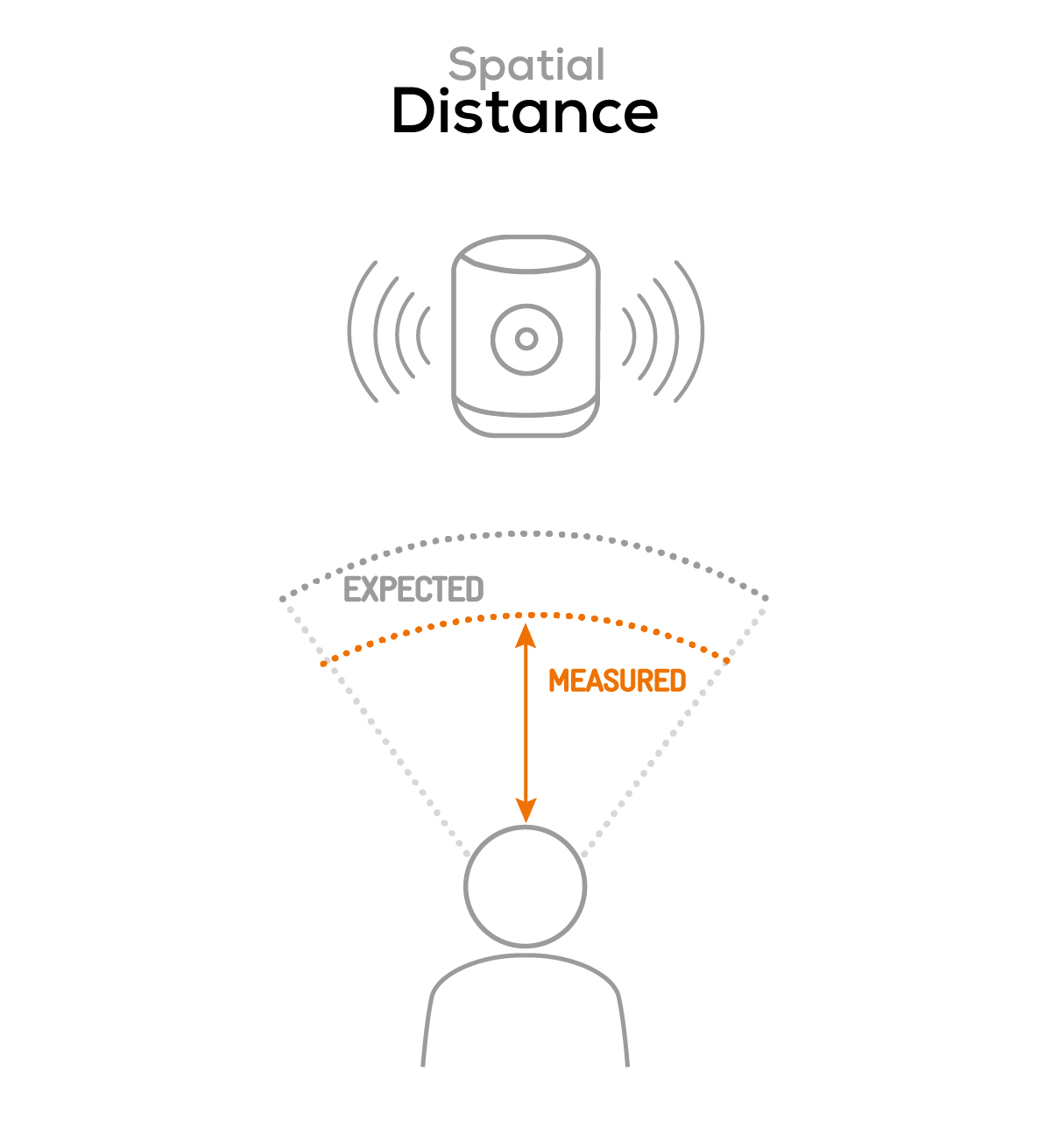 The performance from the sides and back is not great because of the front-firing design of the device. The lack of high-end is even more pronounced from the sides, and because of the rear-firing passive radiator, bass is really the only element in evidence from the back. Distance performance is mediocre because the device has weak top end, but good low midrange performance.
Volume
120
Bluesound Pulse Mini 2i
Our volume tests measure both the maximum loudness a speaker is able to produce and how smoothly volume increases and decreases based on user input.
Playback volume comparison
Playback volume consistency comparison
The Denon Home 250 has an impressive maximum volume, measuring up with the some of the loudest of our tested devices to this point, and consistency is good as well. One drawback, however, is that the first few volume steps represent big leaps in sound, which is impractical.
Here are a few sound pressure levels (SPL) we measured when playing our sample recordings of hip-hop and classical music at maximum volume:
| | | | | | | |
| --- | --- | --- | --- | --- | --- | --- |
| | Correlated Pink Noise | Uncorrelated Pink Noise | Hip-Hop | Classical | Latin | Asian Pop |
| Denon Home 250 | 89.2 dBA | 84.8 dBA | 86.1 dBA | 81.6 dBA | 85 dBA | 81.1 dBA |
| Google Home Max | 91.9 dBA | 88.9 dBA | 88.9 dBA | 81.9 dBA | 89.3 dBA | 82.4 dBA |
| JBL Xtreme 3 | 91.4 dBA | 87.3 dBA | 86.2 dBA | 81.3 dBA | 86.3 dBA | 80.1 dBA |
Artifacts
Our artifacts tests measure how much source audio is distorted when played back, along with such other sound artifacts as noise, pumping effects, and clipping. Distortion and other artifacts can occur both because of sound processing and because of the quality of the speakers.
Playback artifacts comparison
The Denon Home 250 has the top score in artifacts, just besting the Bowers & Wilkins Formation Wedge, which racked up a 130. So there are very few noticeable artifacts overall. That said, excess bass can trigger internal limiting, and because this device has a big bass boost, it can be noticeable. Our engineers noted some static noise in very quiet environments, and loud pops occurred at max volume when pressing play.
Playback total harmonic distortion
Conclusion
The Denon Home 250 has a quite unique profile in our wireless home speaker testing. It performs very well overall at loud volumes, with good dynamics and decent tonal balance, and its maximum volume is indeed impressive. It works well as an audio source for movie and television viewing because its bass-dominant tonal balance gives heft to explosions and other sound effects. But that same powerful bass boost becomes an impediment at lower volumes, where the lack of high-end extension contributes to a very dark sound in most use cases. The internal processing, easily triggered by excessive bass, impedes dynamics performance in all use cases. In the spatial attribute, the artificial wideness produces some odd results, and sounds often seem like they're coming from the wrong places.
Pros
Performs well at loud volumes
One of loudest devices we've tested to date
Works well when watching movies or TV
Cons
At lower volumes, tonal balance is dark, with too much bass and low-end
Dynamics are impaired by the internal processing, which is easily triggered by the abundant bass
The artificial wideness produces some unnatural-sounding results