We put the Devialet Mania through our rigorous DXOMARK Wireless Speaker test suite to measure its performance at playing back audio. In this review, we will break down how it fared in a variety of tests and several common use cases.

Overview
Key specifications include:
Wireless protocols : WiFi, Bluetooth
Wired connectivity : Jack
Height: 19.3 cm. Width: 17.6 cm. Depth: 13.9 cm
Weight : 2300.0 g
Speakers: 4 Aluminium full-range drivers AND  2 woofers.

Test conditions:
Tested with iPhone SE
Communication protocol used: Jack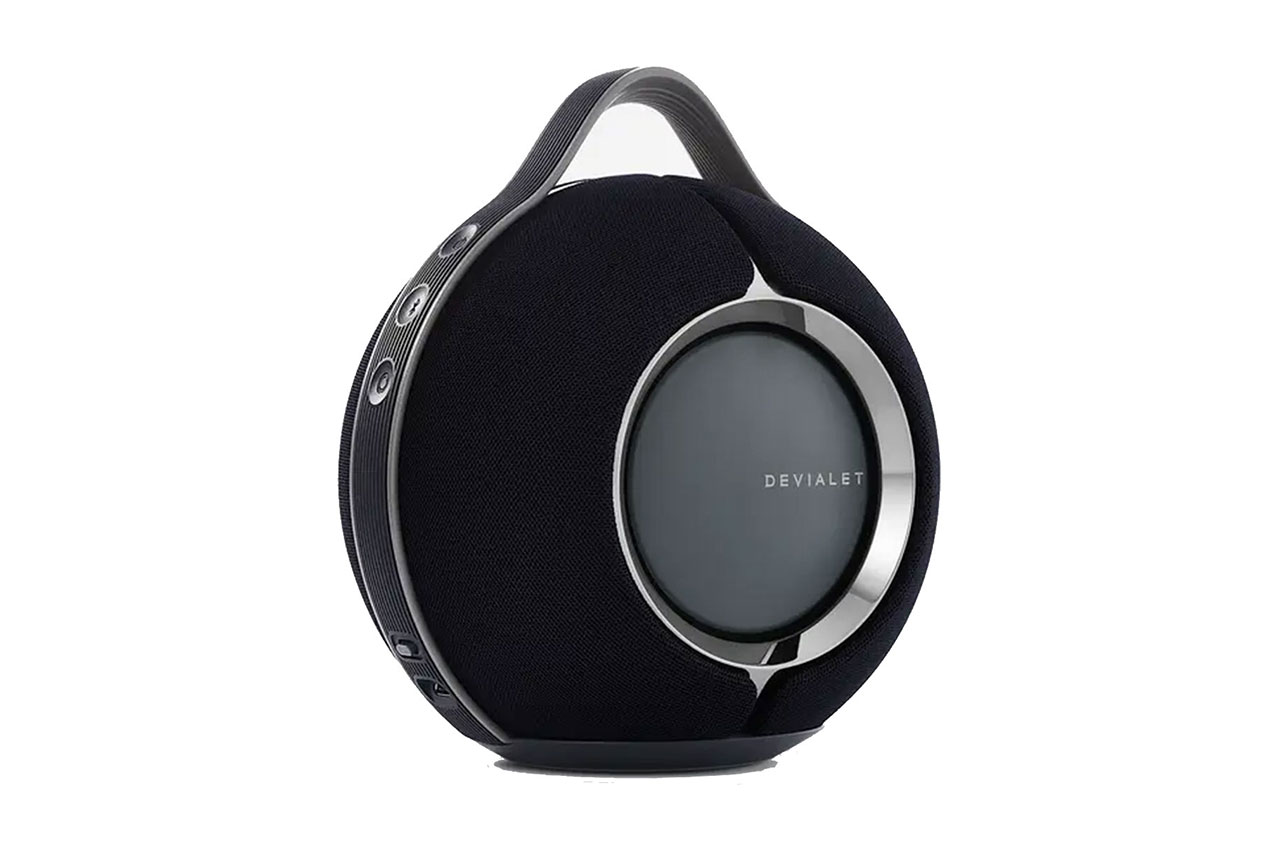 Devialet Mania
130
speaker
Pros
Impactful bass and low-end
Soft and adaptive tonal balance
Homogeneous rendition of 360° directivity, despite stereophony attempt
Cons
Inconsistencies in spectrum: lack of upper bass, clarity, and brightness
Interferences between front and back speakers, which impairs localizability and distance performance
Poor maximum volume fine-tuning despite very good performance at high SPL
The Devialet Mania is the French brand's first high-fidelity portable smart speaker, and it delivered a pleasant sound signature all the way up to maximum volume. Bass was impactful and the low end impressive for a speaker this small. The Mania also managed to produce both an homogeneous 360° and stereophonic rendition, in addition to its adaptivity. However, there were some inconsistencies in the sound spectrum, which sometimes impaired tonal balance and timbre audibly.
The speaker is designed with a protruding handle to emphasize the ease of its portability. However, Depending on the acoustic conditions, the placement of the device in a room seemed to sometimes provoke an interference between the front and back speakers.
For its size, the Devialet Mania was quite loud and performed well in the outdoor as well as party and gathering use cases, particularly when placed in the center of the room. However, the speaker's limitations became apparent when trying to play it at maximum volume.
Harman Kardon Citation 200
Bowers & Wilkins Zeppelin
Score comparison by use case
Test summary
About DXOMARK Wireless Speaker tests: For scoring and analysis in our wireless speaker reviews, DXOMARK engineers perform a variety of objective tests and undertake more than 20 hours of perceptual evaluation under controlled lab conditions. This article highlights the most important results of our testing. Note that we evaluate playback using only the device's built-in hardware. (For more details about our Speaker protocol, click here.) The following section gathers key elements of our exhaustive tests and analyses performed in DXOMARK laboratories. Detailed performance evaluations under the form of reports are available upon request. Do not hesitate to contact us.
The DXOMARK Speaker overall score is derived from a range of sub-scores. In this section, we will take a closer look at these audio quality sub-scores and explain what they mean for the user.
Timbre
128
Bowers & Wilkins Formation Wedge
DXOMARK timbre tests measure how well a speaker reproduces sound across the audible tonal range and takes into account bass, midrange, treble, tonal balance, and volume dependency.

Playback timbre comparison
The Devialet Mania provided a satisfying timbre overall, with some adaptive qualities, but it also had a fair share of spectrum inconsistencies. While the extension in the low-end frequencies was particularly impressive for a device of this caliber, the emphasis on bass was sometimes problematic, especially for listeners in search of realism.
Indeed, the lower spectrum went well below 80Hz with quite some strength. However, upper bass seemed to be very inconsistent and even missing, in many cases. The results were quite striking in musical content, as first harmonics –the meat of the bass — sometimes seemed non-existent. Midrange was mostly fine, and the Mania delivered an appreciable warmth. But balance seemed less consistent above 1.5kHz, with gaps in the spectrum at multiple places, which impaired clarity, and sometimes instilled a nasal sonority into the mix. These gaps were also present in upper frequencies. Whereas the high-end extension was perfectly adequate, it seemed that some upper brightness was definitely missing. This made treble sound very soft, almost dull. Fortunately, the Mania didn't  go overboard with the low-end when listening at high volume, so it didn't get too boomy at high-SPL, although it might sound a bit muddy due to a newfound focus on low-midrange.
Music playback frequency response
Dynamics
111
Bowers & Wilkins Formation Wedge
Our dynamics tests measure how well a device reproduces the energy level of a sound source, taking into account attack, bass precision, and punch.

Playback dynamics comparison
The Mania packed quite a punch and offered some dynamics headroom. Internal multiband processing was generally subtle, and global compression was fine most of the time. Attack was decent but not as sharp as expected, with some transient information being eaten up by the imposing low-end. Bass precision was complimented by the nice low-end extension as well as very sharp kick sounds, although compression in the bass region made sustain a bit unrealistic sometimes. Punch was generally also very good, despite inconsistencies in the upper bass and a sometimes muddy low-midrange. The sheer energy of the impactful low-end was enough to make the beat sound explosive. Only at its maximum volume did the Mania start to indulge in excessive compression, impairing bass precision, and dynamics performance as a whole.
Spatial
80
Bowers & Wilkins Formation Wedge
Our spatial tests measure a speaker's ability to reproduce stereo sound in all directions, taking into account localizability, balance, wideness, distance, and directivity. Please note that wideness is 0 on mono speakers and on speakers that cannot deliver a significant stereo effect.

Playback spatial comparison
The design of the Mania was prone to some inherent confusion in terms of spatial rendition. Trying to reconcile 360° directivity with stereophony was more than a risky bet, and caveats were inherent. For the Mania, the 360° part was what worked best, with an overall consistent rendition all around the speaker — or at least on the four main axes. In practice, the speaker's stereophony was of little significance, because it was quite narrow. Because of its symmetrical construction, front-facing loudspeakers sometimes interfered with the ones in the back, resulting in some phase issues depending on the device's placement in the room. As a result, both localizability and distance rendition seemed very blurry and incoherent.
Volume
128
Bluesound Pulse Mini 2i
Our volume tests measure both the maximum loudness a speaker is able to produce and how smoothly volume increases and decreases based on user input.

Playback volume comparison
Playback volume consistency comparison
The Mania delivered quite good loudness for its size, especially on restricted frequency bands, but on full-band and when compared to other similar devices, it was relatively insufficient. Its volume steps distribution was very consistent, however.
Here are a few sound pressure levels (SPL) we measured when playing our sample recordings of hip-hop and classical music at maximum volume:

| | | | | | | |
| --- | --- | --- | --- | --- | --- | --- |
| | Correlated Pink Noise | Uncorrelated Pink Noise | Hip-Hop | Classical | Latin | Asian Pop |
| Devialet Mania | 83.8 dBA | 83.1 dBA | 83.2 dBA | 78 dBA | 84.7 dBA | 74.8 dBA |
| Harman Kardon Citation 200 | 86 dBA | 85.5 dBA | 83.1 dBA | 80.2 dBA | 84.1 dBA | 77.9 dBA |
| Bowers & Wilkins Zeppelin | 89.6 dBA | 87.2 dBA | 87.8 dBA | 81.3 dBA | 89.6 dBA | 82 dBA |
Artifacts
Our artifacts tests measure how much source audio is distorted when played back, along with such other sound artifacts as noise, pumping effects, and clipping. Distortion and other artifacts can occur both because of sound processing and because of the quality of the speakers.

Playback artifacts comparison
Very good artifacts performance overall. Some multi-band processing was noticeable, but usually not problematic. Compression became a bit excessive at maximum volume, which also produced some bass distortion.
Playback total harmonic distortion