DXOMARK is introducing a U.S.-only ranking on its website that will allow readers to filter for phone models that are available only in that country.
Imagine the scenario: Your favorite smartphone brand releases its latest, most-advanced device. You watch the online keynote presentation, you check out its DXOMARK review, and you're ready to buy the phone — only to find out that the model either is not available in your country or your country's version has different key specs.
A recent example of this was Samsung's release of its Note20 line of phones in which the U.S. versions operate using Qualcomm's Snapdragon chipset, while global versions use Samsung's own Exynos chips.
DXOMARK recently tested both the Exynos and Snapdragon versions of the Samsung Galaxy Note20 Ultra's main camera under its new expanded Camera protocol. Even though the camera module and lenses were the same, the combination of software integration, image processing algorithms, and tuning differs in both versions, resulting in image-quality assessments that led to different scores. (Read more in our Note20 Ultra Snapdragon review.)
Based on this testing experience and on the significant number of region-specific product releases, for the first time DXOMARK is now offering a ranking of U.S.-available smartphone cameras on its website. By "U.S.-available," we mean devices that are currently, or were at one time, sold by the three major American telecommunication providers, Verizon, AT&T, and T-Mobile. Our ranking will also include devices that are sold directly by manufacturers through their U.S. websites.
DXOMARK's mission is to assist consumers in their buying decisions by providing the same objective, rigorous, comprehensive, and science-based evaluations for all products regardless of the region where they are sold. Image quality, audio, display reviews and more are all available on www.dxomark.com for free to readers around the world in English and Chinese.
We believe a region-specific ranking tailored at the moment to our U.S. readers, will provide consumers with the relevant information and comparisons they need when choosing a device.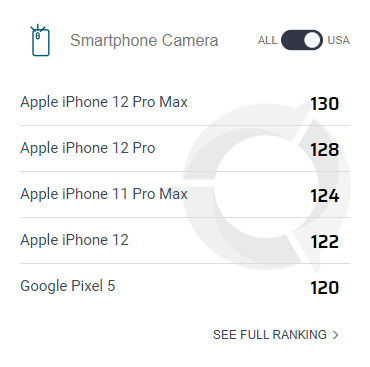 We've made it easy for visitors to filter the regional information with a toggle slide. In the right hand corner of the Smartphone Camera ranking table, just click on the button to toggle between global rankings and U.S. rankings.
Next year, we plan to provide the same kind of region- or country-filtering option for Europe, India, and China. And we're not limiting ourselves to smartphone cameras. We eventually plan to add Display and Audio to our regional rankings as well.