Regular readers of DXOMARK will be familiar with the DXOMARK smartphone rankings for Camera, Selfie (front camera), Display and Audio that allow consumers to identify their preferred phones prior to purchase.
Until now these rankings have been "global" rankings, covering devices within all price segments, from the most affordable to the very expensive. Today we have launched a new feature that lets people filter smartphones in our rankings based on the launch price, brand, and launch date, which will help them identify phones with the best-performing cameras, audio systems, and displays based on their brand preferences and budget.
Continually increasing our testing capacities allows us to accommodate more devices at different price points and compare devices with others in their price segments (based on official launch prices and the positioning of products in the brand portfolio).
• Essential (below 200 USD)
• Advanced (between 200 to 399 USD)
• High-end (between 400 to 599 USD)
• Premium (between 600-799 USD)
• Ultra-Premium (more than 800 USD)
For purposes of segmentation and consistency, we use launch prices in USD (and convert prices to USD from Euros or Chinese RMB when necessary for those devices that are not available in the US).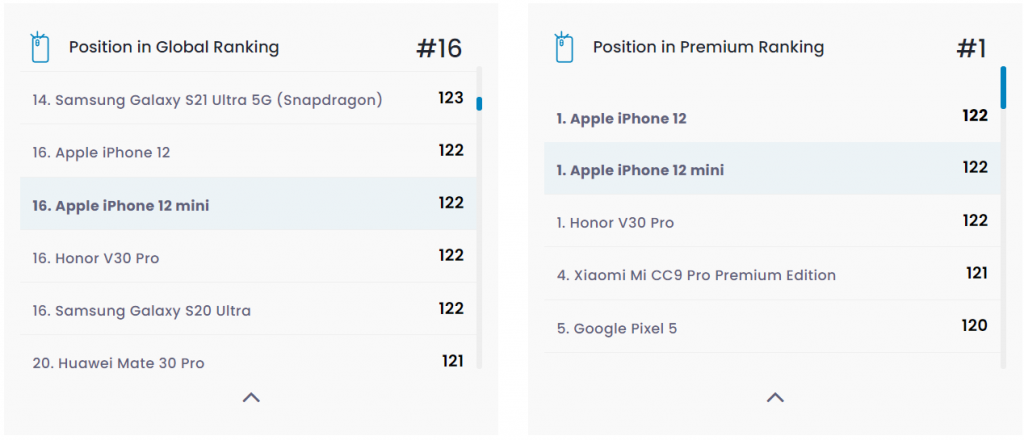 In our reviews you can now see the tested device's position in the global ranking as well as the segment ranking.
To keep things in sync with the new smartphone segmentation, we have also made some changes to the already existing segmentation for wireless speakers. Instead of Euros, we now use USD as a base currency and make the same conversions as for smartphones where necessary. We have also expanded the upper limit of the Advanced segment and created a new Premium segment for speakers that cost more than $600. Here is an overview of the updated wireless speaker segments:
Essential: less than $200 (previously less than 200 Euros)
Advanced: between $200 and $599 (previously between 200 and 499 Euros)
Premium: above $600 (new segment)
Head over to the redesigned ranking page to try out this new feature!