One year after the launch of the Google Home, the Mountain View, California giant unveiled a Max version of its first smart speaker. Unlike the Nest Mini, designed mainly for asking questions of the assistant and controlling home appliances, the Google Home Max is "built for sound, inside and out."
To achieve that aim, Google deployed heavy artillery. For starters, the voluminous "Premium WiFi speaker" hosts two 4.5-inch woofers which promise "deep, balanced bass," and two 0.7″ tweeters for "crystal-clear highs." The Google Home Max also harbors a USB-C input, a 3.5 mm jack input, a Bluetooth (4.2) connection, and of course, the Google Cast protocol. Furthermore, it natively supports several major music streaming services: Spotify, Deezer, Pandora, and of course YouTube Music. Finally, its "Smart Sound" technology allows it to match any acoustic configuration, thanks to a machine learning algorithm that automatically adjusts the speaker's audio equalization.
We put the Google Home Max through our rigorous DXOMARK Wireless Speaker test suite. In this review, we will break down how it fared at audio playback in a variety of tests and several common use cases.
Key specifications include:
Two 4.5″ high-excursion dual voice coil woofers, two 0.7″ custom tweeters
Acoustically transparent fabric, available in two colors ("chalk" or "charcoal")
Chromecast, Bluetooth, 3.5 mm jack, USB-C input
Stereo pair capable
No battery
Google Assistant
Dimensions: 33.6 cm (13.2 inches) x 19 cm (7.4 in) x 15.4 cm (6.0 in)
Weight: 5.3 kg (11.7 lbs)
Test conditions:
Tested with Motorola G8
Communication protocol used: Cast for music, 3.5 mm input for movies
Firmware version: 218411
About DXOMARK Wireless Speaker tests: For scoring and analysis in our wireless speaker reviews, DXOMARK engineers perform a variety of objective tests and undertake more than 20 hours of perceptual evaluation under controlled lab conditions. This article highlights the most important results of our testing. Note that we evaluate playback using only the device's built-in hardware. (For more details about our Speaker protocol, click here.) The Google Home Max falls into the Advanced category of devices in the DXOMARK Speaker rankings.
Test summary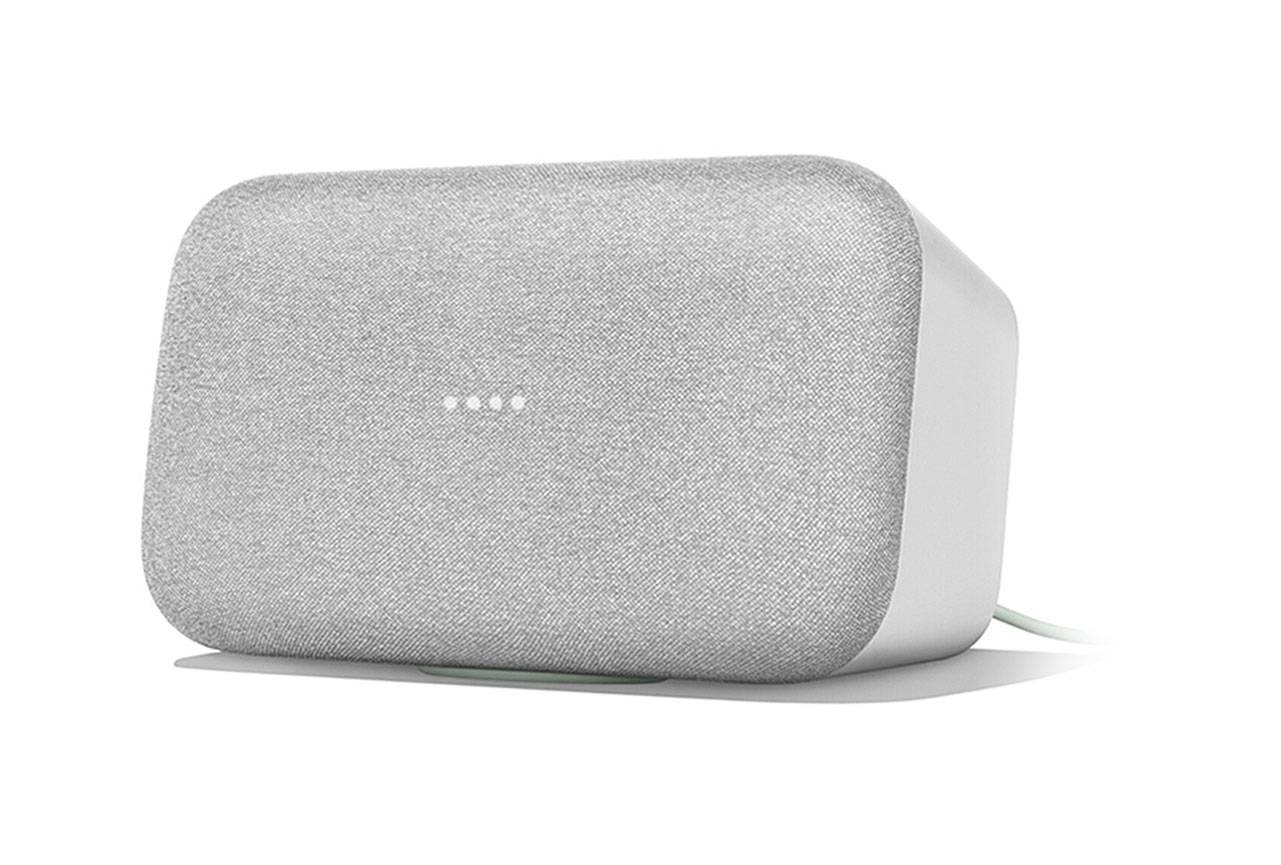 Google Home Max
145
speaker
With an overall score of 145, the Google Home Max ranks second-best among all speakers we have tested to date, after Harman Kardon's Citation 200. Google's largest smart speaker delivers a great overall audio performance, with a good tonal balance, full and precise midrange frequencies (mids), great volume consistency, and realistic distance rendering. Maximum volume is very good, and at loud volumes, punch is particularly impactful, which makes the Google Home Max a very well suited speaker for parties.
At soft and quiet volumes, the tonal balance remains impressively consistent, as do all the dynamics sub-attributes (attack, bass, punch). This makes the Google Home Max a relevant speaker for listening to music and podcasts, and even for watching videos at soft volumes. Speaking of videos, since the latency induced by both Google Cast and Bluetooth connections is quite significant, the auxiliary input at the back of the device is highly welcome. Further, the Smart Sound technology does, as promised, allow the speaker to adapt efficiently to its environment. Therefore, it is capable of dealing with complex acoustics, such as in bathrooms.
However, the Google Home Max shows some resonances, distortions, and a slight lack of extension at the low end of the spectrum, as well as a general lack of high-ends, which impairs the attack of certain high-pitched instruments. Despite the presence of two tweeters and two woofers, the sound field could be wider. At nominal volume, our tests showed a slight lack of punch. Finally, since the speaker is a front-firing device, the directivity is quite poor.
Sub-scores explained
The DXOMARK Speaker overall score of 145 for the Google Home Max is derived from a range of sub-scores. In this section, we will take a closer look at these audio quality sub-scores and explain what they mean for the user, and we will show some comparison data from two of the Google Home Max's principal competitors in the Advanced category, the Bose Home Speaker 500 and the Harman Kardon Citation 200.
Playback attribute comparisons
Timbre
146
Bowers & Wilkins Formation Wedge
DXOMARK timbre tests measure how well a speaker reproduces sound across the audible tonal range and takes into account bass, midrange, treble, tonal balance, and volume dependency.
Playback timbre comparison
The Google Home Max delivers a very good timbre performance. At nominal volume, the frequency ranges are well balanced, with particularly consistent midrange frequencies (mids). That said, high-end is slightly lacking, contrary to the Big Four company's promise. The bass response, moderately affected by a lack of low-end extension and a few resonances, remains fairly good overall.
Music playback frequency response
When listening closely (under a meter), occasional and discrete hissing can be perceived on high-mids. At soft and quiet volumes (for a friendly gathering and the bedtime use cases, respectively), the overall timbre performance remains very good. This means that listening to quiet music doesn't induce a drastic loss of bass or treble: the global tonal balance is preserved. At loud levels, however, slightly lacking low-mids and prominent high-mids result in an aggressive rendering.
Finally, the Smart Sound technology appears to be fairly efficient, adapting the device's performance appropriately to its acoustic environment. For example, in our bathroom use case, the overall timbre performance remains highly consistent, despite the room's strong reverberation.
Dynamics
124
Bowers & Wilkins Formation Wedge
Our dynamics tests measure how well a device reproduces the energy level of a sound source, taking into account attack, bass precision, and punch.
Playback dynamics comparison
The Home Max's sub-score of 124 indicates very good behavior in the dynamics area. Attack in midrange frequencies (such as snares) is precise, bass precision is globally very satisfying, and punch at loud volumes is very good. Additionally, the overall dynamics performance is particularly impressive at soft and even quiet levels with sharp attack, precise bass, and good punch.
But there's still room for improvement, especially in the high-ends, where instruments such as hi-hat cymbals lack precision, and at soft volumes (for example, in our relaxing use case), where punch is slightly lacking.
Spatial
98
Bowers & Wilkins Formation Wedge
Our spatial tests measure a speaker's ability to reproduce stereo sound in all directions, taking into account localizability, balance, wideness, distance, and directivity. Please note that wideness is 0 for mono speakers and for speakers that cannot deliver a significant stereo effect.
Playback spatial comparison
Despite the promised "clear stereo sound in the entire room," the sound stage could be much wider. It is actually only when standing close to the speaker (1 meter or less) that a listener can perceive a stereo dimension. Localizability of the sound sources is rather precise, but would undoubtedly be even better with crystal-clear high-ends.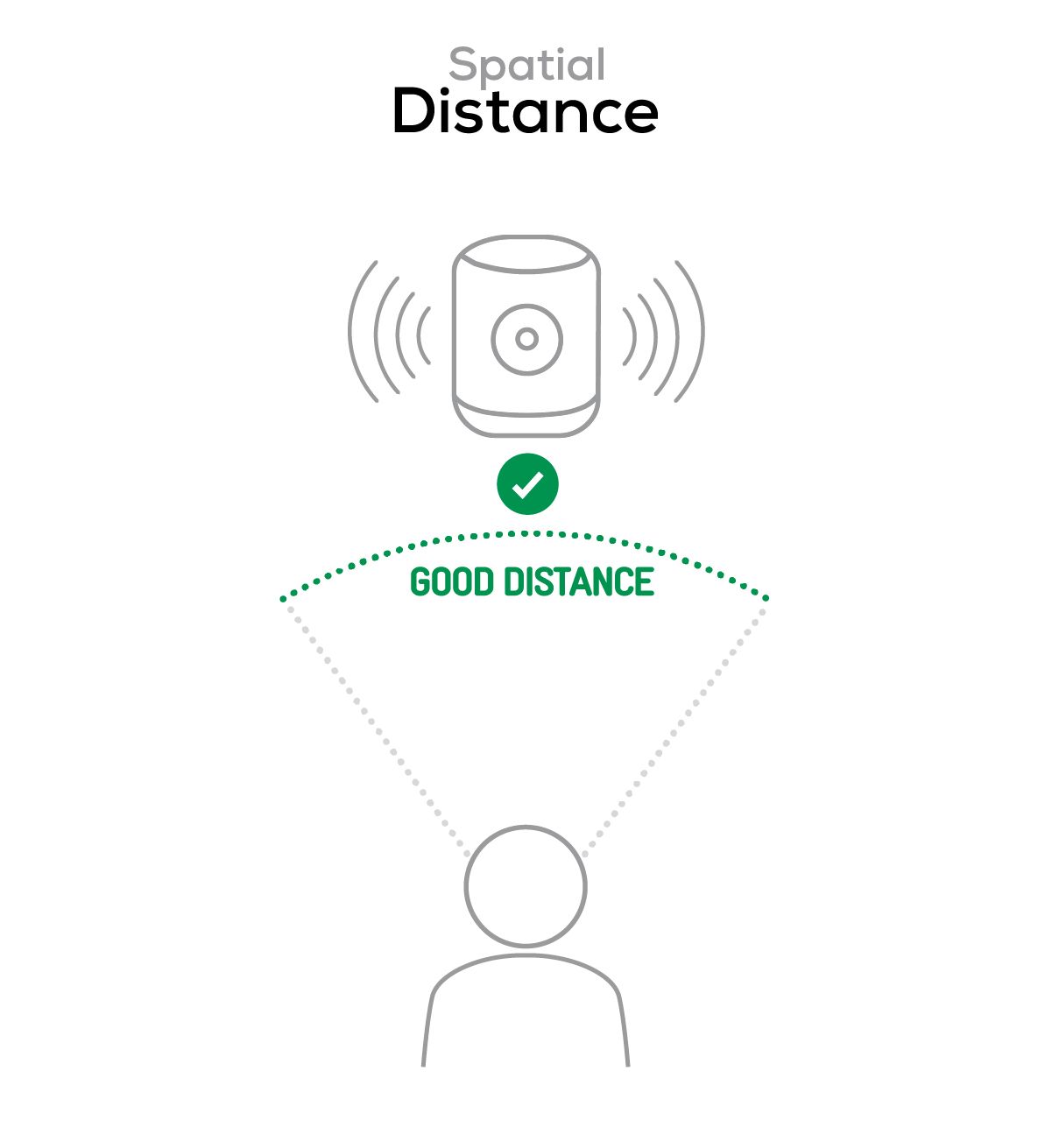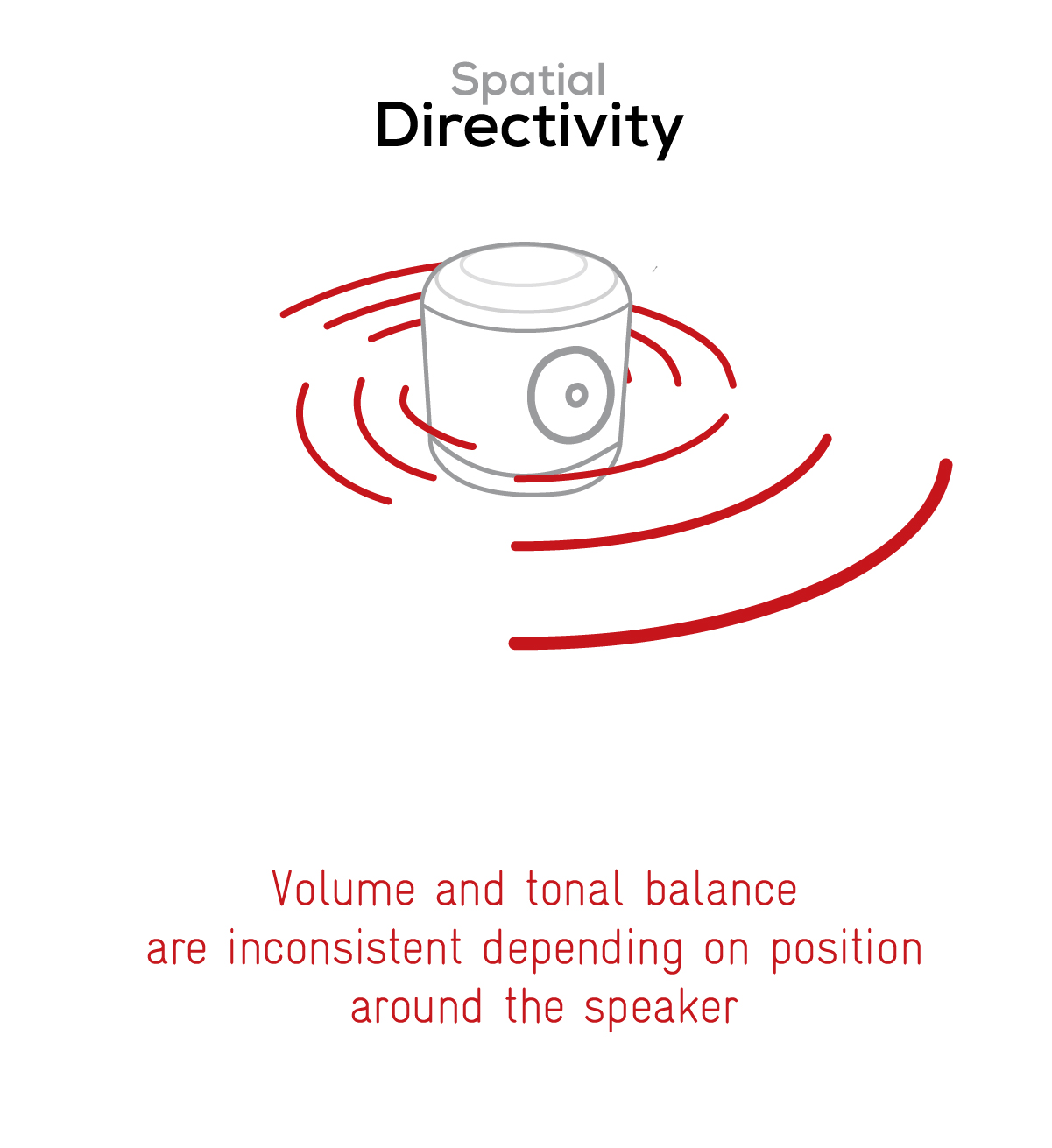 The perceived distance of the sound field is very realistic. On the other hand, as you can see in the directivity graph below, the Google Home Max is exclusively front-firing, which means the volume and overall tonal balance strongly vary depending on the position of the listener to the speaker.
Volume
132
Bluesound Pulse Mini 2i
Our volume tests measure both the maximum loudness a speaker is able to produce and how smoothly volume increases and decreases based on user input.
Playback volume comparison
With a volume sub-score of 132, the Google Home Max comes very close to our top-ranking speaker in this category. It performed remarkably well in every use case we put it through, from bedtime to partying, to relaxing at home, friendly gatherings, in the kitchen, the bathroom, and even outdoors.
Playback volume consistency comparison
It also owes its good ranking to its great volume step consistency (as shown in the graph above) and its excellent maximum volume.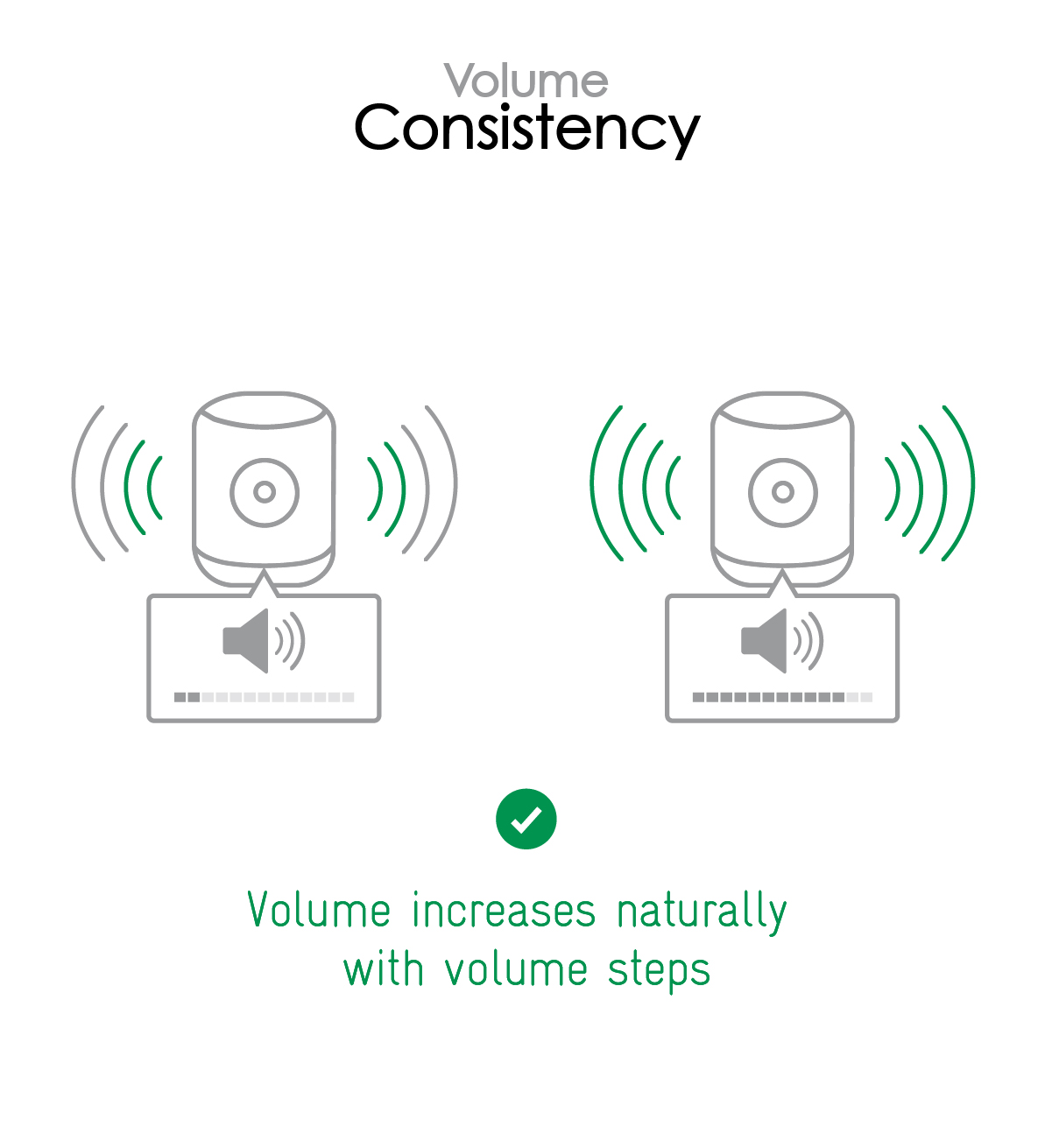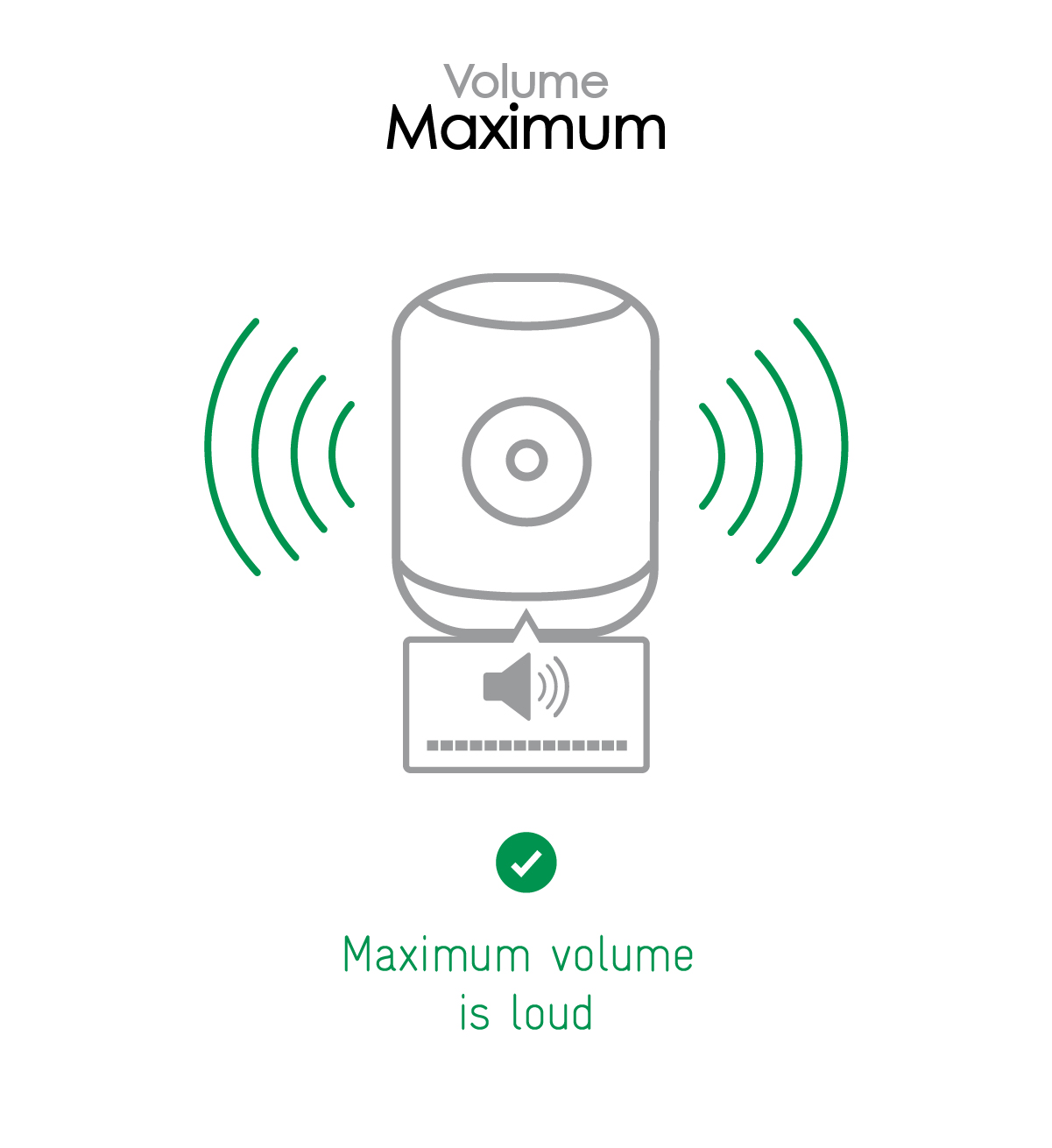 Here are a few sound pressure levels (SPL) measured when playing our sample recordings of hip-hop and classical music at maximum volume:
| | | | | | | |
| --- | --- | --- | --- | --- | --- | --- |
| | Correlated Pink Noise | Uncorrelated Pink Noise | Hip-Hop | Classical | Latin | Asian Pop |
| Google Home Max | 91.9 dBA | 88.9 dBA | 88.9 dBA | 81.9 dBA | 89.3 dBA | 82.4 dBA |
| Bose Home Speaker 500 | 84 dBA | 81.9 dBA | 82.3 dBA | 78.2 dBA | 83.2 dBA | 75.4 dBA |
| Harman Kardon Citation 200 | 86 dBA | 85.5 dBA | 83.1 dBA | 80.2 dBA | 84.1 dBA | 77.9 dBA |
Artifacts
Our artifacts tests measure how much source audio is distorted when played back, along with such other sound artifacts as noise, pumping effects, and clipping. Distortion and other artifacts can occur both because of sound processing and because of the quality of the speakers.
Playback artifacts comparison
The Google Home Max suffers from no perceivable temporal artifacts (such as compression). Spectral artifacts, on the other hand, can appear at quiet, nominal, and maximum listening levels (in our bedtime, relaxing, and party use cases, respectively). For example, bass resonances and distortions can manifest on tracks exhibiting powerful low-end frequencies, such as in Electronic music, regardless of the volume.
Finally, since the latency induced by the Google Cast protocol is particularly high (almost 1 second) and the Bluetooth latency is quite significant as well (almost 200 ms), we strongly recommend watching videos using the auxiliary input.
Playback total harmonic distortion
Conclusion
The Google Home Max is undoubtedly worthy of its name: thanks to its excellent maximum volume, its good tonal balance, and its impressive dynamics as well as timbre consistency even at quiet volumes, Google's most expensive and voluminous smart speaker is, as promised, a true speaker indeed. Its multiple audio skills make it is as gifted at blasting loud tunes for a party as it is appreciable for listening to music before going to bed. Additionally, its efficient sound tuning algorithm allows it to adapt to difficult acoustics, such as a bathroom's, and the 3.5mm jack input comes in handy for watching videos. That all said, high-end extension is generally lacking, and at the other end of the spectrum, bass resonances and distortions occasionally appear. In the spatial area, although its distance rendering is particularly realistic, the sound field could be wider, and more consistent regardless of the listener's position to the speaker.
Pros
Maximum volume is excellent.
The overall sound rendering is consistent regardless of the listening level.
Good overall tonal balance at nominal, soft, and quiet volumes
Midrange frequencies are accurately reproduced.
Embedded Smart Sound technology allows the speaker to adapt to complex acoustics.
At loud volumes, punch is impactful.
Dynamics are impressively well preserved at soft and quiet volumes.
The distance of the sound sources is realistically rendered.
Auxiliary input available
Cons
High-end extension is generally lacking.
Bass is impaired by occasional resonances/distortions and by a slight lack of low-end extension.
At nominal volume, punch is slightly lacking.
The attack of high-pitched instruments could be sharper.
Considering the speaker's size, the sound field wideness is disappointing.
Sound is unevenly distributed around the speaker.
Significant latency over wireless connections (Bluetooth and Google Cast).