The Harman Kardon Aura Studio 3 looks nothing like the typical home wireless speaker; in fact if it didn't have the Harman Kardon label, it would be hard to guess what kind of appliance it is. It's a translucent bubble set on top of what looks like a stereotypical UFO, and when plugged in and playing, subdued LED lights transform it into something even more ethereal.
The brand pitches it as a design presence as well as an all-encompassing sound experience. "Style and substance. Harman Kardon Aura Studio 3 speakers emit exceptional 360 degree audio. Enjoy more dynamic sound thanks to a powerful subwoofer for a truly immersive listening experience." The device doesn't have a battery — it's designed to be plugged in. And it has an interesting setup behind its 360-degree approach, with 2 mid-high range speakers and one beefy subwoofer. Let's see how it fares in our Audio tests.
Key specifications include:
Dimensions: 283.6 x 232 x 232 mm ( 11.2 x 9.1 x 9.1 in.)
Weight 3.6 kg (7.9lb)
Speakers: Mid-high range: 40 mm x 6; One 130 mm subwoofer. (engineers: is it 2 mid-range speakers? Or six?)
Connectivity: Bluetooth 4.2 and 3.5 mm jack.
Test conditions:
Tested with Motorola G8 for both music and movies
Communication protocol used: Bluetooth for both music and movies
About DXOMARK Wireless Speaker tests: For scoring and analysis in our wireless speaker reviews, DXOMARK engineers perform a variety of objective tests and undertake more than 20 hours of perceptual evaluation under controlled lab conditions. This article highlights the most important results of our testing. Note that we evaluate playback using only the device's built-in hardware. (For more details about our Speaker protocol, click here.) The Harman Kardon Aura Studio 3 falls into the Advanced category of devices in the DXOMARK Speaker rankings.
Test summary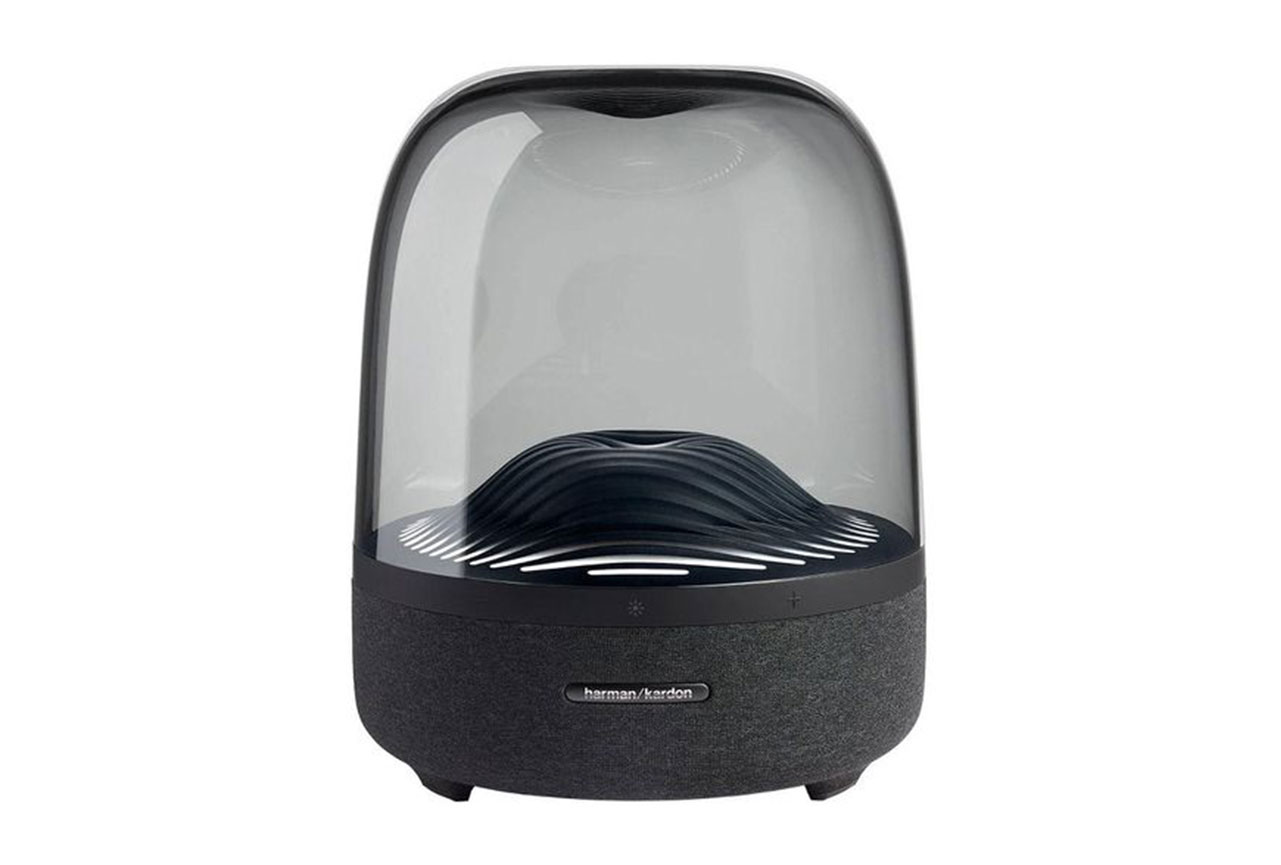 Harman Kardon Aura Studio 3
120
speaker
Pros
True 360-degree sound; mostly consistent from every angle.
Impressive low-end extension and bass presence.
Despite being a 360-degree speaker, there is some stereo wideness.
Cons
The tonal balance is dark and muffled, with resonant timbre.
Attack is somewhat lacking, and bass precision is impaired.
Localizability and distance perception are not accurate.
Volume steps are too spaced out.
Artifacts get in the way of the listening experience.
The Harman Kardon Aura Studio 3 earned an overall Audio score of 120, which places it toward the bottom of the devices we've tested in the Advanced category to this point. right behind the Sony SRS-XB43, which earned a 122.  Its brand sibling, the Harman Kardon Citation 200, earned a tie for top score in this genre, with a 147, matched by the Sonos 5.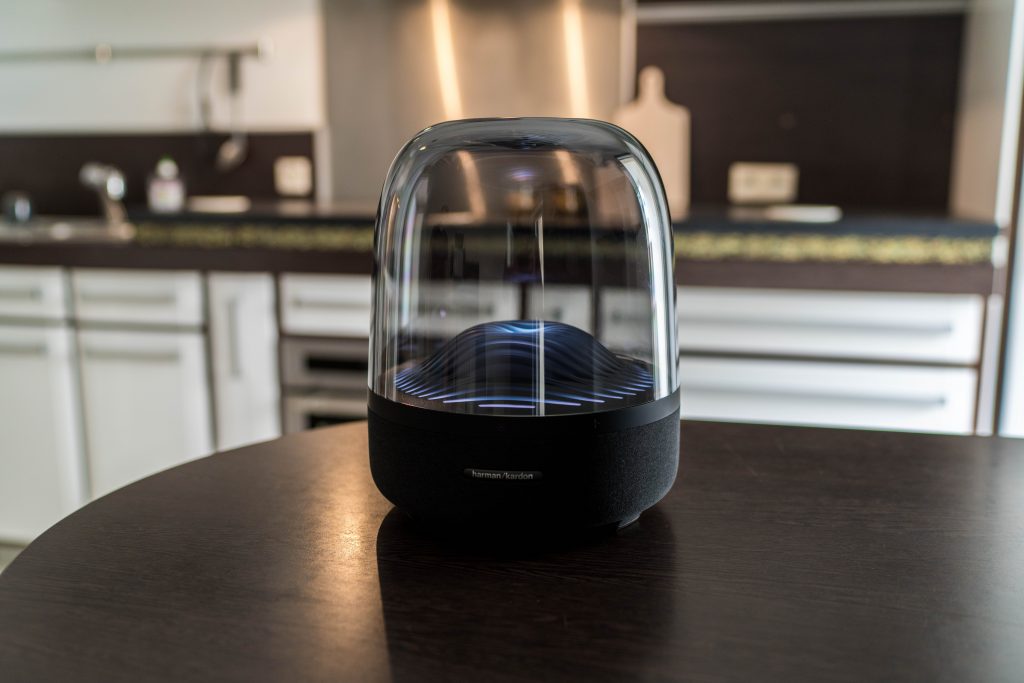 The Harman Kardon Aura Studio 3 speaker performed best in our gathering and party use cases.
While the Aura Studio 3 didn't really excel or fail in any one use case, its scores were lower in the movie watching use case across several attributes. The 360-degree design isn't particularly well suited to movie viewing, where stereo sound allows a better localizability. The device's distance perception, making voices sound further away, is also a drawback in this situation. On the other hand, the Aura Studio 3 scored well in the gathering use case in both timbre and dynamics.
Sub-scores explained
The DXOMARK Speaker overall score of 120 for the Harman Kardon Aura Studio 3 is derived from a range of sub-scores. In this section, we will take a closer look at these audio quality sub-scores and explain what they mean for the user, and we will show some comparison data from two of the device's competitors, the Huawei Sound X and the Apple HomePod.
Timbre
120
Harman Kardon Aura Studio 3
152
Bowers & Wilkins Formation Wedge
DXOMARK timbre tests measure how well a speaker reproduces sound across the audible tonal range and takes into account bass, midrange, treble, tonal balance, and volume dependency.
Playback timbre comparison
The Harman Kardon Aura Studio 3 delivered an uneven timbre performance, but, at the same time, it wasn't unpleasant. Bass dominates the tonal balance, which is darkened by the lack of upper treble brightness. The frequency response seems bumpy and resonant. The issues with treble also produce a muffled sonority, especially at soft and nominal volumes. At high sound pressure levels (SPL), high-end extension is still missing, but some brightness persists; the treble is only slightly dull. Because it's an omnidirectional device, it is a benefit that it delivers a more stable treble when listeners are positioned to the sides or rear.
Music playback frequency response
Midrange is very resonant, even canny in most cases. The lack of lower midrange makes it sound hollow, except at maximum volume. There's a lack of midrange clarity at all volumes, less so from the sides than from the front.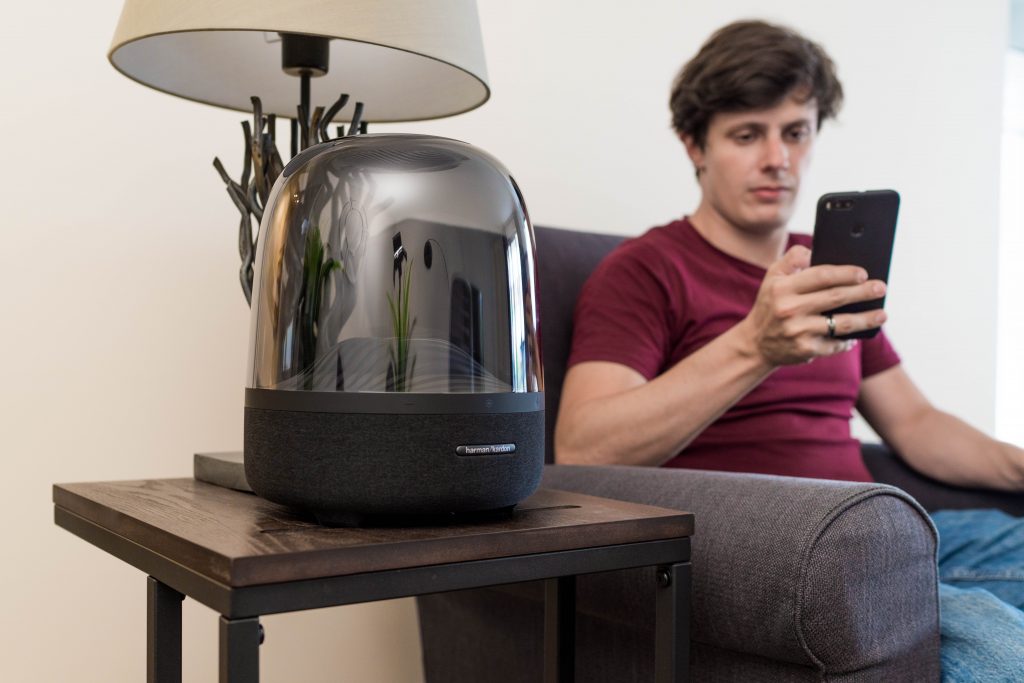 The Aura Studio 3 is an omnidirectional device.
The hefty subwoofer generates a nice bass presence, with impressive low-end extension. The added distortion is fairly subtle, but not very natural sounding. It sounds a bit blurry most of the time, with boominess mounting along with the volume. Low-end extension remains good at lower SPL, but the upper presence of bass begins to fade in that case.
The timbre is nearly identical and consistent from every angle, except at the sides and from above, where it gets a slight presence boost. That said, it's not plain sounding; that is to say some elements of the spectrum are lacking.
Harman Kardon Aura Studio 3
Harman Kardon Citation 200
Dynamics
110
Harman Kardon Aura Studio 3
137
Bowers & Wilkins Formation Wedge
Our dynamics tests measure how well a device reproduces the energy level of a sound source, taking into account attack, bass precision, and punch.
Playback dynamics comparison
The Harman Kardon device fared best in our gathering and party use cases; the 360° approach is a plus there. Regardless of volume, however, the Aura Studio 3 produces a rounded and not very precise attack in most use cases. When the acoustics of a room are not too reverberant, punch holds up well; in other settings, the punch is correct, but not as satisfying. This is true even from the rear of the speaker.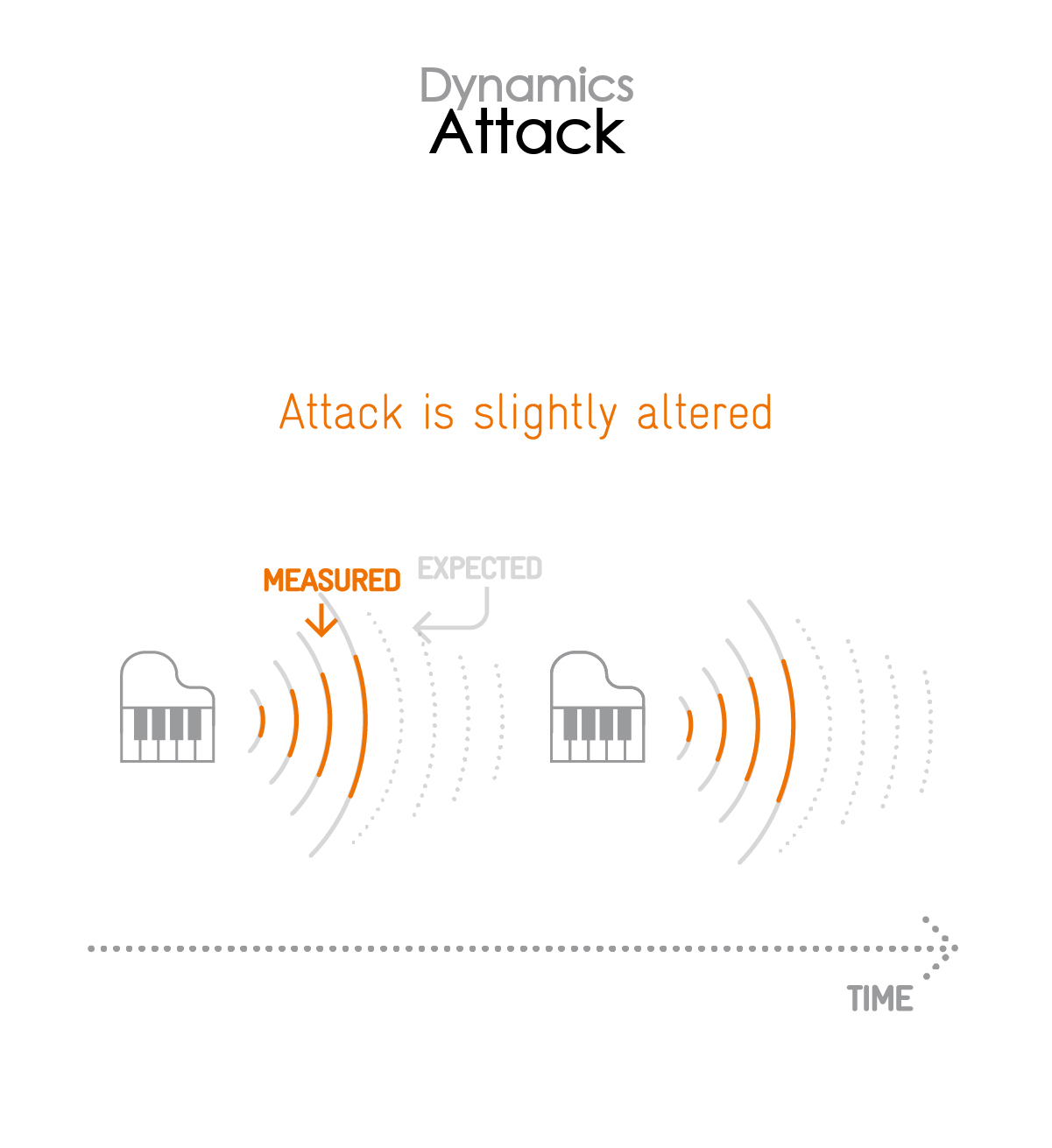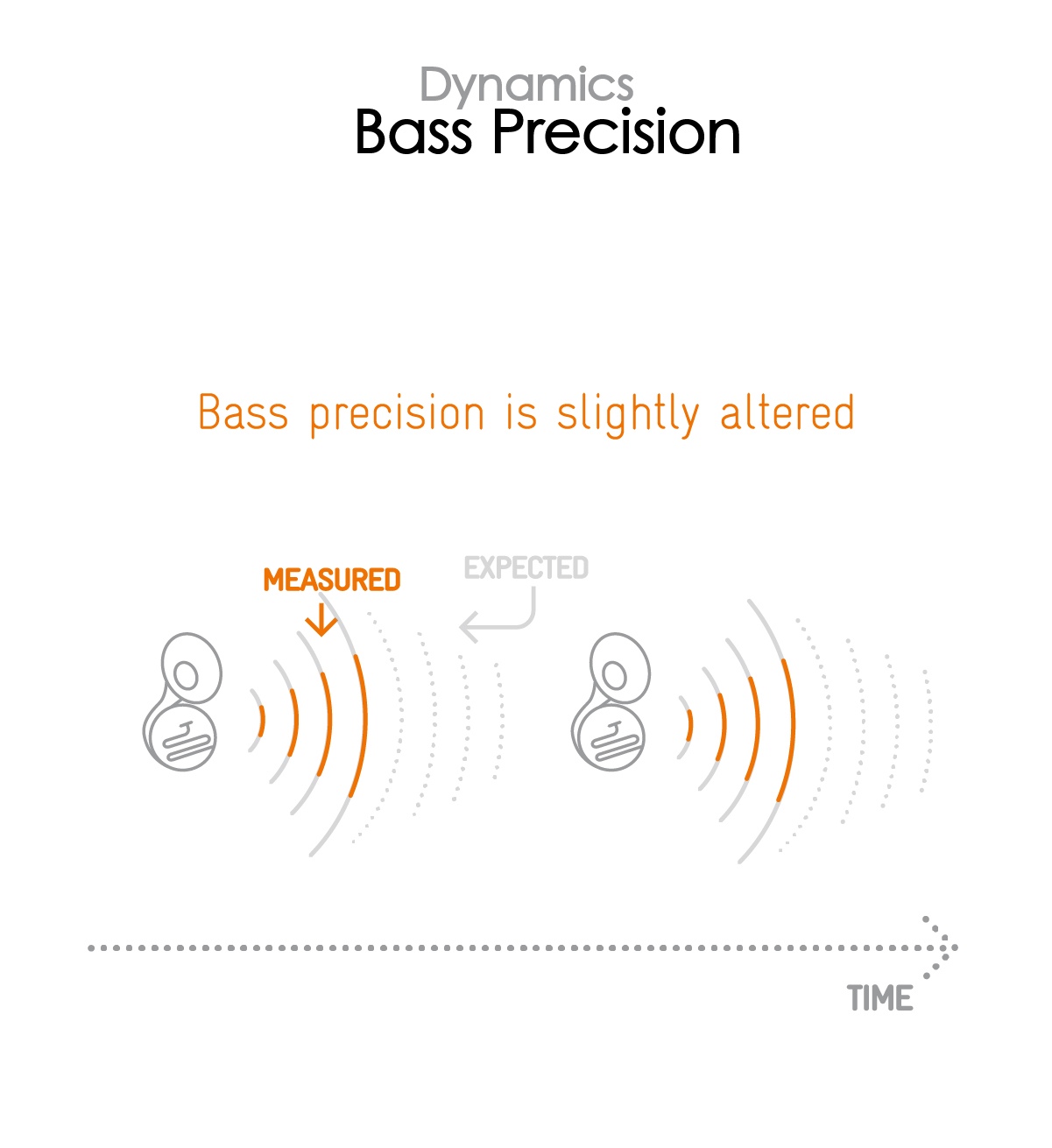 Bass precision is impaired by the digital signal processing (DSP), with exaggerated sustain and release, while the attack is too faint for lower register content. The sound isn't very natural, at least compared with the reference tracks in our testing.
Spatial
74
Harman Kardon Aura Studio 3
111
Bowers & Wilkins Formation Wedge
Our spatial tests measure a speaker's ability to reproduce stereo sound in all directions, taking into account localizability, balance, wideness, distance, and directivity. Please note that wideness is 0 on mono speakers and on speakers that cannot deliver a significant stereo effect.
Playback spatial comparison
The Harman Kardon Aura Studio 3 produces a small amount of wideness, despite its 360° setup. Localizability is improved when listening close to the device; at further distances it's not very satisfying. The resonant timbre is the main factor hindering distance perception. Voices are perceived as too far away compared with reference.
Nonetheless, localizability of the sound sources is precise. The midrange boost has a tendency to emphasize the feeling of proximity, which can make voices seem much closer than they should. Listening from the rear offers a more realistic distance rendering, despite voices sounding somewhat muffled.
Volume
75
Harman Kardon Aura Studio 3
141
Bluesound Pulse Mini 2i
Our volume tests measure both the maximum loudness a speaker is able to produce and how smoothly volume increases and decreases based on user input.
Playback volume comparison
Playback volume consistency comparison
Volume isn't a strong suit for the Harman Kardon speaker. The maximum volume should be louder. The performance at low volume and high volume is subpar. The volume steps are too far apart, especially at lower volume.
Here are a few sound pressure levels (SPL) we measured when playing our sample recordings of hip-hop and classical music at maximum volume:
| | | | | | | |
| --- | --- | --- | --- | --- | --- | --- |
| | Correlated Pink Noise | Uncorrelated Pink Noise | Hip-Hop | Classical | Latin | Asian Pop |
| Harman Kardon Aura Studio 3 | 84.6 dBA | 81.7 dBA | 82.1 dBA | 78.1 dBA | 81.1 dBA | 77.5 dBA |
| Huawei Sound X | 83.7 dBA | 82.1 dBA | 81.6 dBA | 76.4 dBA | 82.8 dBA | 75.6 dBA |
| Apple HomePod | 78.3 dBA | 76 dBA | 77.4 dBA | 69.6 dBA | 79 dBA | 71.5 dBA |
Artifacts
113
Harman Kardon Aura Studio 3
133
Sonos Five
Our artifacts tests measure how much source audio is distorted when played back, along with such other sound artifacts as noise, pumping effects, and clipping. Distortion and other artifacts can occur both because of sound processing and because of the quality of the speakers.
Playback artifacts comparison
During our testing, many randomly occurring glitches were observed; they sounded like problems associated with de-sync or sample rate. There were extremely slight pitch variations, sometimes rising to the level of being more obvious, that sounded like vibrato or tremolo. These artifacts emerged regardless of volume.
Playback total harmonic distortion
On base-heavy content, especially at higher sound pressure levels, undesirable vibrations intruded on the listening experience.
Conclusion
The Harman Kardon Aura Studio 3 is a striking and innovative visual presence, but in the Advanced category of speakers, it's not among the elite in terms of its performance. Issues with volume and spatial performance kept its score well below the heights reached by its brand sibling, the Harman Kardon Citation 200, which tied the Sonos Five atop our Advanced category with scores of 147. The Aura Studio 3  earned among highest marks in the gathering use case in both timbre and dynamics, which means it still brings something to the table besides its design presence.